>> Wednesday, September 10, 2014 –  asian, asian style noodles, backtoschool, boiled corn, edamame, explore asia black bean spaghetti, gluten free noodles, healthy lunch, healthy lunch box ideas, kidslunchbox, lunchbox, pear, seaweed snack
Lunch: Black Bean Spaghetti, Vegetables and Tofu with Asian dressing, Boiled corn and Orange !
Snack: Pear, Seaweed snack, Cheez- It !
Today it's kind of Asian dish for lunch box. I used Black bean Spaghetti shape which is organic, gluten free, high in Protein, fiber and rich in Iron. Don't expect the texture of this Black bean Spaghetti like other normal ones. It's very nutty and little chewy. When it is dressed with flavorful sauce and crunchy it tastes good. Make sure you make this couple of hours before to get full flavor and taste.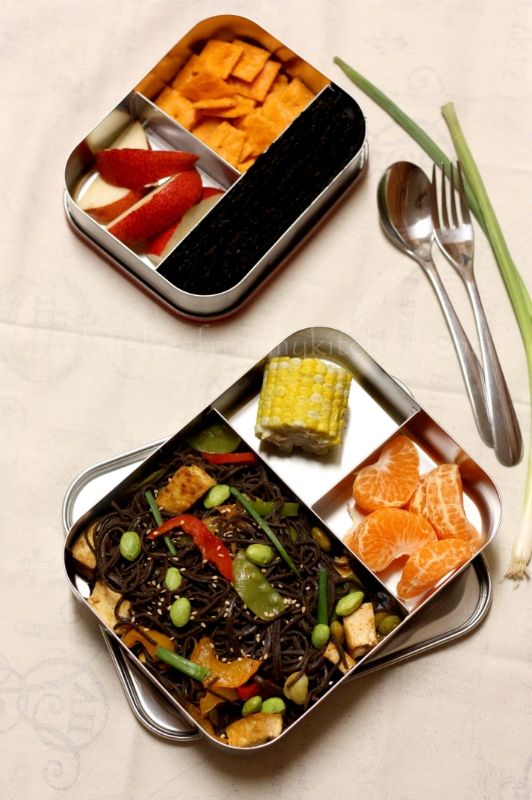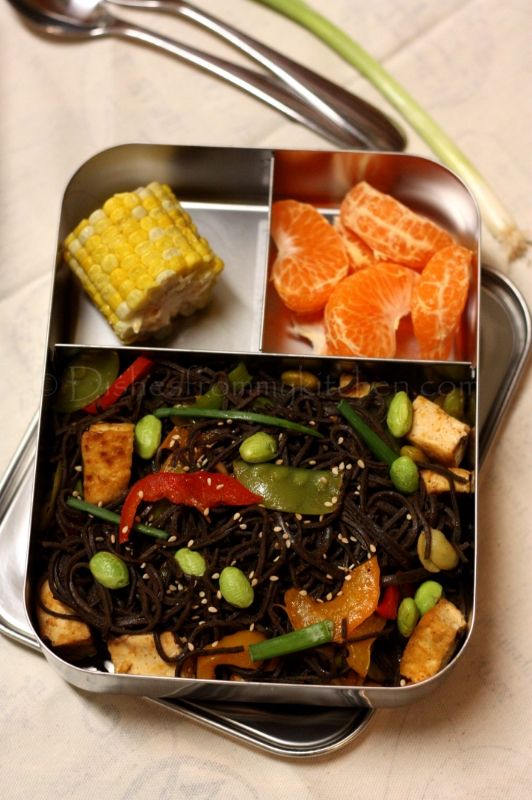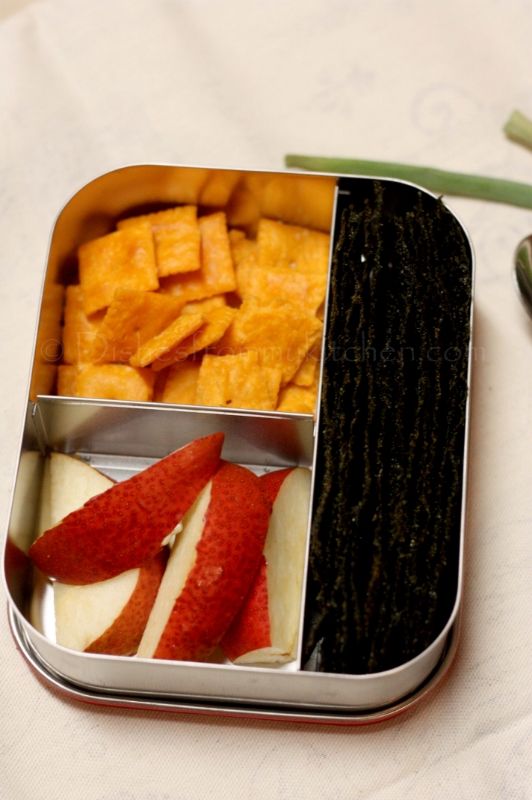 Black bean Spaghetti with Asian dressing
Ingredients:
Black bean Spaghetti - 300 gm
Colored Peppers - 1 /2 cup julienned (I used red, orange, and yellow)
Edamame - 1/4 cup
Pressed Tofu - 1 block (
How to press TOFU???
)
Cut Tofu to 1 inch cubes, sauté in the pan with little oil till golden brown.
Snow peas - 1/4 cup chopped to halves
Spring onion - 4 cut to 1 inch pieces
Garlic - 1/2 tbsp. finely chopped
Ginger - 1/2 tbsp. finely chopped
Cilantro - few chopped
Peanut oil - 2 tbsp
Salt as needed
Sauce:
Soy Sauce - 4 tbsp
Rice Vinegar - 2 tbsp
Brown Sugar - 2 tbsp (tightly packed)
Sriracha (Chili sauce) - 2 tbsp (Increase of decrease according to your preferance)
Pure Sesame oil - 1 tsp
Whisk the dressing in a bowl and keep it aside.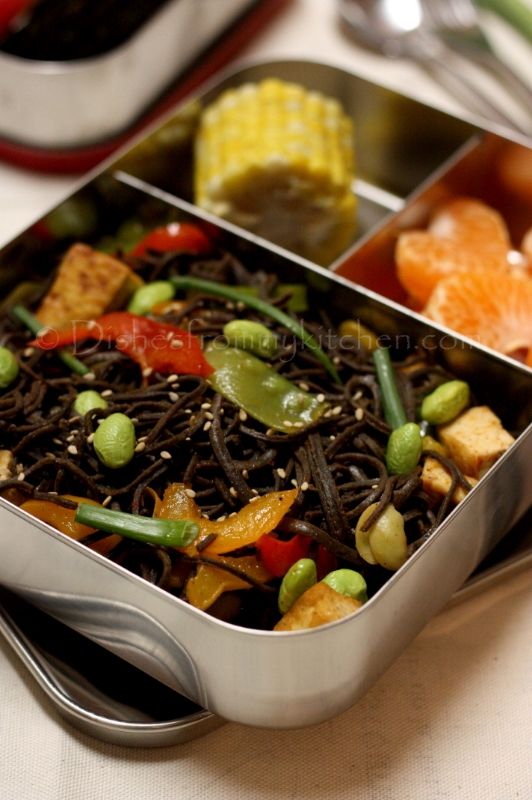 Method:



1. Cook Black bean Spaghetti as per the package instruction. (Cook, drain and wash in cold water), keep it aside.
2. Now heat peanut oil in a wok, add ginger and garlic.
3. Once raw aroma disappears add the peppers, edamame, and snow peas sauté couple of times and make sure it is 3/4th cooked but firm.
4. Now add the dressing and switch of the flame.
5. Now in the same wok add the cooked Spaghetti and fried Tofu. Toss well so that everything is mixed well and sauce is coated all over.
6. Now again switch on the flame and sauté once in a while until it is slightly warm.
7. Put off the flame, add the Spring onion and cilantro.



Note:



This tastes good after couple of hours. When noodles soaks up in the dressing it tastes great with Crunchy colorful vegetables .