>> Friday, September 26, 2014 –  after school snack for kids, Chickpea orecchiette, chickpea pasta, garbanzo pasta, lunch bots, lunch for kids, parmesan crusted cauliflower, pasta alla ceci, pasta lunch, roasted vegetable pasta, school lunch
LUNCH BOX : CHICKPEAS AND ROASTED VEGETABLE ORECCHIETTE, PARMESAN CRUSTED CAULIFLOWER AND POMEGRANATE
SNACK BOX : ORANGE AND GRAPES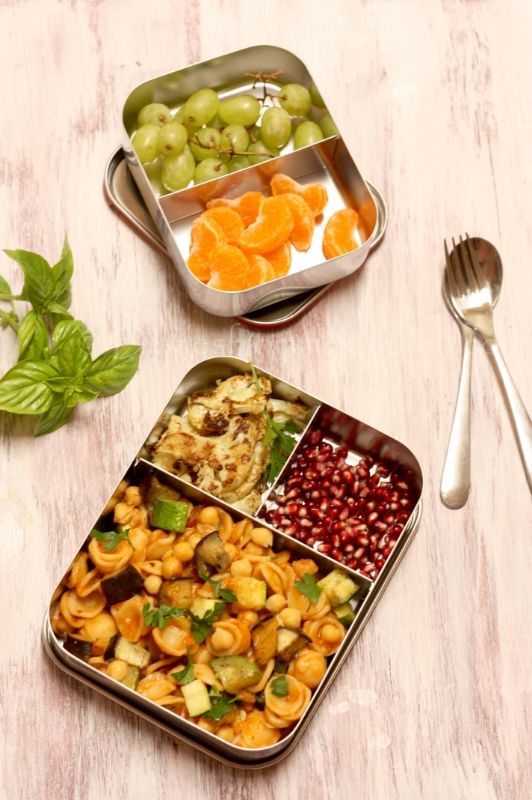 LUNCH BOX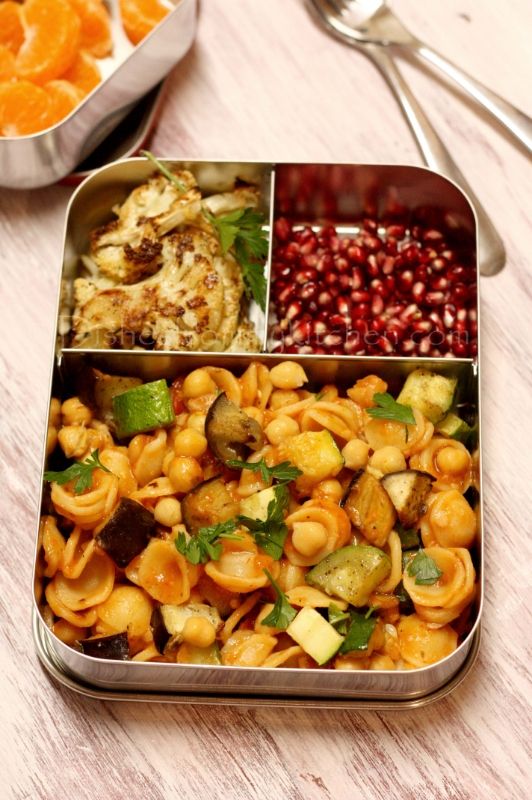 SNACK BOX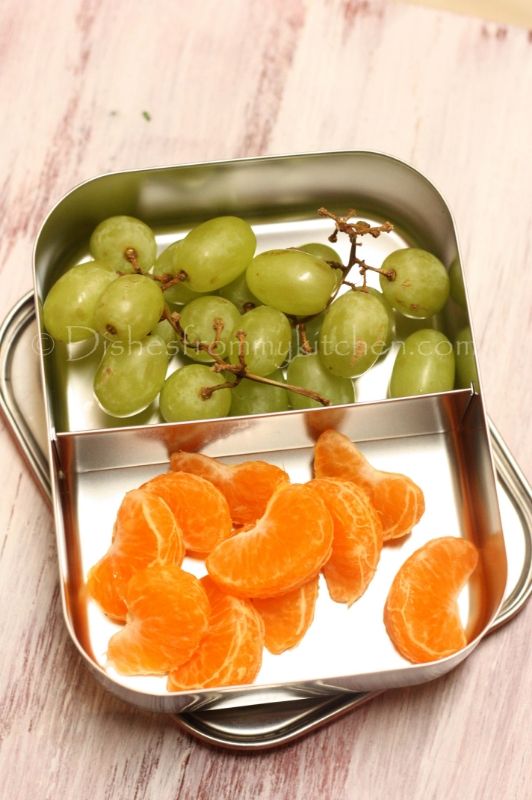 RECIPES FOR
CHICKPEAS AND ROASTED VEGETABLE ORECCHIETTE
Ingredients:

Orecchiette or any pasta shape - 300 gm
Marinara sauce - 1 to 1/4 cup store bought or homemade, I used Homemade) Increase or decrease the sauce the way you like.
Boiled Chick peas - 1/2 cup
Zucchini - 1
Eggplant - 1 medium sized
Basil - few finely chopped (10 to 15 leaves)
Parsley - few finely chopped
Parmigiano reggiano - 1/4 cup
Olive oil - 2 to 3 tbsp
Garlic - 2 very finely chopped
Red Chilli flakes - 1 tsp
Fresh black pepper - for vegetables
Salt as needed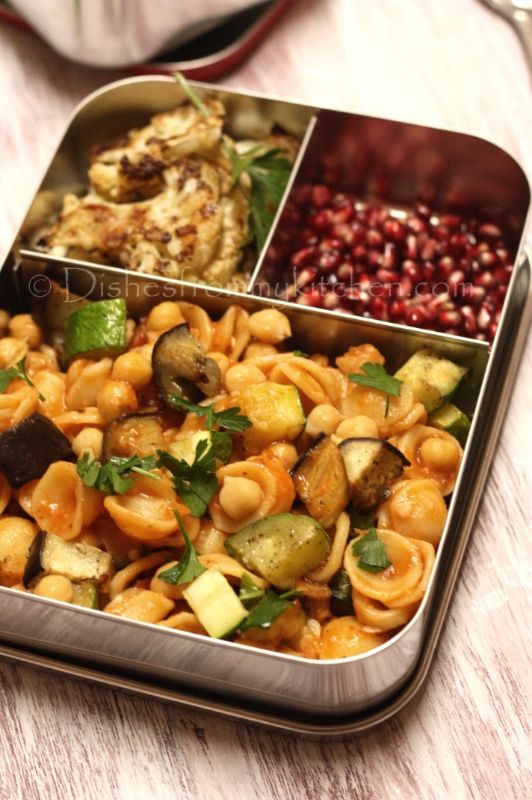 Method:

1. Cut the vegetable to big chunks, drizzle little olive oil, salt and pepper toss and spread them in baking pan lined with foil.
2. Roast them in 425 f preheated oven until they are slightly browned. Stir every 5 to 10 minutes. This approximately takes 15 to 20 minutes. Once done take it and keep it aside.
3. When this is happening boil water for pasta with little salt.
4. Now heat olive oil in a pan, add finely chopped garlic and red chilli flakes.
5. Add the sauce and 1/4 cup water and add boiled chick peas as well. Let this cook in the sauce for couple of minutes.
6. To this add cooked pasta (al dente), roasted veggies, finely chopped basil and parsley (reserving few for garnish). Give it a toss until everything is mixed well.
7. Switch of the flame and immediately add the grated cheese.
8. Garnish with remaining herbs.
PARMESAN CRUSTED CAULIFLOWER
Ingredients:

Cauliflower - 1 head
Garlic - 2 unpeeled and crushed
Thyme - 4 to 5 sprigs
Salt as needed
Fresh ground black pepper
Olive oil - 2 tbsp
Parmesan cheese - 1/4 cup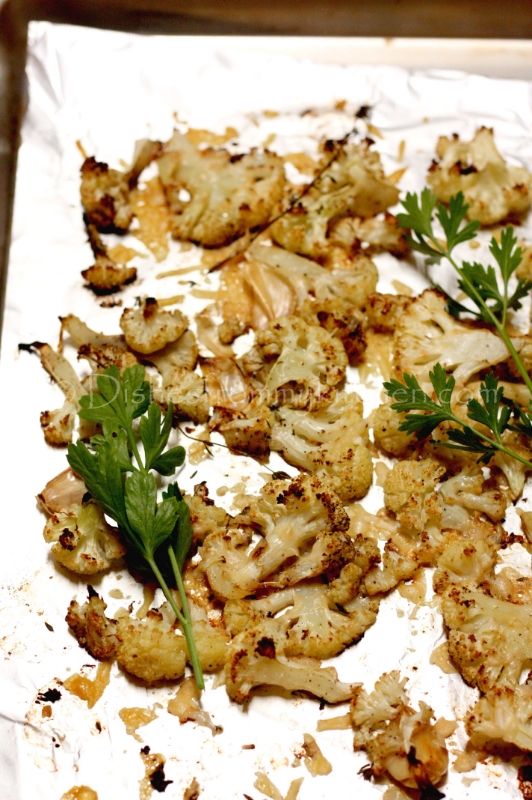 Method :

1. Slice the cauliflower into small florets. Wash , drain and dry in the paper towel.
2. In a bowl add the cauliflower and all the above ingredients except the cheese.
3. Preheat the oven to 425 f . Spread the cauliflower in baking sheet lined with foil. ( Make sure they are non stick or brush with little oil to avoid sticking)
4. Roast them till you see brown spots here and there. Tossing them occasionally.
5. Now Sprinkle cheese on the top and put back in the oven till the cheese turns light brown in color.

Serve as a side with Pasta, as an appetizer or with the dip.




Read more...