Shortbread or Cookie, this is a conversational topic. The majority classifies shortbread as a cookie, but there are some who consider it a biscuit or even a cake. One would be hard pressed, though, to find someone willing to classify it by its given name-bread. First, shortbread calls for a large percentage of shortening thus the name shortbread. Second, short refers to the desired crispness or "shortness" of the final product. Historically, the namesake shortbread was defended by early Scottish bakers who fought to prevent shortbread from being classified as a biscuit to avoid paying a government tax on biscuits.

Shortbread originated in Scotland. In Scotland one can find regional shortbread variations. Shortbread is frequently eaten around Christmas and the New Year; it is consumed year round in many countries. With its centuries old history, it is the "Granddaddy of all butter cookies" and a mainstay in Europe.

The Shortbread cookies can be made in different patterns using the chocolate and vanilla flavors, you can make different flavors by adding the nuts flour,
zest according to your wish. This is a basic shortbread cookies of chocolate and Vanilla. Have fun in making different patterns with your kids and enjoy.....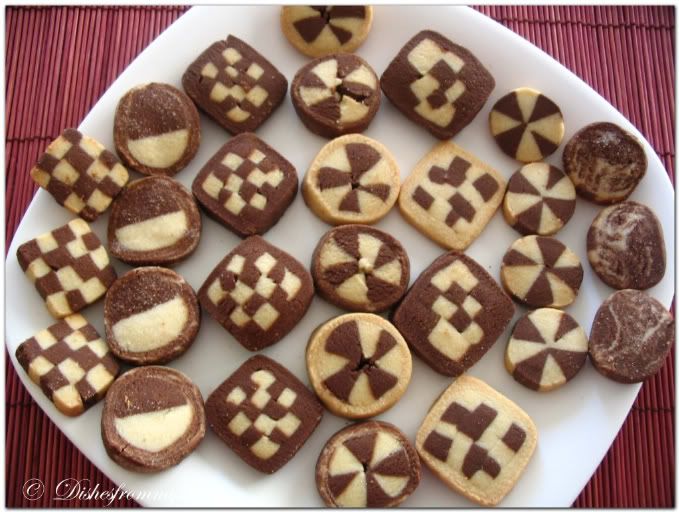 CHEQUERED SHORTBREAD



White Dough



Ingredients :



All purpose Flour - 1 1/2 cup
Butter - 3/4 cup
Icing Sugar - 1/3 cup
Egg yolk - 1
Vanilla essence- little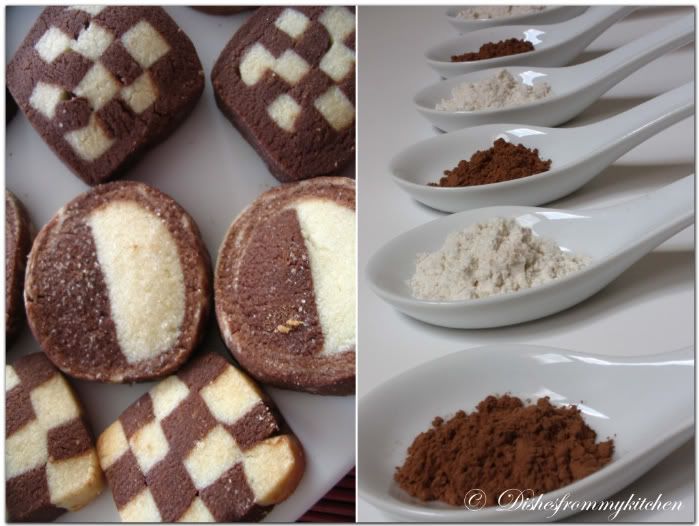 Chocolate Dough



Ingredients :

All purpose Flour - 1 1/4 cup
Cocoa - 1/4 cup
Egg yolk -1
Butter - 3/4 cup
Icing Sugar - 1/3 cup
Pinch of salt







Method :



1. For this cookies its really very important to use cold butter.
2. Mash the butter and sift the icing sugar on top of it.
3. Chop and scrape the butter with a dough scraper until the icing sugar is perfectly mixed in.
4. Add the egg yolk and continue scraping.
5. Sift onto the butter. Mix with the fork or dough scraper like a bread crumbs.
6. Knead the dough gently with your hands and work it into a ball.( Don't give more pressure like chapathi dough)
7. Repeat the above steps for the Cocoa dough.
8. Wrap the 2 doughs in plastic wrap and put them into the fridge for 30 minutes.
9. Make rolls using 100g of dough for each roll. ( This 100g + 100 g is only for one pattern)
10. Also make some rolls with rectangular profile.
11. Put all rolls into the freezer for 30 minutes.
12. For cutting the rolls, the rolls need to be firm enough but not as hard as a stone.
13. Here comes the most interesting and fun part to make the chequered pattern.
14. Cut the frozen rolls into halves, quarters and so on. You should be very care full when cutting it.
15. Brush the sides with water and recombine the pieces to interesting patterns.
16. After combining roll them on the table to make sure that all pieces stick together firmly.
17. Cut the rectangular rolls into four slices. Then cut two slices of each color into four stripes.
18. Recombine the stripes to slices ( four stripes each) with alternating color. After that layer four slices to one rectangular roll.
19. If you need to make make covers for the rolls.
20. Make a sheet of white or black dough with a roll.
21. Brush the sheet with water. Place the roll on the sheet and roll it until full roll is covered with the dough. Cut the excessive part.
22. Put them in freezer for 1 hr. Before baking bring back to room temperature and cut into thick circles.
23. Bake in the baking sheet in 350 f for 13 minutes.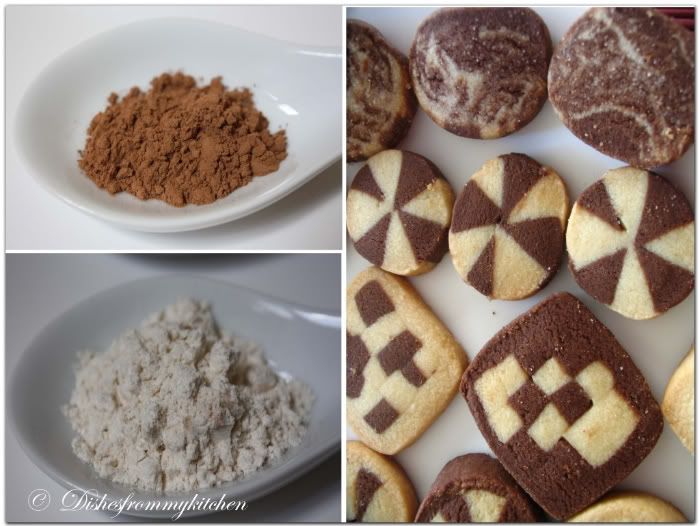 Note :

1. For spiral pattern using the rolling pin just roll them to 1/4" thickness, repeat with another color. Keep one on top of other.
2.Roll it tightly and put in the freezer for 1 hr. Then You can proceed the same procedure from 28 and 29.
3. Mix all the scrap doughs to make marbled cookies.
4. Cut to different patterns and bake.
5. Its really important to put it in the freezer for a while, each and every time you make different patterns.
6. Brush with water when you make patch works and press slightly so that they stick to each other.
7. For making wheel pattern make cylindrical and cut to quarters, repeat with both colors and fix colors alternatively to form a wheel.
8. The above measurement yields about 200 small cookies. Again this depends on the pattern, size you make.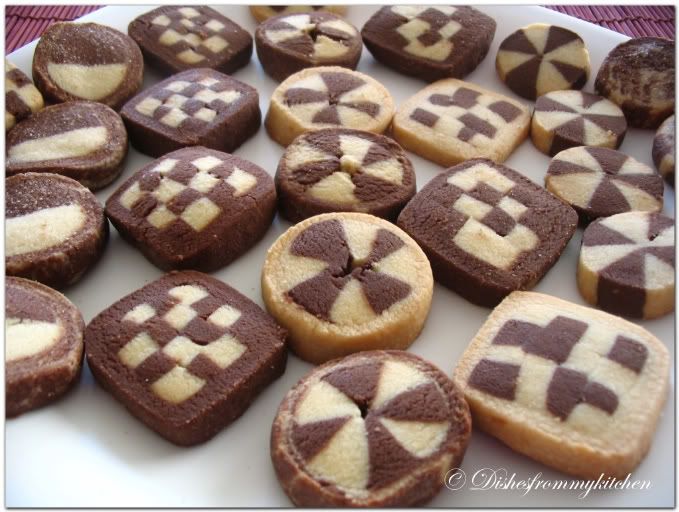 Try different patterns and enjoy the fun.
Read more...