>> Wednesday, November 12, 2008 –  meal maker curry, naan sidedish, Paneer butter masala, Rotis/Parathas, soy butter masala, soy chunks curry, tasty meal maker curry, tasty soy chunks curry, textured vegetable protein curry, Vegetable Gravies
This soya chunks gravy is a rich tomato based side dish is absolutely finger licking good. It is a wonderful side dish that goes excellent with naan,roti or any pulao....
Here is another Soy chunks vegetable curry( with step wise pictures)
OLD POST :


Ingredients :

Maida(All purpose flour)- 3 cups
Milk or curd - 1/2 cup
Dry yeast - 1 tsp
Salt and sugar - 1 tsp
Water and oil for dough


Method :


Add warm water in the yeast with sugar and salt, keep aside for 5 minutes until the yeast dissolve and it is activated, now add this yeast mixture to the flour, add milk and water to make dough then add oil, the dough can be little loose. Keep this dough for 1 hr. We can see the dough is raised, knead once and now divide equal big balls and roll thicker than chappathi in the rolling board and pull towards one side so that we get pear shape. In the dry hot pan put this naan, we can see bubbles on the top. When the bottom is browned invert it in direct flame so that we can get brown spots and bubbles . Now brush with some butter and serve.
Note :
Top it with sesame seeds, finely chopped mint , coriander, crushed garlic anything for variation.
UPDATED POST FOR SOYA CHUNKS GRAVY :
SOYA CHUNKS GRAVY
For Flavoring the soy chunks :
Ingredients :
Soya chunks - 1 cup
Chilli powder - 1/4 tsp
Garam masala - 1/4 tsp
Tomato - 2 slice or 1/2 tomato
Method :
Before you proceed to make gravy, flavor the soy chunks in this way. Sorry I did not take pictures for this as I decided to take picture only after these steps ... so bare with my picture quality as it was taken late evening and also in hurry :(
1. In the boiling water add 1 crushed garlic, 2 slices of tomato and salt to this add soya chunks. Switch of the flame keep this until they become soft. This process is to flavor the chunks. Now squeeze them cut into two.
2. Heat 1/2 tbsp of oil in the pan add the soy chunks season with salt, 1/4 tsp chilli powder and 1/4 tsp of garam masala and saute for few minutes.
3. Remove and keep it aside. In the same pan follow these procedure....
For making Gravy :
Ingredients :
Tomato - 2 (1/2 for blanching the soya chunks
and other for pureeing)
Onion - 1
Green chilli finely chopped
Kasoori methi - 1 tsp crushed
Ginger + Garlic paste - 1 tbsp
Cashew paste - 1 1/2 tbsp
Cream - 2 tbsp
Chilli powder- 2 tsp (adjust according to your preference)
Garam Masala - 1/4 tsp
Coriander Leaves
Tomato ketchup - 1 tbsp
Butter - 1/2 tbsp
Oil - 1 tbsp
Salt
Method :
1. Blanch tomato in hot water,remove the skin and puree them.Keep it aside.

2. Now in a frying pan add the butter (1/4 tbsp) and oil. Add green chilli.
3. Add the finely chopped onion, ginger garlic paste.
4. Then add the tomato puree, now add the chilli powder and garam masala, saute them until all the moisture is absorbed, then add cashew paste give it a mix.
5. Now add soya chunks. Mix well so that masala is well blended with soya. Now add little water.
6. Add cup of water , when it starts boiling and gravy becomes little thick. Add Tomato ketchup followed by kasoori methi, Cream.
7. Garnish with coriander leaves mix well and serve with a 1/4 tbsp of butter (optional).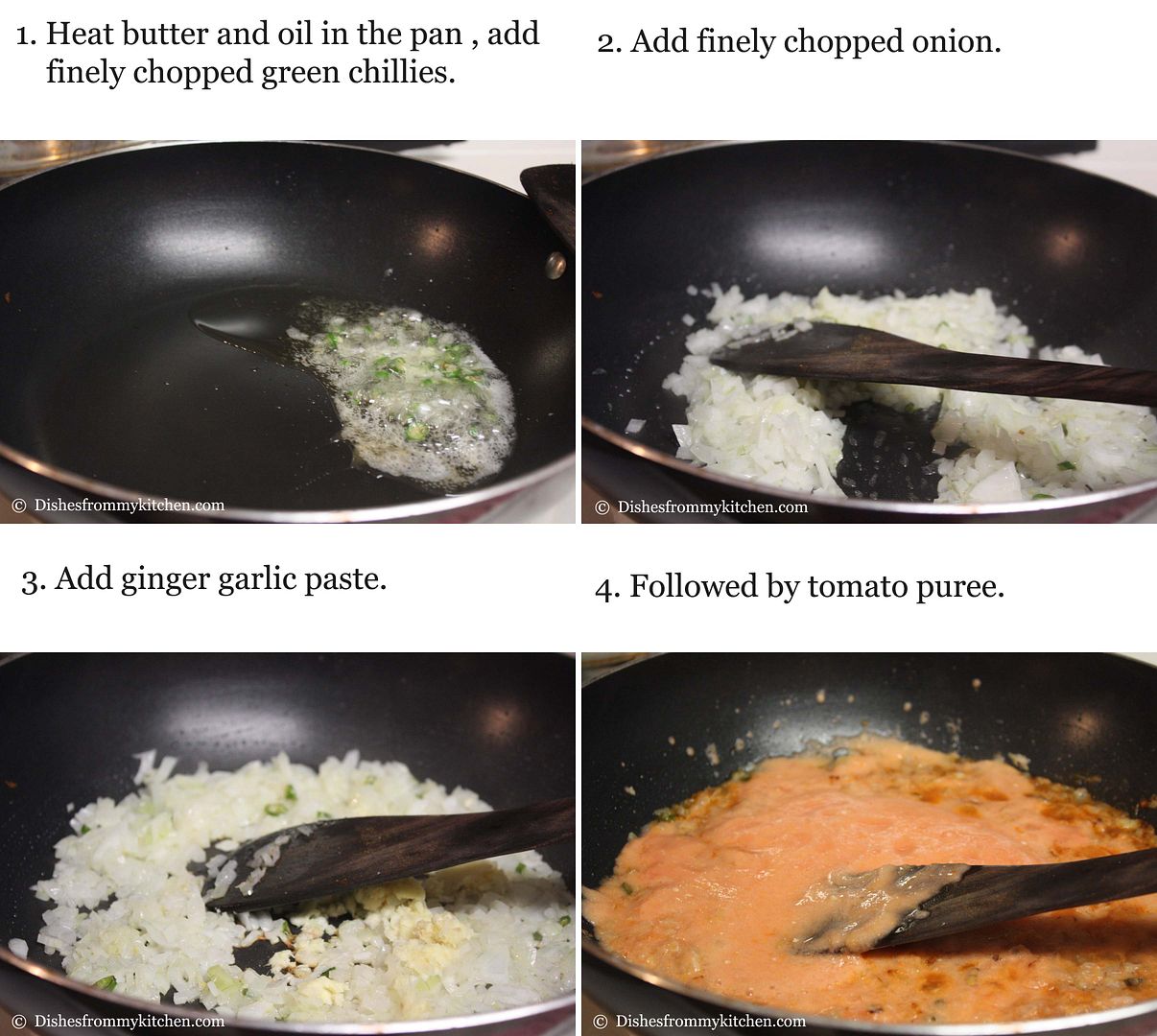 Note :
Choose nice ripen tomato and use kashmiri red chilli powder to get nice red color.
Read more...