Few weeks back I did the guest post of this Chocolate fudge.

I wanted to re post it again in my space including the stepwise pictures which I clicked yesterday when I made a batch of this fudge for kids.

I have done this n number of times.

Even though I have made this so many times we still crave for this Chocolate fudge, yes

J

it's totally addictive.

This is so easy to make with simple ingredients that we have in our pantry.

You need not require any fancy things like candy thermometer.

These fudge stores well in the refrigerator and you can gobble whenever you crave for chocolate.

You can also wrap this in fancy wrappers and gift them.

Like any other fudge it is not made out of boiling sugar syrup to soft ball stage. So this has to be refrigerated.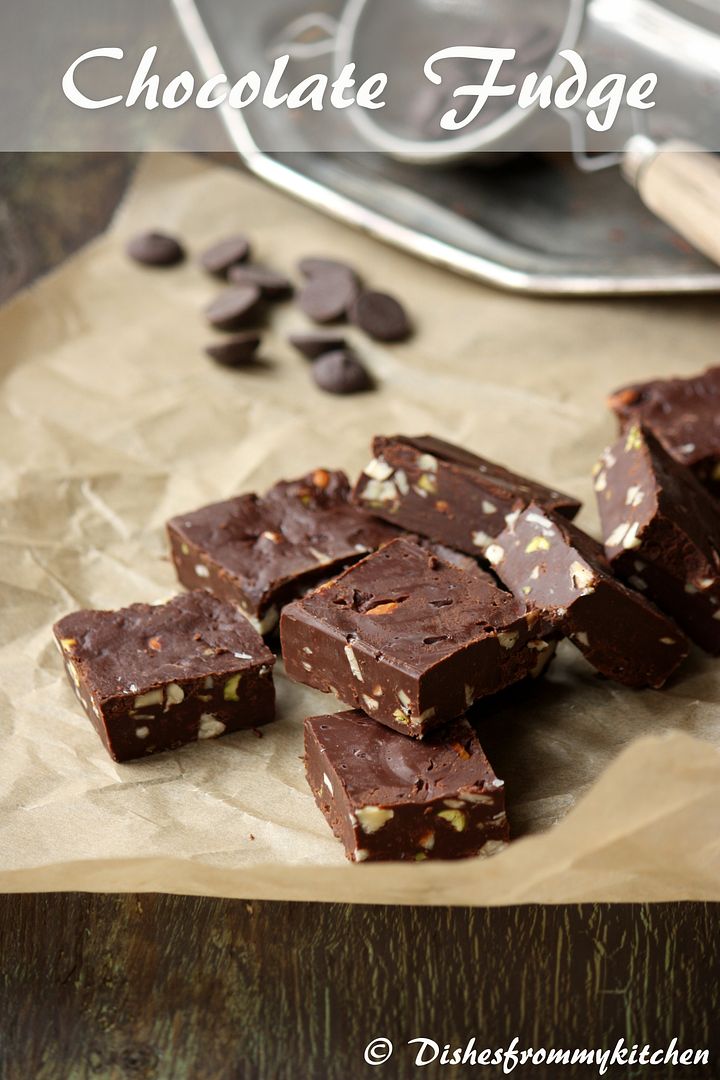 With no greater effort here is an express Chocolate Fudge with divine taste....which surely satisfies your dessert/Chocolate craving....
CHOCOLATE FUDGE WITH MIXED NUTS
Recipe Source - Nigella Lawson (with minor changes)
Ingredients:
Condensed milk - 1 can (397g)
Pinch salt
Butter - 30 g
Pistachios/Almond/Cashews - 150g chopped (I mix up all these nuts and dry roast in the pan to have extra crunch)
Cocoa Powder - little for dusting (This is my personal preference)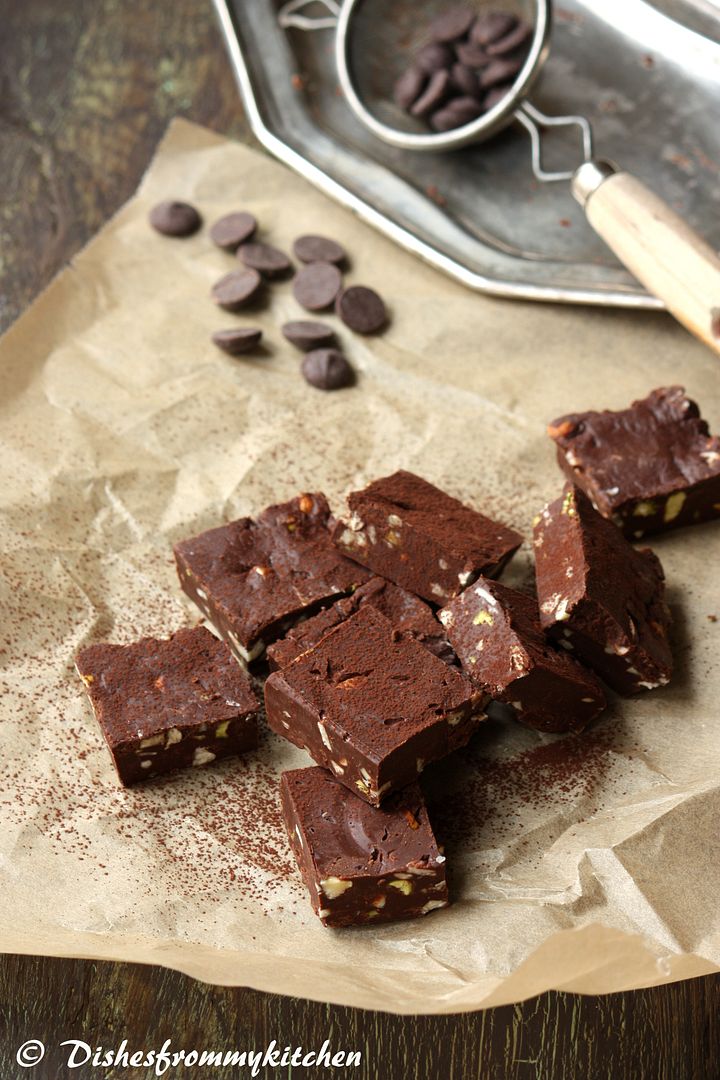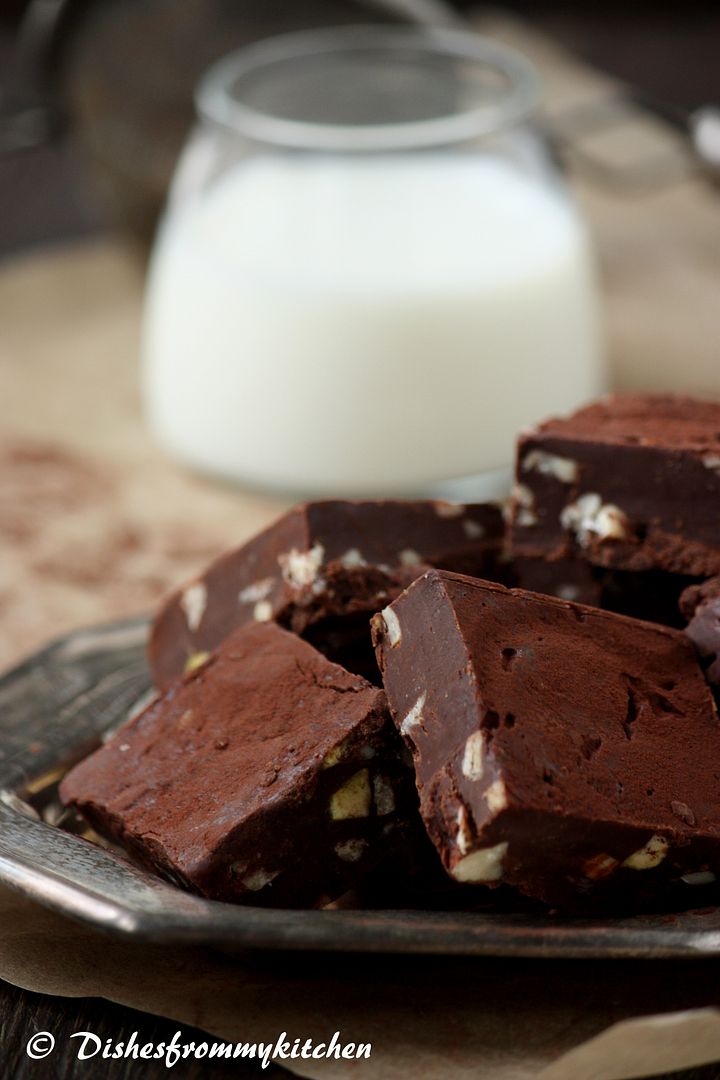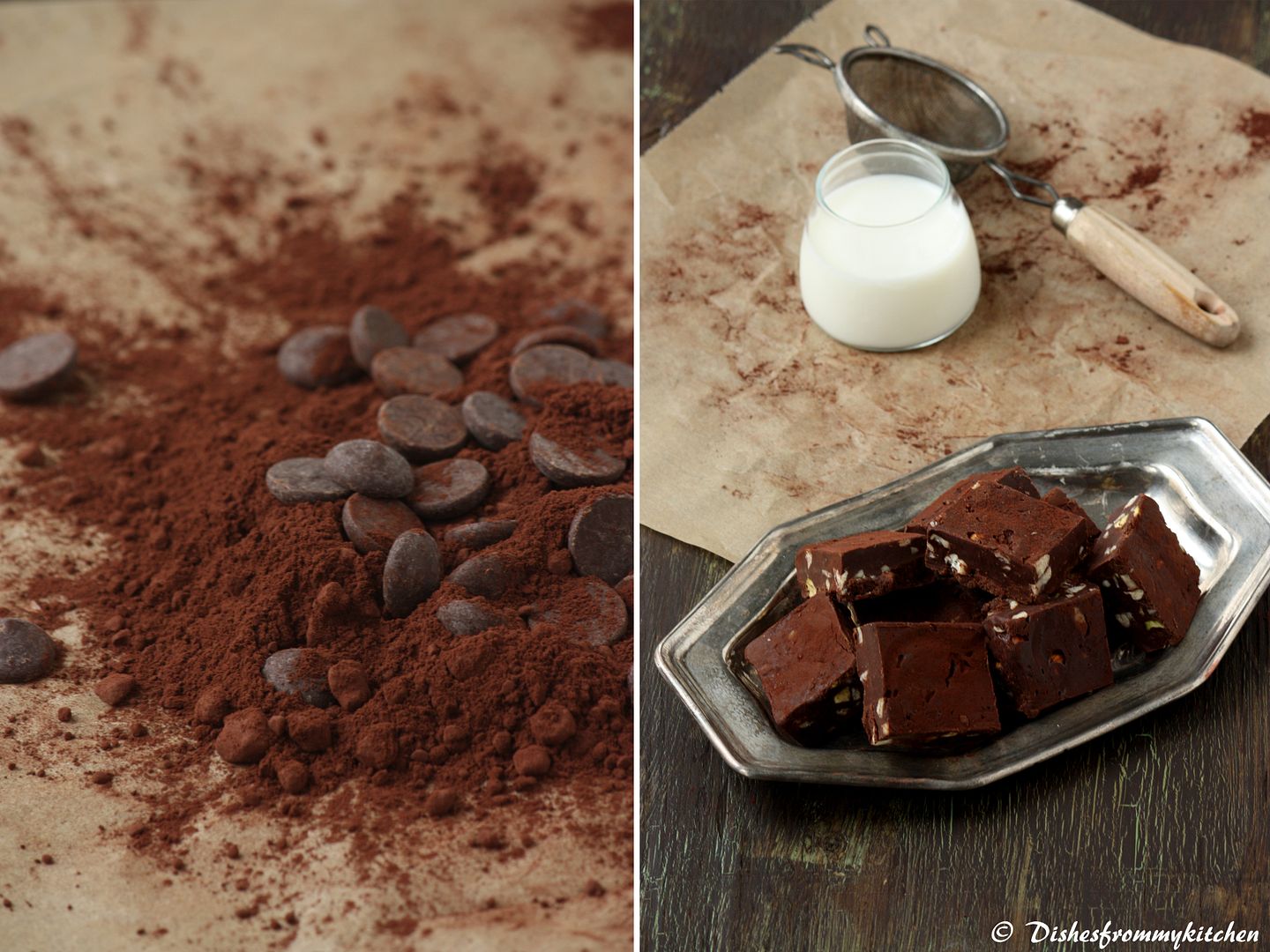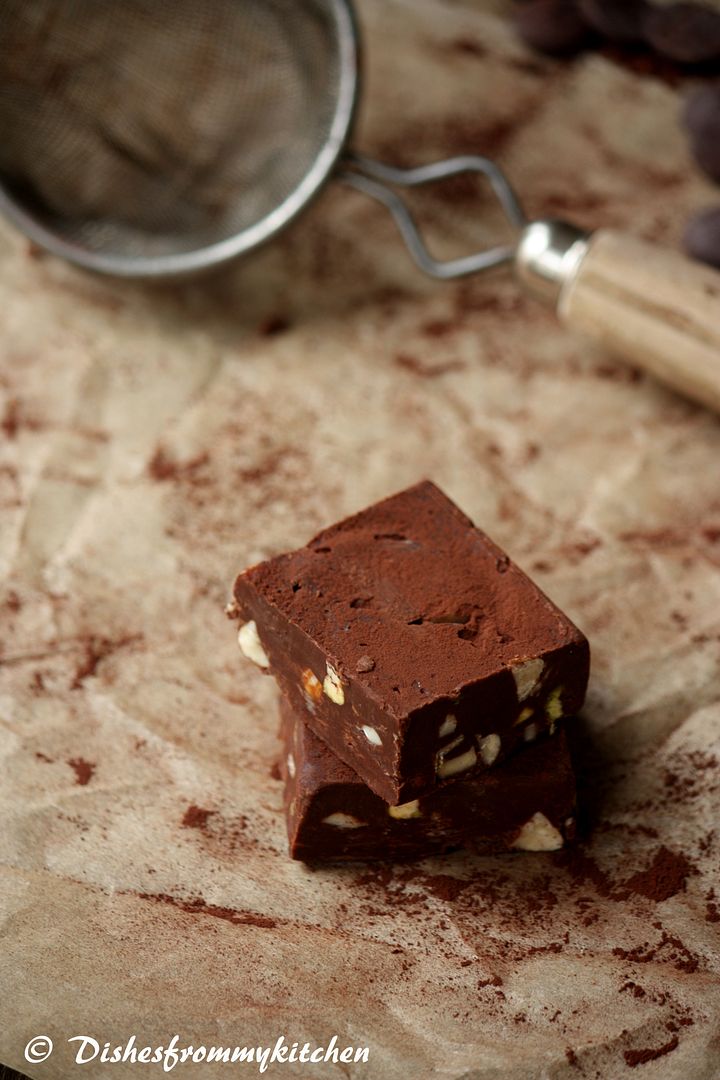 Note:
1. If you are using bitter sweet chocolate reduce the amount of condensed milk just by removing 1 1/2 tbsp from the can.
2.

You can add the nuts of your choice.
3. I dust the fudge slightly with cocoa powder because to avoid fudge sticking to each other and also to give nice matt finish.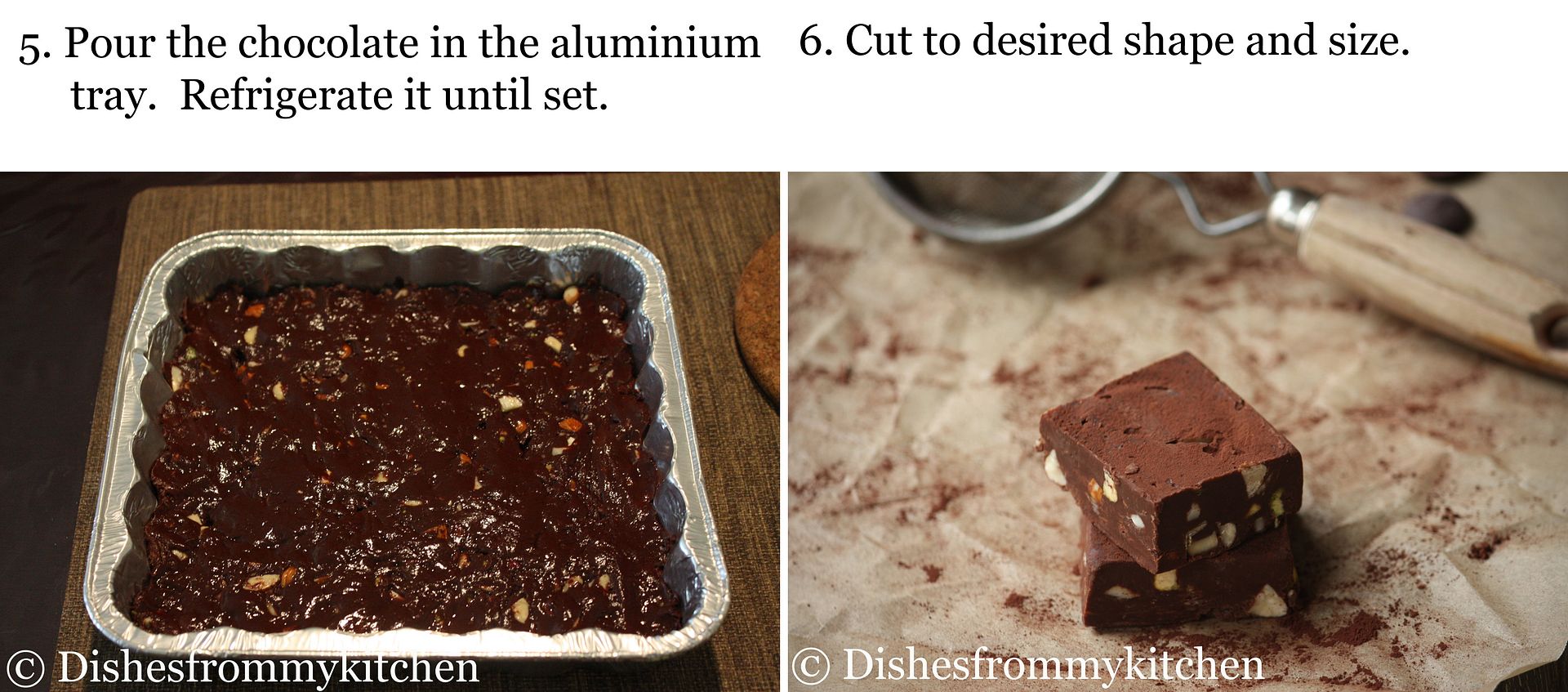 Method:
1. Combine Cashew nuts, Almond and Pistachio. Dry roast them in the pan until they are nice and warm.

Keep aside for Cooling.
2. Once the nuts are cooled chop all the nuts.

(Rough chop them).
3. In the heavy bottom pan/vessel put the chopped chocolate, condensed milk, butter.

Stir them in low heat until everything is melted. Keep an eye on them as Chocolate will burn easily.
4. Add the nuts to the melted chocolate condensed milk mixture and stir well to mix.
5. Once they are mixed well. Pour them immediately in the 23 cm square tray. Smooth the top using some spatula, spoon or foil.
6.

Let the fudge cool.

Refrigerate until set at least for 1 hour. You can then cut it into small pieces.
7. Once cut slightly dust them with Cocoa powder.
8. Store them in the air tight container and refrigerate it.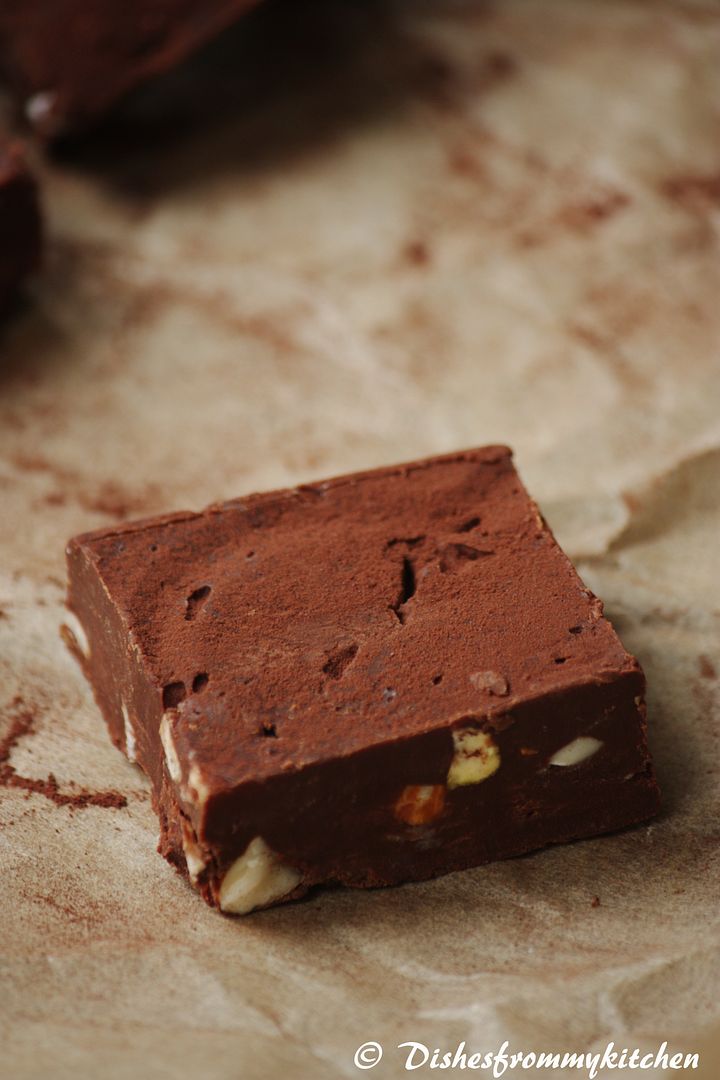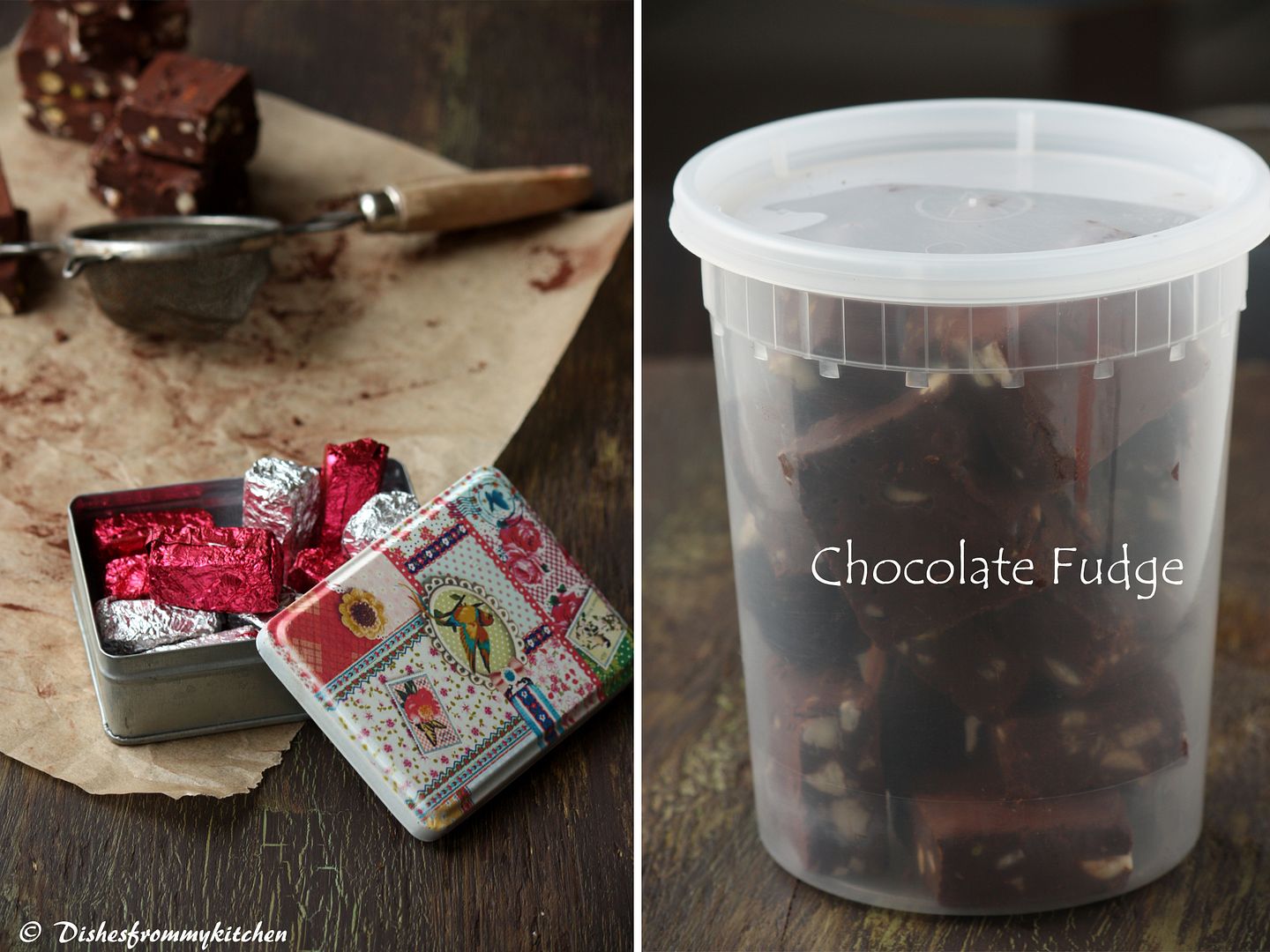 Enjoy them whenever you crave for Chocolates!!! It tastes divine.
Read more...