Have you tasted Adyar Ananda Bhavan Bitter gourd chips ? You love them ? Then here is the recipe for you :)
Few years back when we first tasted the bitter gourd chips from Adyar Ananda bhavan we instantly loved it, as bitter gourd is our favorite vegetable. From that time I have been making this at home. We love this a lot. This comes out super crisp and very tasty !!! I am sure you all will love this for sure :)
Warning: Beware Bitter gourd hater's you will start loving this chips.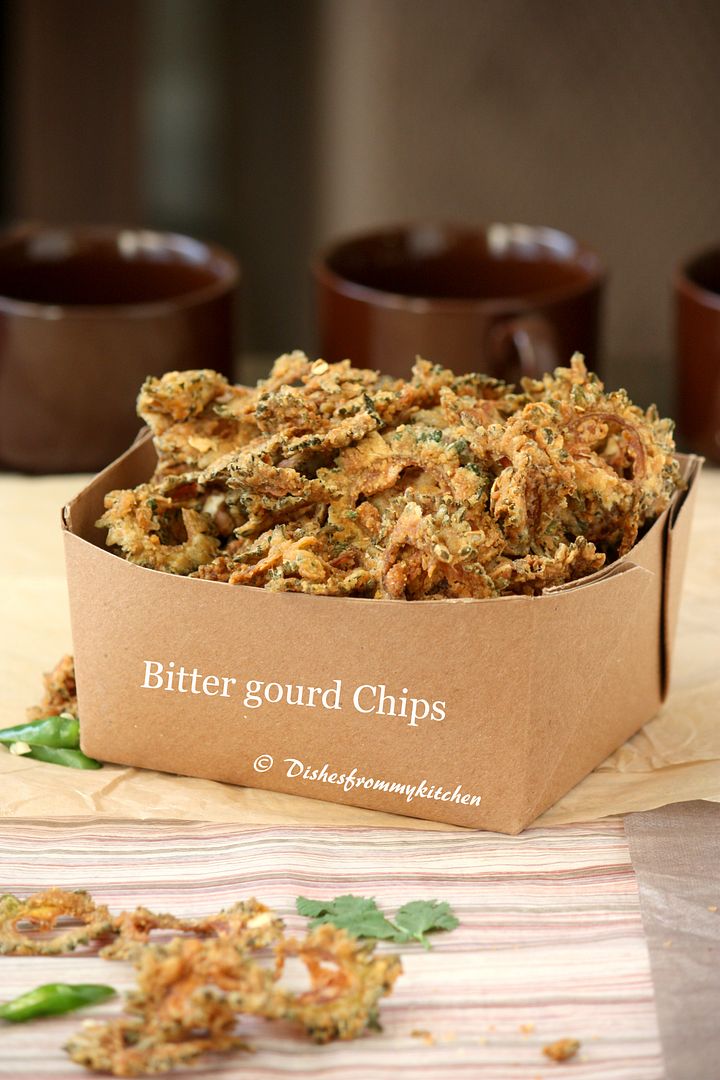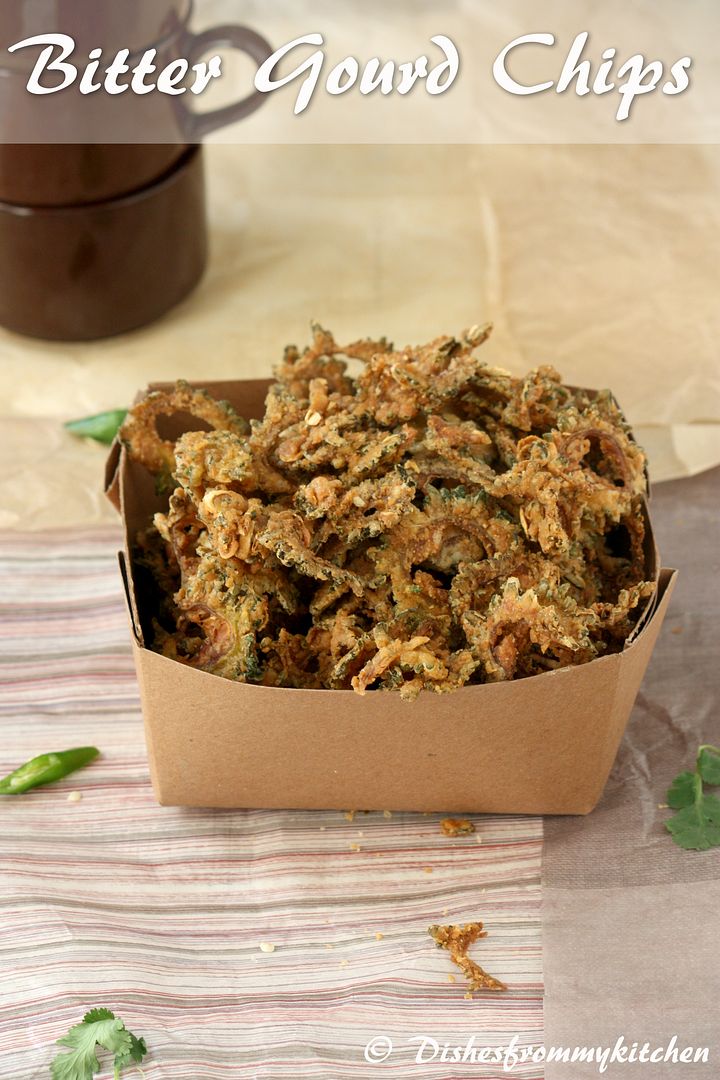 BITTER GOURD CHIPS/CRISPIES
Cornflour - 1/4 cup + 1/4 cup
Chickpea flour(Besan) - 1 tbsp
Coriander powder - 1/2 tbsp
Fennel(Saunf) powder - 1/2 tsp (coarsely powdered)
Chilli powder(Cayenne) - 1 tbsp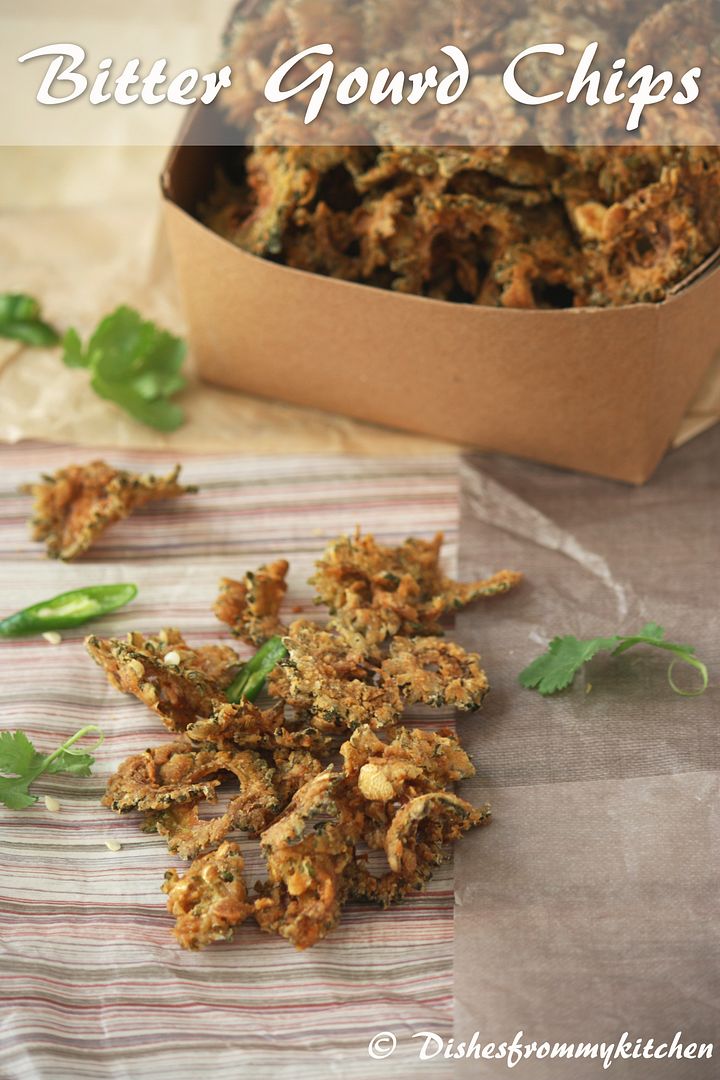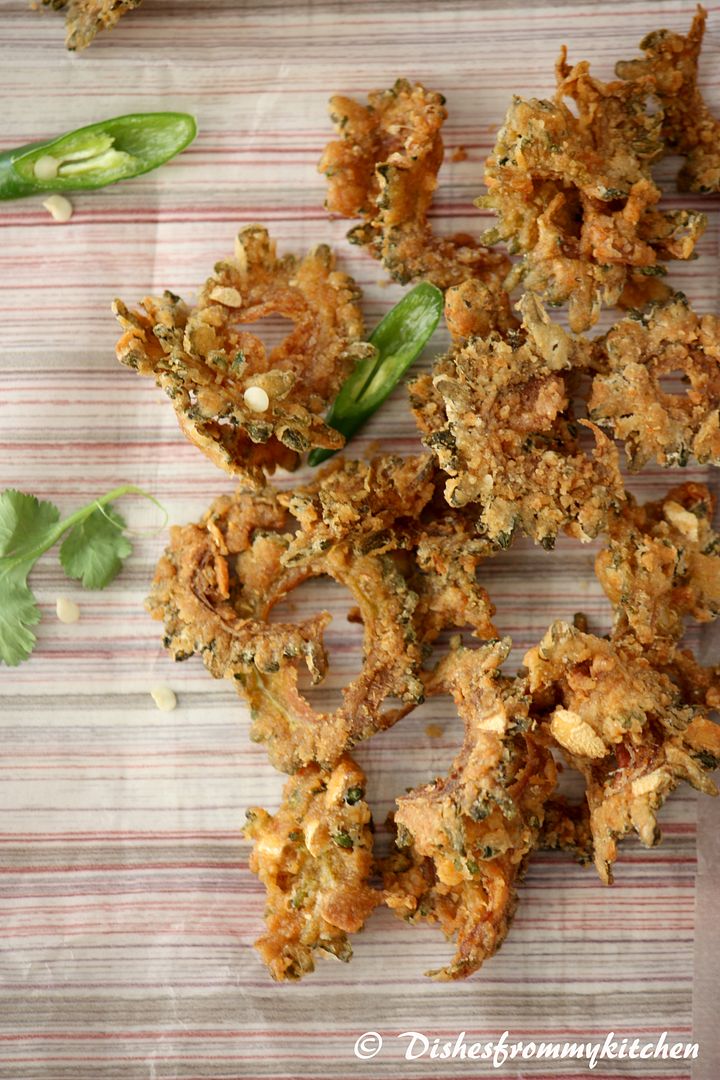 1. Wash and dry the bitter gourd.
2. Slice the bitter gourd using the slicer, this is important to make the chips nice and crispy.
3. The slices should be neither thick nor thin.
4. Mix cornflour, rice flour, chickpea flour(besan) and all other spice powders with salt in a bowl, reserving 1/4 cup cornflour for later dusting.
5. Now add this to the sliced bitter gourd with a tsp of water. (Don't add more water)
6. Make sure the spice mixture is nicely coated. Keep this mixture aside.
7. When you are ready for frying, heat oil in the pan.
8. Dust the remaining 1/4 cup of cornflour in the bitter gourd mixture. Toss well so that everything is well dusted. (If the mixture is not sticking to the vegetable and if it is dry just add 2 to 3 drops of water, only 2 to 3 drops not more than that)
9. Check the temperature of oil, fry the bitter gourd in hot oil in batches until the big bubbles ceases (until the shh.. sound subsides).
10. Drain them in the kitchen towel.
11. Once you are done with all the bitter gourds, bake them in the oven (spreading out in the tray) for 10 minutes in 350 F preheated oven.
12. Cool and store in airtight container.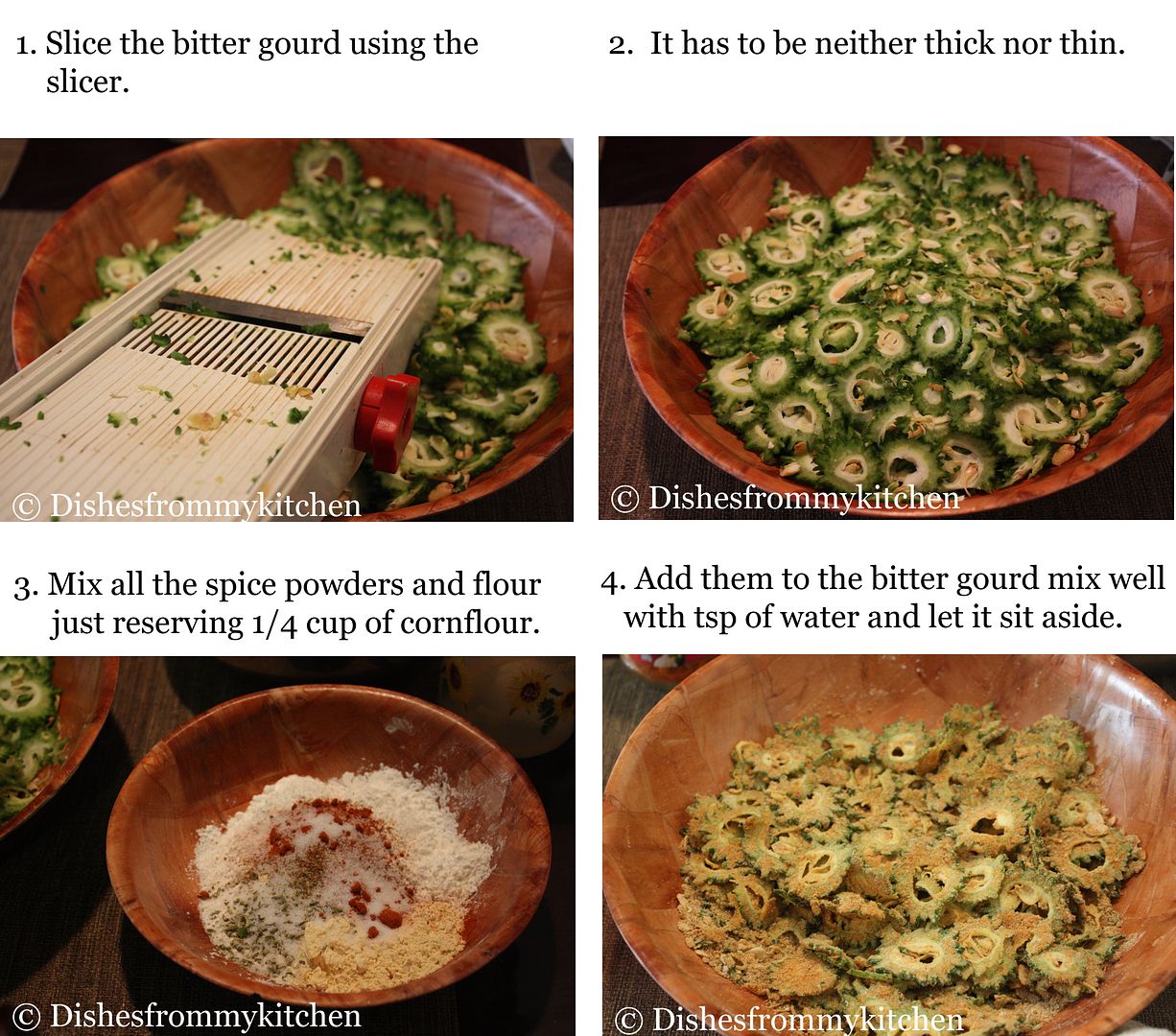 Bitter gourd chips is now ready for Munching!!!
1. The bitter gourd should be evenly sliced.
2. Baking them after frying makes the bitter gourd chips crispier and also it can be stored well.
3. While Frying, fry until the bubbles ceases(Shh sound subsides) this is very important to get crispy bitter gourds.
4. You can also bake this bitter gourd chips in the oven instead of deep frying. If you are baking in the oven then 1/4 cup corn flour which we are using later for dusting is not needed. Just add 3 tbsp of oil in the bitter gourd mixture then bake them in the 400 f preheated oven for 25 to 30 minutes until they are nice and crisp. Rotate the tray for every 10 minutes and also flip the bitter gourd for every 15 minutes.