>> Tuesday, March 27, 2012 –  animal bread, crust top bread, crusty bread, daring baker, dragonette bread, dutch, dutch bread, Dutch crust, giraffe bread, lion bread, pattern bread, rice paste crust, rustic, tiger bread, tijgerbol, tijgerbrood
Sara and Erica of Baking JDs were our March 2012 Daring Baker hostesses!
Sara & Erica challenged us to make Dutch Crunch bread, a delicious sandwich bread with a unique, crunchy topping. Sara and Erica also challenged us to create a one of a kind sandwich with our bread!
Let's go for this month's challenge, it is "Dutch Crunch bread ". Technically, Dutch Crunch doesn't refer to the type of bread, but rather the topping that is spread over the bread before baking. In Dutch it's called Tijgerbrood or "tiger bread" after the tiger-like shell on the bread when it comes out of the oven. The final product has a delightful sweet crunch to it that makes it perfect for a sandwich roll.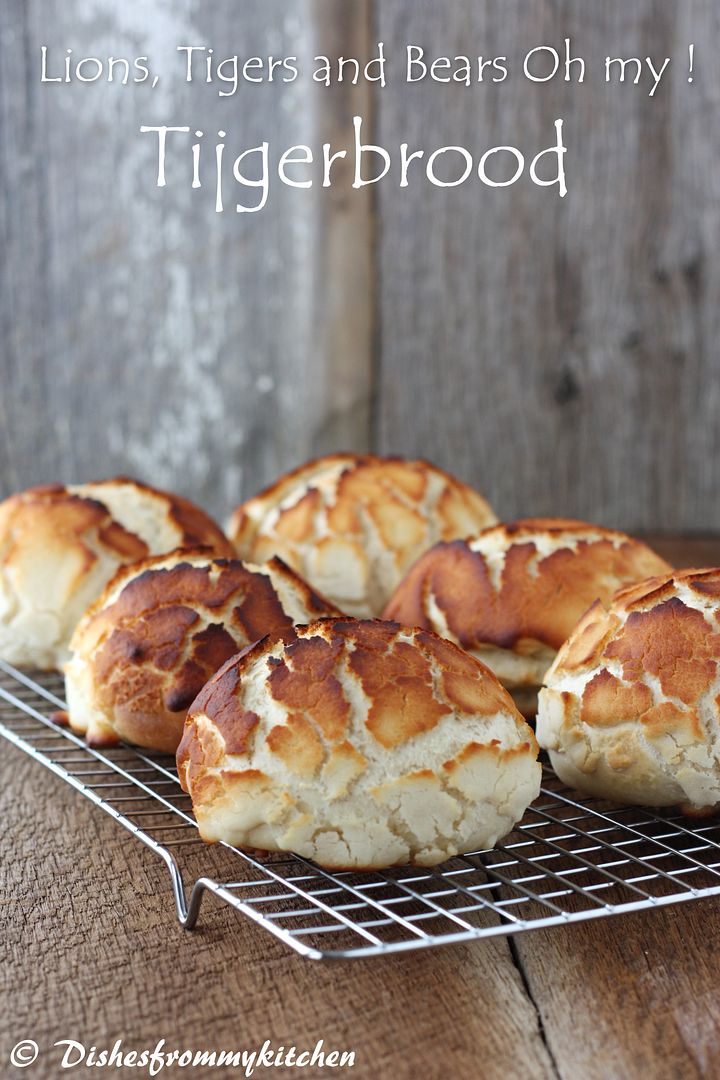 The name originated in the Netherlands, where it is known as Tijgerbrood or tijgerbol (translation: tiger roll) where it has been sold at least since the early 1970s. In the USA, it is generally sold as "Dutch crunch". Though recently, some stores began to sell it as "Dutch crust". In the United States it is also sometimes known as dragonette bread. This bread is a common option at sandwich shops all over the Bay Area and is often one of the first breads to run out.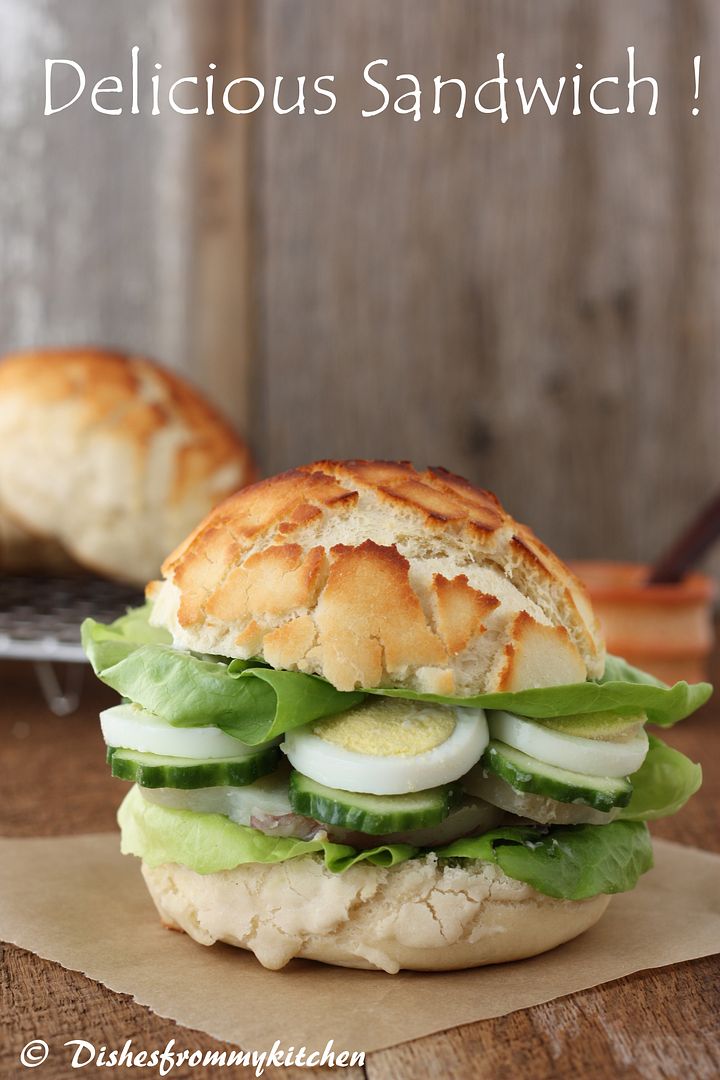 What is Dutch Crunch Topping/Crust ?
The bread is generally made with sesame oil and with a pattern baked into the top made by painting rice paste onto the surface prior to baking. [1] The paste dries and cracks during the baking process. The rice paste crust also gives the bread a distinctive flavor. It has a crusty exterior, but is soft inside. Typically, tiger bread is made as a white bread bloomer loaf or bread roll, but the technique can be applied to any shape of bread.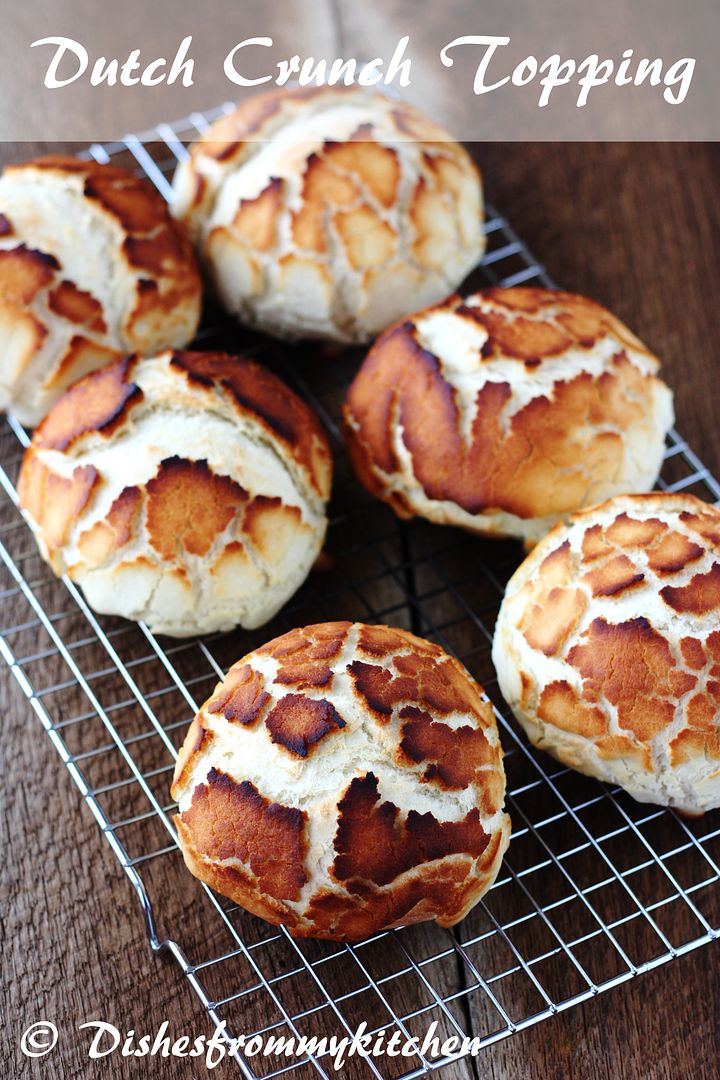 Therefore, the heart of this challenge is the topping. Once we have our final loaves, it is required to use our bread to construct a sandwich of our choice!
I was very happy to see the cracked top, beautiful appearance and finish of the Bread. Don't they look beautiful ???? More than the tiger it looks like a Leopard right :) The crispy crust and soft inside is sure a perfect one for making sandwiches.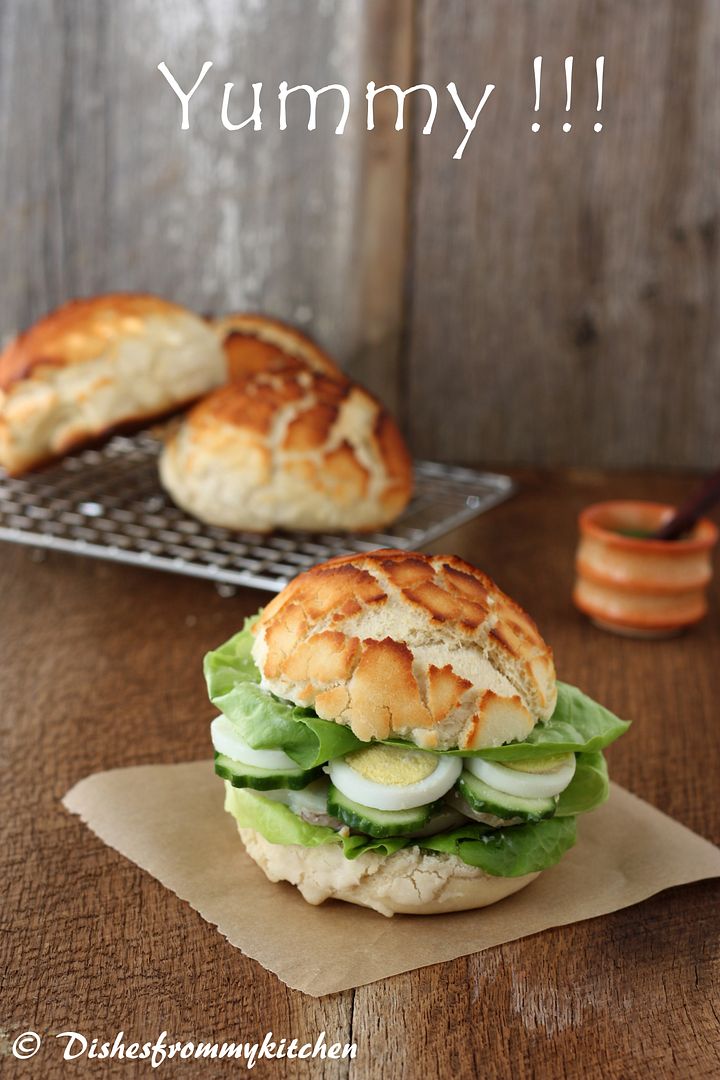 Soft White Roll
Servings: 6 sandwich rolls
Ingredients:
Active dry yeast - 1 tbsp (1 packet)
Warm water - ¼ cup (105-110º F) (41-43°C) (No need to use a thermometer – it should feel between lukewarm and hot to the touch).
Warm milk - 1 cup (240 ml) (105-110º F) (41-43°C)
Sugar - 1½ tbsp
Vegetable oil - 2 tbsp (plus additional olive or vegetable oil for greasing bowl during rising)
Salt - 1½ tsp
Directions:
1. In the bowl of an electric mixer or large mixing bowl, combine yeast, water, milk and sugar. Stir to dissolve and let sit for about 5 minutes (The mixture should start to bubble or foam a bit and smell yeasty).
2. Add in vegetable oil, salt and 2 cups of flour. Using the dough hook attachment or a wooden spoon, mix at medium speed until the dough comes together.
3. Add remaining flour a quarter cup at time until the dough pulls away from the sides of the bowl. (I needed 3/4 cup extra flour)
4. Turn out onto a lightly floured surface and knead for about 4 minutes, until smooth and elastic.
5. Place in a lightly greased bowl and cover with plastic wrap. Let rise for 1 hour, or until doubled (or more) in size.
6. Once the dough has risen, turn it out onto a lightly floured surface and divide it into 6 equal portions (if you'd like to make rolls) or 2 equal portions (if you'd like to make a loaf) (using a sharp knife or a dough scraper works well). Shape each into a ball or loaf and place on a parchment-lined baking sheet (try not to handle the dough too much at this point).
7. Cover with plastic wrap and let rise for 15 minutes while you prepare the topping.
8. Coat the top of each roll or loaf with the topping as described above. While the original recipe recommends letting them stand for 20 minutes after applying the topping, I got better results by putting them directly into the oven.
9. Once you've applied the topping, bake in a preheated moderately hot 380ºF/190°C/gas mark 5 for 25-30 minutes, until well browned. Let cool completely on a wire rack before eating.
Dutch Crunch Topping
Serving: Topping for 6 Soft white rolls
Ingredients:
Active dry yeast - 1 tbsp (1 packet)
Warm water - 1/2 cup (105-115º F) (41-46°C)
Sugar - 1 tbsp
Vegetable oil - 1 tbsp (I used 1/2 vegetable oil and 1/2 Sesame oil)
Salt - 1/4 tsp
Method:
1. Combine all ingredients in a large bowl and beat with a whisk; beat hard to combine. The consistency should be like stiff royal icing – spreadable, but not too runny. If you pull some up with your whisk, as shown below, it should drip off slowly. Add more water or rice flour as necessary. Let stand 15 minutes.
2. Coat the top of each loaf or roll with a thick layer of topping. We tried coating it with a brush but it worked better just to use fingers or a spoon and kind of spread it around. You should err on the side of applying too much topping – a thin layer will not crack properly.
3. Let stand, uncovered, for any additional time your recipe recommends. With the Soft White Roll, you can place the rolls directly into the oven after applying the topping. With the Brown Rice Bread, the loaves should stand for 20 minutes with the topping before baking.
4. When baking, place pans on a rack in the center of the oven and bake your bread as you ordinarily would. The
Dutch Crunch topping should crack and turn a nice golden-brown color.
FOR MAKING SANDWICHES
Serving - for 3 sandwich
Ingredients :
Mint chutney or Basil Pesto refer the recipe here and here
(You can use any kind of fresh green pesto, coriander or Mint chutney for spreading)
Potato - 2 (Boiled and sliced)
Egg - 3 (Boiled and sliced)
Lettuce - 6 leaves
Cucumber - 2 (sliced)
Mayonnaise - 1 1/2 tbsp
Ketchup - 1 tbsp (Absolutely optional)
Assembling :
1. Cut the sandwich rolls to half horizontally.
2. If you want to toast in the pan you can toast them.
3. Apply the chutney or pesto to bottom bread.
4. Arrange the above ingredients in layers.
5. Spread the Mayonnaise and ketchup in the upper bread.
6. Close the sandwich and have a big Bite :)
Enjoy Baking and eating the fresh crunchy bread !!!