>> Tuesday, March 6, 2012 –  buck wheat noodle, japanese cuisine, japanese soup, mirin substitute, noodle soup, noodles, sake substitute, soba noodle soup, Soba noodles, Soups, soy ginger broth, sprouts soup
Soba is the Japanese name for buckwheat. It is synonymous with a type of thin noodle made from buckwheat flour. Soba noodles are served either chilled with a dipping sauce, or in hot broth as a noodle soup. I also like to stir fry the noodles with vegetables. We love these in any form. These are the easiest and most versatile one for making healthy dishes. Today the recipe which I am posting is the Soba Noodle soup which has the soy ginger broth. The broth is very flavorful and you can serve it with your favorite veggies. You can also make the same recipe using udon. There are lots and lots of dishes you can make using Soba noodles. So stay tuned :)... Here is healthy, delicious Soba Noodles soup....with soy ginger broth.
Soba noodles - 250 gm
1. Bring 2 to 3 quarts of water to a boil.
2. Add the noodles and boil 4-5 minutes or until tender.
3. Drain and rinse under cold water.
4. Serve hot or cold as per the recipe.
This serves 4 to 5
Ingredients:
Cooked soba - divided into 5 bowls
Sprouts - 1 cup
Tofu - Soft Tofu or Medium firm tofu 1 packet cut to big cubes
Dried Shiitake Mushroom - 8
Carrots - 2 small( julienne)
Ginger - 2 inch piece (julienne)
Soy sauce - 3 tbsp
Mirin or Sake - 2 tbsp
Spring onion (Scallions) - 3 cut to lengthy pieces (omit the white part)
I ran out of spring onion when I made this time :(
Chilli garlic sauce - 1/2 tbsp (Use it according to your need or spice level)
Vegetable stock or water - 7 cups
Coriander leaves for garnishing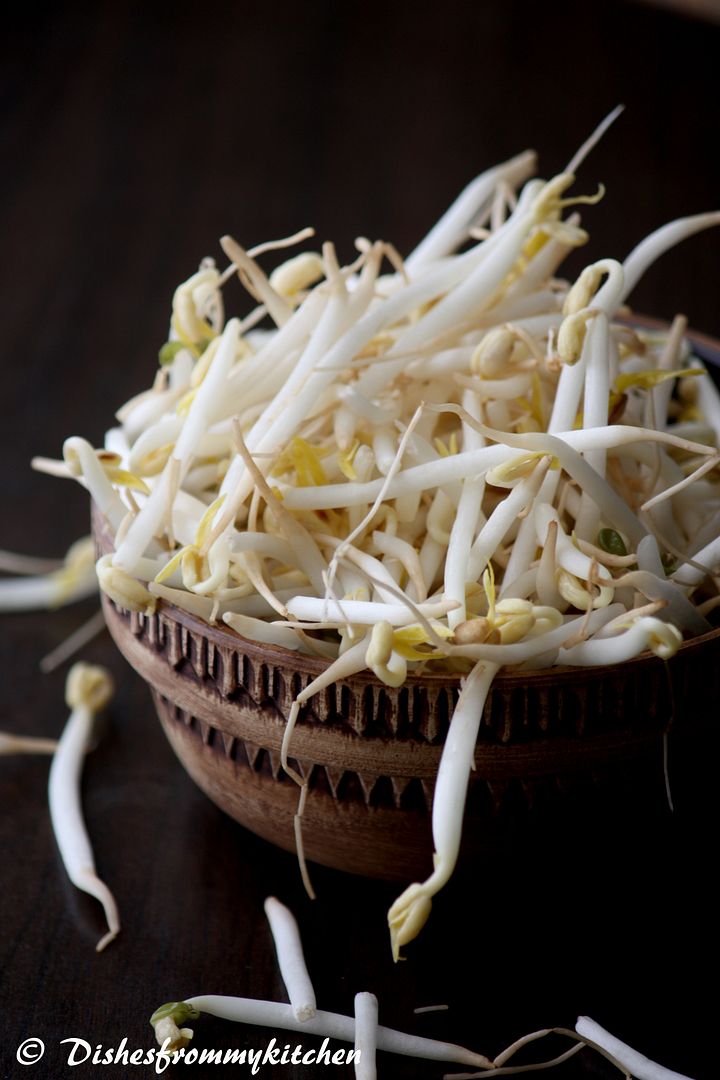 Method:
1. Cook the noodles according to the packet instructions or as I told above.
2. Soak the mushroom in 1 cup of boiling water and let it steep until it is soft.
3. Drain it reserving the liquid.
4. Remove the stalks and finely slice the mushroom.
5. Combine the vegetable stock, mushroom, reserved liquid from the mushroom,ginger.
6. Bring to boil and add the carrot. Cook until the carrots are tender but crisp. (Don't over cook it). This step takes maximum of 2 to 3 minutes as carrots are thinly julienned.
7. Add the sauces, tofu and bean sprouts cook further for another couple of minutes.
8. Now divide the noodles in 5 serving bowls.
9. Ladle the hot liquid/broth with vegetables over the noodles and garnish with scallion/green onion and coriander.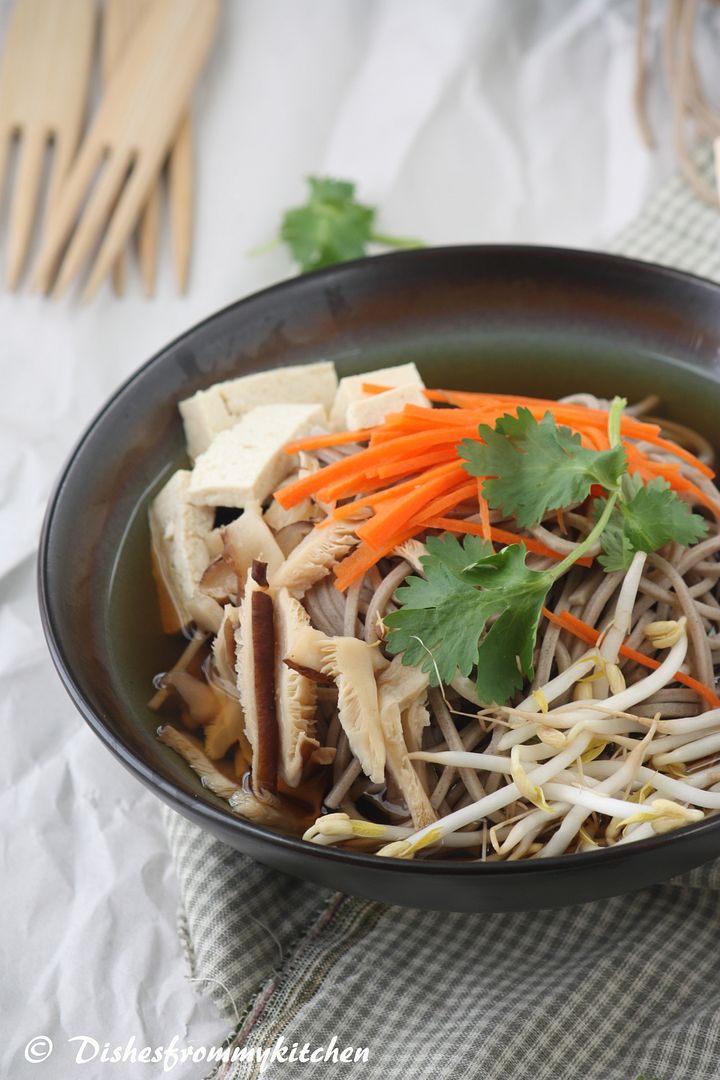 Mirin is an essential condiment used in Japanese delicacies, consisting of 40%–50% sugar. It is a type of rice wine, often referred to as "sweet sake." Sake can be used as a substitute for mirin by adding sugar in the ratio of 3:1.