>> Thursday, March 15, 2012 –  bonda, coconut chutney, Deep fried snacks, dosa batter fritters, dosa batter snack, dosa maavu bonda, dosa pindi unta, Indian hushpuppies, pukkulu, punnugulu, quick and easy deep fried bonda
If you have left over idli/dosa batter sitting in your refrigerator, then here is a quick and easy snack for you. These are wonderful deep fried snack with light tangy and chewy texture. This can be called in variety of names like Dosa pindi unta, Punnugulu, Punnukkulu, Dosa maavu Bonda...whatever way you call it, these little golden beauties are sure an addictive one. This bonda can be made in different ways by adding Sago, besan or semolina. If the batter is very sour then it tastes yummy by adding any one of the above ingredients. I personally love to make them in sour batter by adding semolina or sago. More the sour the tastier it is :) You can also make them plain even without adding any of the above ingredients. If you are planning to make them plain then for this the batter need not be very sour. Today I am posting the recipe by adding Semolina to the Dosa/Idli batter.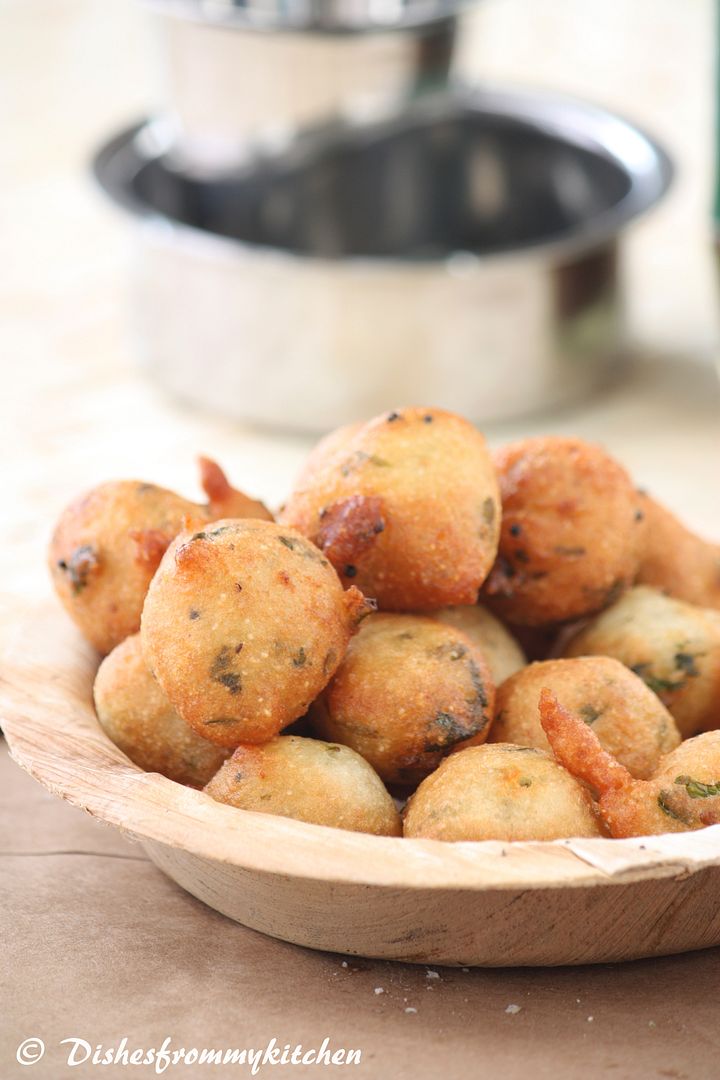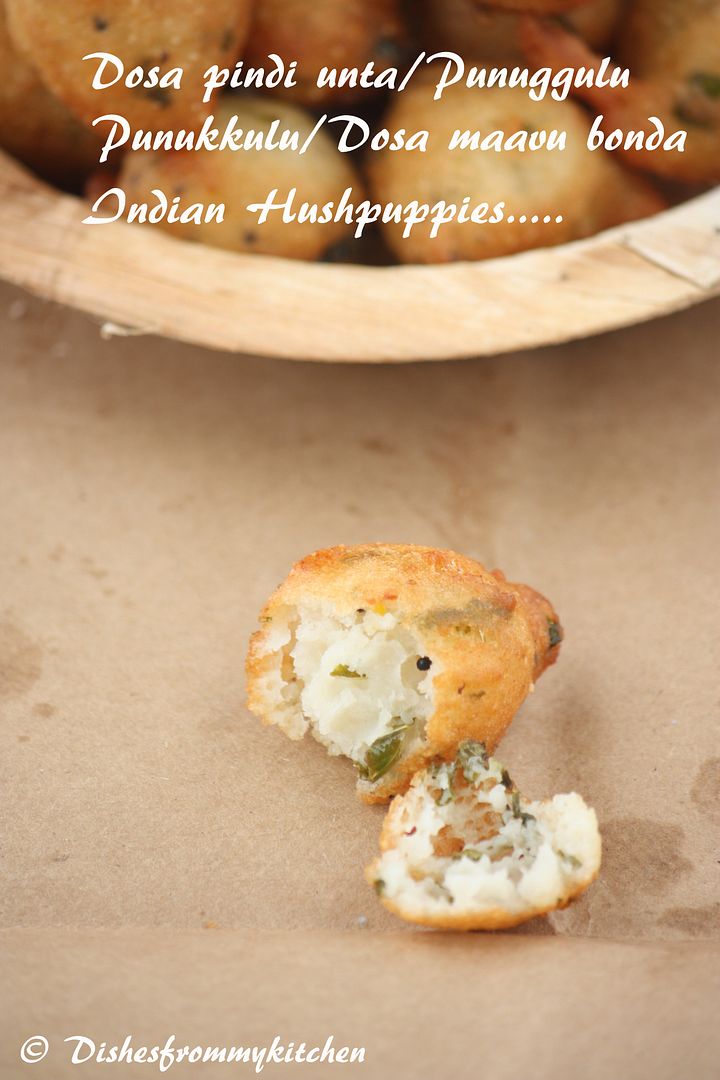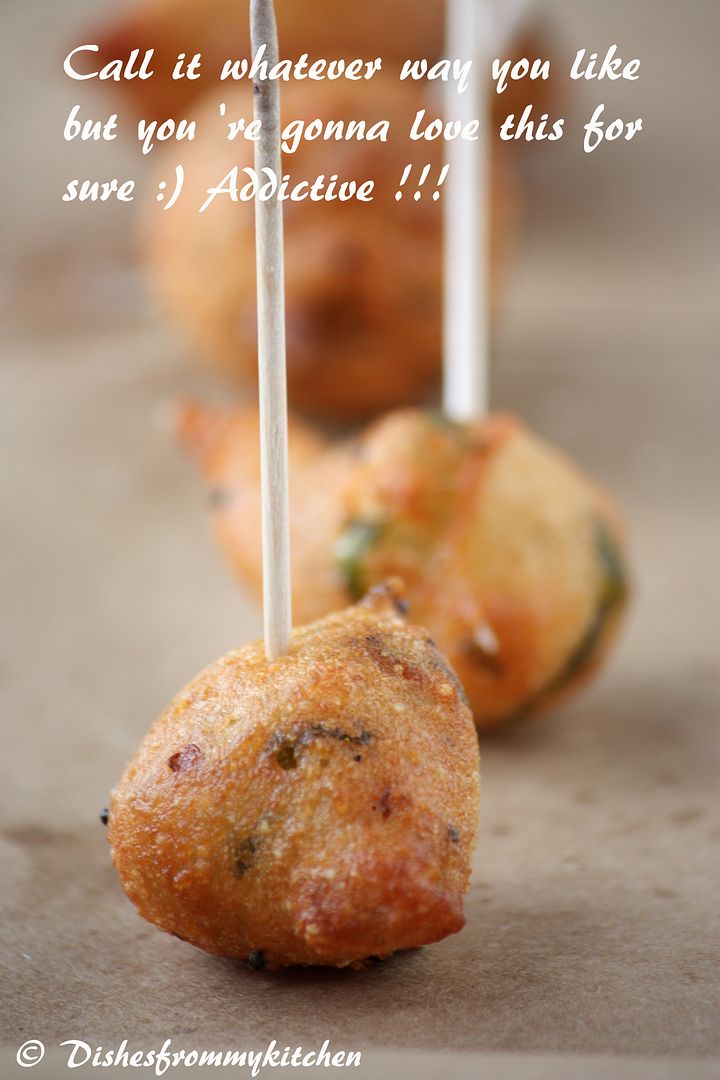 DOSA MAAVU BONDA / PUNNUGULU - INDIAN HUSHPUPPIES !!!
Ingredients :
Dosa/idli batter - 2 cups
Semolina - 1/4 cup
Rice flour - 2 tbsp
Green chilli paste - 1 tbsp
Mustard seeds - 1 tsp
Curry leaves - few chopped finely
Coriander leaves - few finely chopped
Baking soda - 1/16 tsp (pinch)
Salt as needed
Oil for frying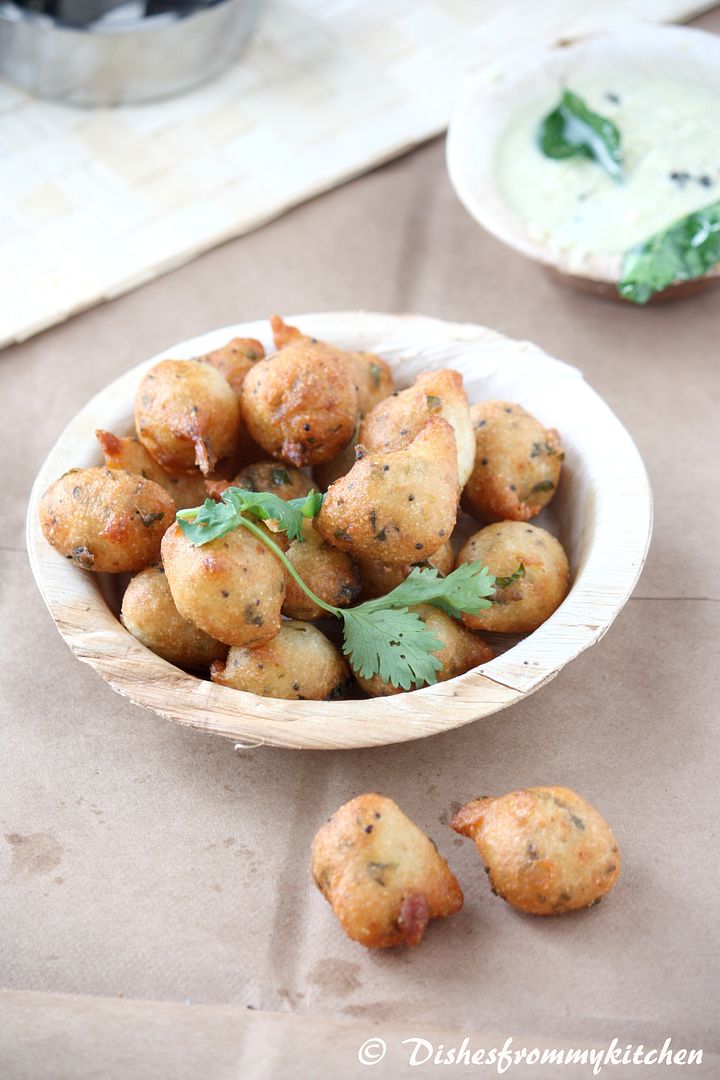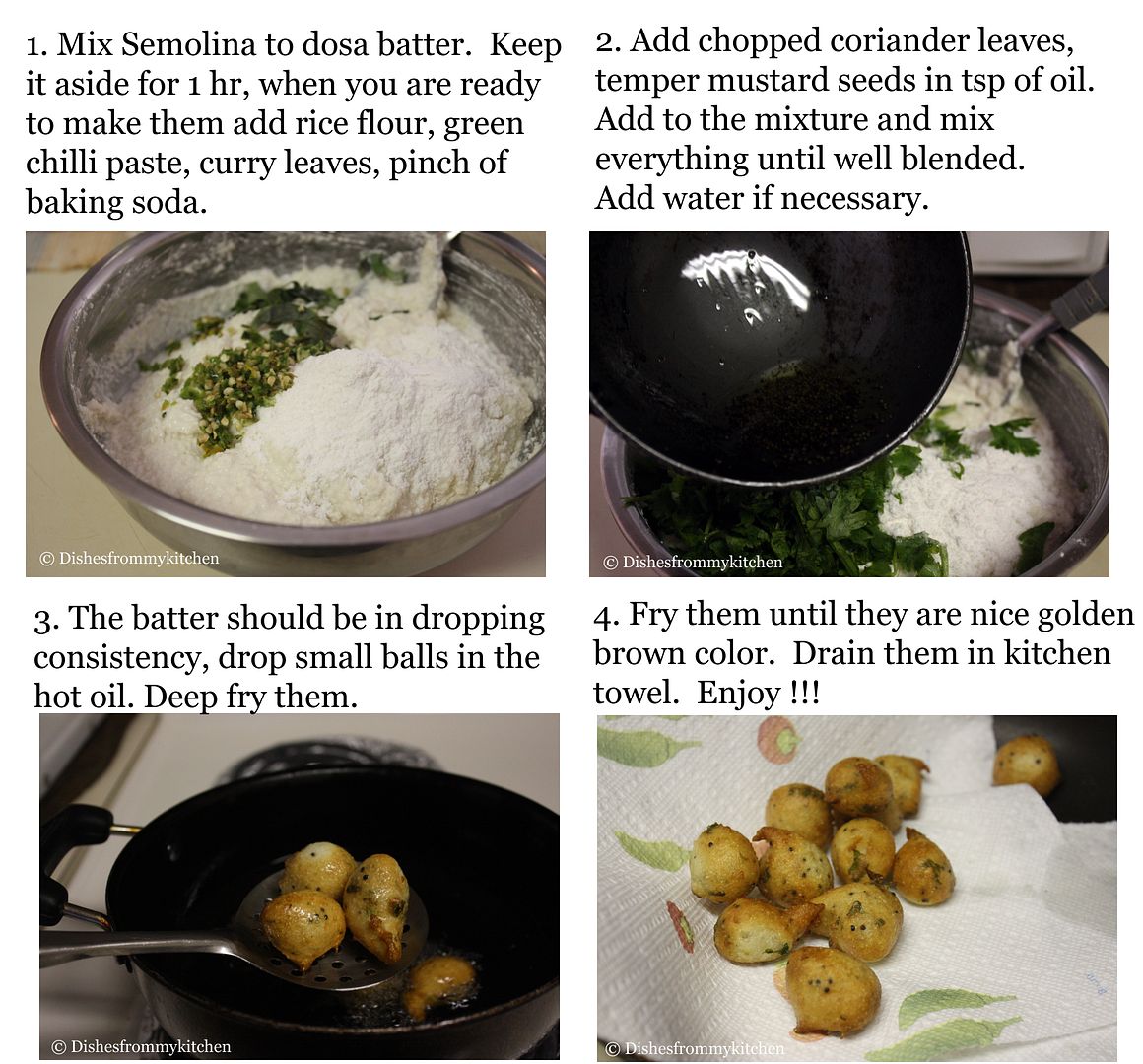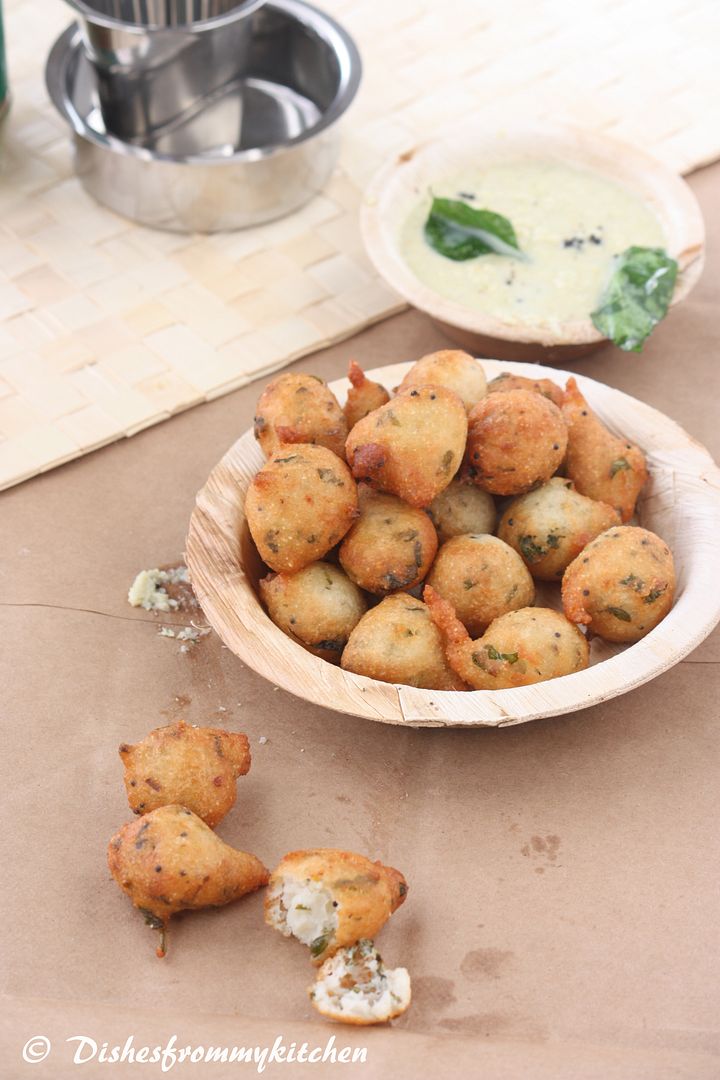 Method:
1. Mix the semolina with the dosa batter and keep it aside for at least one hour.
2. When you are ready to make the bonda, add rice flour, baking soda, green chilli paste, chopped curry leaves, chopped coriander leaves and salt.
3. Heat oil in the deep vessel.
4. Temper the mustard in tsp of oil and add to the batter. Add water as needed to adjust the consistency of the batter.
5. The batter should in dropping consistency.
6. Check the temperature of the oil just by dropping small pinch of batter, if the batter immediately comes up and floats on the top of the oil then the temperature of oil is right for frying.
7. Now drop the batter to small balls directly to the oil, fry them till they are nice golden brown in color.
8. Drop 8 to 10 small balls for every batch. Don't over crowd them. Repeat the same with remaining batter and fry them till nice golden brown color.
8. Drain them in kitchen towel and serve hot with coconut chutney.
Enjoy !!!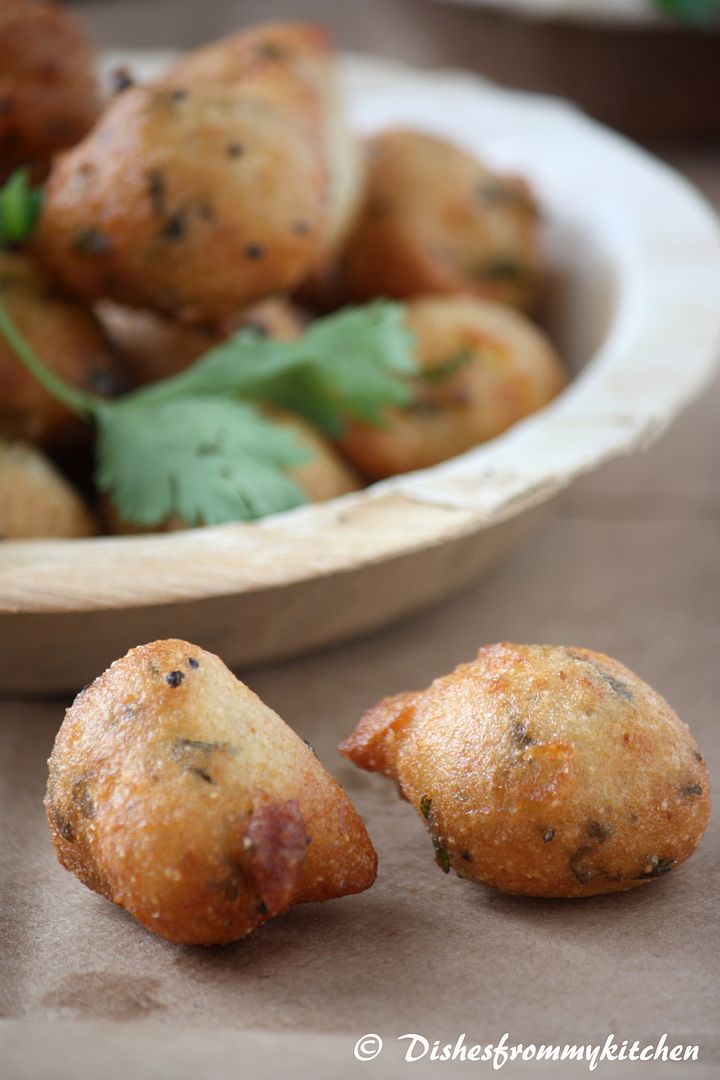 Note:
1. You can also add finely chopped onion, cumin seeds to the batter.
2. You can also add chilli powder instead of green chilli paste.
3. Add required amount of water to adjust the consistency.