>> Thursday, December 22, 2011 –  bouchon bakery, bouchon bakery recipe, Bouchons, bouchons au chocolate, brownie, chocolate bouchons, chocolate brownie, chocolate cake, christma, thomas keller recipe, timbale mold chocolate, timbale mould
Chocolate Bouchon was in my to do list for loooooong time. In our recent trip to Nashville we had it for our brunch, from that time we were really craving for this again, So thought of making it as a Christmas treat. These small, brownie-like cakes are from Thomas Keller's Bouchon Bakery. They are named for their shape, which resembles a cork, or bouchon in French; they are very rich and chocolaty, baked with the chocolate chips in the batter and dusted with confectioners' sugar. These dessert are quite rich and chocolatey and tastes in between a brownie and a cake.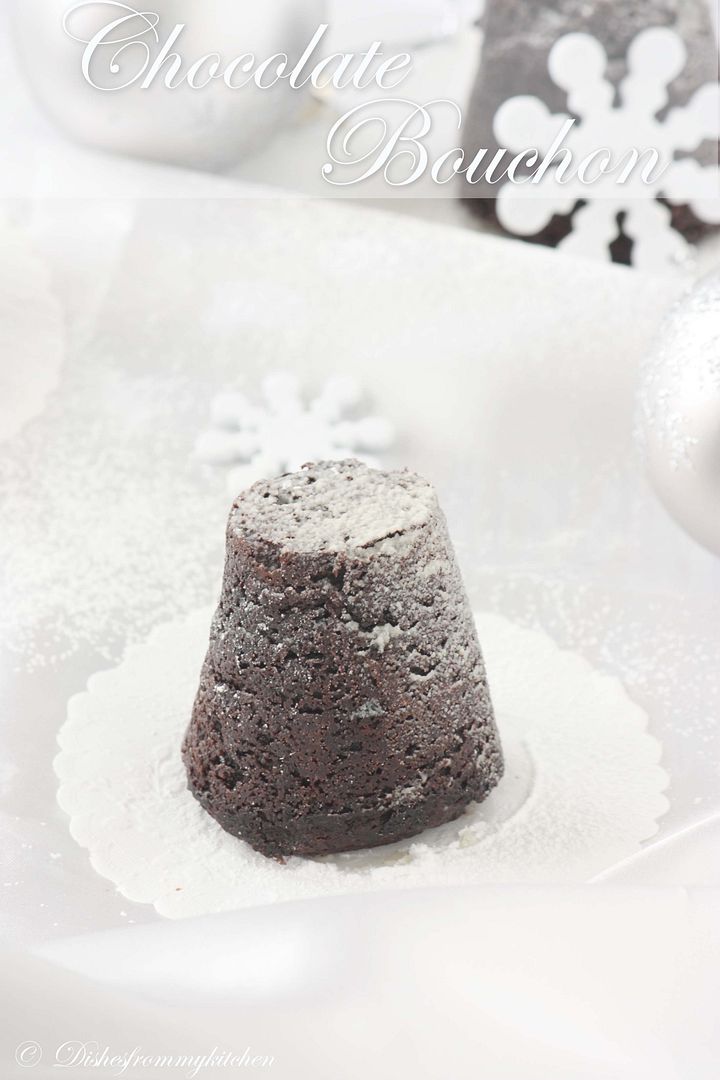 Recipe Source : Thomas Keller(Bouchon Bakery)

Ingredients :

Yields 12

All purpose flour - 3/4 cup
Unsweetened cocoa powder - 1 cup
Kosher salt - 1 teaspoon
Eggs - 3 large
Granulated sugar - 1 1/2 cups plus 3 tbsp
Vanilla extract - 1/2 teaspoon
Unsalted butter, melted and slightly warm - 24 tablespoons (3 sticks)
Semisweet chocolate, such as Valrhona Equatoriale (55%) chopped into pieces the size of chocolate chips - 6 ounces
Confectioner sugar - For dusting


Method :

Butter and flour the timbale molds.

1. Preheat the oven to 350 degrees F. Butter and flour 12 timbale molds. Set aside.
2. Sift the flour, cocoa powder, and salt into a bowl; set aside. In the bowl of a mixer fitted with the paddle attachment, or in another large bowl if using a handheld mixer, mix together the eggs and sugar on medium speed for about 3 minutes, or until very pale in color. Mix in the vanilla. On low speed, add about 1/3 of the dry ingredients, then 1/3 of the butter, and continue alternating with the remaining flour and butter. Add the chocolate and mix to combine. (The batter can be refrigerated for up to a day.)
3. Put the timbale molds on a baking sheet. Place the batter in a pastry bag without a tip, or with a large plain tip, and fill each mold about 2/3 full. (I just scooped the batter in rather than piping it.) Place in the oven and bake for 20 to 25 minutes. When the tops look shiny and set (like a brownie), test one cake with a wooden skewer or toothpick. It should come out clean but not dry (there may be some melted chocolate from the chopped chocolate). Transfer the bouchons to a cooling rack. After a couple of minutes, invert the timbale molds and let the bouchons cool upside down in the molds; then lift off the molds. (The bouchons are best eaten the day they are baked.)
4. Dust the tops with confectioners' sugar before serving.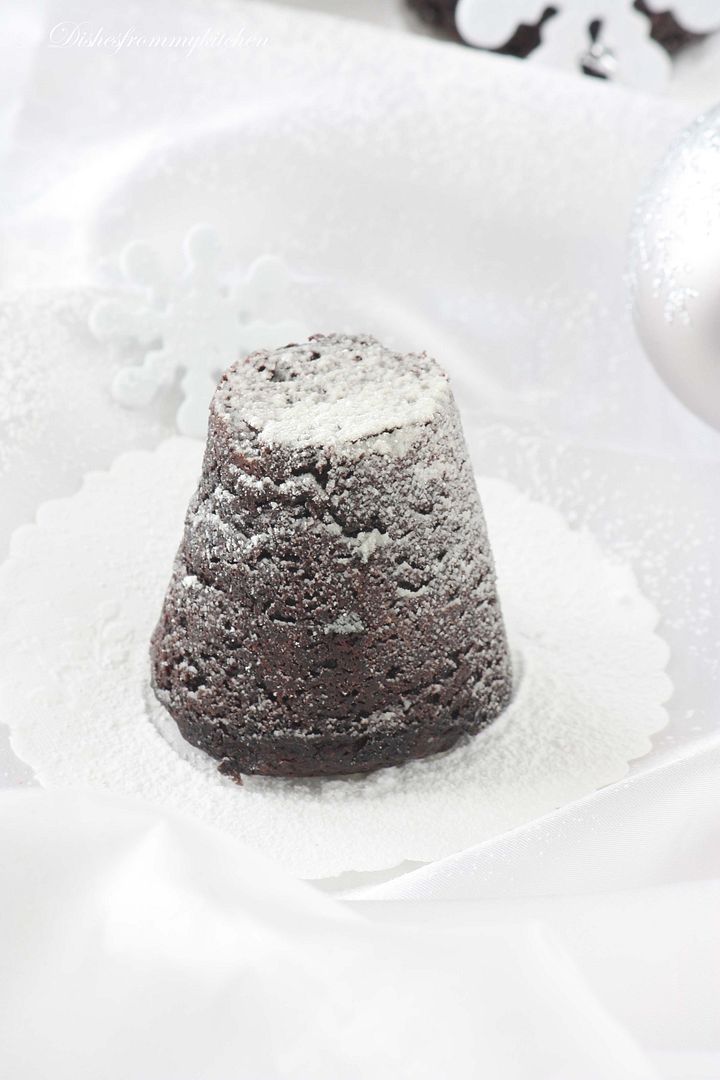 Before ending the post I Wish you all Merry Christmas !!!! See you :)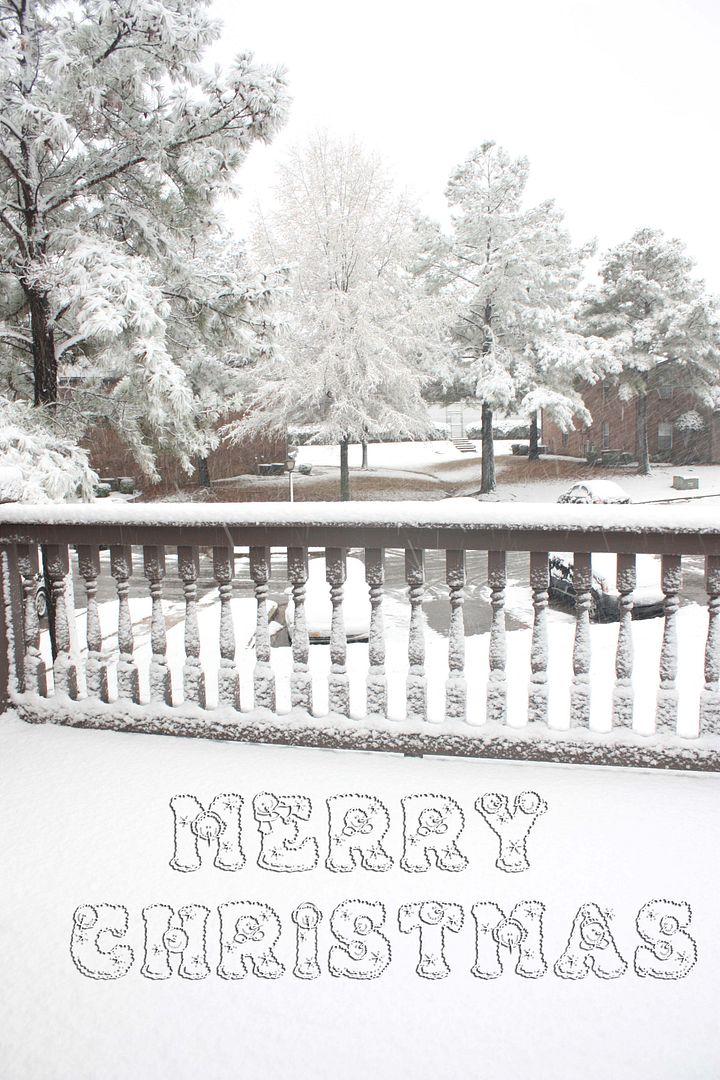 Read more...