>> Tuesday, December 20, 2011 –  5 minutes dessert idea, accompaniment for pilaf, cashewnuts, chocolate easy dessert, Desserts, fruit and nut raita, healthy yogurt desserts, raisins, Raitas, sweet and salty raita, yogurt dessert
A simple and quick raita with roasted nuts and raisins makes a great accompaniment for a Spicy Pilaf. More than the accompaniment, this fruit and nut raita by itself is a great snack that you can dig in whenever you crave for some healthy dessert. Raisin and Cashewnut is great combination that we use in lot of Indian sweets. Even I use to munch them together whenever I feel hungry. You can also replace the Cashewnuts with Walnuts, Almonds or both. Enjoy this delicious accompaniment which has slight sourness from yogurt, heat from chilli, saltiness from salt, crunchiness from nuts and sweetness from raisins.

DRY FRUIT AND NUT RAITA

Ingredients :

Raisins - 1/4 cup
Cashewnuts - 15 (Very finely chopped)
Thick Yogurt - 1/4 cup
Salt - 2 pinch
Green chilli - 1 small sliced
Oil - 1 1/2 tsp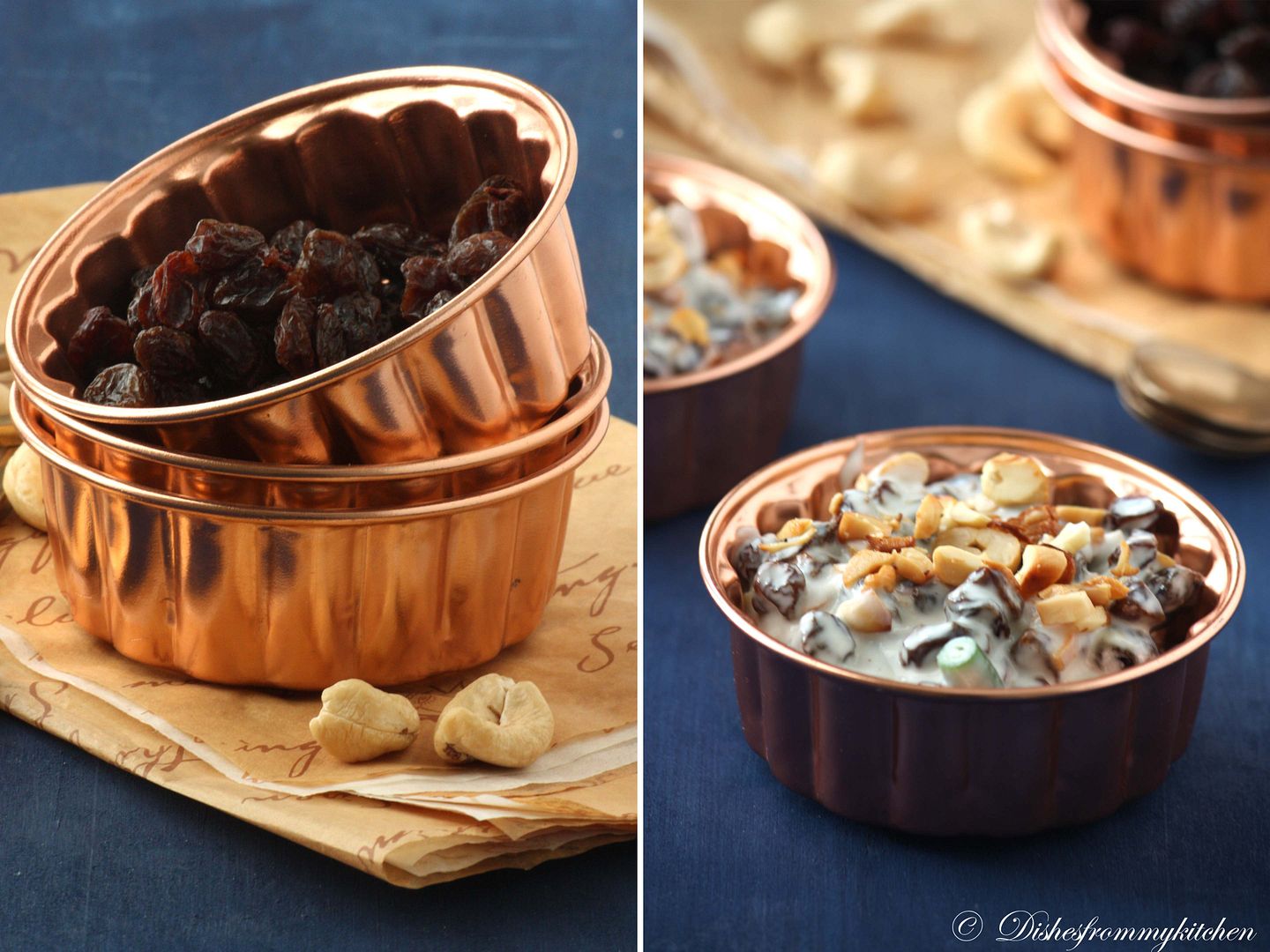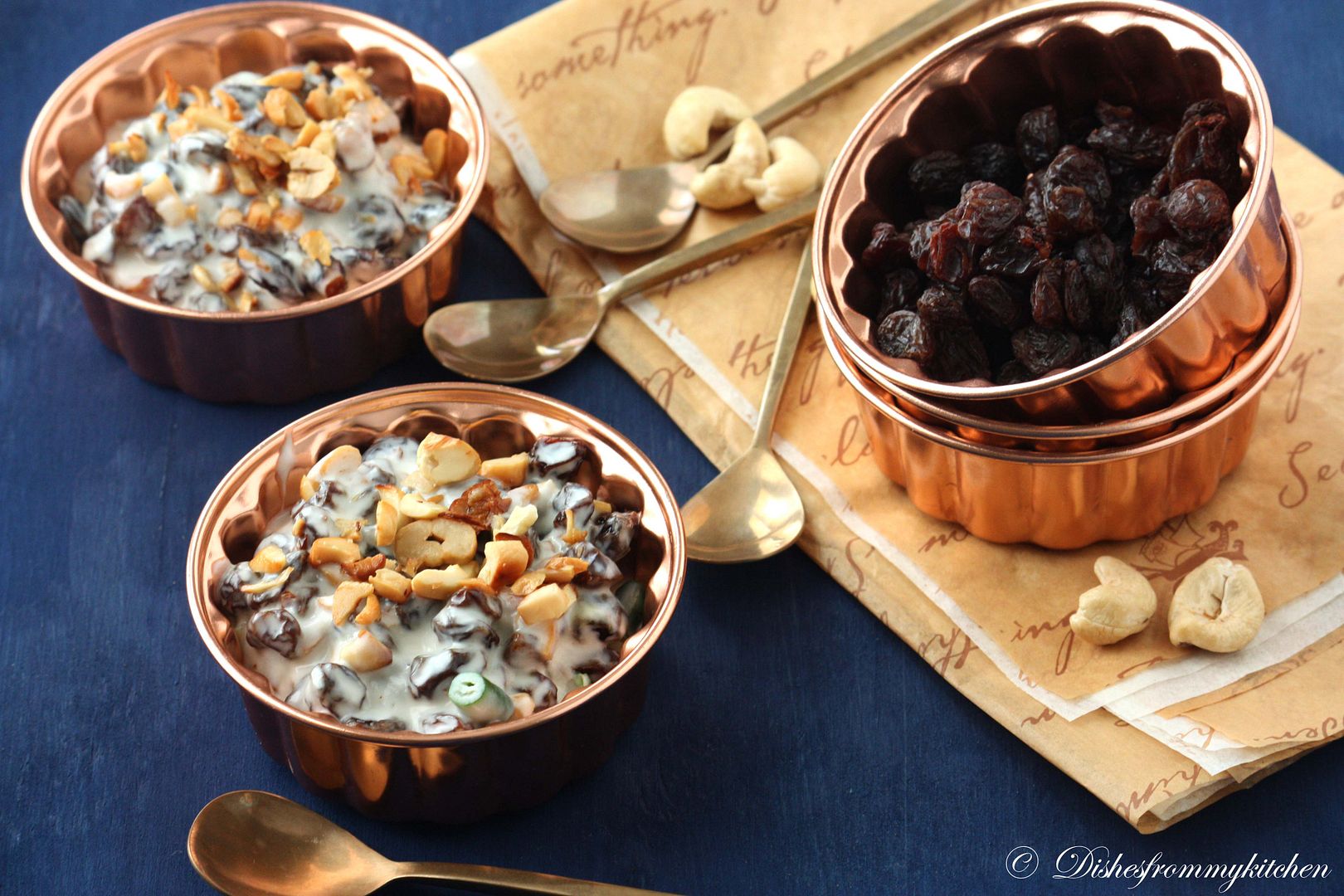 Method :

1.Heat 1/2 tsp of oil and add the finely chopped cashewnuts till light golden brown.
2.Remove the Cashew and keep it aside. Now add tsp of oil, add the raisins and slightly saute till it plumps up a little.(not too much)
3.In thick yogurt(chilled) add green chilli and salt, give a slight whisk.
4.Add the cooled Cashew and Raisins, give it a mix. Serve immediately.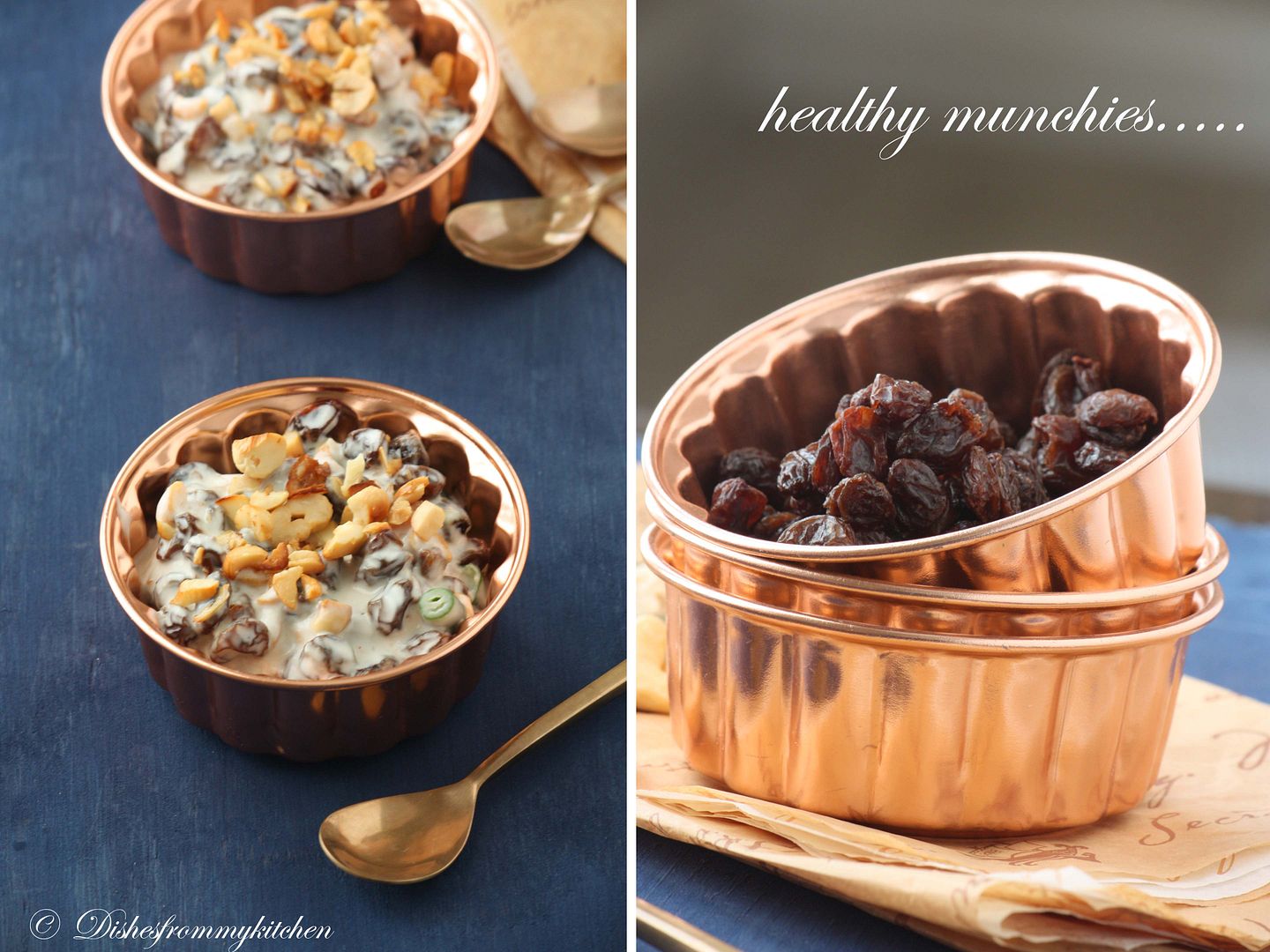 Note :

1. Add the fruit and nut to chilled yogurt only at the time of serving.
2.Try using thick yogurt, greek yogurt tastes great as well.
3. Add the nuts of your choice.
4. Add the fruit and nut to yogurt mixture after it is completely cooled.

Enjoy the fruit and nut as an accompaniment, dessert as well as healthy snack too !!!