>> Friday, December 16, 2011 –  asparagus pea, Beans, four angled bean, four angled bean salad, goa pea, goa pea pickle, goa pea salad, Salads, wing bean salad, winged bean, winged bean pickle, winged bean stir fry, Winged pea
The Winged bean also known as the Goa bean and Asparagus pea, Four-angled bean and Winged pea, is a tropical legume plant.
The flavor of the beans has a similarity to asparagus.

The beans are used as a vegetable, but the other parts (leaves, flowers, and tuberous roots) are also edible.

This is my favorite vegetable; I am eating this from my childhood days.

In India we used to get this in the mouth of August and December, yes its seasonal one there.

We in our families use wing beans for making pickles(there are different variations)

and also used to soak this vegetable in the spicy water(made of yogurt,turmeric,chilli powder etc)

which tastes so

good with all south Indian delicacies.

This can also be used for making Indian dry curries (Poriyal).

In Singapore, Thailand this winged bean is also used to make salad and stir fries which taste so so good and love their version of making this Bean as well.
I was so happy to see this bean in the market couple of days back, but managed to get only few. I made Salad cum pickle which I am posting today.

This is so easy to make and can be had with any Roti, Rice and with all South Indian delicacies. Will try to post stir fries recipe if I manage to get again :)
How to chop and select this?
Try to find nice and green one without any brown spots or any patches.

The Vegetable should not be very firm and it should be slightly flexible.

Wash them in nice cold water for 2 to 3 times, drain the water.

Cut the two ends to remove the string, like we do for green beans, and then slice them thin or thick according to your dish or need.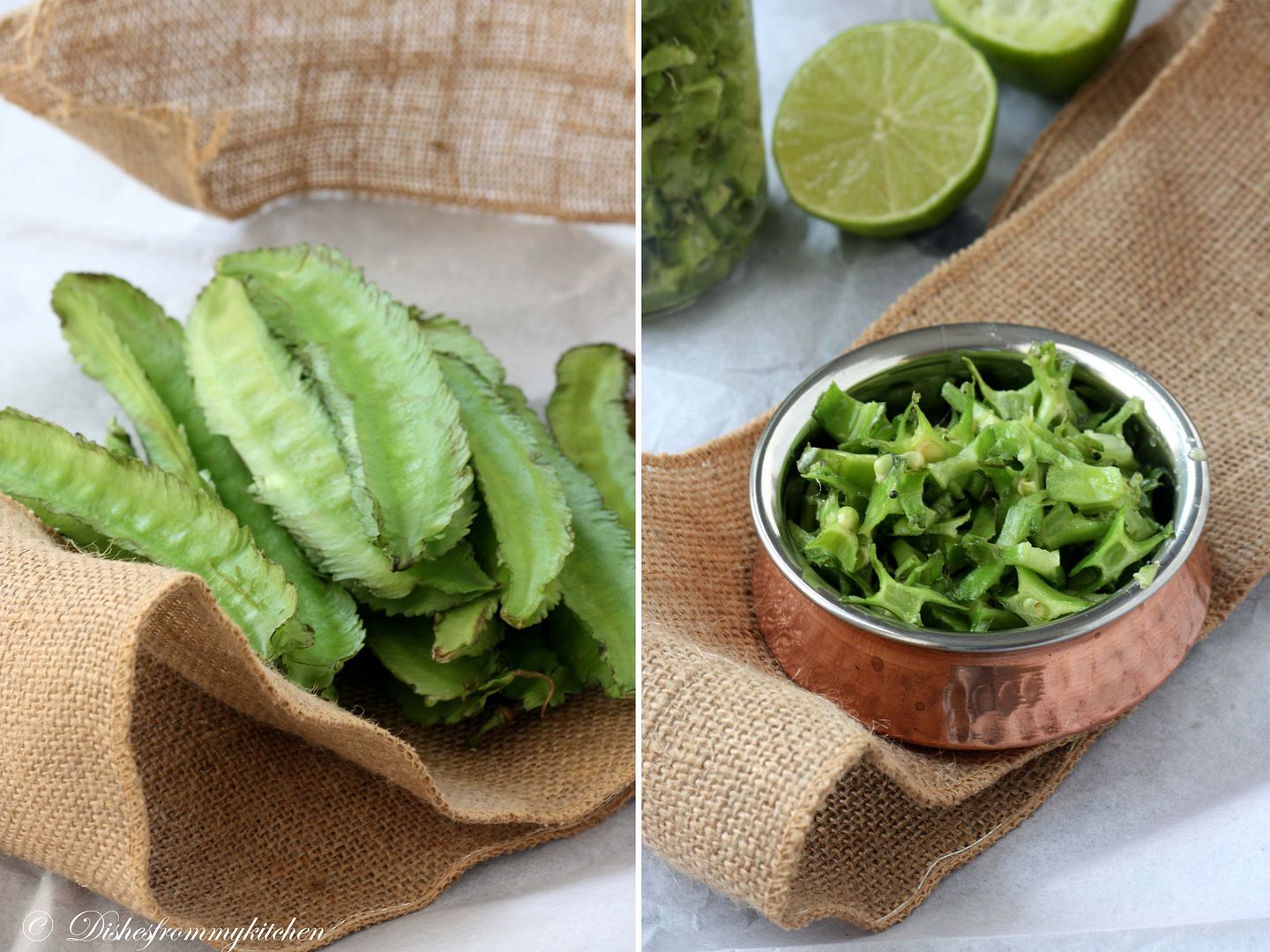 Ingredients:
Wing bean chopped - 2 cup
Green chilli paste - 3/4 tbsp (add according to your taste)
Lemon juice - 1 tbsp (add according to your taste)
Salt
Tempering:
Oil - 1/2 tbsp
Mustard seeds - 1 tsp
Asafoetida - 1/4 tsp
Method :
1.

Mix chopped bean, green chilli paste, lemon juice and salt.
2.

Heat oil, add mustard seeds when they splutter, add asafoetida followed by curry leaves.
3. Mix until everything is blended well.
You can enjoy this with all South Indian delicacies like upmas, dosa, curd rice etc.

It tastes so good by itself as a salad.

You can also store them in refrigerator for a week.