>> Monday, May 30, 2011 –  green gram curry, Green gram kootu, green gram with spinach, greengram, Kootu/Pachadi or Dhal varieties, pachapayaru kootu, pasalaikeerai kootu, Quinoa with moong bean, spinach, spinach kootu
Greengram and Spinach curry together is wonderful combination. This simple healthy curry/kootu(tamil) is very comforting and tastes great both with rice and roti. Enjoy this healthy treat.
GREENGRAM SPINACH CURRY / PASALAI PACHAPAYARU KOOTU


Ingredients:

Greengram - 3/4 cup ( Wash and soak it overnight)
Spinach - 2 cups (washed, drained and chopped)
Shallots - 10 (you can use big onion too)
Tomato - 1 (small)
Curry leaves
Tamarind extract - 1/2 tbsp(thick)
Salt


Tempering :

Oil - 1/2 tbsp
Mustard seeds - 1/4 tbsp
Urad dhal - 1/2 tbsp
Asafoetida - 1/2 tsp


Grinding :

Coconut - 1 1/2 tbsp
Roasted gram dhal - 1 tbsp
Cummin seeds - 1/4 tsp
Turmeric - little
Red chilli - 6 to 7 ( You can use according to ur spicelevel)

Grind the above things to fine paste adding little water.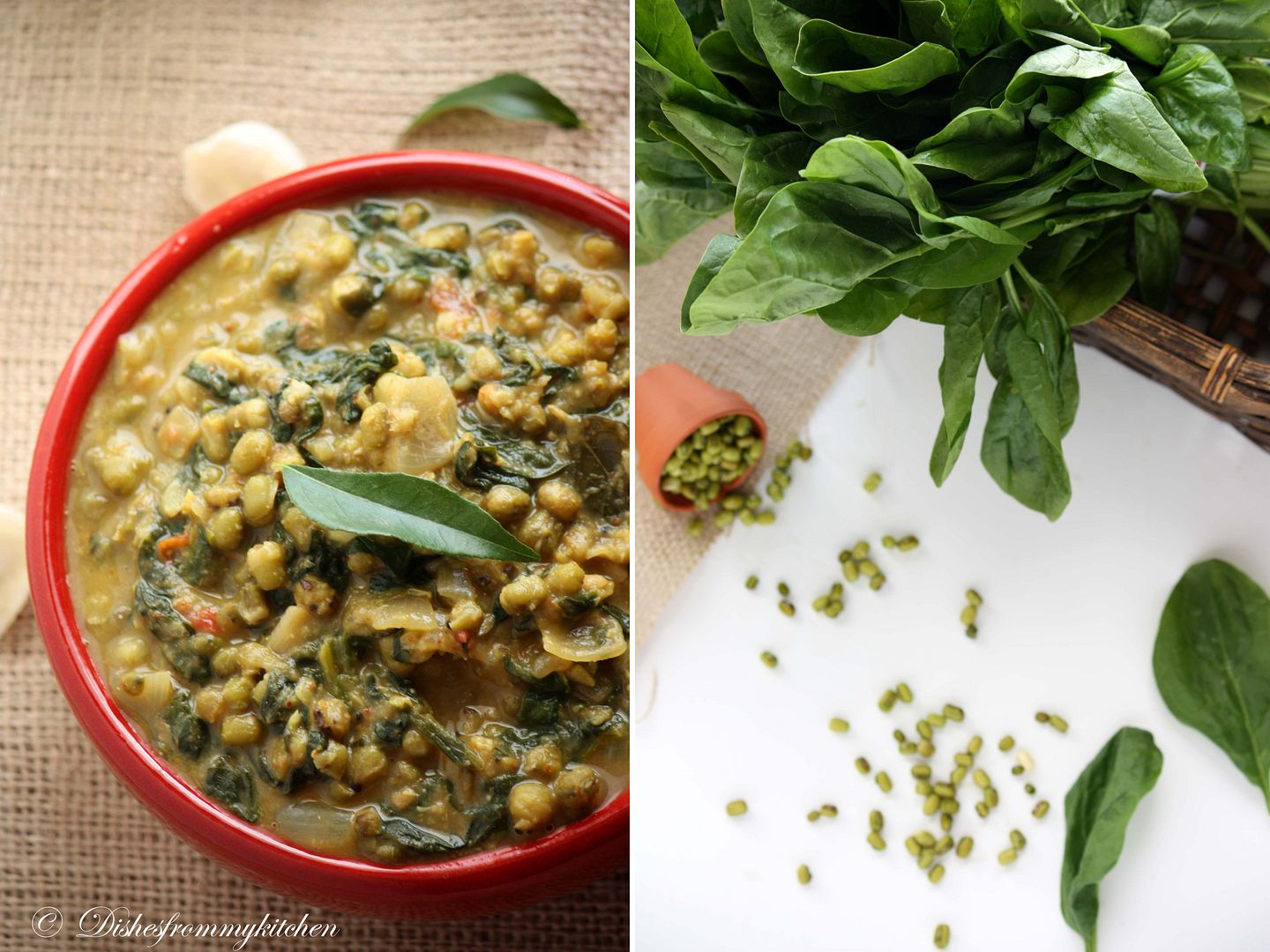 Method :

1. Cook the greengram in the boiling water(2 cups), cook until it is soft but not mushy. Remove the foam that forms when it is cooking. Keep it aside.


2. Heat the oil in the pan, add the mustard seeds, when it splutters add the urad dhal.
2. Add onion and saute till transparent.

3. Add the tomato and curry leaves. Saute till the tomato are mushy.
4. Now add the chopped spinach saute for 2 to 3 minutes ( don't overfry it, as it looses color)
5. Add the cooked greengram with water.
6.Add the ground paste, tamarind extract, salt and water if needed. Let it cook for few minutes to the desired consistency.


Serve with Rice and Roti !!!

Note :

1. Adjust the spice level and sourness according to your preference.
2. You can also use lemon juice instead of tamarind extract.
3. You can also add red chilli powder instead of whole red chillies.
Read more...