>> Tuesday, July 6, 2010 –  Chocolate butter cream frosting, chocolate cupcake, Chocolate popsicle, Chocolate popsicles, Desserts, Devil's food cupcake, Icecream, Sweet punch, Vanilla cream
The Second Sweet Punch - Devil's Food Cupcake with Vanilla Cream Filling with Chocolate butter cream frosting. Here is delicious Chocolate decadence cupcake and the Vanilla cream filling recipe. The filling was different and it was so yummy!!! The frosting is Chocolate Custard Frosting which I make for Chocolate fudge cake. So here is the recipe.....
DEVIL'S FOOD CUPCAKE WITH VANILLA CREAM FILLING
Ingredients :
Cocoa Powder - 1/2 cup
Brown Sugar - 3/4 cup
Butter - 1 stick at room temperature
Flour -1 1/4 cups
Salt - 1/2 tsp
Boiling Water - 1 cup
Buttermilk - 1/2 cup
Sugar - 1 1/4 cup
Baking Soda - 1 tsp
Egg - 2 at room temperature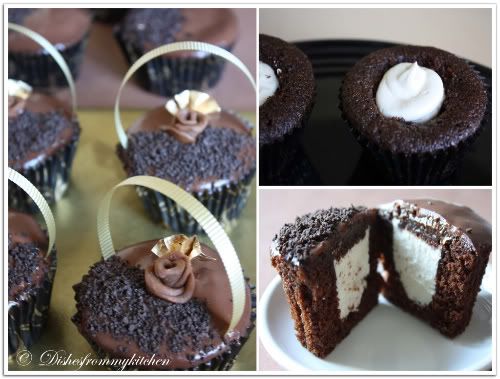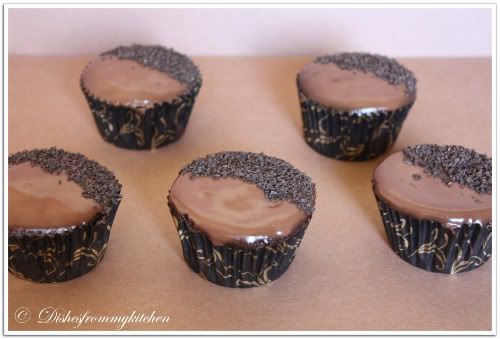 Method:
1.Pour the boiling water over the cocoa powder. Whisk in buttermilk and brown sugar.
2.In a medium bowl, whisk together the flour, baking soda and salt.
3.Using a hand held or stand mixer with paddle attachment, cream together the butter and sugar. Add the eggs, one at a time and continue beating until light and fluffy. Scrape the bottom and sides of the bowl.
4.On low speed, add 1/3 of the dry mixture, followed by 1/2 of the wet, 1/3 of the dry and then the remaining wet and dry in that order.
5.Scoop batter in 18-20 cupcake liners and bake at 350 for 15 minutes or until the cupcakes bounce back when poked.
3 tbsp all purpose flour
1/2 cup milk (low fat is fine)
1/2 cup butter (or trans fat-free shortening)
1/2 cup granulated sugar
1/2 scraped vanilla bean or 1 tsp vanilla extract
1. Whisk together the flour and milk and cook in a small saucepan over medium heat until thick. This will only take a few minutes.
2. Stir continuously to prevent the mixture from clumping and do not bring all the way to a boil.
3. When thickened (consistency will be that of a thin pudding or custard), strain with a mesh strainer into a small bowl, cover with plastic wrap and let cool completely to room temperature.
4. When the milk mixture is cool, cream the butter (or shortening) and sugar together in a medium bowl until light. Add in the milk/flour mixture and the scraped vanilla bean seeds (or vanilla extract) and beat at high speed with an electric mixer for 7 minutes, until light and fluffy. Scrape into a pastry bag fitted with a plain tip, or a large zip lock bag with the corner cut off, and set aside until ready to fill your cupcakes.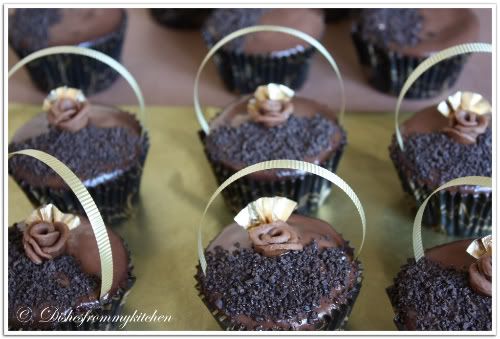 Chocolate Butter cream Frosting

Here is chocolate butter cream frosting if you want so.. But i did not use this instead i used chocolate custard frosting...
1/2 cup butter, room temperature
1/2 cup unsweetened cocoa powder
2-3 cups powdered sugar
1/4 cup milk
1 tsp vanilla extract
Combine all ingredients in a large bowl and beat, with an electric mixer, until frosting is creamy, 3-5 minutes. Add additional powdered sugar as needed to achieve a thick, but not stiff, frosting that is easy to spread. Add additional milk, if necessary, to thin the frosting if it gets too thick.
Take a cooled cupcake and, using a small pairing knife, cut a cone of cake (1-inch across by 1-inch deep) out of the top. Trim off the pointy end of the cone, leaving a flat circle of cake. Set aside and repeat this process for all the cupcakes.
Take the cream filling and squeeze a tablespoon or so into each cupcake cavity, filling the hole up to the top with filling. Top off with a flat circle of cake to plug the hole and keep the filling in place.
Using a butter knife or a small offset spatula, frost each cupcake with a layer of chocolate butter cream frosting. Place a dollop of icing in the center of the cupcake (on top of the cut out circle of cake) and spread from the center to the sides of the cupcake.
If you have leftover filling, transfer it to a fresh Ziploc bag and cut a very small opening in one corner. Pipe a swirly line down the center of each cupcake.
Store in an airtight container until ready to serve.
Chocolate custard Frosting
Gelatin( I used Vegetarian one) or Instant Jelly(unflavoured) - 1/2 tbsp
Chocolate chips( I used semi sweet) - 60 gm
Butter - 1 very little piece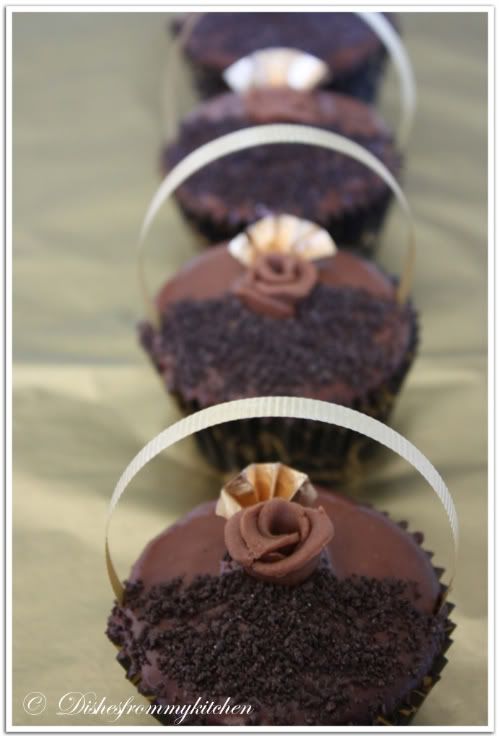 1. Boil the first 4 ingredients in the microwave until the sugar and gelatin is dissolved.
2. Parallely cook the custard and milk in the gas top to thin consistency.
3. Mix both and cook in the microwave for 2 more minutes stirring once every minute.
4. Now take this out, add the chocolate and butter.
5. Once it is cooled( stir in between). Then you can dip the cupcakes in this frosting . Set aside for a minute and do this again to get thick coating on the top.
Enjoy !!!! One more interesting part of this is below....
1.The butter we add to the frosting is to give glossy effect...If your making popsicles increase the sugar according to your taste. The above measurement will be perfect for the cake.
2.The quantity which I have given for the frosting is more. You can half the measurement for 12 cupcakes. But I do more because it tastes sooo delicious if you make chocolate Popsicles.. just pour the remaining frosting in the Popsicle mould, freeze and enjoy them!!!!!
Here is the picture for the Chocolate Popsicle.....