>> Thursday, March 8, 2012 –  10 minutes sweet, almond brittle, cashew brittle, chikki using sugar, easy brittle, easy chikki, fool proof brittle, happy holi, mixed nut brittle, mixed nut chikki, mixed nuts candy, pistachio brittle
I wish all my readers Happy Woman's day!!!! & Happy Holi !!! for all my friends who celebrate Holi today.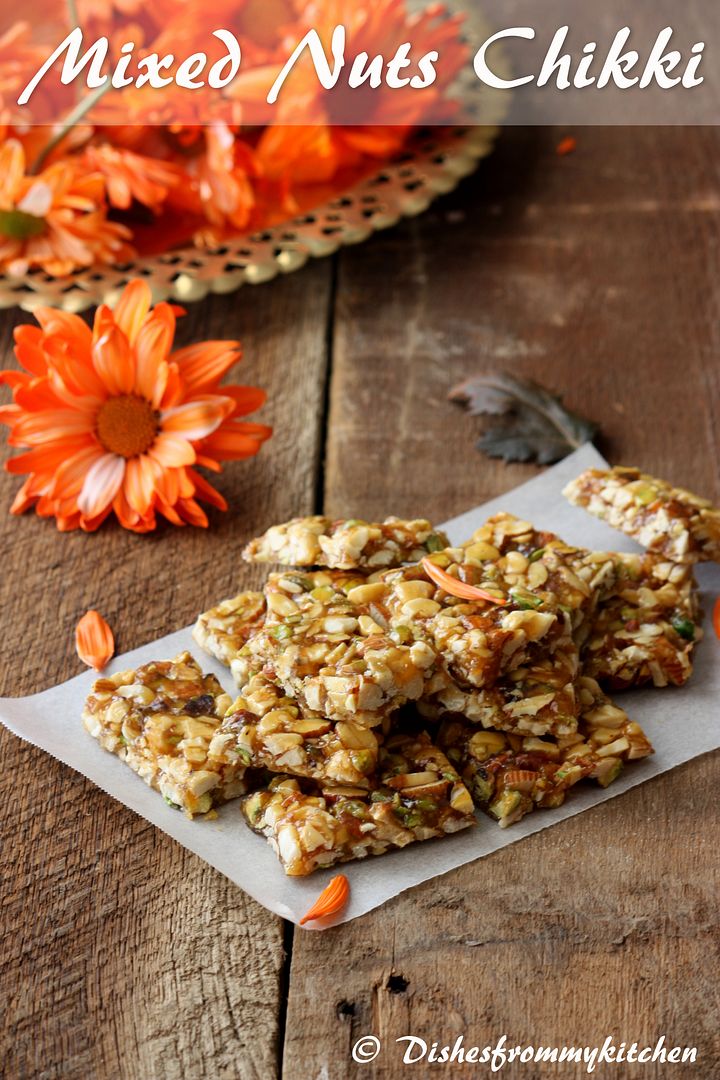 Chikki or Indian Brittle is a traditional ready-to-eat sweet generally made from groundnuts and Jaggery. There are several different varieties of chikki available in the market in addition to the most common groundnut chikki. Each chikki is named depending upon the ingredients used. Though Jaggery is the usual sweetener material, sugar is also used as the base in certain types of chikkis.

But today I am posting easy mixed nut chikki with sugar as the base.

You can prepare this in no time.

Here you go and enjoy the virtual treat…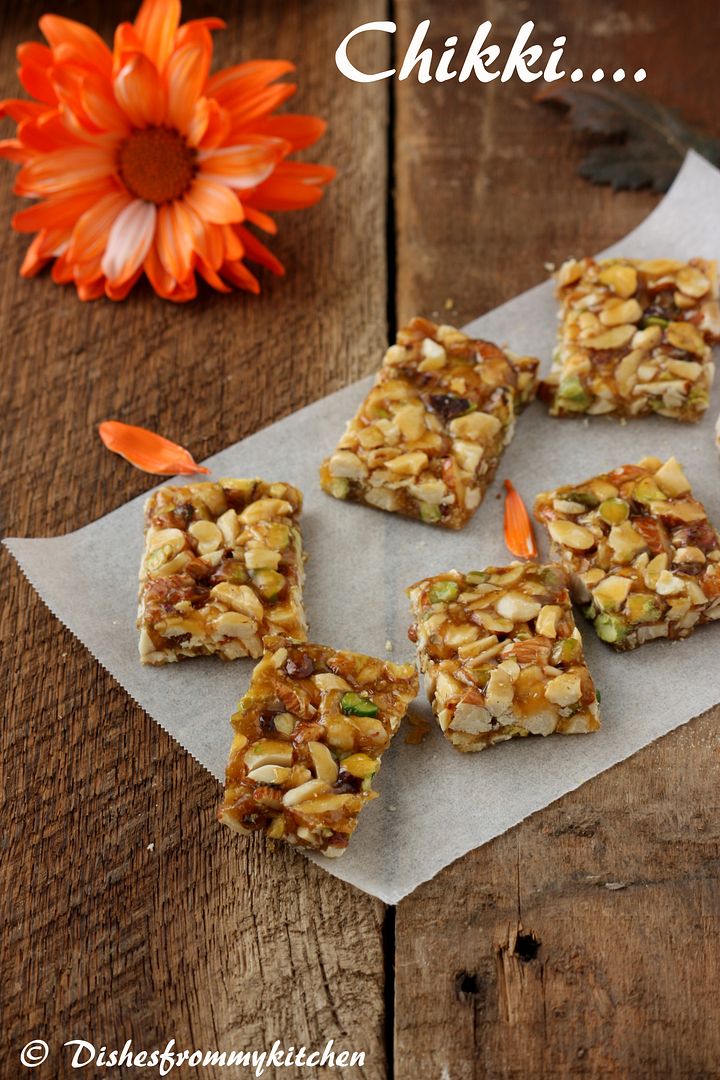 MIXED NUT CHIKKI / MIXED NUT BRITTLE
Ingredients:
Mixed Nuts - 1 cup
I used Almonds, Pistachios and Cashew nuts
Sugar - 3/4 cup
Ghee - 1/4 tbsp + extra for greasing rolling pin and the foil or tray.
Baking soda - 1 pinch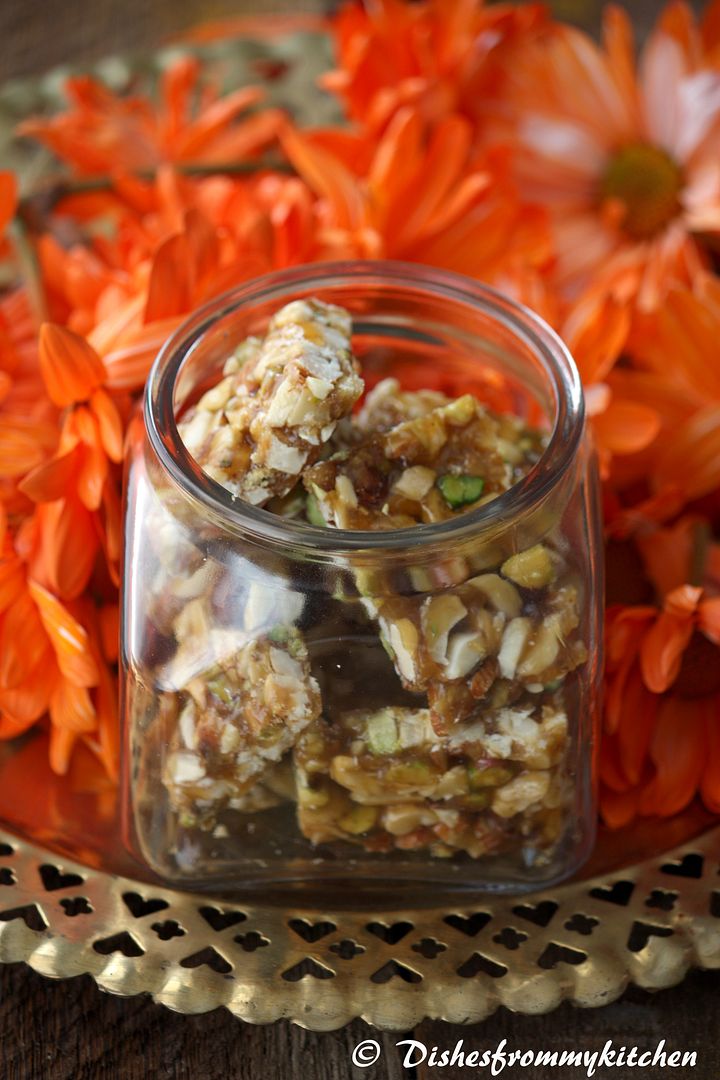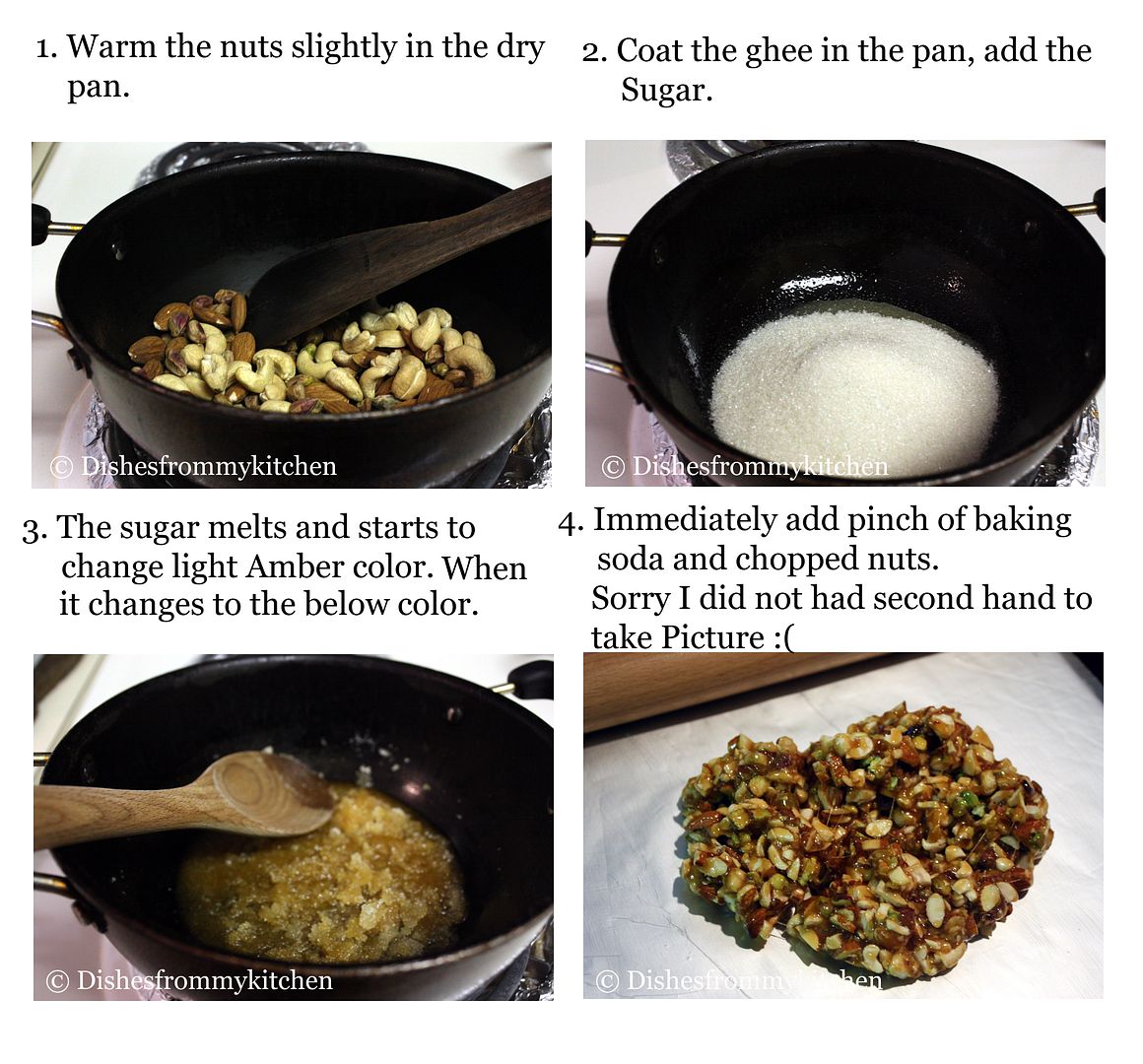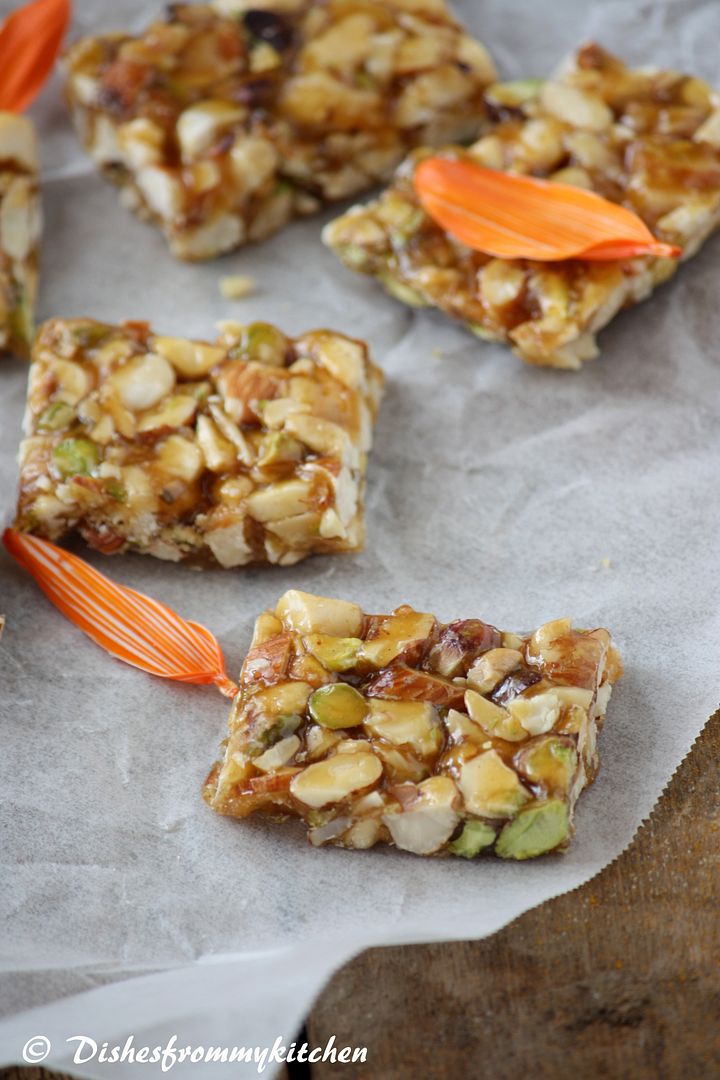 Method:
1. First grease the tray or aluminum foil with the ghee. Similarly grease the rolling pin which you're going to use for flattening the chikki.
2. Warm the nuts in the dry pan.

Let it cool. When it is cooled, roughly chop them and keep it aside.
3. Now heat the pan, add 1/4 tbsp ghee and let it coat the surface slightly.
4. Now add the sugar, when the sugar starts to melt and caramelize.

It has to be light Amber color.
5. Remove from the stove/flame immediately add a pinch of baking soda and chopped nuts. Mix thoroughly.

This has to be done very quickly.
6. Pour the mixture in the greased tray or foil.
7. Flatten it out using greased rolling pin to 1/2 inch thick.
8. When it is warm draw lines according to desired shape you need.
9. Once it is cooled break into pieces.
10. Store in the air tight container.
Note:
1. Use your favorite nuts and follow the same procedure.
2. You can also use Sesame seeds along with the above nuts. I usually add but this time I did not :(
3. The caramelized sugar is very hot so handle with care.
4. The steps from 5 to 8 has to be done very quickly as it tends to cool very soon.

Then it will be hard time for you to mix the nuts and flatten them.