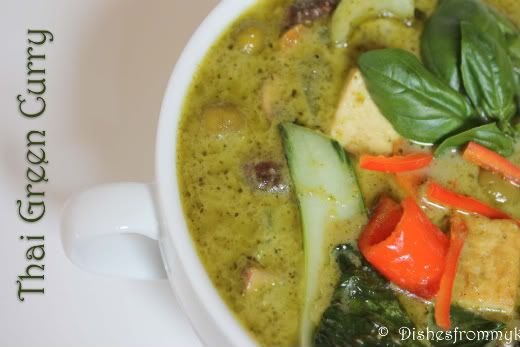 There are so many dishes that we love in Thai Cuisine. Thai Green Curry is one of those. Basically all Thai dishes involves few common ingredients you can check the Ingredients here. The Kaffir lime leaves and Galangal is one of the Ingredients. But unfortunately these both are not available for me in near by markets. But anyway you can substitute the Galangal with ginger. Whenever Kaffir lime leaves are available in bulk dry and you can store in the refrigerator too, With that few rind of lemon gives the exact flavor to the curry.
Some brief about the Pea Eggplant. Pea Eggplant which is also called as Makheau Phuang
,
Bitter balls, Pea Aubergine which is also called as Sundaikkai. These tiny Thai eggplants are quite bitter. They're sold in clusters and look like large green peas. You can find them fresh in Thai markets. Very little of this is also added to Green Curry. But if you don't like the bitter taste, you can totally avoid them or can substitute with Thai Green Eggplants which is very very tasty too.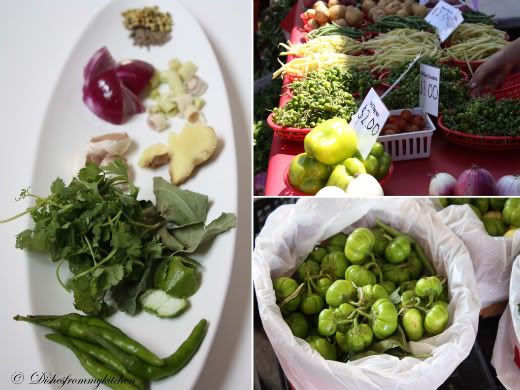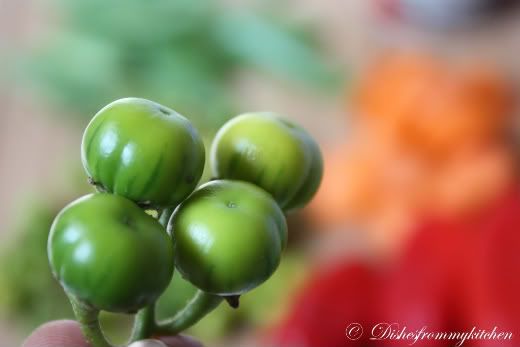 So coming to the recipe part the important thing in Thai Green curry is Green Curry paste. Here goes the flavors....
Lemon Grass - 1 ( Discard the green portion and chop the bottom part)
Galangal - 1 tsp sliced ( can substitute with Ginger too)
Kaffir Lime leaves - 4 (If using dried ones add 2 small piece of lime rind)
Green Chilli - 3 or If bird's eye chilli you can substitute according to your spice level.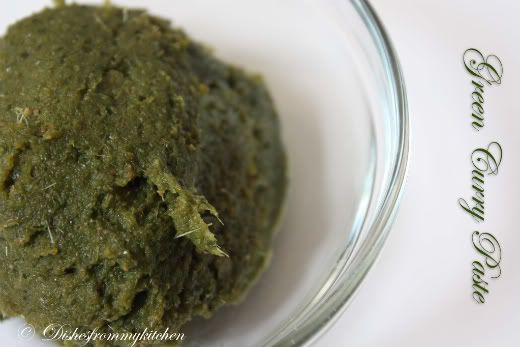 1. Toast dry seeds in the pan.
2. Powder them in the blender or mortar pestle.
3. Now add the remaining ingredients and make to fine paste.
If you want to store them in the fridge, you can fry the paste in tbsp of oil, cool and store in air tight container.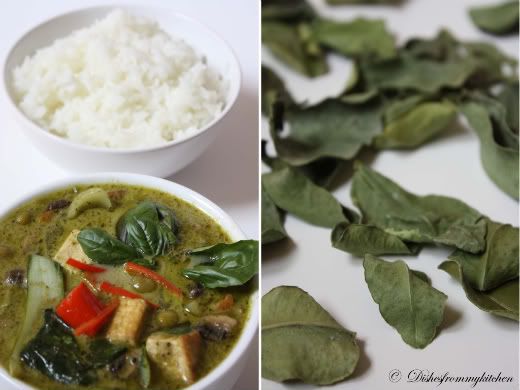 THAI GREEN CURRY (GAENG KHAO WAN)
Vegetables that you can use for this Green Curry - Carrots, Red bell pepper, Bok Choy, Pea eggplant , Potato, Napa Cabbage, Zucchini, Bamboo shoots, Baby Corn, Green beans, Fried Tofu or Tofu Puff, Seitan(or you can substitute with chicken too), Snow pea, Mushrooms, Green Egg plant, Broccoli.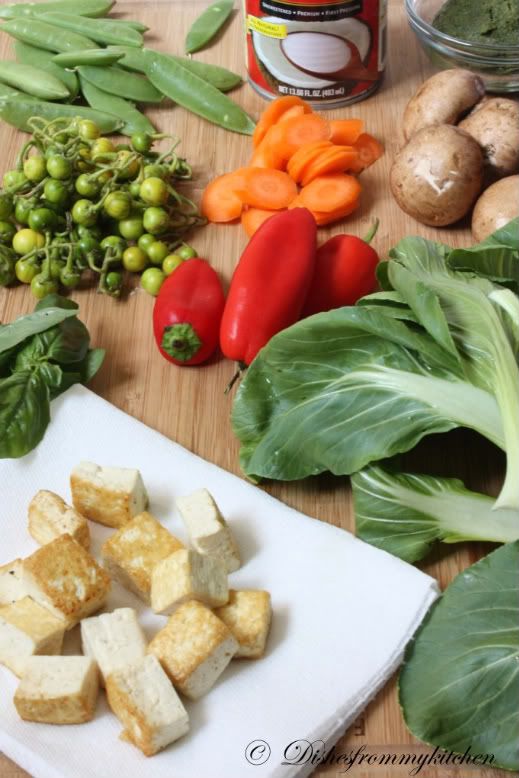 Thick Coconut Milk - 1 can
Any of the above vegetables - few of each
Green Curry paste - 2 tbsp ( or you can use according to your spice level)
Sweet Basil - 5 or 6 ( This is very important)
Kaffir lime leaves - 1 or 2
1. Heat tsp of oil in the pan, add the curry paste.
2. Saute for few minutes until it is nicely cooked.
3. Now add little coconut milk, mix well once it is nicely incorporate, add some more mix well.
4. Now add the remaining milk and add the veggies and lime leaves to it.
5. Once all the veggies are cooked( its important not to overcook the veggies).
6. Add the fresh Basil and serve with Thai jasmine rice!!!!!!!!
Thai Green curry with Fragrant Rice is truly Delicious and enjoy the exotic flavors !!!!!
Its optional to fry the Tofu in the oil, you can add the cubed firm Tofu too. Add after all the veggies are cooked.