Vankaya pulusu which is quite easy. This goes very well with rice, idli as well as dosa. This pulusu particularly tastes so good with Green Brinjal(eggplant), Drumstick as well as Potatoes. You can try it with any of your favorite veggie. Along with this recipe I am posting Greens Pepper fry, here I have used Red amaranth(Thandu keerai), you can try it with any greens of your choice. Take a look at my comforting simple lunch menu .....
VANKAYA PULUSU(Green Brinjal)
This recipe has 2 powders as main ingredient. One is Roasted gram dhal powder and coconut coriander powder.
INGREDIENTS:
Green Brinjal - 10 cut to big cubes and put in the water( Replace drumstick or Potatoes of your choice)
Big onion - 1 sliced
Red chillies - 3 or 4
Cummin seeds - 2 tsp
Roasted gram dhal - 1 ( Make to fine powder)
Tamarind Paste - 1 1/2 tbsp ( Use according to your sourness level)
Turmeric - little
Mustard - 1 tsp
Curry leaves - few
Ghee - 1/4 tbsp
Oil - 1/2 tbsp
Coriander for garnishing....
Coconut Coriander powder:
Coconut - 1 tbsp
Coriander seeds - 1 tbsp
Red chillies - 4

Fry all the above ingredients in a tsp of oil and make to fine powder.
METHOD:
1. Heat the ghee and oil in the pan.
2. Splutter Mustard seeds followed by Cummin seeds and Red chillies.
3. Add the Slice onions once it is sauteed until transparent add the Cubed brinjal.
4. Saute for few minutes add the curry leaves, turmeric and tamarind paste.
5.Add 1 1/4 cup of water, let it boil until the veggies are cooked.
6.Now to this mixture add the coconut coriander powder, Roasted Gram dhal powder( mix this in a tbsp of water then add to the above mixture)
7.Let it nicely boil for sometime and it get thickened as we have added the dhal powder.
8.Now garnish with the coriander leaves.
Serve with hot Rice, Idli or Dosa.

Note:
1.Adjust the tamarind according to your taste, and the dhal powder according to your thickness.
2.Follow the same one for other veggies too.
3.You can reduce or increase the red chillies according to your spice level.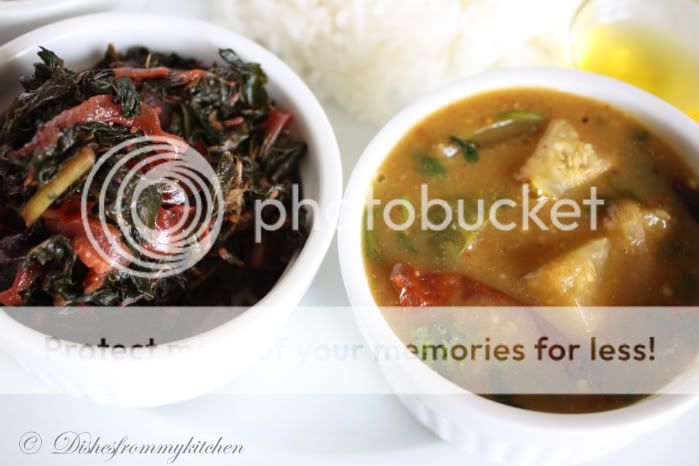 GREENS PEPPER FRY
INGREDIENTS :
Any greens of your choice - 1 bunch
Garlic - 10 flakes , peel the skin and slice
Onion - 1 sliced
Red chillies - 3
Urad dhal - 1 1/2 tsp
Mustard - 1 tsp
Pepper powder - as required
Salt as required
Oil - as needed

METHOD :
1. Wash and chop the greens.
2. Add tsp of oil , splutter mustard followed by urad dhal and Redchillies.
3. Add the sliced onion and Garlic.
4. Saute until light brown color. Now add the chopped greens sprinkle some water.
5. Close with a lid 3/4 not fully as it changes the color.
6. Once cooked add the salt and pepper saute for few seconds. Serve hot with rice and Ghee.
Note :
1. Don't over cook the greens. Add water little by little as required.