>> Monday, September 22, 2014 –  chilli tomato chutney, cucumber and carrot salad, garlic tomato chutney, healthy salad, idly recipe, kiwi, lunch bots, lunch box, lunch for kids, mini idli, moong salad, orange, school lunch ideas, tomato chutney
LUNCH BOX : MINI IDLIES, TOMATO CHUTNEY, MOONG CUCUMBER CARROT SALAD !
SNACK BOX : KIWI, ORANGE AND CHEEZ - IT !
LUNCH BOX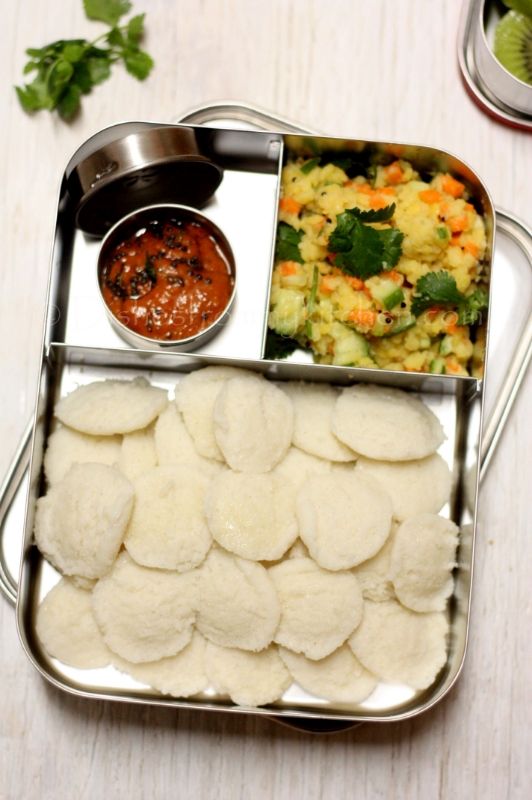 SNACK BOX
RECIPE FOR
IDLI
Normal Ratio (4:1) of rice and urad dhal with 1 tsp of fenugreek.
TOMATO CHILLI GARLIC CHUTNEY
Ingredients :
Tomato - 3 medium
Garlic - 2 pods
Red chilli - 10 ( if you chilli variety is too hot reduce the amount but this chutney is spicy one)
Tamarind pulp - 1 1/2 tbsp ( Diluted pulp , not thick. Reduce or increase the sourness accordingly since my tomatoes are not very sour I add 1 1/2 tbsp)
For Tempering :
Mustard seeds - 1 tsp
Curry leaves - few
Saunf - 1/4 tsp
Gingelly oil - 2 1/2 tbsp
Salt as needed
Method :
1. Heat little oil in a pan add the chillies and saute till they are roasted. Remove and keep it aside.
2. Now add the tomato and little salt, fry till they become mushy. Once it is cooled.
3. Grind everything except the tempering ingredients.
4. When you grind first powder the red chilli flakes and garlic , then add tomato, tamarind and salt. The chutney should not be like fine paste. Grind coarsely.
5. Temper the chutney using the tempering ingredients with given amount of Gingelly oil.
Note :
1. If you don't like the raw smell of garlic you can roast them along with red chilli and grind with tomato.