>> Wednesday, September 17, 2014 –  dhal adai, healthy food ideas, lentil adai, lentil crepes, protein packed food ideas, protein rich food ideas, quinoa adai, quinoa crepes, quinoa recipes, savory crepes, savory pancakes, south indian menu
QUINOA AND LENTIL (DHAL) ADAI / CHEELA !!!
Here is healthy and Protein rich Adai / Cheela ....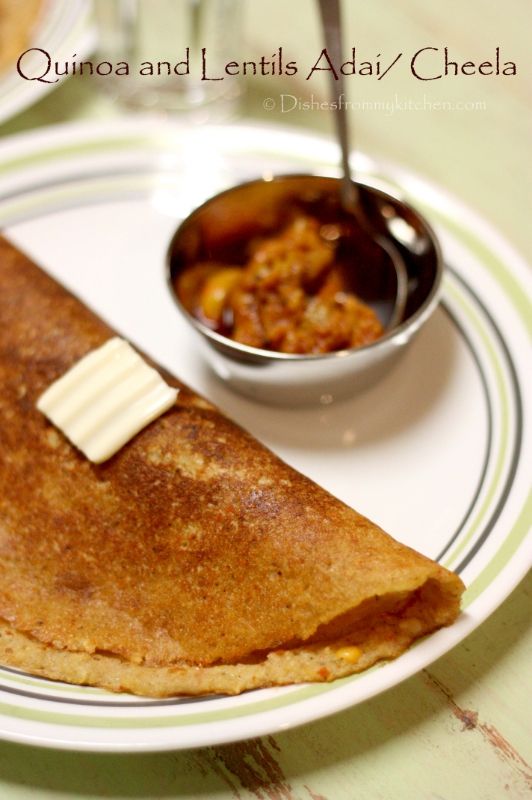 INGREDIENTS :
Quinoa - 1/2 cup
Raw rice - 1/4 cup
Idli rice - 1/4 cup
Bengal gram dhal/ channa dhal - 1/4 cup
Toor dhal -1/4 cup
Urad dhal - 1/8 cup
Moong dhal - 1/8 cup
Masoor dhal - 1/4 cup
Yellow split peas - 1/4 cup
Red chillies - 8
Pepper corns - 8
Cummin seeds - 1/2 tsp
Curry leaves few
Asafoetida - 1/8 tsp
Oil to drizzle
Salt as needed
Tempering :
Mustard seeds - 1 tsp
Curry leaves few
Cilantro few chopped finely
METHOD :
1. Wash dhal and rice + Quinoa separately. Let them soak in water for atleast 2 to 3 hrs.
2. First grind the rice, quinoa and spices to coarse rawa like texture. Then add all other dhal/ Lentils and grind not too coarse and not too fine.
3. Batter can be used immediately for making adai / cheela. But I would suggest and prefer to grind them 2 to 3 hrs before.
4. Adjust the batter by adding little water to pouring (Still it has to be thick not so thin)consistency. Temper with mustard seeds and curry leaves , add chopped Cilantro. Mix well. In a hot skillet pour one ladle full of batter and spread like a pancake or thick crepes.
5. Drizzle tsp of oil once bottom is golden brown in color flip to other side.Roast till they are crisp and golden color on both the sides.
6. Serve with tsp of ghee or butter on top with spicy onion chutney,garlic chutney,Tomato chutney or coconut chutney.
Note :
1. If you don't have Idli rice use raw rice itself.
2. If you don't have any dhal/lentil in hand just substitute with other dhal by increasing the quantity.
3. If you haven't tried coconut oil for adai, drizzle them at the end instead of ghee or butter. It tastes so good.