>> Wednesday, September 17, 2014 –  chia seed bar, cocoa nibs, coconut, dry coconut, easy energy bar, flax seed, granola bar, healthy bar, maple syrup, post workout bar, protein bar, pumpkin seed bar, rolled oats, workout bar
GRANOLA BAR - OATS, FLAX SEED, CHIA SEED, PUMPKIN SEED
These healthy granola bar are little chewy and perfect for breakfast, snack, before and after workout.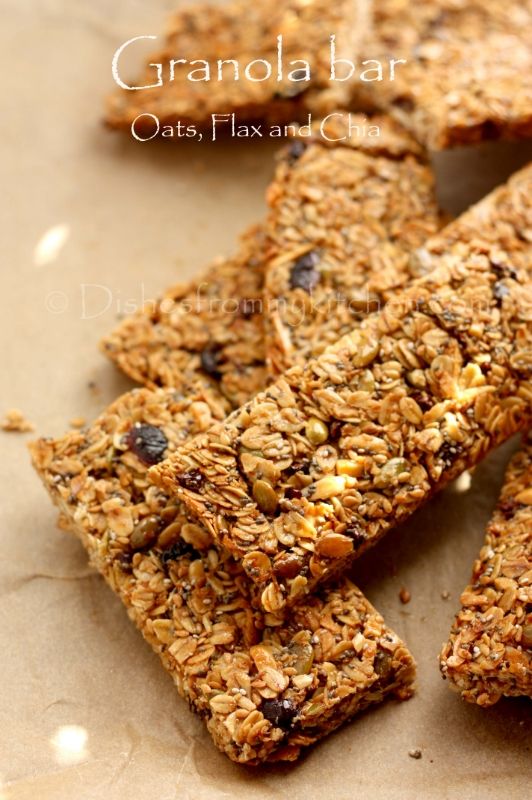 Ingredients :
Yields - 12 to 14 bars depends on the size it varies.
Rolled oats - 3 cups
Flax seeds - 1/4 cup
Chia seeds - 1/4 cup
Cocoa nibs - 1/8 cup (optional)
Silvered Almonds - 1/2 cup
Pecans - 1/4 cup
Pumpkin seed - 1/2 cup
Dry coconut -1/4 cup
Brown sugar - 1/2 cup
Maple syrup - 1/2 cup (minus 1 tbsp)
Honey - 1/8 cup
Butter - 1/4 cup (1/2 stick) ( you can also use half butter and half coconut oil to toast the oats)
Cranberry or Raisins - 1/4 cup (little less)
Salt - 1/2 tsp
Nutmeg - 1/4 tsp
Vanilla - 1 tsp
Cinnamon - 1/8 tsp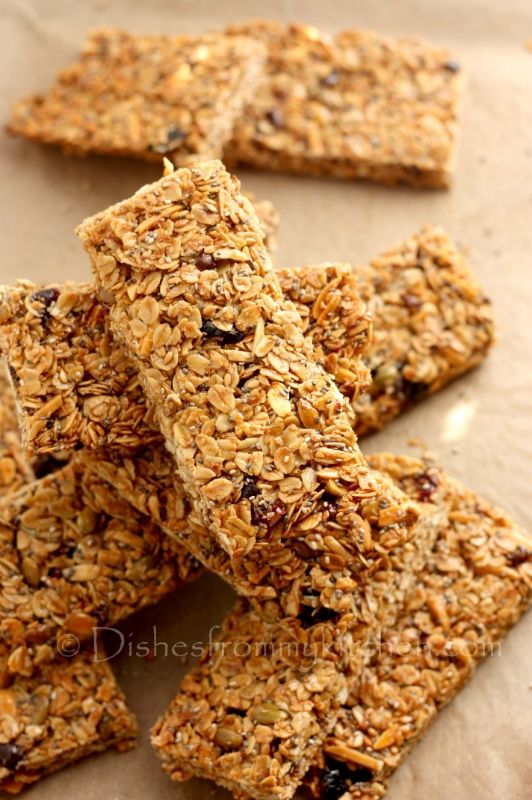 Method:
1. Slightly toast almonds and pumpkin seeds in a dry pan, keep it aside and let it cool.
2. Mix spices and salt in a bowl.
3. Preheat oven to 350 F
4. Melt butter in pan, toss oats until it gets coated in the butter.
5. Spread the oats in the baking sheet and put in the oven for 15 to 20 minutes.
6. In a sauce pan warm brown sugar, maple syrup and honey, until sugar is melted.
7. Add vanilla and the spices to the honey mixture.
8. Take roasted oats, nuts, flax seed, chia seed, dry coconut, cocoa nibs, craisin or raisins.
9. Now pour the honey mixture to the oat mixture, mix well until everything blends well.
10. Line 9*13 inch baking sheet with parchment paper.

Evenly spread the mixture from step 9 on the baking pan.
11. Using a spatula press the mixture tightly.

Put another paper and press tightly with another tray.
12. Bake it in 325 F oven for approximately 20 - 25 minutes until they are golden brown, rotating halfway through.
13. Remove from the oven, once they are 3/4 th cooled when slightly warm cut to desired shape.
14. Let them cool completely. Once they are cooled wrap individually and store in airtight container.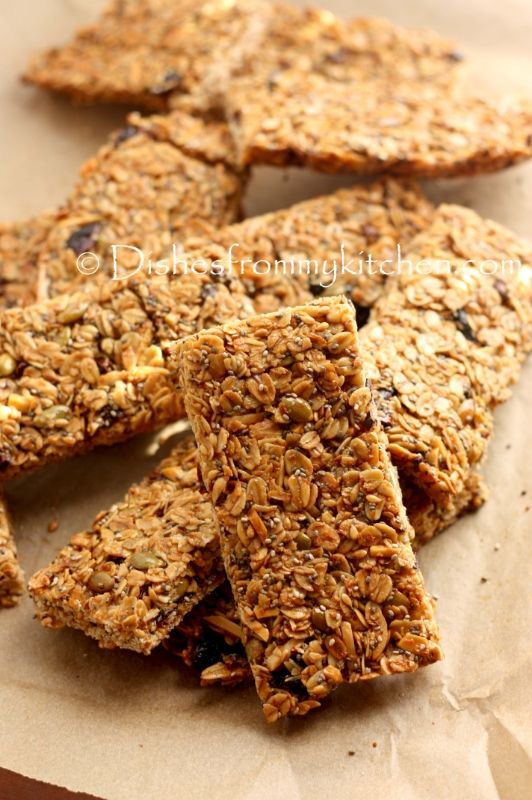 Packed :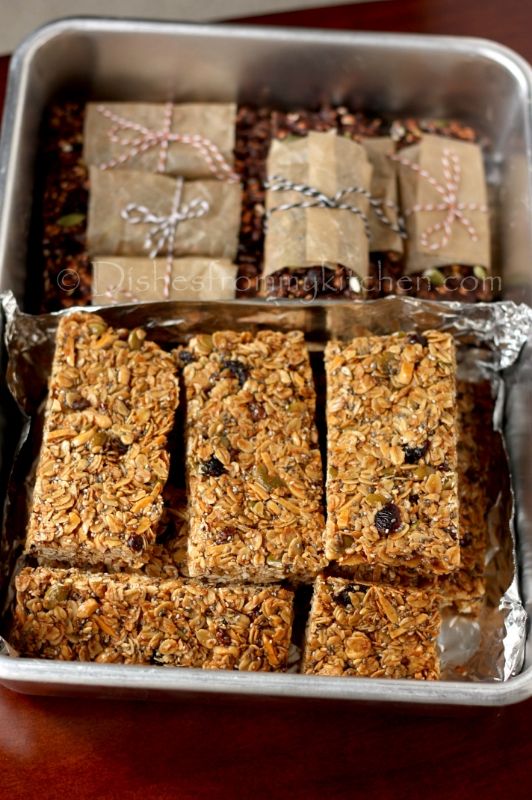 Note :
1. You can use your favorite dry or nuts for the same measurement.
2. If you love chocolate, drizzle some melted chocolate on the top.