>> Wednesday, September 17, 2014 –  back to school, black eyed peas, chocolate popcorn recipe, egg rice, healthy lunch, kidslunch box, lunch box ideas, olive egg rice, olive rice, orange, pepper jack cheese, popcorn recipe, sargento cheese
LUNCH BOX:

OLIVE EGG RICE, SEASONED BLACK EYED PEAS/ SUNDAL, CUCUMBER FOR LUNCH!
SNACK BOX: ORANGES, DARK CHOCOLATE POPCORN BAR WITH PUMPKIN SEEDS AND FLAX SEEDS WITH HINT OF SEASALT, PEPPER JACK CHEESE!
LUNCH BOX
SNACK BOX
RECIPES FOR
INGREDIENTS:
Black eyed peas - 1 cup
Onion - 1 medium size finely chopped
Tomato - 1/2 finely chopped
Curry leaves few
Lemon juice - 1/2 tbsp or more if you want
Oil - 1 1/2 tbsp
Salt - as needed
For Tempering:
Mustard seeds - 1/4 tsp
Urad dhal - 1 tsp
Asafoetida - couple of pinches
Turmeric - 1/8 tsp
To Grind:
Saunf - 1/2 tsp
Green chilli - 2
Peppercorns - 4 to 5
Coconut grated - 1 tbsp
Cilantro - handful
Ginger - 1 tsp grated
Grind the above ingredients to coarse paste.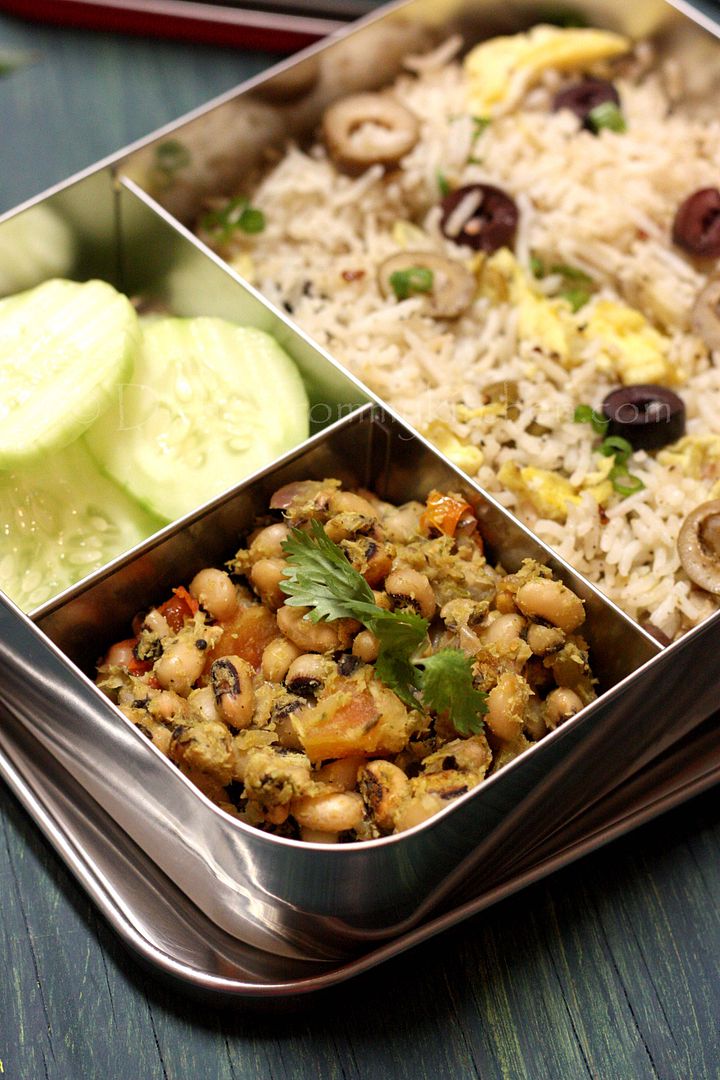 METHOD:
1. Soak Black eyed peas for minimum 4 hours or overnight.

Pressure cook for 3 whistles.

Make sure it's not mushy, it should be soft but hold its shape. After pressure is released drain the peas and keep it aside.
2. Heat oil in a pan, add Mustard, urad dhal, curry leaves and asafoetida.
3. Now add onion and tomato, sauté till tomato is mushy. Add turmeric.
4. Add the ground paste, Black eyed peas and salt.
5. Sauté for few minutes in low flame until everything is blended well.
6. Finish it with lemon juice.