>> Friday, September 26, 2014 –  crispy crepe, curry leaves, curry leaves dosa, curry leaves recipe, different dosa recipe, dosa recipe, easy tiffin item, south indian crepe, south indian tiffin idea, toor dhal recipe, yummy dosa
I got so many requests for this recipe in Facebook thought of posting them in blog. Here you go enjoy this beautiful green and iron rich dosa !!!!

Ingredients :

Raw rice - 3/4 cup
Idli rice - 3/4 cup
Toor dhal - 1/2 cup
Red chillies - 7 to 8
Cummin seeds - 1 tsp
Asafoetida - 1/4 tsp
Curry leaves - 1 cup tightly packed
Salt - as needed
Mustard seeds - 1 tsp
Oil - for drizzling and tempering.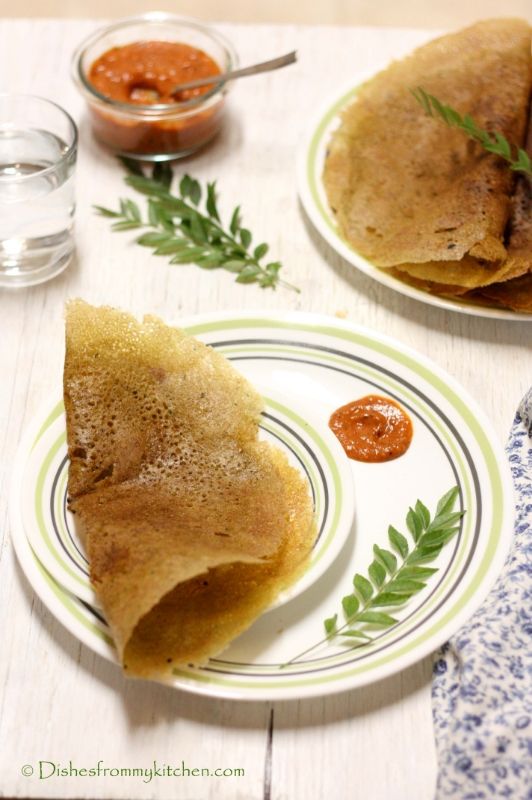 Method :

1. Soak the rice and dhal and grind with all other ingredients to fine batter.
2. The consistency should be like rawa dosa consistency that is so loose.
3. Then temper with mustard.
4. Heat the skillet and pour a ladle full of batter starting the edges in circular way.
5. Since the batter is loose it auomatically fills the middle part , unfilled part just fill it with ladle.
6. Add 1 tsp oil , when it turns slight brown in the edges flip it over and make crisp on other side too.
7. Since this dosa itself have good flavour you need not have any accompaniment , but this tastes great with Idli spice powder, tomato chutney , onion chutney or coconut chutney.