>> Friday, September 26, 2014 –  easy kids lunch, healthy lunch for kids, healthy school lunch, lunch bots, lunch for school, office lunch box, paneer tikka, pickled cucumber, popcorn chocolate bar, popped jowar, vegetable pulao
LUNCH BOX : VEGETABLE PULAO, TAWA PANEER TIKKA, PEACH !
SNACK BOX : SEASONED POPPED JOWAR, CHOCOLATE POPCORN BAR, PICKLED CUCUMBER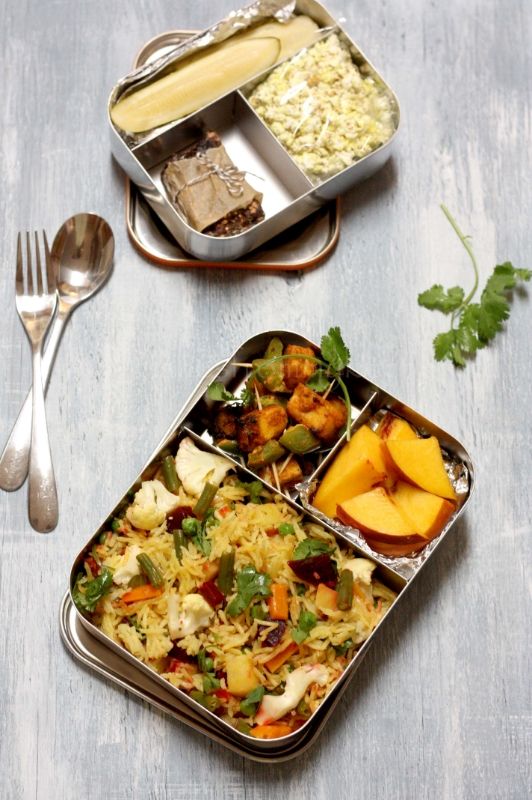 RECIPES FOR
LUNCH BOX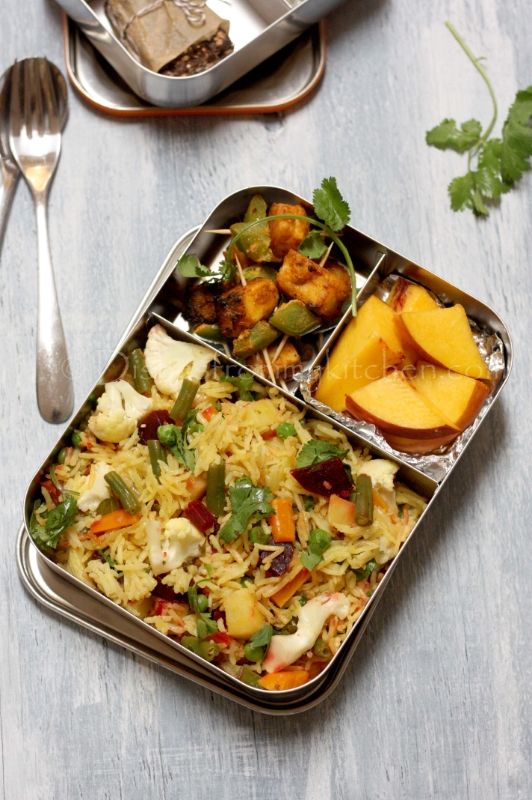 SNACK BOX
VEGETABLE PULAO (VERSION 1)



Serves 4 to 5 people

Ingredients:

Basmati rice - 2 cup
Onion - 2 cut lengthwise
Tomato - 1 medium sized
Carrot - 2 chopped as cube are little lengthier
Beans - 20 chopped to 1/2 inch size
Green peas - 1/3 cup
Potato - 1 medium sized (cubed)
Beet root - 1/2 chop same like carrots
Turmeric - 1/4 tsp
Garam masala - 1/2 tsp
Whole spices - Cardamom (2), Cloves (3), Cinnamon (1 1/2 inch small piece)
Water - 3 cups
Mint leaves - few app 20 leaves
Coriander leaves - 1/8 cup finely chopped
Cauliflower - 10 to 15 small florets
Oil - 5 tbsp
Salt - as needed
Lemon juice - 1 tsp

To grind:

Garlic - 4 pods
Green chilli - 5 to 6 (reduce if you want less spicy)
Ginger - 1 1/2 inch piece
Saunf - 1 tsp

Grind the above to coarse paste.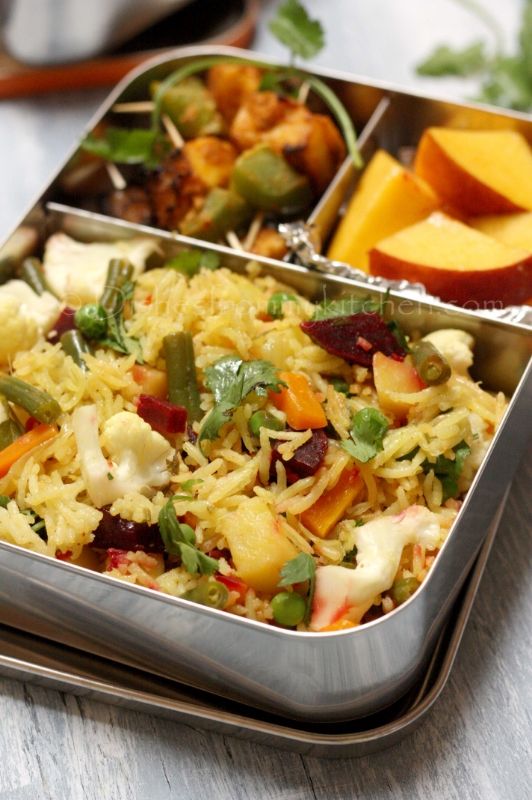 Method:

1. Heat oil in the pressure pan. When oil is hot add the whole spices, when it pops. Add the onion sauté till they are slight brown in color.
2. Now add the ground paste till the raw aroma disappear.
3. Parallely wash the rice and keep aside.
4. Now add tomato, they become slightly mushy. Now add the vegetables except beetroot.
5. Add the chopped mint leaves, turmeric powder and garam masala. Drain the rice and keep it aside.
6. Now add 3 cups of boiling water to vegetable mixture. Add drained rice and salt. Keep the flame in medium.
7. Check for salt and close the pressure cooker lid. When you see steam coming out...
8. Open the pressure pan top it with the beetroot. Now close with the lid.
9. Keep it in very minimum flame. Switch off after 10 to 12 minutes. Do not disturb for 10 to 15 minutes.
10. Open the lid, add lemon juice and chopped cilantro. Fluff it up with fork.

Serve it with Raita and Pappad.


Note :

1. Beetroot is added later to avoid the whole rice turning to purple color.
2. I did add Cauliflower the same way along with beetroot. Because cauliflower tends to get mushy here in US if I add them earlier along with other veggies, I think its because of more water content in the vegetable. So its upto you, do it the way you like.
TAWA PANEER TIKKA
Ingredients :
Paneer - 400gm
Thick Yogurt - 3/4 Cup
Tandoori Masala - 1 or 11/4 tbsp
Chilli Powder - 1tsp (if your tandoori masala is very spicy, then you can skip this)
Ginger - 1/2 inch piece
Garlic - 3 pods
Olive Oil - 1 tbsp
Lemon - Juice from 1/2 Lemon
Kasoori Methi - 1/4 tsp Crushed
Capsicum - 1/2 cu to big chunks
Salt - as needed
To served:
Chaat Masala
Lemon wedges


Method:

1. Cut Paneer to small cubes.
2. Make Ginger + garlic paste.
3. In a small bowl whisk all the above ingredients. Add the paneer cubes in the yogurt mixture, toss everything so that paneer is well coated.
4. Close the bowl and keep it aside for couple of hours or even overnight in the refrigerator.
5. Now heat oil in non stick pan arrange the Paneer pieces keeping them in medium flame (Reserving some extra yogurt mixture to toss the bell peppers).
Roast them by turning the pieces on all sides occasionally. (Do not over roast them otherwise paneer becomes hard)
6. In the same bowl, add the capsicum toss it and roast them in the same pan.
7. Sprinkle some chaat masala along with some lemon wedges.
8. You can also serve with Mint chutney or Mint yogurt dip.

Note:

1. Adjust Spice , salt and sourness according to your preference.