>> Friday, September 26, 2014 –  cannellini bean dip, frittata, garlic baguette, garlic toast, healthy lunch ideas, kale frittata, Kids food, kids lunch box, lunch bots, lunchbots ideas, olive oil crackers, yotam ottolenghi recipe
LUNCH BOX : KALE ASPARAGUS MINI FRITTATA, GARLIC TOAST AND MELON BALLS
SNACK BOX : HOME MADE OLIVE OIL CRACKERS, CANNELLINI BEAN DIP AND CARROT STICKS
LUNCH BOX
SNACK BOX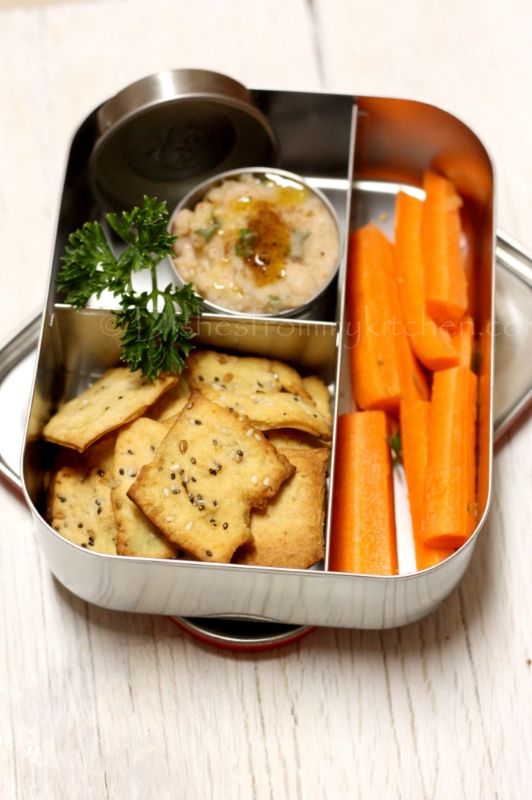 RECIPES FOR
KALE AND ASPARAGUS MINI FRITTATA
Yields - 7 to 8 mini frittatas.

Ingredients:

Eggs - 6
Cheddar cheese - 1 tbsp
Parmeggiano - 1 tbsp + 1/2 tbsp
Kale - chopped finely tightly packed 1/4 cup
Asparagus - 6 chopped to 1 inch piece
Onion - 1/2 finely chopped
Mushrooms - 3 sliced (optional)
Garlic - 1 very finely chopped
Pepper - 1 tsp
Kosher salt - 1/4 tbsp
Sundried tomato - 5 to 6 Chopped (soaked in olive oil and herbs)
Whole milk or heavy cream - 1 tbsp
Olive oil - 1/2 tbsp
Olive oil or butter for brushing the pan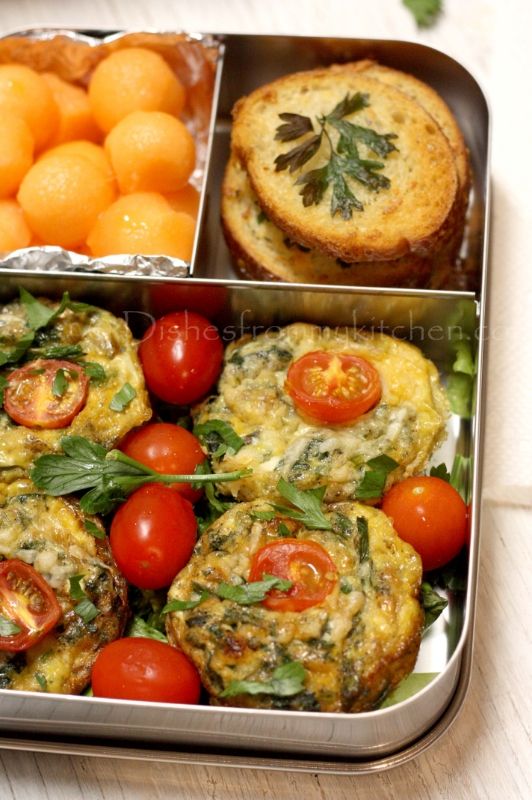 Method:

1. Preheat the oven to 350 f.
2. If you are using aluminium muffin pans spray 7 holes with nonstick spray or brush with generous amount of oil or butter. If you're using nonstick pan you can skip this step.
3. Heat oil in the pan add garlic, onion sauté for few minutes, then add chopped kale, sauté till they wilt.
4. Now add Asparagus and switch of the flame. Let this mixture cool, keep it aside for few minutes.
5. In a bowl mix all the above ingredients add kale mixture. Beat until everything is blended well.
6. Divide the mixture equally that is fill 2/3 of muffin holes. Sprinkle 1/2 tbsp Parmeggiano reggiano.
7. Now bake in the preheated oven to 15 to 20 minutes or until egg is set and the cheese in top is slightly browned. If you want to places cherry tomato in the top you can do this half way through the baking process.
8. Cool them completely before you pack for lunch... Serve with refreshing salad.
GARLIC TOAST
Ingredients :

1 Small mini Baguette
Butter - 1 1/2 tbsp (Room temperature)
Garlic - 1 grated
Salt - 1/2 tsp
Italian Seasoning - 1/4 tsp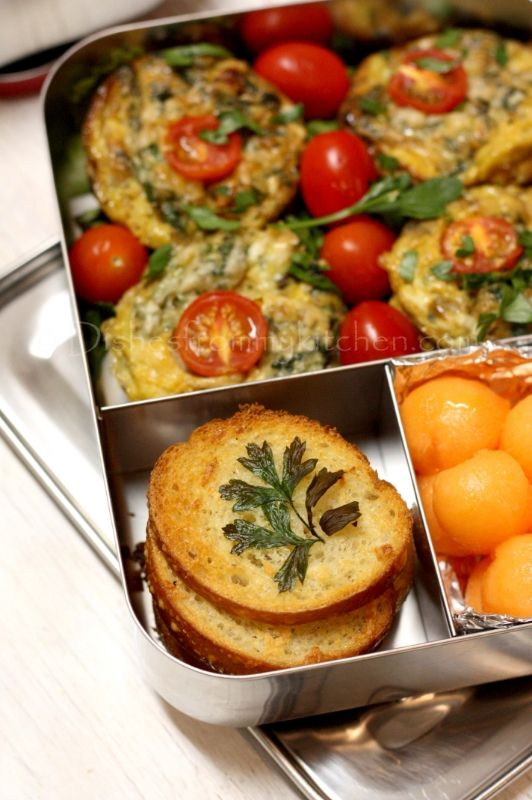 Method :

1. In a small bowl mix room temperature butter with all other seasoning and herbs.
2. Slice the baguette. Apply the butter mixture slightly on both sides .
3. Toast in the 425 f preheated oven for 5 to 10 minutes until they are nice golden brown on both sides.

Serve with you soup or Salad.
CANNELLINI BEAN DIP
Ingredients:
Cannellini - 1 tin
Lemon - 1
Cilantro - 1/8 cup
Garlic - 2
Olivie Oil - 1 + 1 tbsp to drizzle
Salt - as needed
Method :
1. Put all the above ingredients in the food processor and blend coarsely or creamy the way you like.
2. Drizzle with tbsp of olive oil on the top.
Serve with your favorite bread or crackers....