>> Thursday, November 8, 2012 –  cornflour dusted tofu, crispy tofu, fried tofu appetizer, Jalapeno in appetizer, Jalapeno tofu, restuarant style jalapeno tofu, salt pepper tofu, simple appetizer for party, tasty tofu snack, tofu snack
Jalapeno tofu is great appetizer. It is absolutely delicious with caramelized onion, garlic and also little heat from the Jalapeno makes the dish really yummy. The title Jalapeno tofu does not mean this dish is very spicy. You can deseed the Jalapeno and use it in the recipe but personally I prepare half seeded and half deseeded. So you can prepare this dish according to the spice level you love to eat. The flesh of the Jalapeno has a mild flavor close to green bell pepper, so if you do not have Jalapeno you can always substitute with green bell pepper. But make sure you add tsp of chilli garlic sauce while sautéing the onion and garlic if you are deseeding the whole Jalapeno.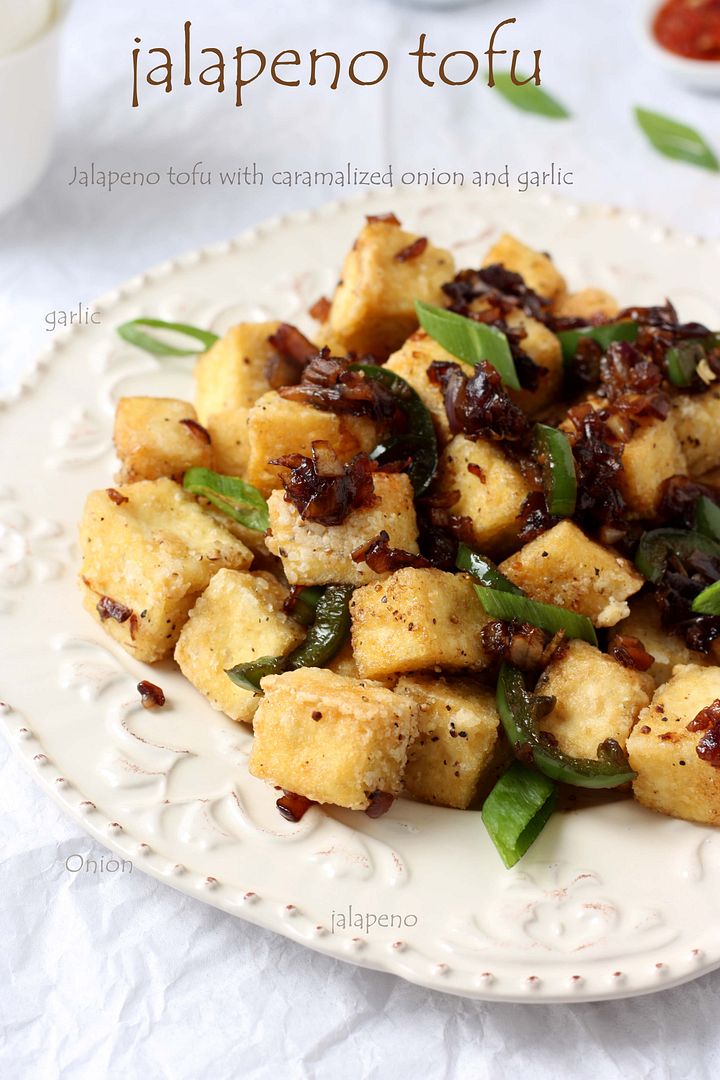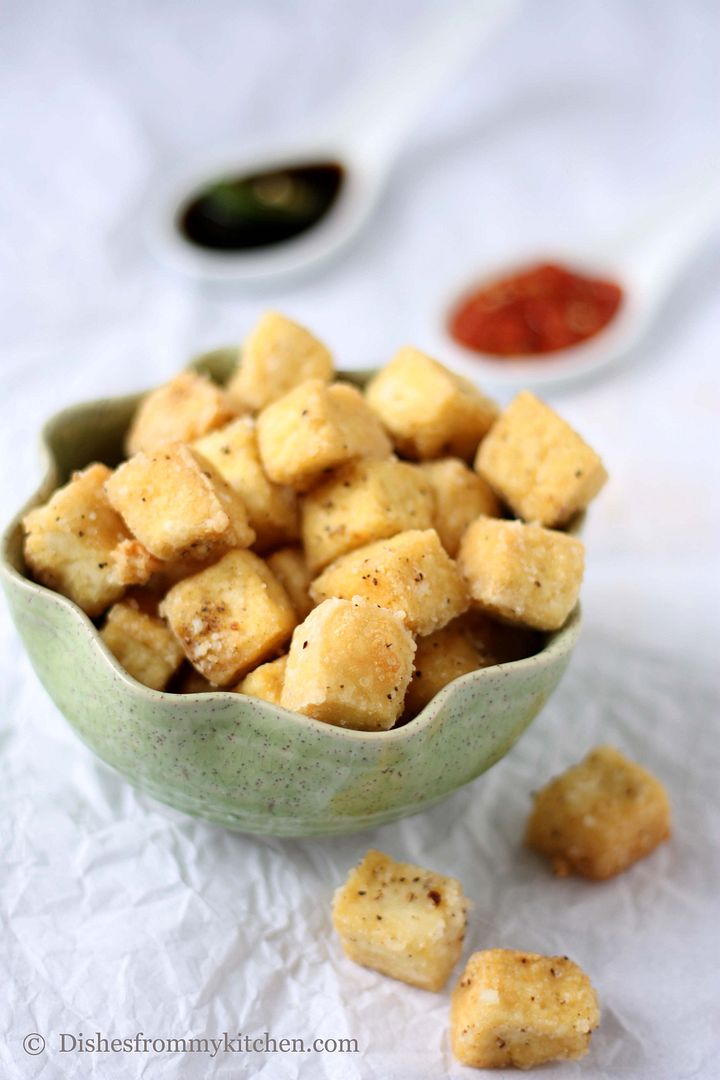 JALAPENO TOFU
Ingredients :
Extra firm tofu - 400 gm
Corn flour - 4 tbsp
Salt - 1/4 tsp
Pepper - 1/2 tsp
Soy sauce - 1 tsp
Garlic finely chopped - 8 cloves
Jalapeno - 1 ( Half seeded, half deseeded and sliced)
Onion - 1/2 finely chopped
Brown Sugar - 1 1/2 tsp
Spring onion (scallions) - 1/8 cup (only green part)
Oil for frying tofu
Method :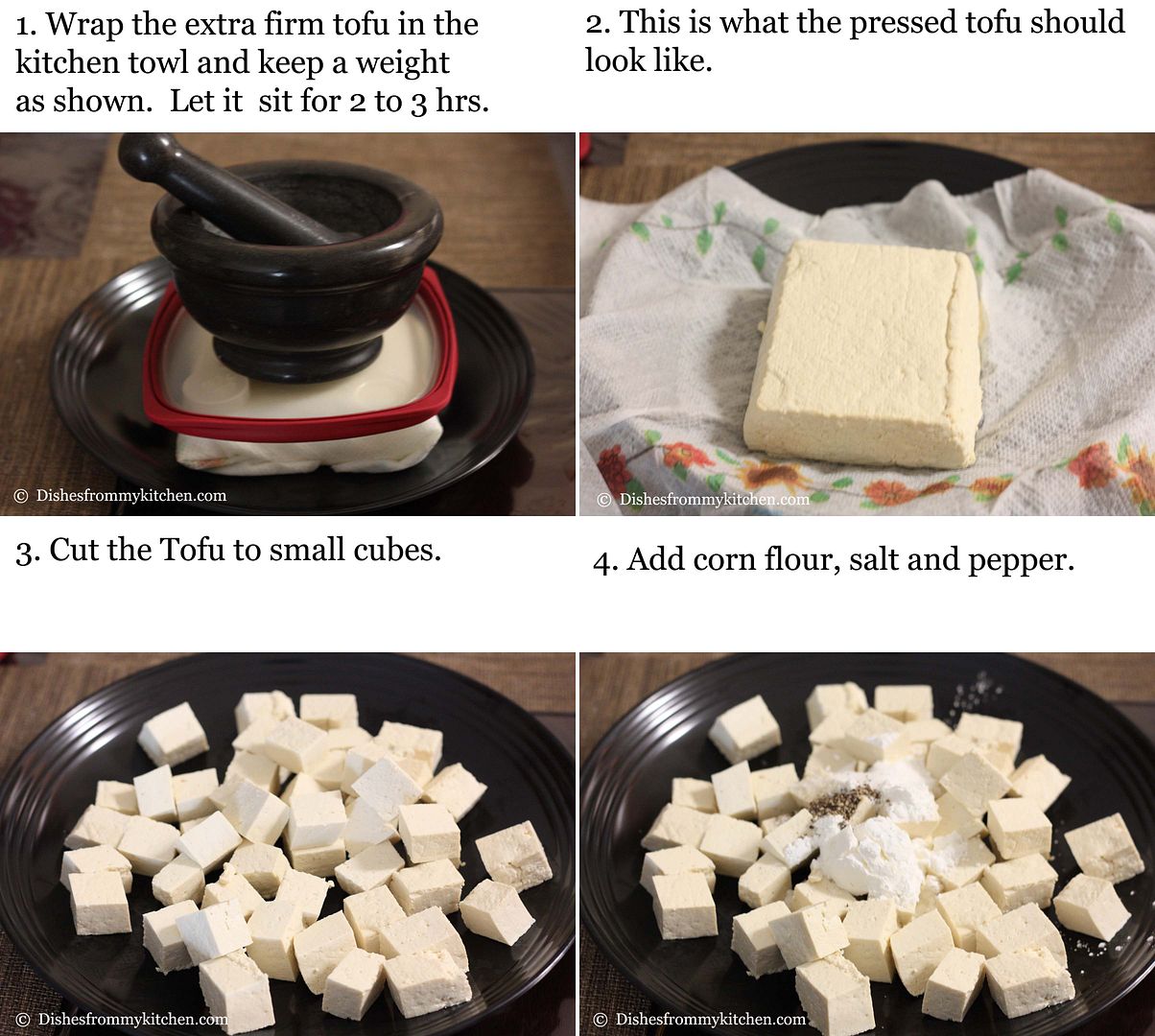 Note :
1. You can also substitute Tofu with Paneer.
2. Make sure you buy extra firm tofu.
3. You can also use thin soy sauce. Since I had only thick soy the color was bit dark. You can use any soy sauce for this recipe.