>> Monday, April 13, 2009 –  chaats, dried peas, Green chutney, Indian chaats, low carb food, meetha chutney, potato cutlets, ragda, ragda patties, snacks, street food, sweet chutney, teatime snack, vegan snack, vegetarian snack
Ragda Patties has shallow fried potato patty served with piping hot peas gravy, chutneys, onions, tomato (optional), grated carrot, bhujia(sev) and chopped cilantro. Fulfilling meal, easy too make and tastes yummy yummy!!!!!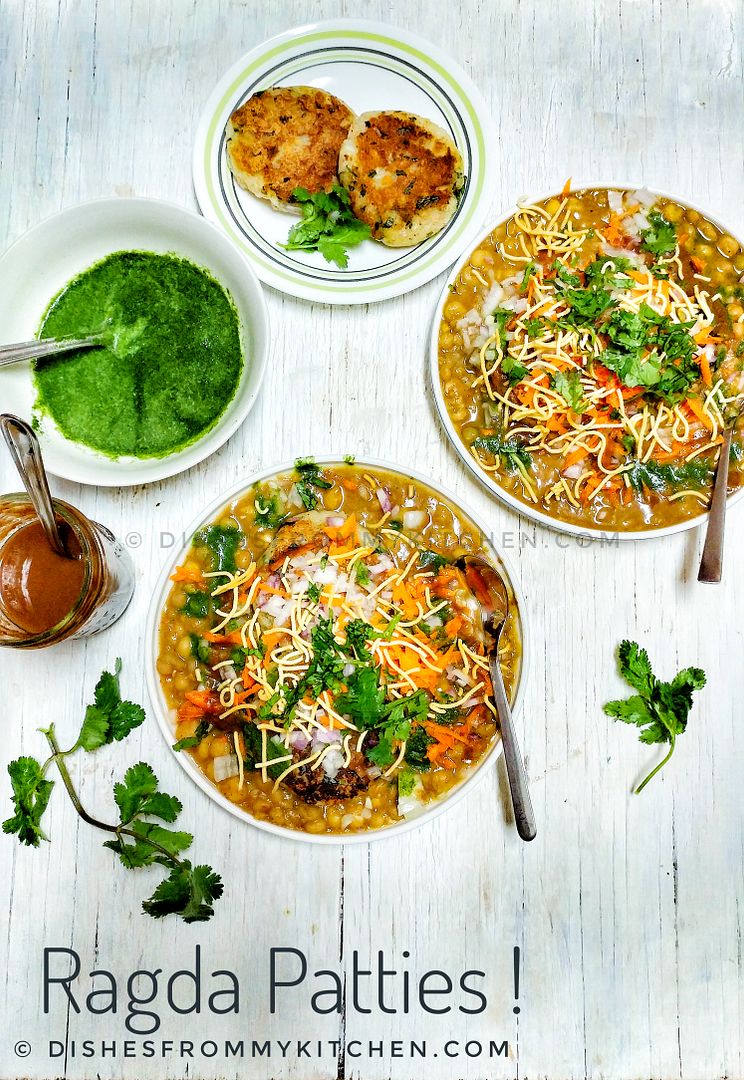 Ingredients :
Yellow dry peas - 1 cup
Garlic - 3
Ginger - 1/2 inch piece
Turmeric - 1 tsp
Asafoetida - 1/4 tsp
Garam masala - 1/2 tsp
Cloves - 1
Cinnamon - 1/4 inch piece
Saunf - 1/2 tsp
Salt - as required
Chilli powder - 2 tsp
Oil - 1 tsp
Besan - 1/2 tbsp ( Dry roast the besan till raw aroma disappears, add little water and make thin paste)
Method :
1. Soak the Dried peas overnight . Pressure cook yellow peas with turmeric and oil adding water (the level of water should be little less than the peas). Cook for 4 to 5 whistles. They should not become mushy, it should be soft but still holds its shape. (Reserve the water for making gravy)
2. Now grind ginger, garlic, clove,cinnamon, saunf to fine paste.
3. Heat oil in a pan add Asafoetida, Chilli powder, garam masala and ground paste saute till raw aroma disappears. Add cooked peas along with the reserved water, add more water for required consistency.
4. Now add the besan paste, simmer for few minutes and switch off the flame. (The consistency should not be so thin or so thick)
5. Served Ragda with Potato Patties.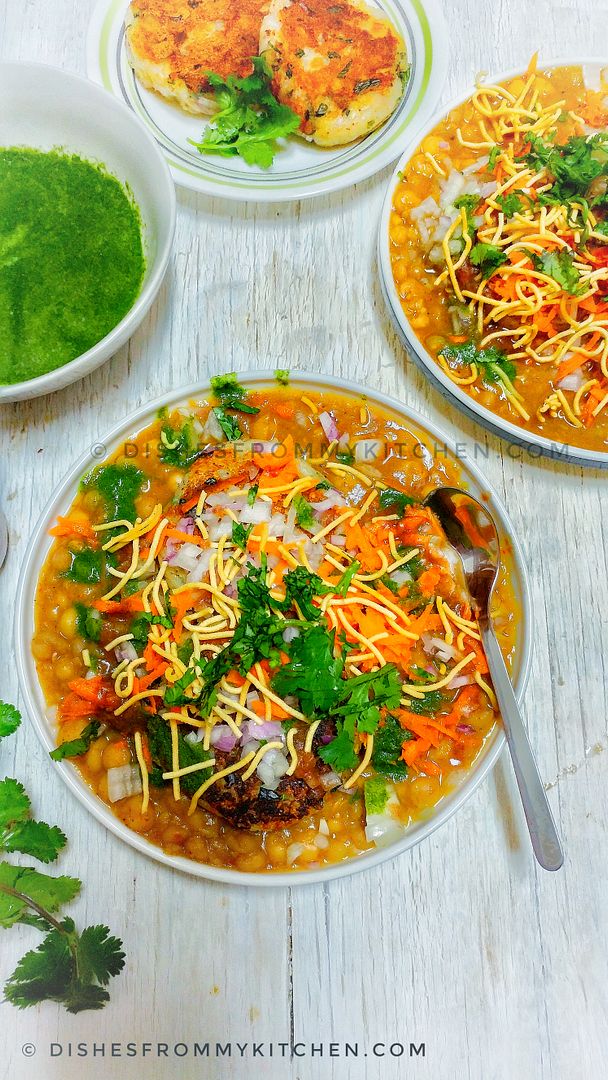 Ingredients for patties :
Potato boiled - 4 (medium sized)
Bread - 2 slice without crust
Ginger - 1/2 inch piece
Green chilli - 2
Amchur powder - 1/2 tsp
Garam masala - 1 tsp
Onions finely chopped - 1/4 cup
Coriander few - chopped
Salt as needed.
oil for shallow frying
Method :
1. Pressure cook Potato, cool, remove the skin. Soak the bread in water, squeeze well and add to the potato.
2. To this add all other ingredients and knead lightly like a dough.
3. With help of greased hand make lemon sized balls and flatten it to 1/2 inch thick.
4. Now shallow fry them in hot griddle on both sides till crispy and brown.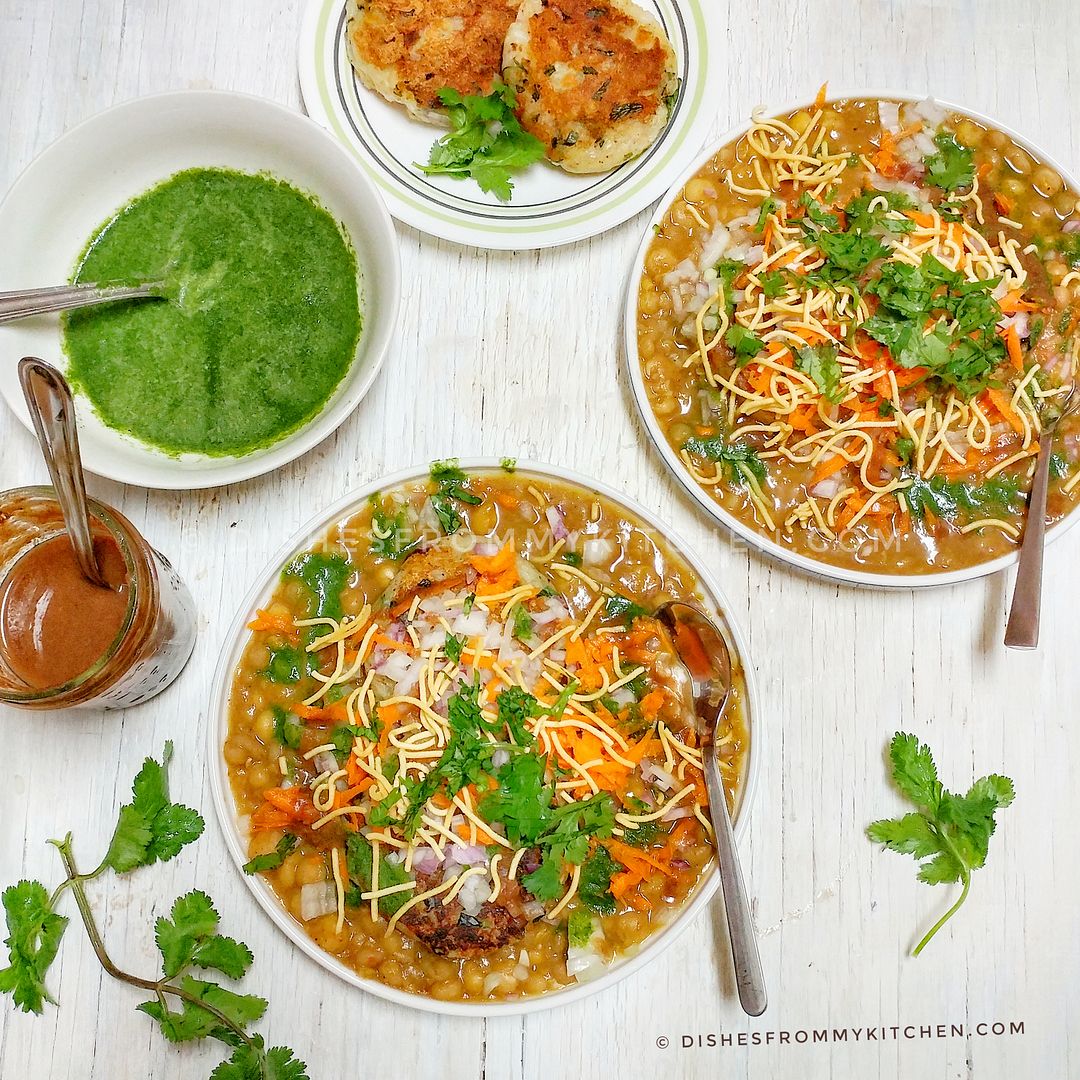 Coriander leaves - 1/4 cup
Mint leaves - 1/4 cup
Roasted cumin powder - 1/2 tsp
Ginger - 1/4 inch piece
Garlic - 2
Lemon juice and salt to taste
Green chillies - 3
Grind everything in the blender to smooth paste and store it in container. (Add water to required consistency)
Tamarind chutney
Tamarind - 1/2 tbsp
Dates - 5 to 6
Jaggery - 1 tbsp
Chilli powder - 1/2 tsp
Chat masala - 1/2 tsp
Roasted cumin powder - 1/2 tsp
Salt to taste
Boil tamarind and Dates in water until dates becomes soft. Once cooled, add other powders and grind to smooth paste. Now add required water and give it a nice boil.
For serving :
In a bowl or plate place 2 hot crispy potato patties pour ragda on the top with chutneys, chopped onions, tomato finely chopped (Optional), Grated carrot , Bhujia/sev and garnish with finely chopped cilantro. Yummy!!!!!!!!!