>> Monday, October 24, 2016 –  Adhirasam, Anarasa, Ariselu, athirasam, Diwali, Diwali Sweets, festival of lights, gluten free sweets, Incredible India, jaggery based sweets, jaggery sweets, Sweets, traditional indian sweet, vegan sweets
Wishing you All Advance Happy Deepavali
To kick start the festival of lights I started with Adhirasam. I have planned to do couple of sweets and savories for Diwali. Not sure I can share the recipe for those before Diwali. Anyways I will share the picture here after I make and later I will share the recipe. Do check some of my other Sweet and savories which I have in blog my already.
Sweets :
Apple Jalebi
Adhirasam/Athirasam
Badam Halwa
Besan Ladoo
Boondhi Ladoo
Obattu/puran poli
Suruttai poli
Easy Paalkova
Rasmalai
Karjikai/Kajjikai
Karjikai/Kajjikai 1
Kaju Katli
Savories :
Butter Murukku
Ginger Pakoda
Puluppu Murukku
Lychee Sandesh in Rabri/Rabdi
Mung dhal Murukku Ver1
Mung dhal Murukku ver2
Onion Murukku
Vadai / Bonda
Punnugulu/Bonda using Dosa batter
Mangalore bajji/Golibaje
Masal Vadai/Paruppu Vadai
Adhirasam/ Athirasam
Yields - 10 to 12 Adhirasam
Ingredients :
Rice - 1 cup
Jaggery - 3/4 cup
Water - 1/4 cup
Cardamom - 1/4 tsp
Dry ginger Powder - 1 pinch (optional)
Sesame Seeds - 1/2 tbsp
Oil for deep frying
Ghee/ oil for greasing
Polythene sheet
Note : You can use Maavu Pacharisi or any raw rice. I used Sona masoori. Also it's good to use Paagu vellam (Jaggery) for making Adhirasam. As I don't have all these where I live. I used regular Jaggery.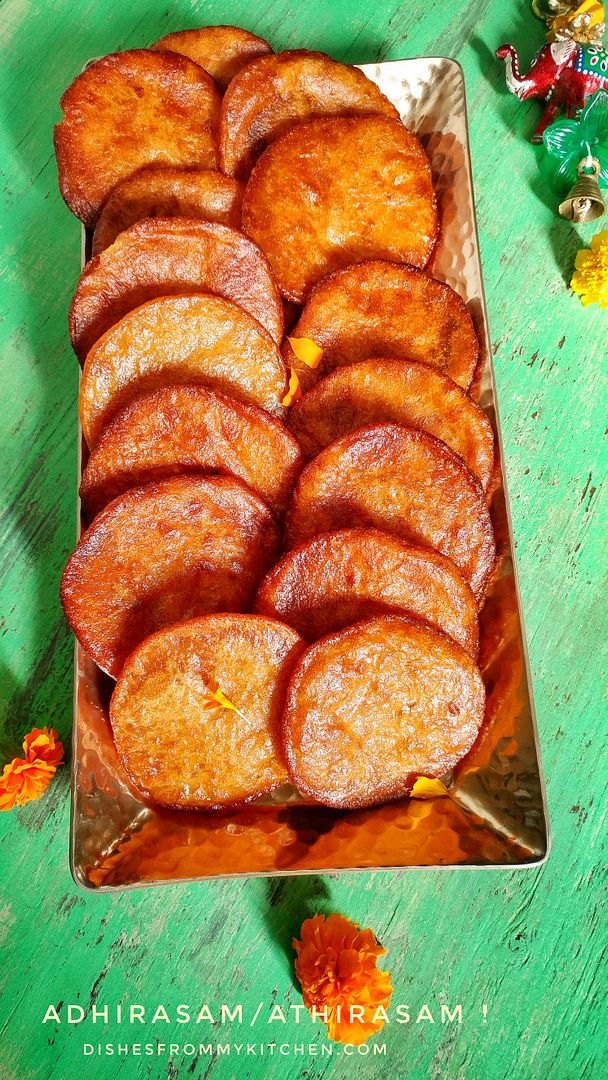 Method :
1. Clean and Wash the rice thoroughly. Let it soak for atleast 1 to 2 hours. But don't soak more than that.
2. Drain the water completely and spread in the clean kitchen cloth towel until the rice is 3/4th dried. (Make sure the rice is not completely dry, it should still retain moisture/Damp enough)
3. Now powder the rice in the Mixer. The texture of the powder should not be very fine, it should be like fine Sooji/ Rawa. Make sure it's not coarse too. If you still have doubt, you can sieve it.
4. Once it is sieved, immediately transfer it to a container. Keep the flour covered as it has to retain moisture throughout the process which is very important.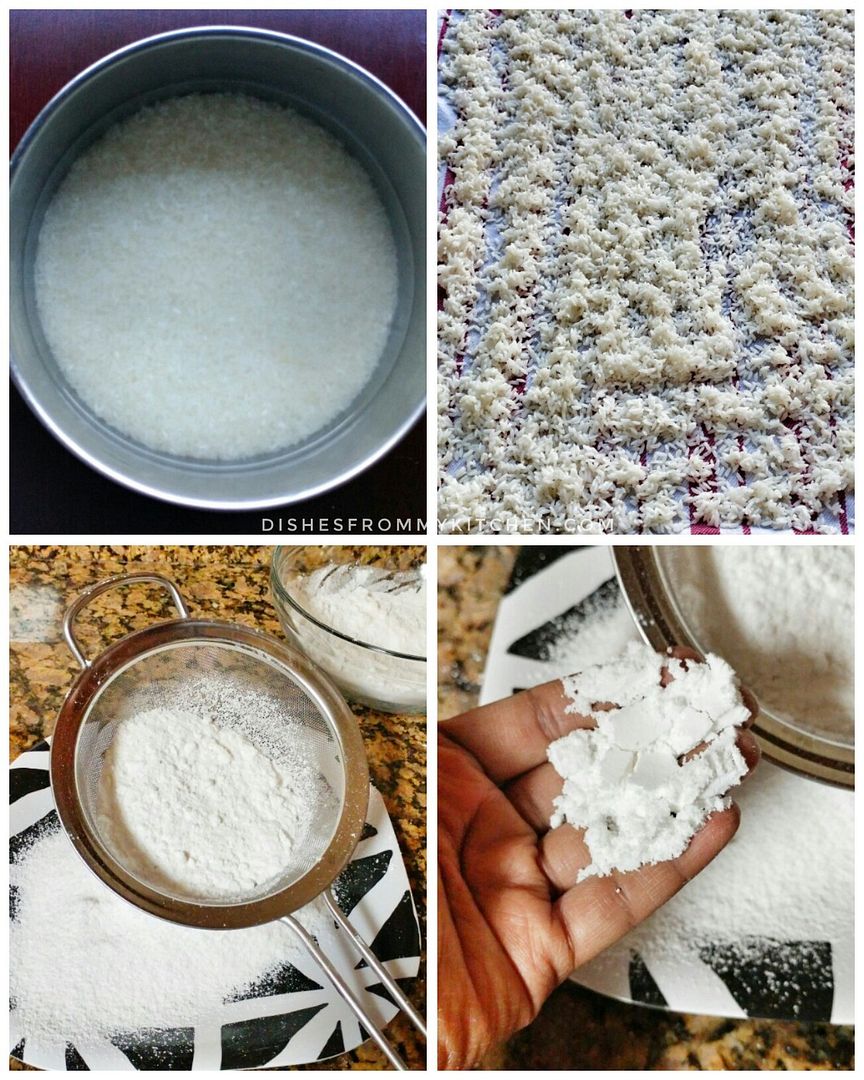 5. Now in a pan heat Jaggery with 1/4 cup of water, once it is dissolved completely.. filter it to remove all the impurities.
6. Heat the Jaggery again (Always keep in Medium to low flame), stirring occasionally. Now the syrup will thicken and you will be getting nice bubbles (this happens very faster as we added little amount of water) this is tricky part so keep a close watch. Take a small plate or bowl filled with little water. Keep checking the sugar consistency by pouring little syrup in water. At first the syrup will dissolve in the water (you can check couple of times frequently. At one stage the syrup will settle in the bottom and when you gather in your fingers you should be able to gather and make a soft ball. At this stage switch of the flame.
7. Add Sesame seeds, cardamom and ginger powder to the powdered flour. Keep this ready.
8. Add the hot syrup to the flour and keep mixing with the whisk or any ladle.
9. Very loose and sticky dough will be formed which is the right consistency. Later it gets stiff when the dough cools down.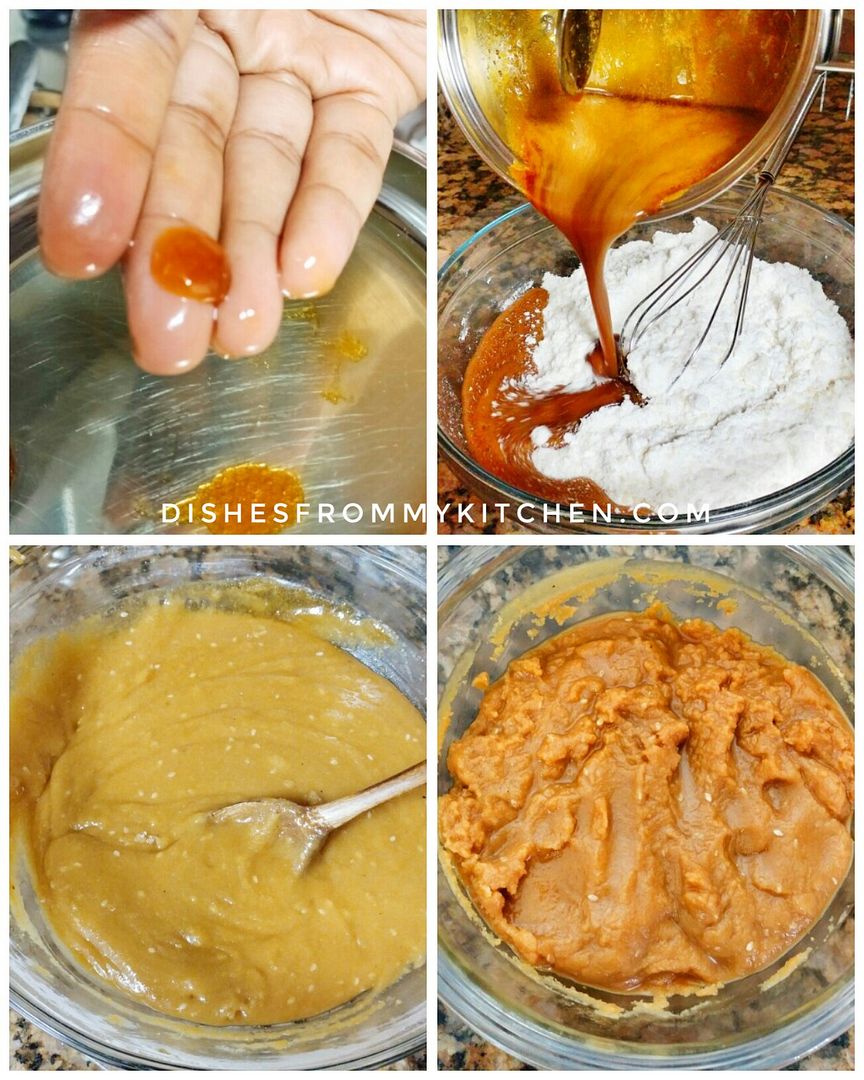 10. Now transfer the dough in airtight container for resting. The dough has to rest atleast 24 hrs before we make Athirasam/Adhirasam.
11. When making Adhirasam, equally divide the dough to small lemon sized balls.
12. Heat Oil in the kadai, Oil should not be too less for frying. Once oil is hot, put the flame in low.
13. Take a Polythene sheet or any Ziploc cover. Grease it with ghee or oil. Flatten the ball using your greased fingers.
14. The discs has to be thick (Do not make it thin). Now carefully drop it in the oil. The flame has to be low throughout the frying process.
15. Like doing poori, slightly pour oil on the top of the Adhirasam slowly. It rises up, immediately flip to other side gently and let it cook for couple of seconds and take it out immediately. Using another ladle give it a press to take out extra oil. Don't press too much as it has to retain little oil to keep it soft and moist inside and little crispy outside.
16. Keep it in a slanted plate like I have kept, don't stack. So that extra oil drains out. Make all the Adhirasam.
17. Once all Adhirasam are made store in the air tight container lined with kitchen tissue.
Some of the things has to be Noted Before you attempt Adhirasam :
1. The texture of flour is very important.. Which should be like Very fine Sooji and moisture should be retained in the flour until it is added to Jaggery. So keep it covered.
2. The Jaggery should have soft ball consistency.
3. The consistency of the dough should be very loose/ Sticky dough.
4. Always cook it in low flame. Don't cook too long after Flipping. It makes Adhirasam harder because even if you take the Adhirasam out of the oil it will be still cooking from Inside because of Jaggery content, Jaggery takes time to cool.
5. The amount of Jaggery or flour can't be altered. If you follow everything correctly the ratio for rice flour and Jaggery I have mentioned, it will work exactly. But you can always make extra Jaggery syrup (that is instead of 3/4th cup make syrup you can make syrup with 1 cup of Jaggery but we may not be using all the syrup. when you add syrup to the flour keep mixing the dough with whisk or Laddle. When the sticky dough is formed stop adding the syrup.
6. The Dough gets stiff after it cools down. But not very hard. Even after 2 days the dough has to be pliable.
If you think the dough is very hard you can add little milk and knead.
7. You can make dough and make Adhirasam after giving atleast 24 hrs of resting time. You can also keep the dough in room temperature for 2 to 3 days. If you are not going to use it immediately.. you can store it in freezer or keep it in fridge. Use when needed, after it is thawed or gets to room temperature.