>> Thursday, October 20, 2016 –  avarekaalu, Indian style fried rice, kidslunchbox, luncbots, lunchbox planning, lunchboxideas, menu planning for weekdays, mumbai street food, mumbai tawa pulao, tawa pulao, vegan, vegetable fried rice
Lunch Box : Tawa Pulao, Cucumber and Avarekaalu (Fried field Beans snacks) !
Snack Box : Seasoned Black Channa and Peaches !
Do check my
Facebook Page for More lunch box ideas and also click this link for more Lunchbox recipes Click this Link Lunchboxes.
Tawa Pulao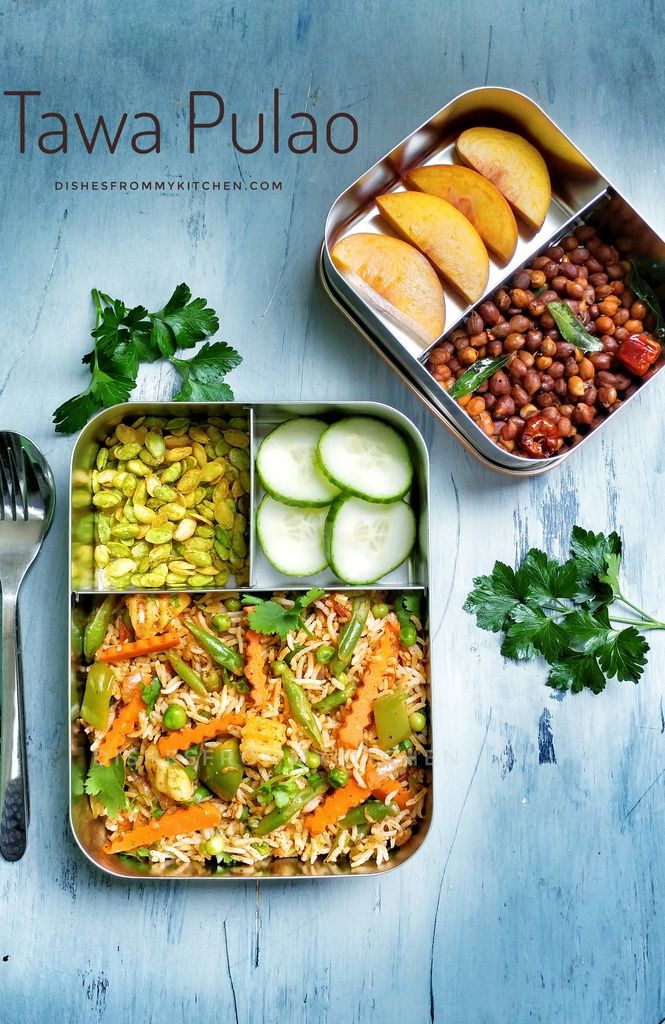 Ingredients :
Basmati Rice - 1 cup
Onion - 1 small (Finely Chopped)
Tomato - 2 small (Finely Chopped)
Carrot - 1/2 cup (Chop lengthwise)
Beans - 1/2 cup ( Chop lengthwise)
Potato - 1/2 cup (Chop to small cubes)
Green Peas - 1/4 cup
Green Bell pepper - 1 small (chop to small cubes)
Cumin seeds - 1/2 tsp
Pav Bhaji Masala - 1 1/2 tsp
Chilli Powder - 1/4 tsp
Kasoori Methi - 1 generous pinch
Garlic - 3
Ginger - small piece
Juice of Half Lemon
Salt as Needed
Coriander few Chopped
Oil - 1 tbsp
Butter - 1 tbsp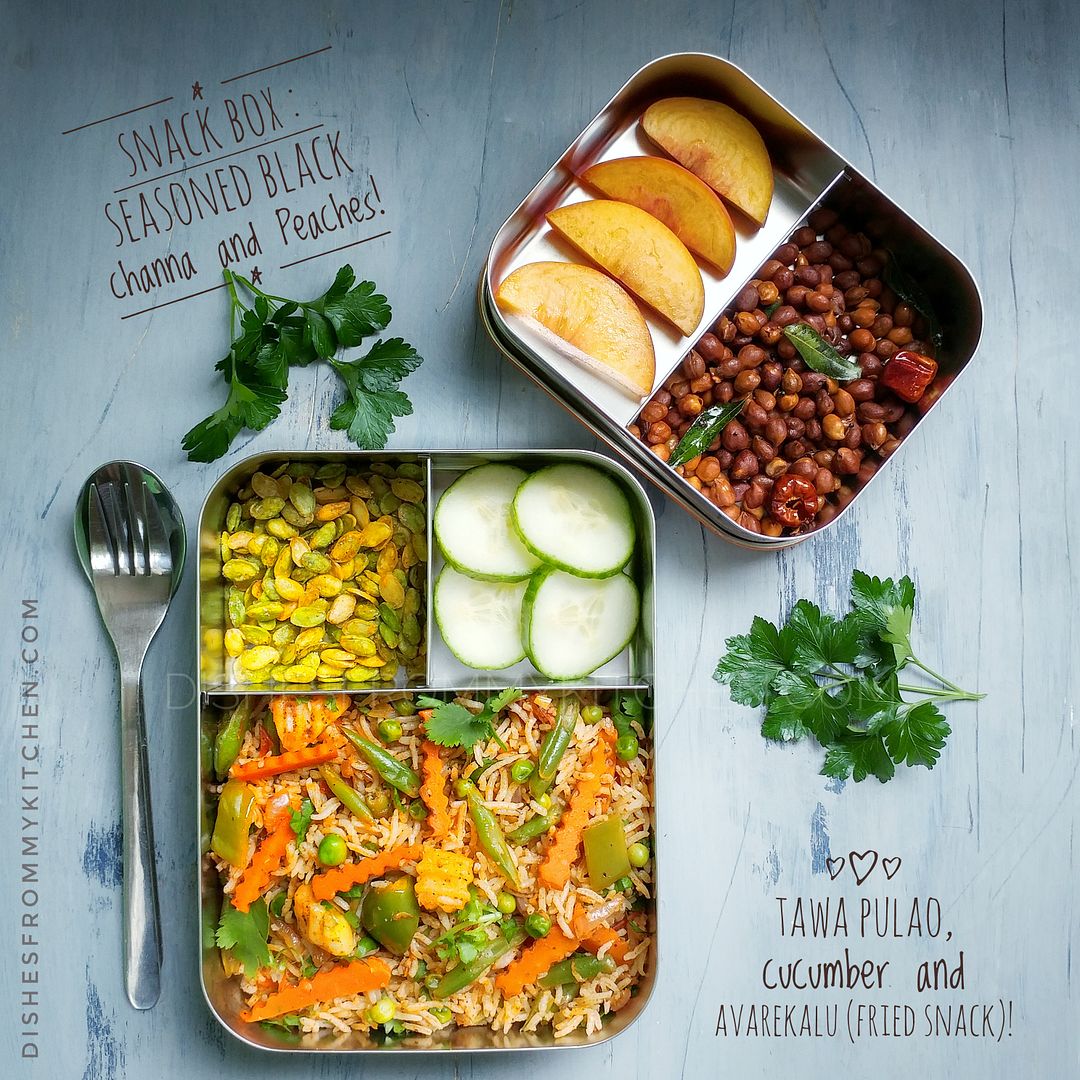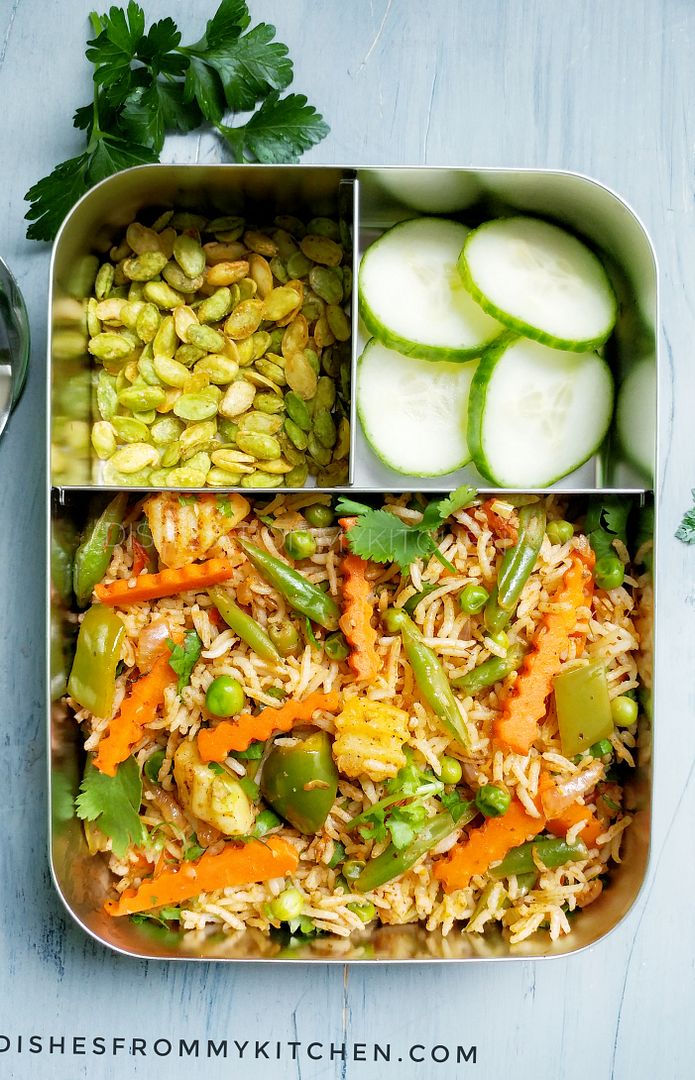 Method :
1. Clean and Wash Basmati rice. Soak them for 20 minutes and cook rice with 1 1/2 cups of water. Cool them and make sure the grains are separated. If you are going to make this recipe for lunch box in the morning. You can Cook the rice and refrigerate night before. Left in the fridge overnight, the rice grains will firm up, making it easier to separate and decreasing the chances of Tawa pulao turning out mushy.
2. Steam all the vegetables and Keep it aside. Make sure vegetable are nice and crisp. Don't over cook them.Its enough if you cook 3/4th.
2.Heat oil and butter in the pan. Add Cumin seeds.
3.Add finely chopped onions when it become translucent, add Ginger + garlic paste. Saute till raw Aroma disappears.
4.Add chopped tomato and little salt. Add spice powders. Saute until tomato becomes Mushy.
5. Now add all the vegetables and crushed Kasoori Methi. Stir them couple of minutes and add cooked rice.
6.Add salt and squeeze Lemon juice. Toss the rice until everything is mixed well and rice is nicely coated with the vegetable Masala Mixture. When Rice becomes hot enough switch off the flame.
7. Garnish with Chopped coriander.
PLEASE DO NOT COPY THE RECIPE OR PICTURE. YOU ARE MOST WELCOME TO USE THIS RECIPE WITH THE DUE CREDIT.