>> Tuesday, October 18, 2011 –  bajji from karnataka, Deep fried snacks, easy deep fried snack, easy tea time snack, golibaje, karnataka famous snack, mangalore bajji, mangalore bonda, mangalore dish, street food from karnataka
Mangalore Bajji, as it is referred to in Karnataka (Golibaje in South Canara), is a popular food made from maida, curd(yogurt), rice flour, chopped onion(optional), coriander leaves, coconut, jeera, green chillies, and salt. It is also called Golibaje in Tulu. Mangaloreans often eat this at tea time. These bajji's are crispy outside and soft chewy inside.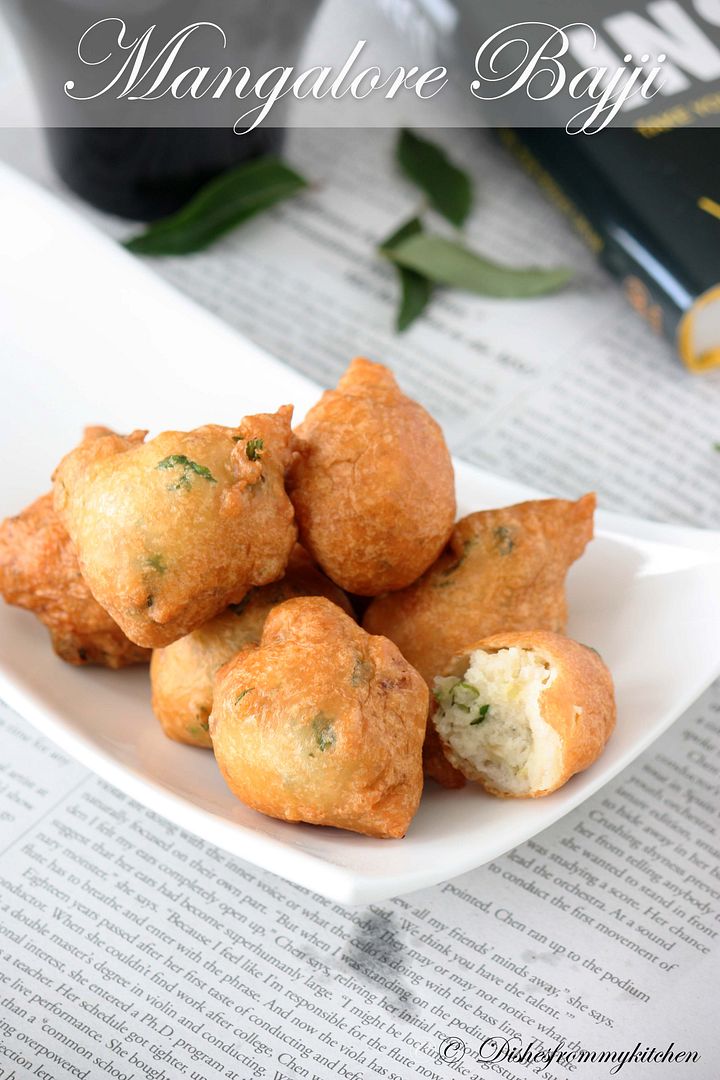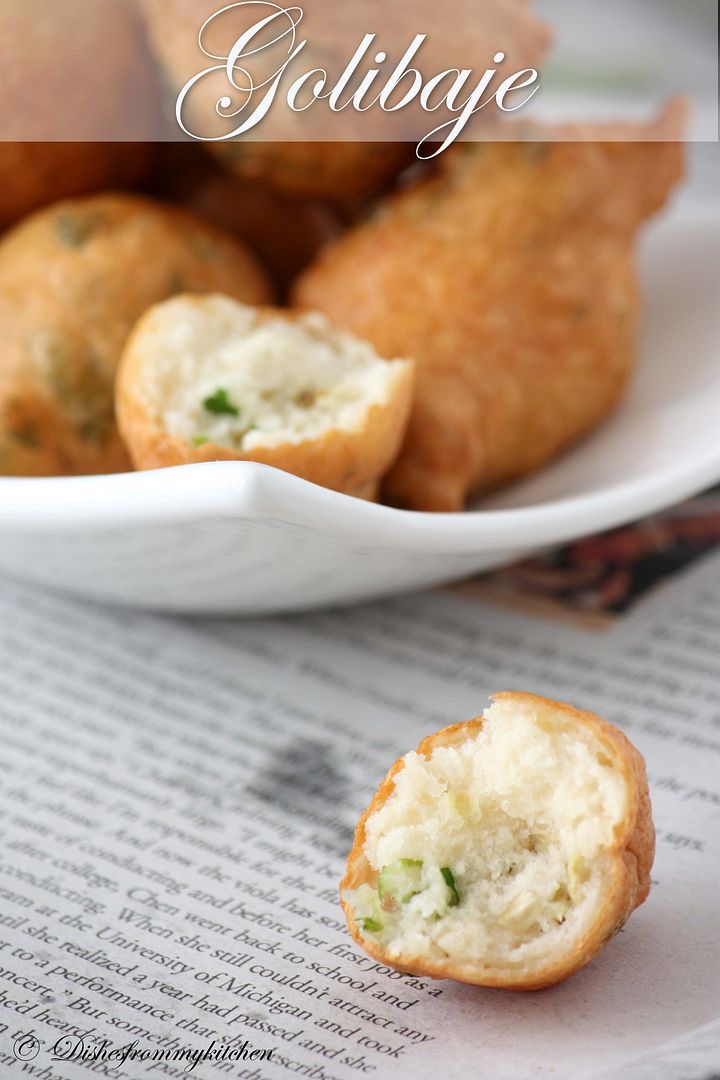 Mangalore Bajji/GoliBaje
Ingredients:
All purpose flour - 1 cup
Rice flour - 1 tbsp (optional, I use it to get little crisp)
Sour curd/Yogurt - 1/2 cup (as required for mixing the flour and spices to hard batter)
Green chilli - 2 very finely chopped
Ginger - little finely chopped
Coconut pieces - 1/2 tbsp very finely chopped (optional)
Baking soda - 1/4 tsp
Coriander leaves - few finely chopped
Salt - as needed (this requires very less salt so use accordingly)
Oil for deep frying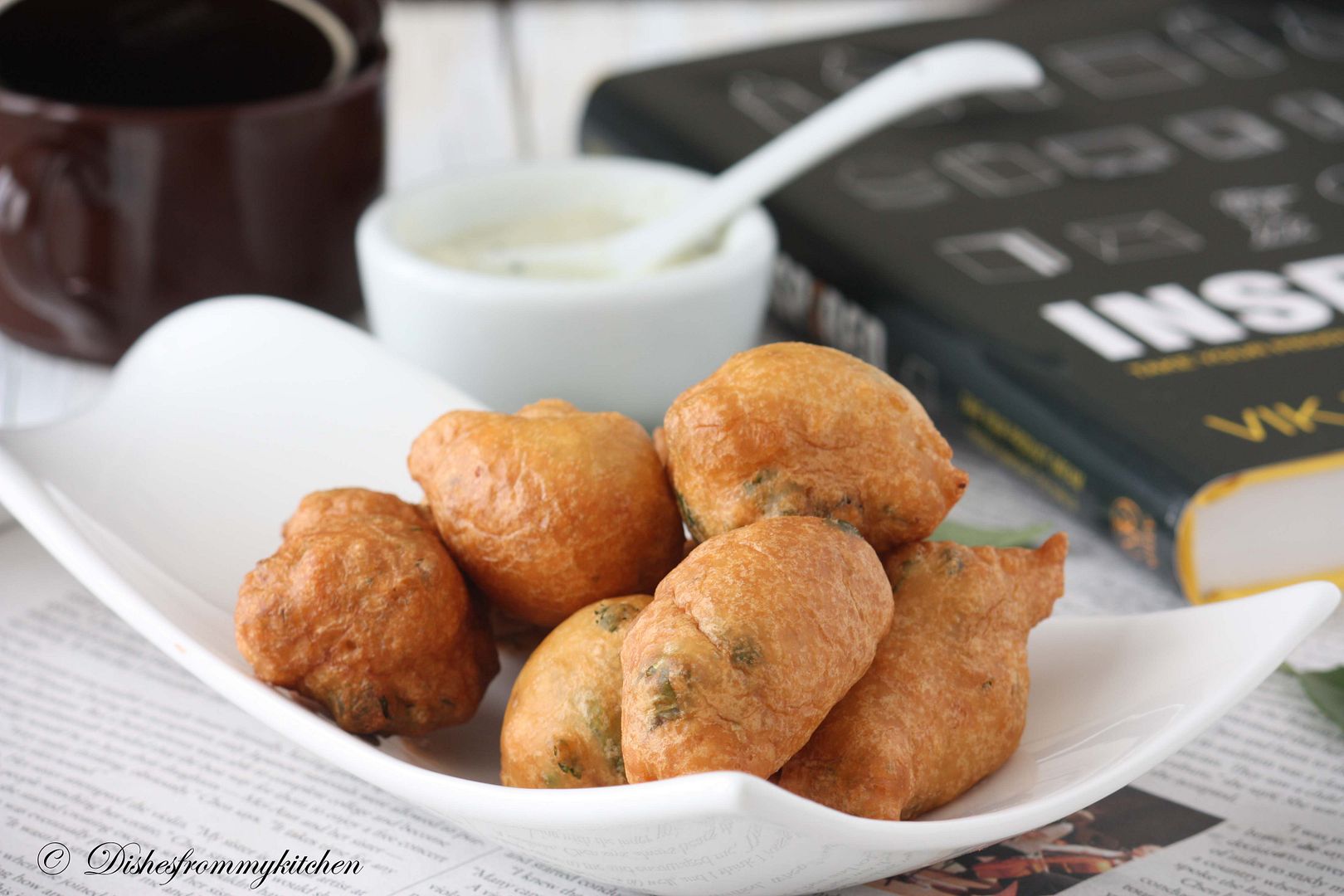 Method:
1. Mix all the above flour, spices to thick/hard batter but in dropping consistency.
2. Keep aside for 15 to 20 minutes.
3. Parallely in the heavy bottom vessel heat the oil.
4. Now check the oil whether it is ready for frying, you can check just by dropping small ball in the oil, immediately if it comes up then it is ready.
5. Wet your fingers; take a small amount from the batter drop it in the oil, if the consistency is right, they by itself form beautiful balls.
6. Repeat the same for 4 to 5 at a time. Each time wet your fingers to make smooth ball.
7. Fry them to golden brown it just takes 2 to 3 minutes.
8. Serve hot with coconut chutney and enjoy your tea time.