>> Wednesday, October 5, 2011 –  chocolate easy dessert, chocolate tofu mousse, dessert using Tofu, eggless mousse, Healthy mousse, low fat mousse, Mango tofu mousse, maple syrup, silken tofu
Here is what I did with the reserved Tofu from the last post. Eggless Chocolate Mousse!!! Yummy

:)

You will not find out single trace or smell of tofu in this, extremely delicious and I bet you will end up eating healthy without sacrificing the taste of rich Mousse . You can even challenge your friends to find out the secret ingredient, I am sure nobody can find out the trace of Tofu in it. Like Mango mousse this is another way of eating or adding tofu in the diet in a very delicious way. Its so so chocolaty and you can eat guilt free. As Mango Mousse, chocolate mousse is also very easy to make with few ingredients. I love tofu but I know there are so many Tofu hater's

:)

Try this; you will not be disappointed with the taste and texture.
After enjoying the virtual treat just scroll down to note to see what all you can do with this basic mousse recipe. I have made few desserts using the Eggless chocolate mousse recipe.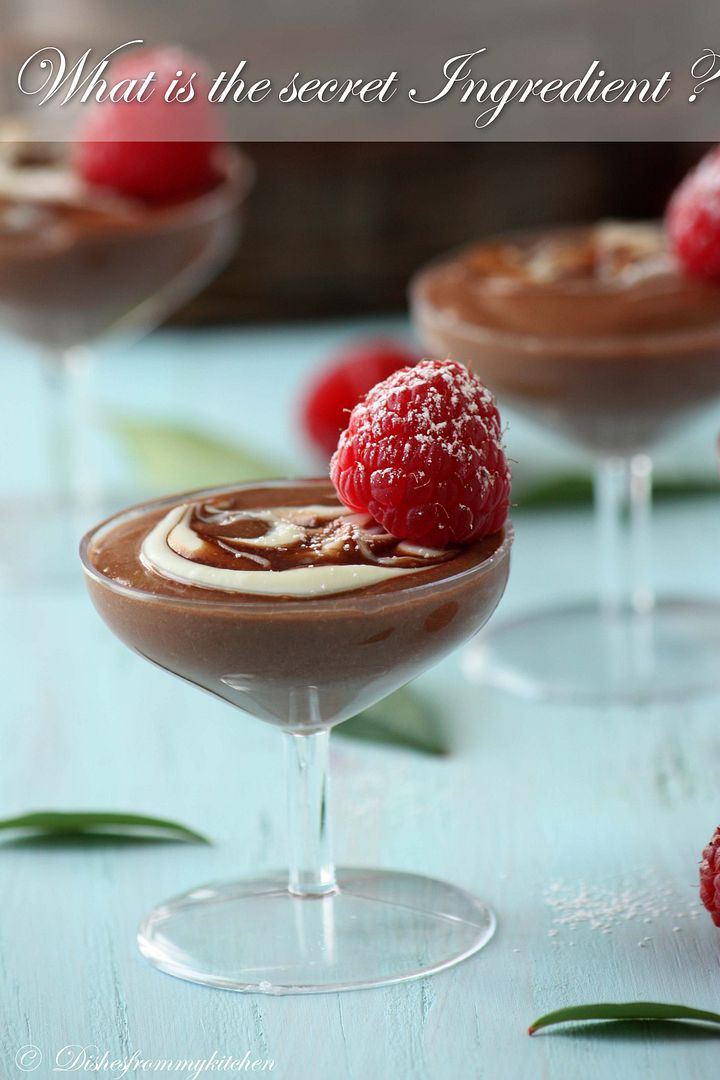 EGGLESS CHOCOLATE MOUSSE
Ingredients:
Silken Tofu/Soft Tofu - 6 oz (170g)
Chocolate chip - 1/2 cup (I used bittersweet)
Maple syrup - 3 tbsp (Most of the time I use honey as well)
Water - 2 tbsp
Vanilla essence - 1 tsp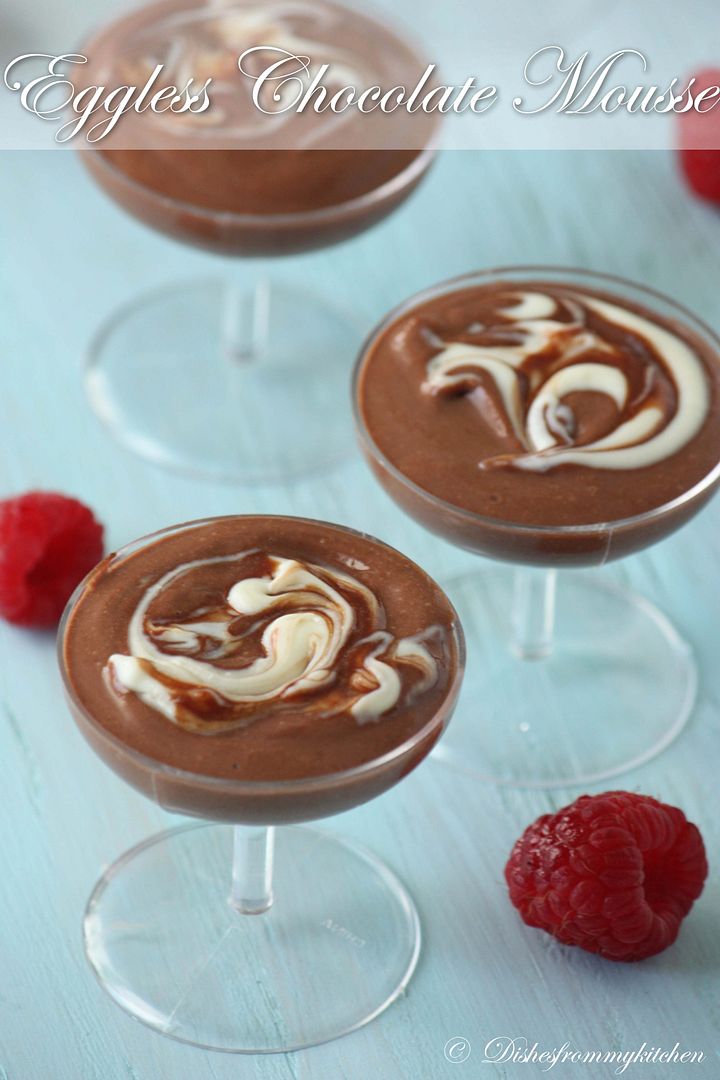 Method:
1. Melt the chocolate chip in the Microwave or Double boiler.
2. Just whip up all the above ingredient with the melted chocolate until it is smooth.
3. Refrigerate for minimum 1 hr (it thickens a little and have wonderful texture).
4. Spoon them in your serving glass garnish with mint, raspberry and here you go...
Enjoy!!!
Swirl on the top:
White chocolate - 1 tbsp
Melt the white chocolate in the microwave (take care not to burn it).
With a spoon dot it on the mousse, using the tooth pick make swirls and enjoy.
Note:
1. You can serve the mousse with the berries of your choice.
2. In the tall glass make layers of mousse and crushed cookies alternatively.
3. You can use this thick mousse for topping the cupcake.
4. Make mousse trifle.
5. You can also add chopped chocolate bits to have extra crunch.
6. Add toasted nuts on the top of the mousse.
7. Use this mousse for filling crepes.
Enjoy Guilt free, healthy, vegan friendly and delicious Mousse in different ways :)