>> Monday, October 31, 2011 –  Appetizers, chaats, Deep fried snacks, Green chutney, How to make perfect samosa, Indian puff pastry, North Indian snack, punjabi samosa, samos potato filling, samosa, Samosa with chutneys
Samosa is a stuffed pastry and a popular snack in South, Southeast, Central and Southwest Asia, the Arabian Peninsula, the Mediterranean, the Horn of Africa, North Africa and South Africa. It generally consists of a fried or baked triangular, semi lunar or tetrahedral pastry shell with a savory filling, which may include spiced potatoes, onions, peas, coriander, and lentils, or ground beef or chicken. The size and shape of a samosa, as well as the consistency of the pastry used, can vary considerably, although it is mostly triangular. Samoa's are often served with chutney generally as an appetizer. This is almost everyone's favorite and we are no exception. Here it goes....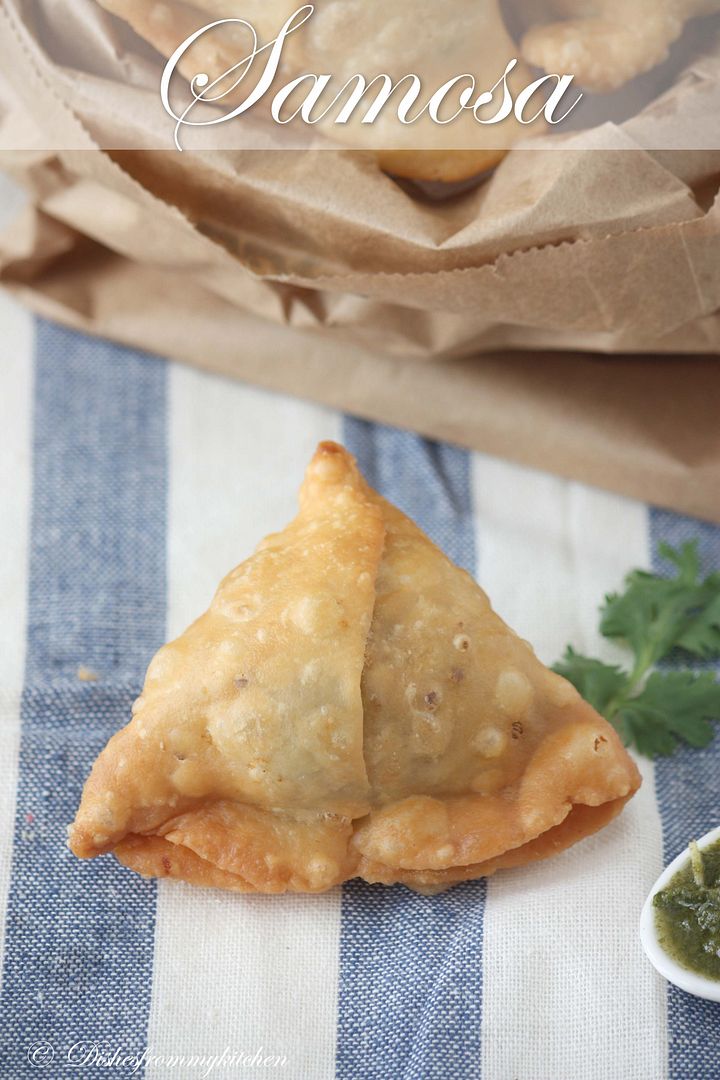 Samosa
Ingredients :
For the outer Cover
All purpose flour - 1 cup
Oil - 1 tbsp
Ghee - 1 tbsp
Ajwain - 1/4 tsp
Water to knead dough
For the Filling:
Potatoes - 2 large (boiled, peeled, mashed along with small pieces)
Cumin seeds - 1/2 tsp
Ginger crushed - 1/2 tsp
Turmeric powder - 1/2 tsp
Garam Masala powder - 1/2 tsp
Red chilli powder -1/2 tsp
Coriander powder - 1/2 tsp
Coriander seeds - 1/2 tsp roast in dry pan and crush it
Lemon Juice - 1/4 tsp
Amchur powder - 1/4 tsp
Green Peas - 1/2 cup is optional (Microwave the frozen peas for 2 minutes and keep it asid
Coriander leaves - few chopped
Oil for sautéing the mixture - 1 tbsp
Oil for deep frying
Salt to taste
Method:
For the Dough:
1. Add oil, ghee, Ajwain and salt in the flour and mix it till crumbly.
2. Then add more water little by little, kneading into soft dough (not too soft).
3. Cover with moist cloth, keep aside for 30 minutes.
For the Filling:
1. Heat oil in the pan; add cumin seeds followed by ginger.
2. Add the mashed potato, green peas and add all the Masala powders.
3. Give a nice toss until well blended.
4. Now add the lemon juice, add the coriander leaves.
5. Let the mixture cool.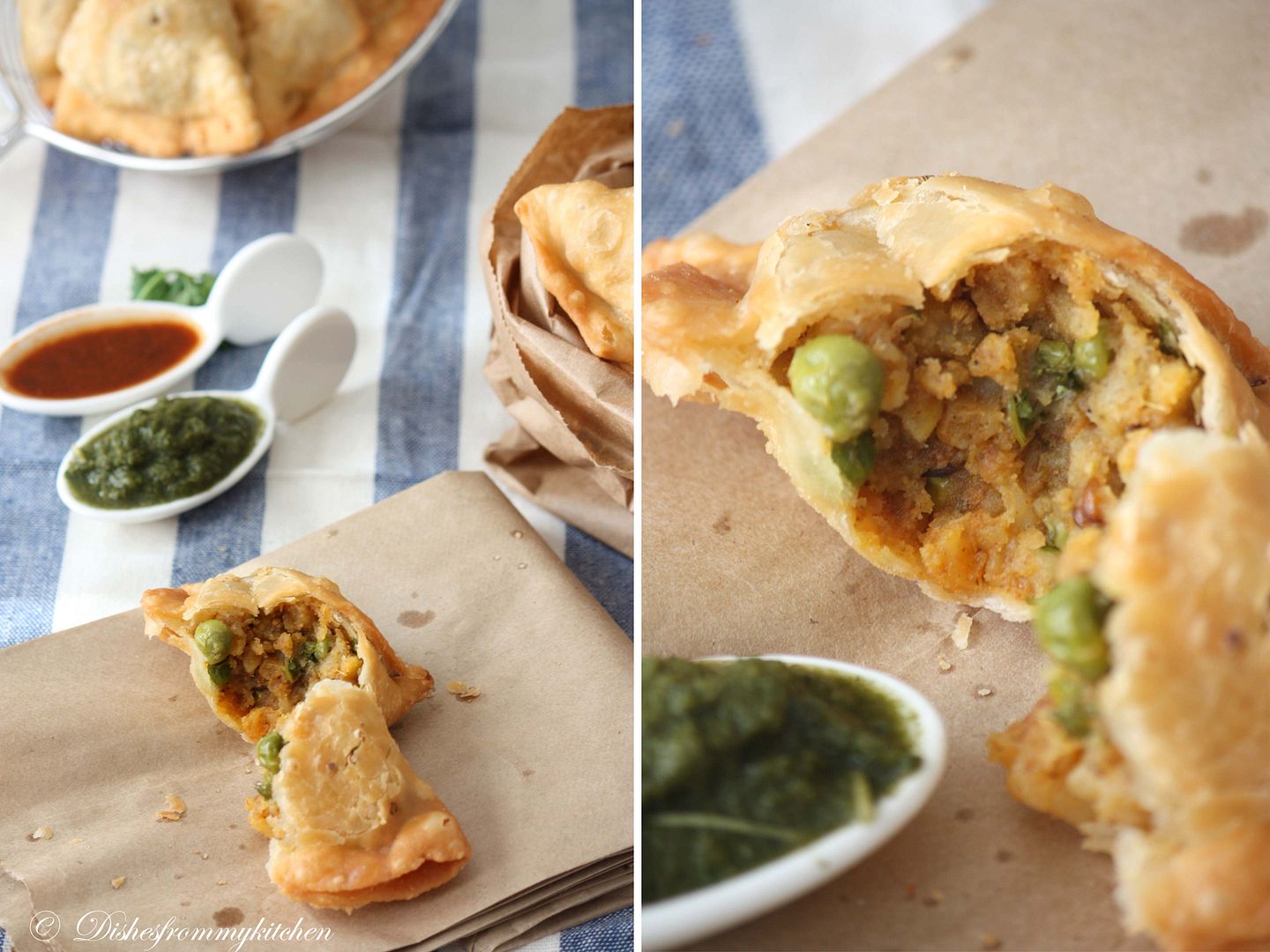 Shaping and Filling:
1. Make a thin 5" diam. round with some dough. Like we make chapatti.
2. Cut into two halves.
3. Take one semi circle one, join the two corners of the straight line to form a cone.
4. Place a tbsp of filling in the cone and apply little water in the edges and seal it nicely.
5. While you do this parallely heat the oil in deep pan or deep fryer.
6. Add 3 to 4 at a time. Do not fry on high, or the samosa will turn out oily and soggy.
7. Drain on paper Towel.
8. Serve hot with green and tamarind chutneys or tomato ketchup.