>> Wednesday, January 18, 2012 –  back to basics, brown butter, browning butter, butter, butter from scratch, clarified butter, ghee, home made butter, home made clarified butter, homemade ghee, Indian ghee, Sweet cream in US, sweets using ghee
This is a long time due in my posting list. Even though I make this regularly at home , I never took picture because of my laziness and off-course with bit busy schedule :( . I just don't want to postpone this anymore. Before moving forward please do bear with the very loooooooong post :). Yes today I am posting how to make butter and brown butter (clarified butter/ghee) from scratch. In my mother-in-law's place we never buy butter or ghee from store. Here is a brief of how she prepares butter and ghee.

1. When the milk is boiled and cooled she collects the cream which is formed as layer in the milk (cream is a top layer that is formed when milk is cooled after boiling) . She does this daily.
2. After that she stores the collected cream in refrigerator.
3. When it comes to certain quantity she adds little yogurt (kind of active bacteria) to the cream and keep it overnight(outside the refrigerator).
4.Then the next day she churns to get yummy butter and this kind of butter is called cultured butter. Ghee is prepared out of that butter.



Cultured butter has distinctive, very slight tangy taste and has a longer shelf life. The rich butter made from cultured cream, is popular in Europe. Whereas today I am posting sweet butter which is made from the fresh cream without adding any active culture to the cream which is called as Sweet Cream in US. The United States primarily produces sweet cream butter, which includes lightly salted, unsalted and whipped butter. Anyway we love both the butter whether it is Sweet or Cultured :) Both the butter can be used interchangeably in cooking.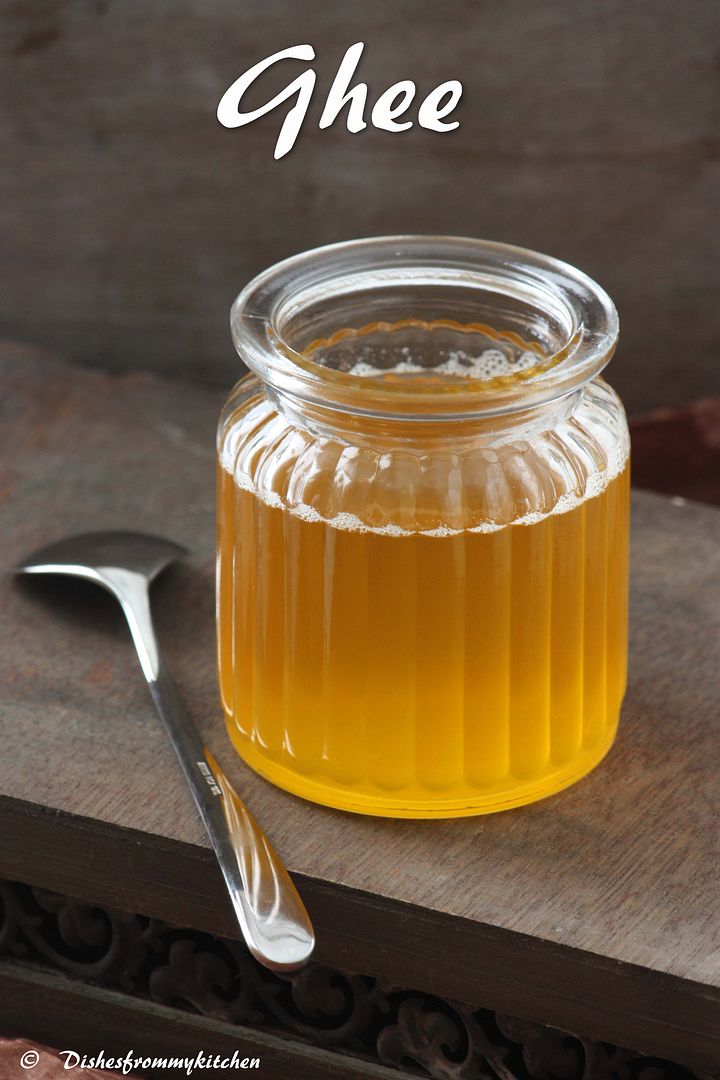 What is Ghee?

Clarified butter is milk fat rendered from butter to separate the milk solids and water from the butterfat. The word ghee comes from Sanskrit and has several names around the world. The preparation of ghee involves heat; it has a distinctive toasted flavor, often described as nutty. Sticks of pure butter are placed in a large saucepan or kettle over medium to high heat. As the butter melts, it begins to boil. The solids settle to the bottom, while a thicker layer of oil forms in the center. The excess water forms a foamy top layer as it boils away. Once the boiling process has slowed considerably, the middle layer should have a golden brown appearance. This is clarified butter or ghee.

As butter and ghee are one of the important things in Indian cooking there will be no house without these two.

Today I am posting Sweet Cream Butter and Ghee from scratch. As I told this butter is just made from pasteurized fresh cream which is not allowed to sour (without any active culture added). But surely I will be posting the process of making cultured butter as well when all this batch of ghee and butter is over.




MAKING BUTTER


I used one half gallon of heavy cream and it yielded approximately 750 gm of butter.

Ingredients:

Pasteurized heavy cream - 1/2 gallon (1.89 L)
2 glass of cold water (slightly chilled)

Equipment:

Kitchen aid or electric whisk.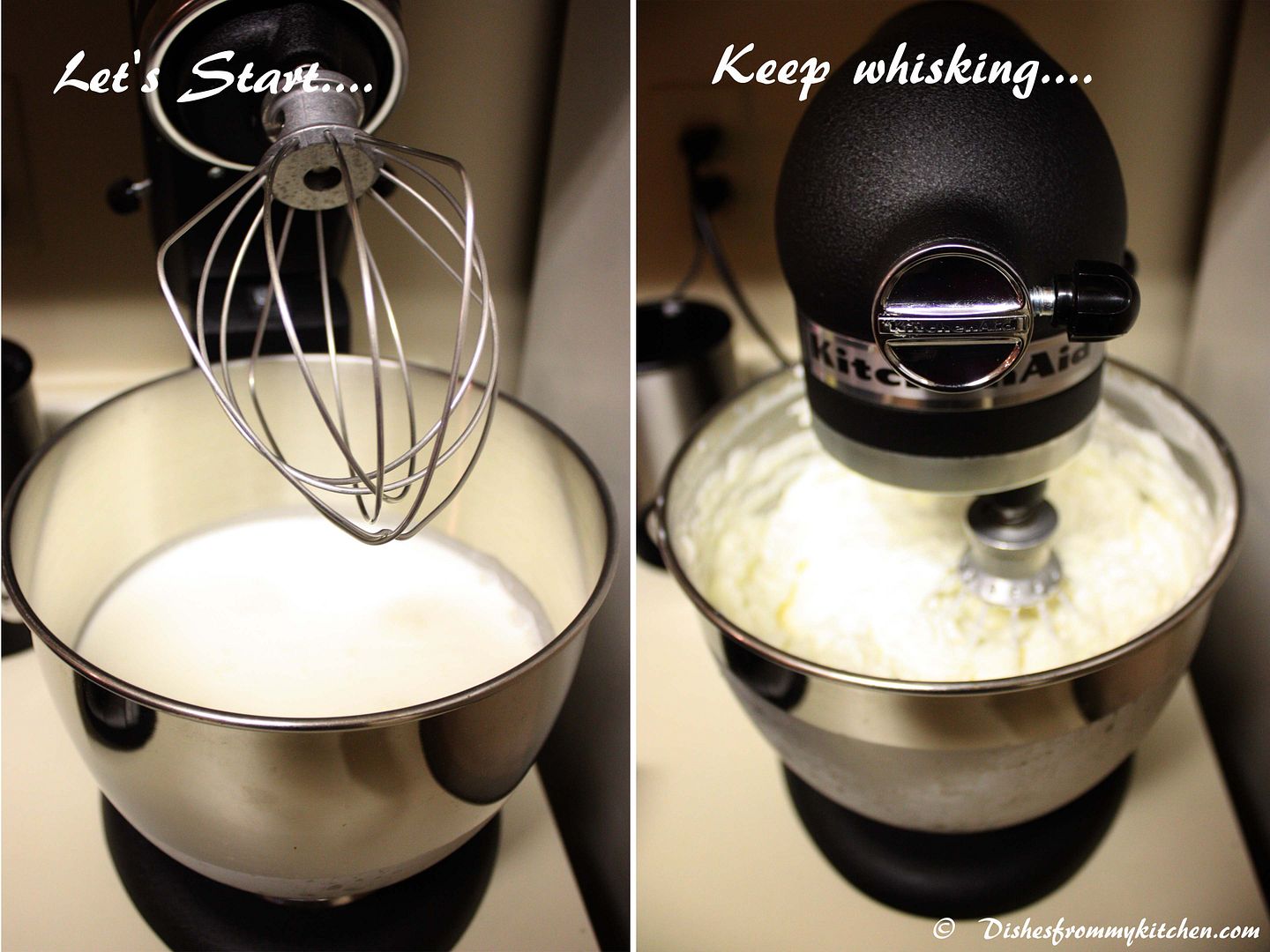 Method:

The whole process approximately takes 15 to 20 minutes (keep in medium speed).

1. Pour the heavy cream in the container or the kitchen aid bowl.
2. Whisk using the attachment. When you start whisking this passes different stages like soft whipped cream, and then it becomes stiff.
3. When you see curdled texture add glass of cold water. Keep the bowl closed other wise you will end up in cleaning the whole area.
4. Now add one more glass of water and keep whisking (reduce the speed to low at this stage).
5. Now you will see the butter and water gets separated from the cream. The butter starts to float in the water.
6. At this stage stop whisking and drain the water using drainer.
7. Leave it for few minutes. Then slightly give it a press to see if there is any excess water.
8. Make butter balls and refrigerate.

Enjoy the fresh butter with your favorite bread, crackers or in your cooking!!!

Note:

1. Keep the bowl closed and if you feel like it splashes outside then reduce the speed.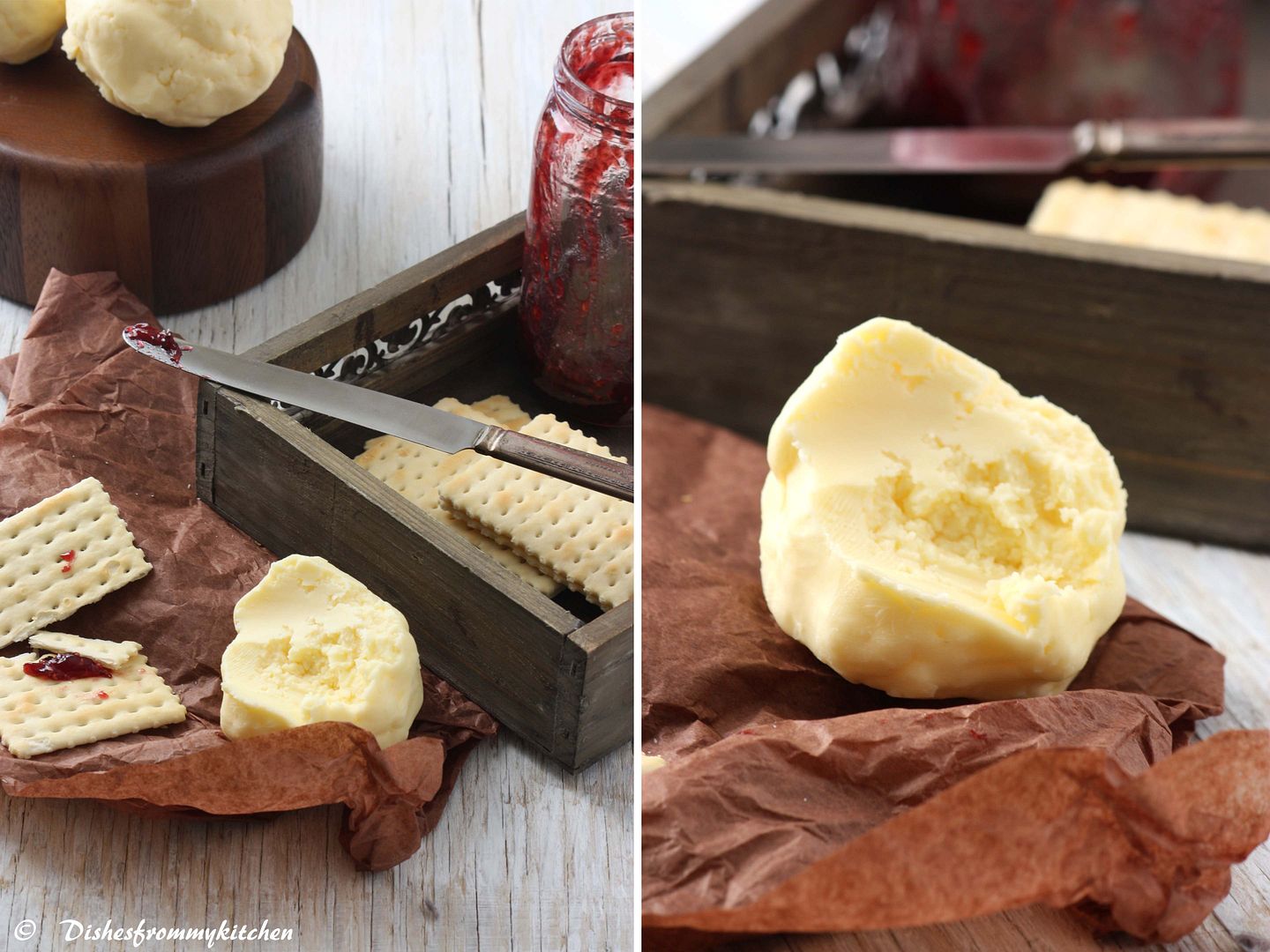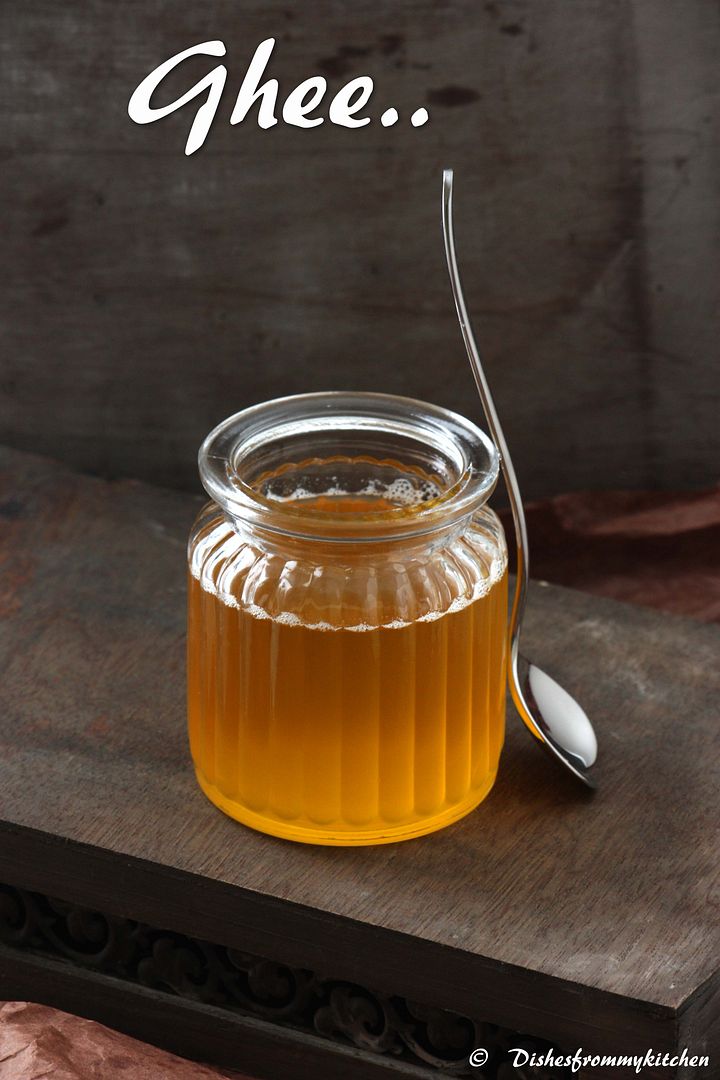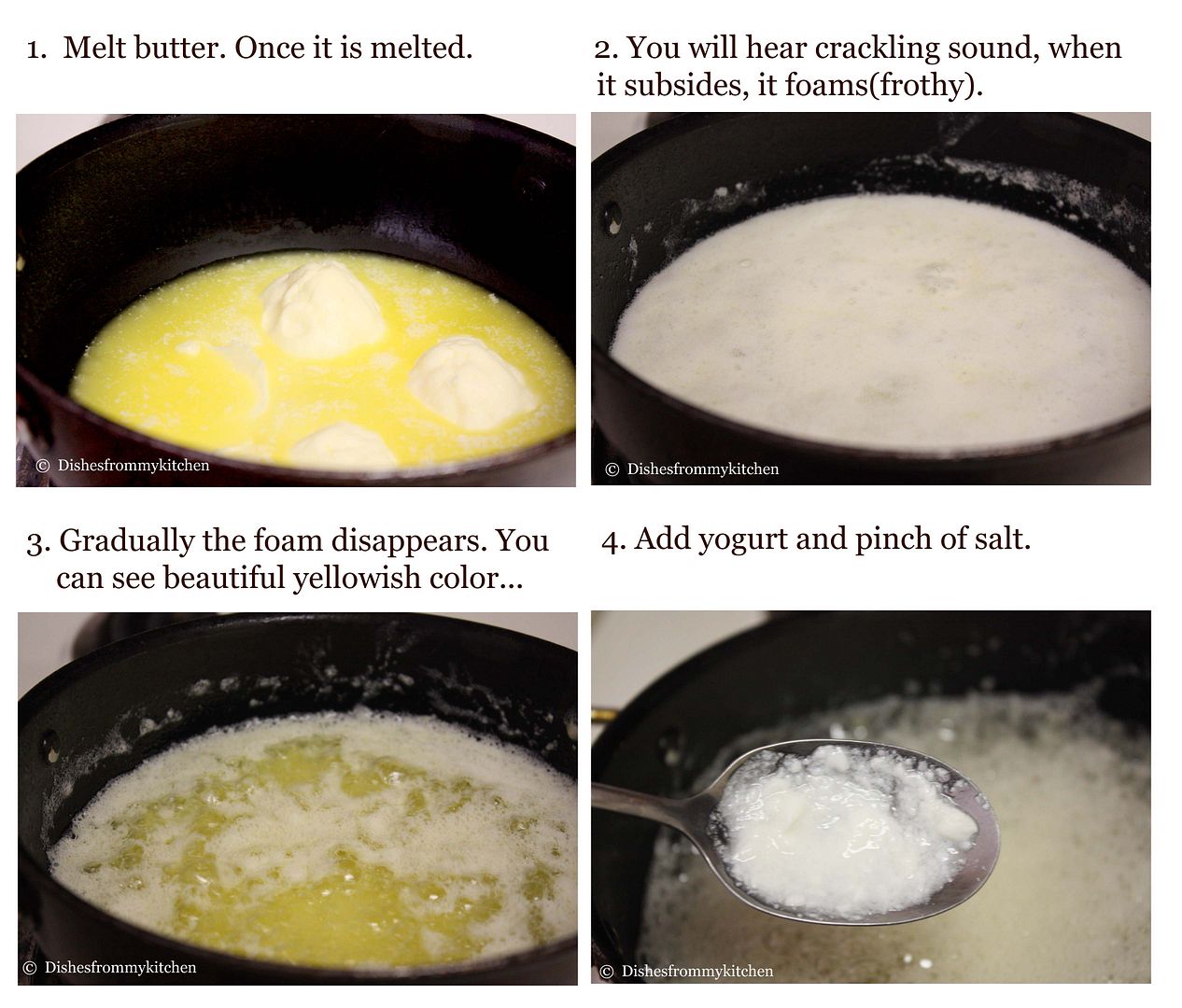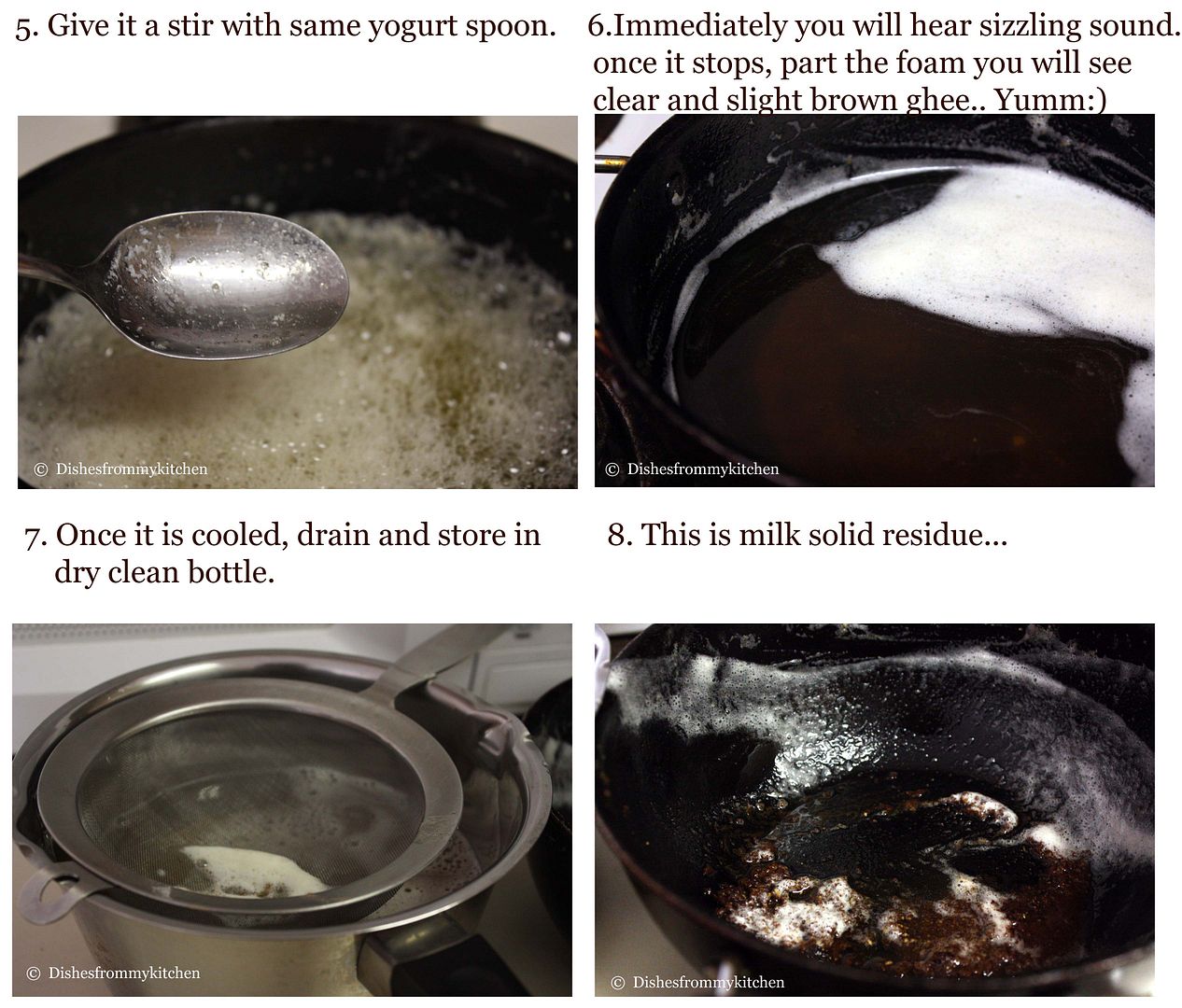 Method:

1. Place the butter in the heavy bottom pan and start the process in medium flame. Make sure the pan is dry otherwise it starts spluttering when it gets heated. Keep stirring in between to avoid burning.
2. Once it is melted, you will hear the crackling sound at this stage. When the sound subsides the butter starts to foam up.
3. Now slowly the butter changes to creamy yellow color and the sound subsides. Even the foam gets reduced at this stage. Mix 1/4 tsp of yogurt and mix it with pinch of salt in a spoon and now add this to the melted mixture.
5. Give it a stir. Now when you part the foam you will see golden yellow color ghee(changes from creamy yellow to transparent yellow color) and it now slowly changes to very light brown color and the milk solids settle at the bottom changes to slight brown color. Switch of the flame. Keep the pan aside.
6. Let it cool for some time and now strain them. Store it in clean dry bottle/glass.
7. When the ghee is cooled it becomes solid, you can always melt in microwave when you need them.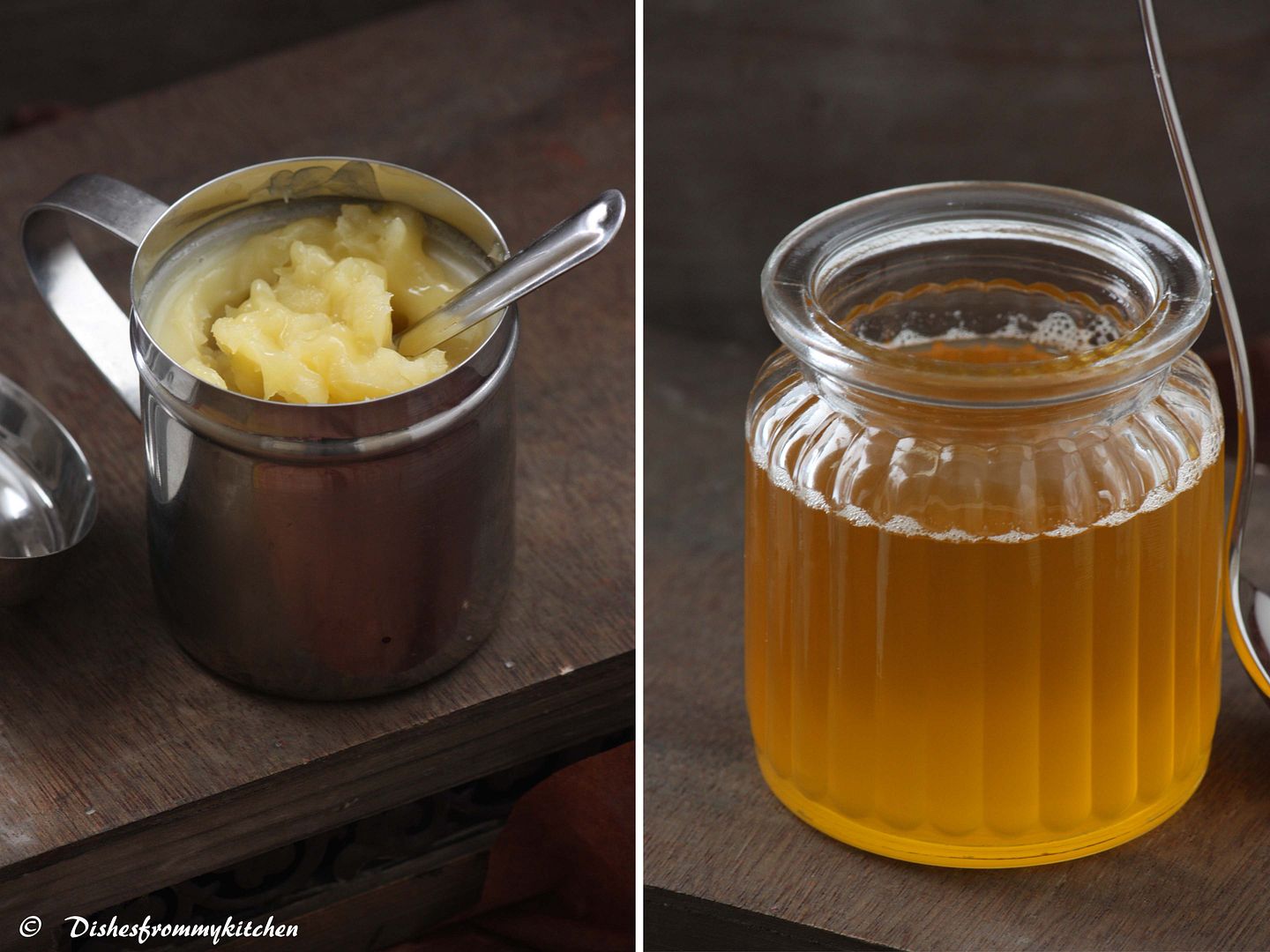 Note:

1. You can always make the same process for smaller quantities too. The process is same.
2. While making ghee, start with the medium flame then slowly reduce to low flame to avoid burning.
3. The milk solid that settles at the bottom should be in light brown color. If you allow it to become dark brown it means the ghee is burnt then you will end up with a burnt smell in ghee which is not good :( So always keep an eye while making ghee.
4. You can always flavor the ghee by adding curry leaves or your favorite herbs(rosemary,thyme) .
5. You can use the herbs(roasted herbs in ghee smells yuuuuuumm) mix it with rice and little salt and serve it with your favorite vegetable.
6. Milk solid that is separated at the bottom can be used for making sweet.
7. Adding yogurt is optional, but it gives nice flavor to ghee. Even if you don't have yogurt add pinch of salt to keep the ghee for longer shelf life.

What to do with the residue ?

Add few tbsp of wheat flour or multigrain flour, roast slightly with milk solid residue (do this in low flame) until raw aroma of flour disappears. Then put off the flame. Now add powdered sugar and mix well until everything is blended. Cool and store in an air tight container. You can have them as a snack whenever you feel like eating sweet. It tastes yummy with nutty flavor. Kids will love this off course adults too :)

Enjoy making butter and fresh ghee at home !!! Drop a comment or mail me if you have any questions.