>> Thursday, January 12, 2012 –  berry pickle, cranberries, cranberry accompaniment for breads, cranberry dip, Cranberry pickle, incian pickle, incian way of making cranberry, Indian pickles, pickle, savory cranberry
Cranberries are a major commercial crop in certain American states and Canadian provinces. About 95% of cranberries are processed into products such as juice drinks, sauce, and sweetened dried cranberries. The remaining 5% are sold fresh to consumers. Cranberries are normally considered too sharp to be eaten plain and raw, as they are not only sour but bitter as well. The fruit is a berry that is larger than the leaves of the plant; it is initially white, but turns a deep red when fully ripe. It is edible, with an acidic taste that can overwhelm its sweetness.
Cranberry juice is a major use of cranberries; it is usually either sweetened to make "cranberry juice cocktail" or blended with other fruit juices to reduce its natural severe tartness. Many cocktails, including the Cosmopolitan, are made with cranberry juice. Usually cranberries as fruit are cooked into a compote or jelly, known as cranberry sauce. The berry is also used in baking (muffins, scones and cakes). Less commonly, innovative cooks use cranberries to add tartness to savory dishes such as soups and stews.
Click here to see Cranberry Pear Crumble
Here is Indian way of using Cranberry in making pickle. Very tasty and can be used as a accompaniment for Roti, Bread, Rice even with Chips etc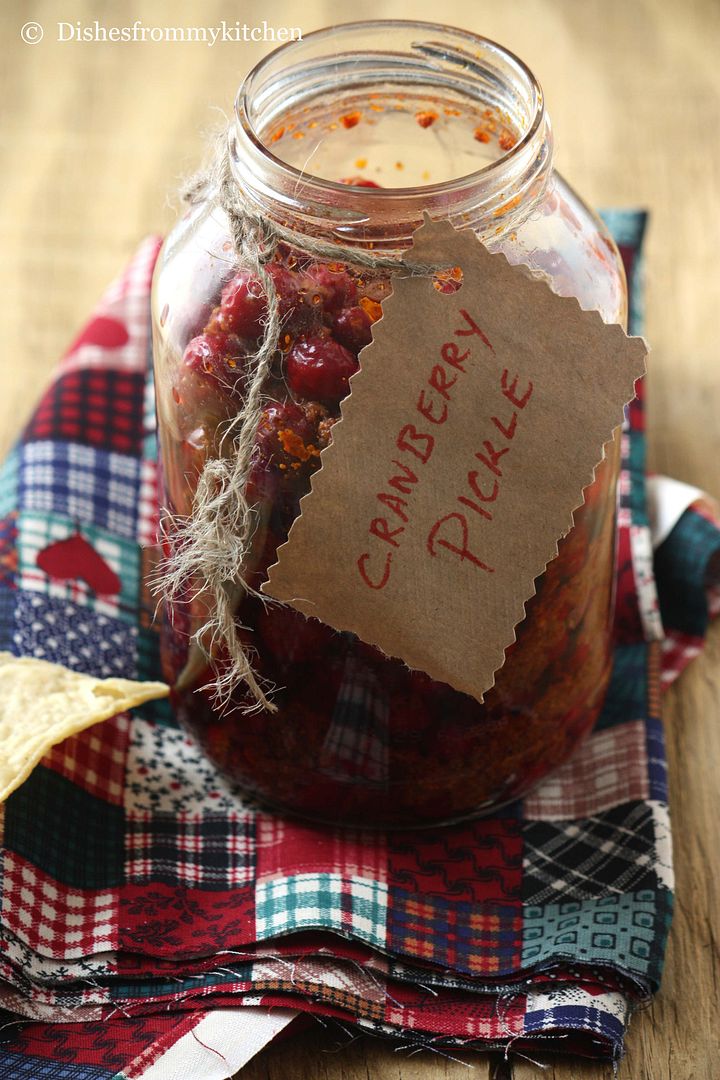 CRANBERRY PICKLE
Ingredients:
You can always half the quantity if you need.
Cranberry - 7 cups
Chillipowder - 1/2 cup heaped
Salt - 1/2 cup (powdered sea salt)
Fenugreek - 1 tbsp powdered (slightly roast and powder it)
Asafoetida - 1 big piece almost 1/4 the size of lime (rock asafoetida)
Mustard - 1/2 cup (slightly roast and powder coarsely)
Lemon - juice of 4 lemons
Turmeric - 1 tsp
Gingelly oil - 1 cup
Canola oil - 1 cup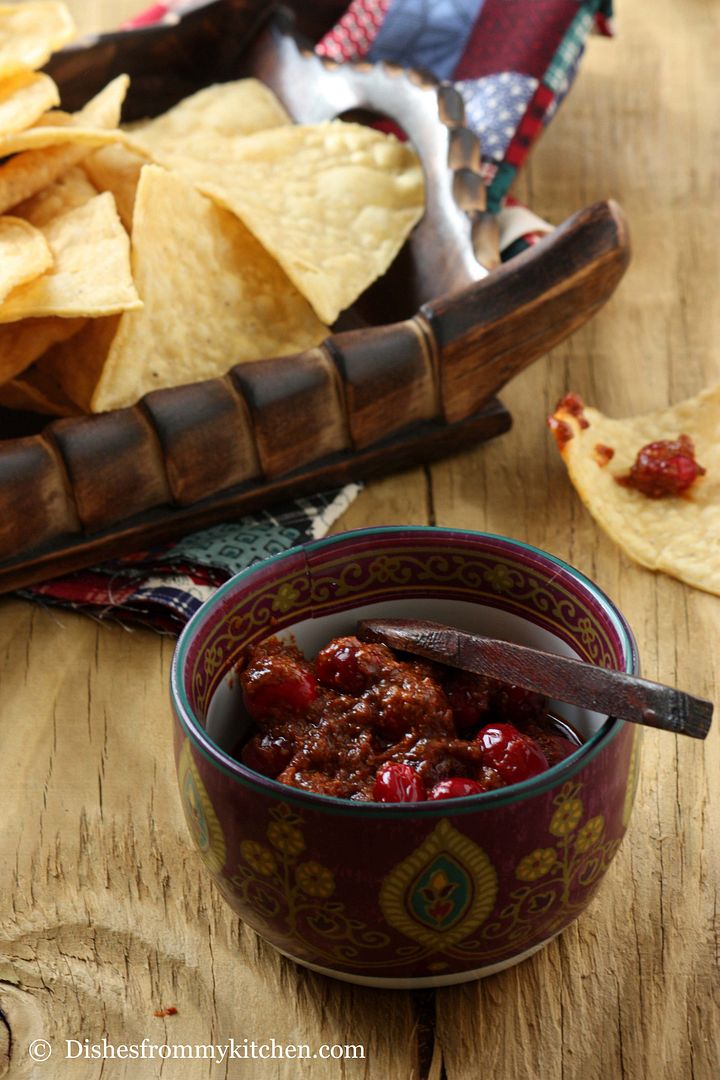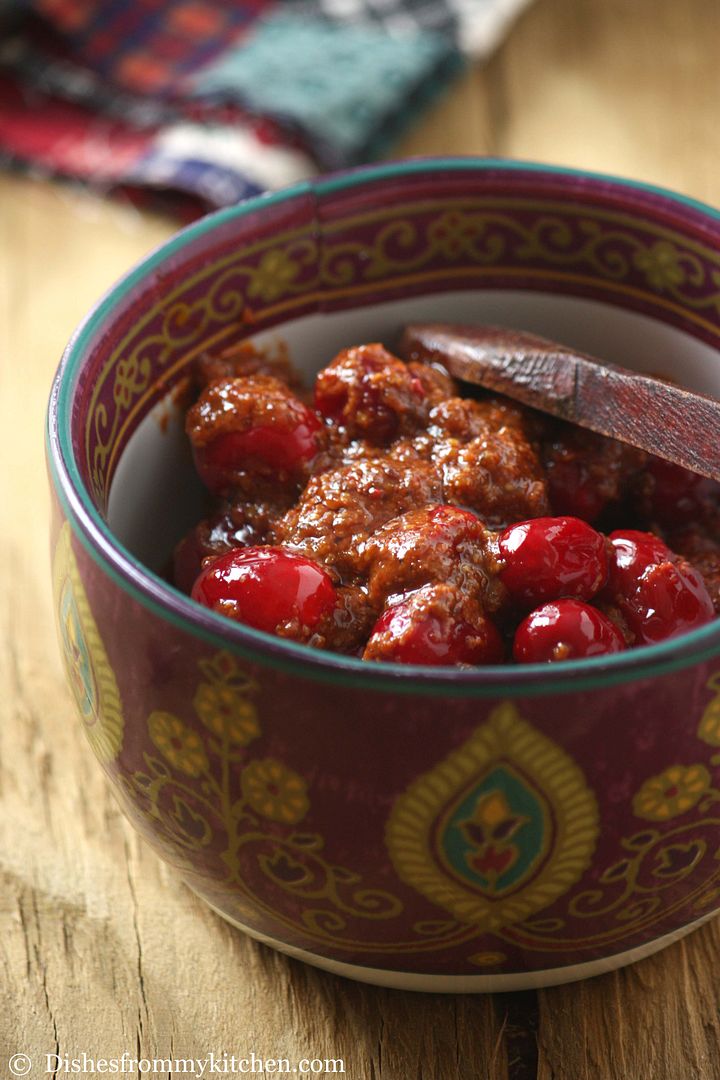 Method:
1. Wash cranberries, dry it in the kitchen towel. Slit open 3/4th.
2. Measure 7 cups of cranberry in big bowl. Add the above ingredients salt, chilli powder, coarsely powdered mustard seeds, fenugreek seeds, turmeric.
3. Fry the asafoetida in 1/4 tsp of oil till it pops slightly, cool, powder and add to the cranberry mixture.
4. Squeeze lemon (4) and strain it and add to the mixture.
5. Mix well until well blended.
6. Now heat both the oils nicely. Then cool it and add to the cranberry mixture.
7. Mix everything well. Let it be in the room temperature for 24 hrs. Give it a mix once in a while.
8. After 24 hrs you see everything is well blended and oil oozes out from the mixture.
9. Now you can store it in sterilized jar. Refrigerate it.
10. This stays fresh for minimum 3 months if refrigerated properly.