>> Monday, January 9, 2012 –  Asian Cuisine, Chinese, curry powder, gluten free noodles, mai fun, recipe using curry powder, singapore curry noodles, vegetable mai fun, vegetarian curry noodles, vegetarian singapore curry noodles
There are so many curry noodle recipes in South Asian countries that are influenced by Indian curry flavor. This Singapore curry noodles is one of those and it is most popular take out menu in almost all Chinese restaurants here in America. The noodle recipe which I am posting today is very flavorful, colorful and packed with all nutrients. You can add vegetables according to your preferences(colored bell peppers,sprouts,napa cabbage, bokchoy etc) and proteins that work for you(I have used Tofu here). If the ingredients are kept ready, this can be prepared in no time. So enjoy making this spicy stir fried Singapore Curry noodles and have a treat with your chopstick :)
Two important things that you need for the recipe
1. Thin Rice noodles/Rice Vermicelli - you can find this in almost in any supermarkets in ethnic food Aisle.
2. Curry powder - Oriental curry powder is also available in ethnic food Aisle.




Preparing the Rice Noodles:
I used half packet which is about 225 gm. Prepare the Rice noodles according to the instruction given in the packet which you bought. Keep it ready by draining the noodles and make sure not to over cook it otherwise it becomes mushy.
Singapore Curry Noodles
Ingredients:
Cooked Rice Noodles/vermicelli - 1/2 packet
Extra firm tofu - 1 cup cut into cubes
Onion - 1 sliced
Bell pepper - 1 sliced
Dried shiitake - 1 cup
Slice carrot - 2
Broccoli florets - 2 cups
Scallions - 1/4 cup sliced
Curry powder - 1 tbsp (See the note)
Soy sauce - 1 tsp (optional)
Chilli garlic sauce - 1 tbsp (use according to your spice level)
Ginger - 1/2 inch piece (very finely shredded)
Garlic - 2 flakes (very finely chopped)
Oil
Salt
Method:
1. Blanch all the vegetables in hot water for 30 seconds.
2. Blanch the mushroom adding little salt in hot water for 1 to 2 minutes, drain and keep it aside.
3. Drain all the vegetables. (Reserve the liquid and use for making soups)
4. Shallow fry the cubed tofu in tsp of oil till light brown in color. (Crispy)
5. Heat oil in the wok, add Onion, bell pepper.
6. Now add ginger, garlic, vegetables, and 2 sauces.
7. Toss it in the high flame, now add the cooked rice noodles and fried tofu.
8. Sauté and give it a nice toss until everything is well blended.
9. Add salt if needed (as chilli sauce, soy sauce has already salt in it).
10. Garnish with sliced scallions, serve hot!!!!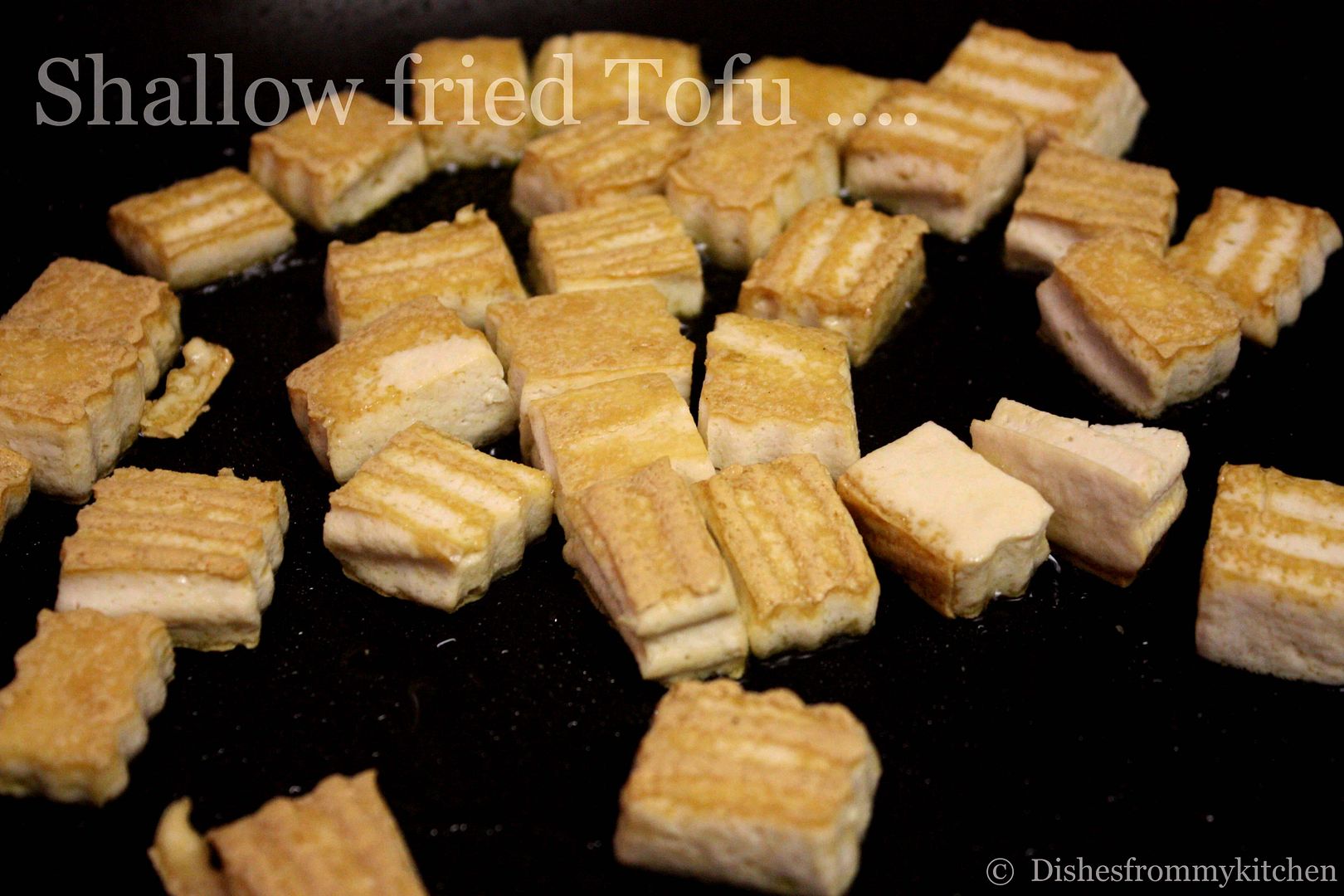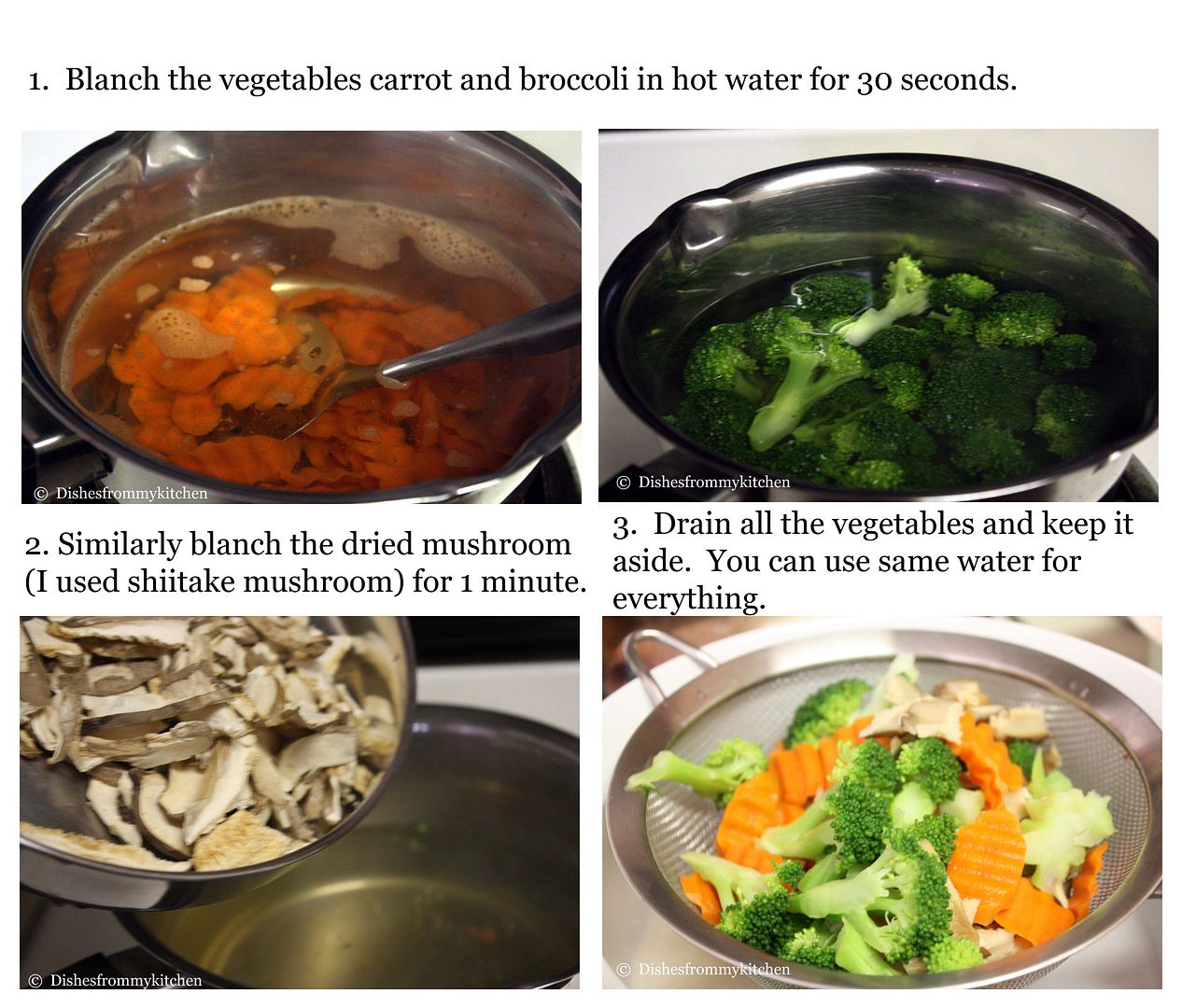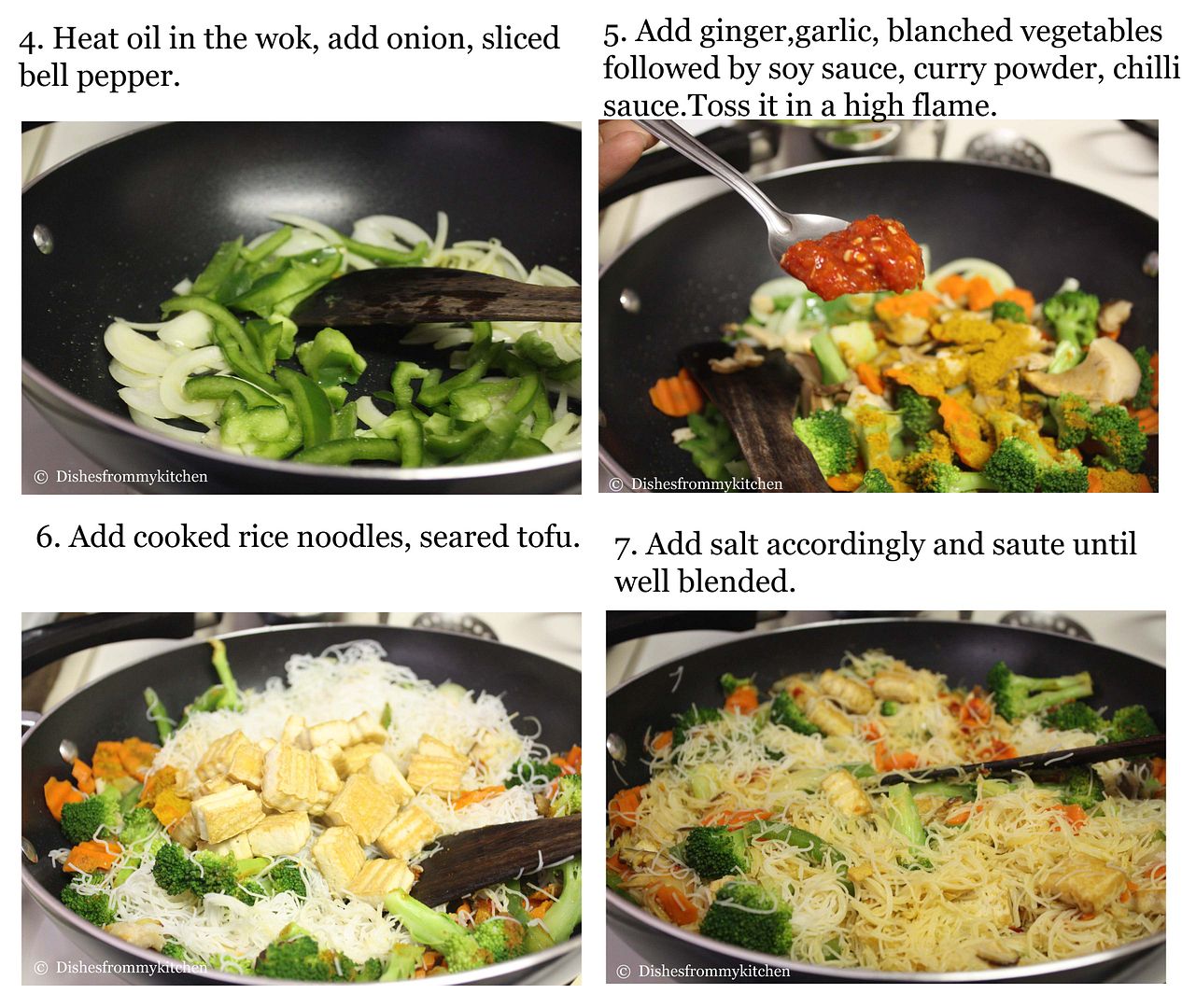 Note:
1. The whole sautéing process takes only 1 minute, don't do it for long as it makes the vegetable soggy.
2. You can also add scrambled egg in the last stage.
3. Adding soy sauce is optional.
4. Add chilli sauce according to your spice level.
5. You can use the same water for blanching the vegetables and reserve the water for making soups or curries.
6. Don't use any Indian curry powder for making this curry noodles, use the oriental curry powder which you find in ethnic/asian aisle. It makes a difference. Use vietnamese or Japanese made curry powder.