>> Monday, September 12, 2011 –  almond biscotti, Baked Foods, biscotti, Biscuits, cranberry biscotti, Dry fruit biscotti, fatless, Italian, italian biscotti, pistachio biscotti, raisins biscotti, rusk, Sweet punch, tea time snack
Hope everyone had wonderful weekend. This time I am doing pretty late post for Sweet punch :( Anyway here is an Italian Delicacy. I used to make them for my Kid snack box for school and now its here for sweet punch this time..... Before proceeding with the recipe, I just wanted to let you know I have opened a Face book fan page for my space as I don't want to mix both personal page and the fan page. I would love to have your likes for my page :) Here is the link for Facebook Fan page Dishesfrommykitchen, you can also scroll down this page and see the like button in the right hand side you can do it there as well. Thanks for everyone who already liked it :)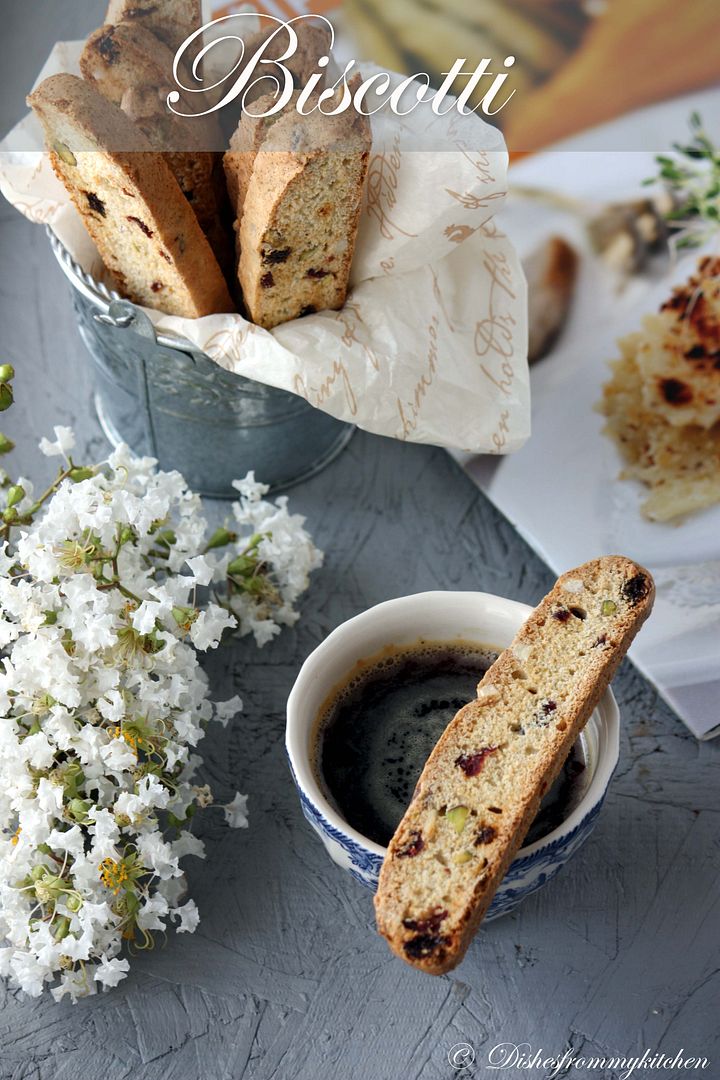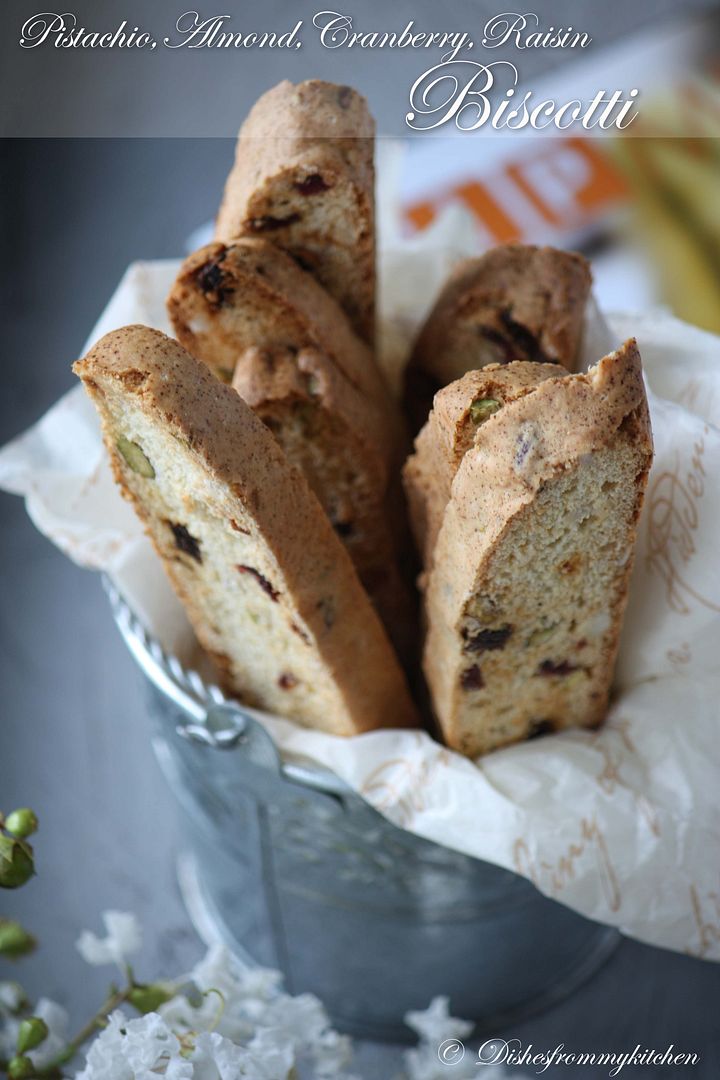 Here is the brief about Biscotti....
Biscotti more correctly known as biscotti di Prato (English: biscuits of Prato), also known as cantuccini, are a twice-baked cake originating in the Italian city of Prato. The cakes are large almond biscuits, made dry and crunchy through cutting the loaf of dough while still hot and fresh from baking in the oven."Biscotti" is the only traditional name, which in the Italian language is the plural form of biscotto. The word originates from the medieval Latin word biscoctus, meaning "twice-cooked/baked."
Most European countries have adopted their own version of biscotti: English - rusks, French - biscotte and croquets de Carcassonne, Germans - zwieback, Greeks - biskota and paxemadia, Jewish - Mandelbrot, and Russians - sukhariki.

Adapted from joyofbaking with slight changes of Fruit and nuts measurement with Exotic cardamom flavor !!!
Cranberry Raisins Almond Pistachio Biscotti

Ingredients:

Granulated white sugar - 2/3 cup (135 grams)
Eggs - 2 large
Vanilla extract - 1 teaspoon pure (I used 1/4 tsp of powdered cardamom)
Baking powder - 1 teaspoon
Salt- 1/4 teaspoon
All-purpose flour - 1 3/4 cups (245 grams)
Unsalted pistachios - 1/4 cup (30 grams) shelled, coarsely chopped
Blanched almonds - 1/4 cup (30 grams) shelled, coarsely chopped
Dried cranberries- 1/4 cup (40 grams)
Raisins - 1/4 cup (40 grams)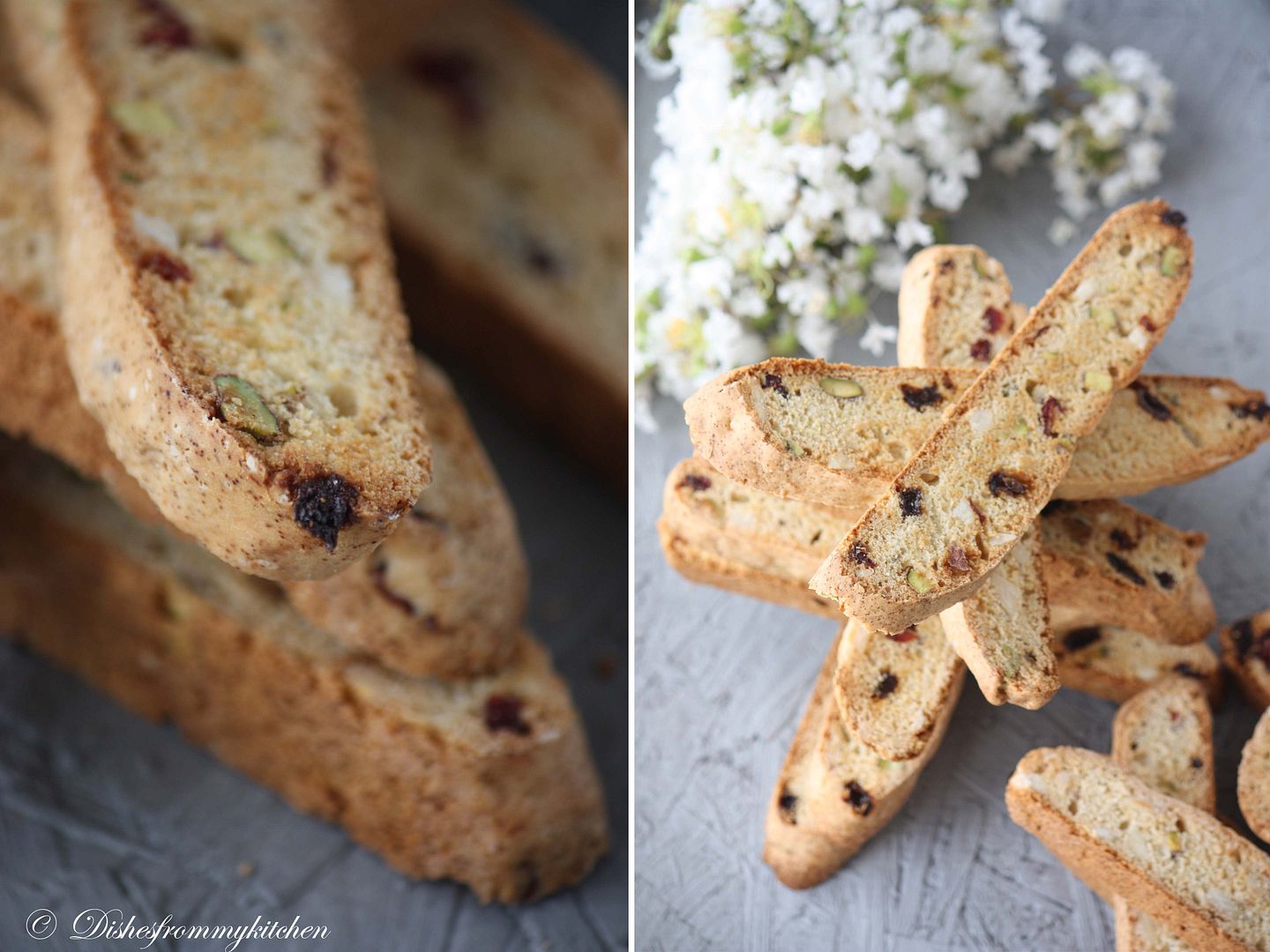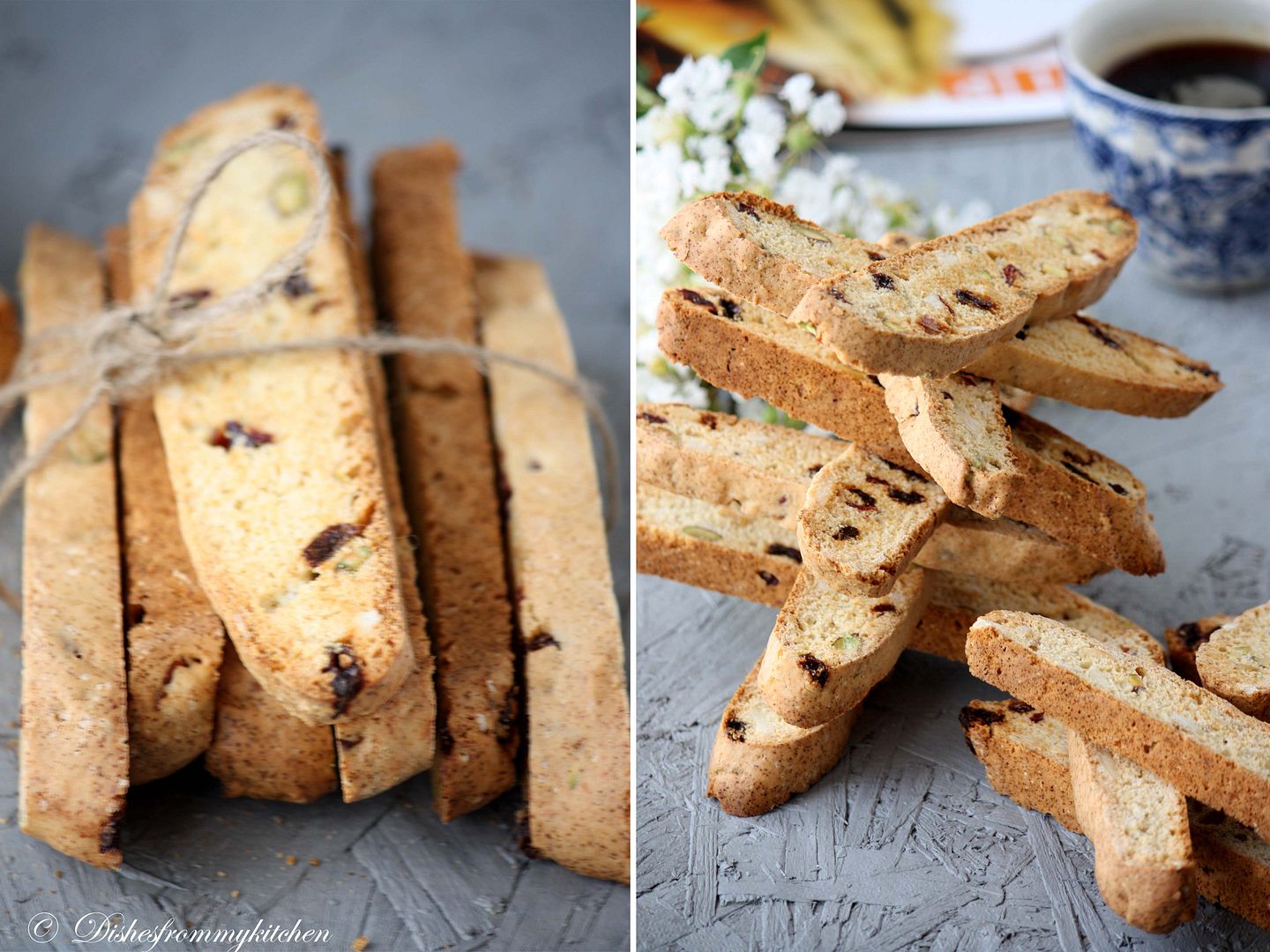 Method :

1. Preheat oven to 350 degrees F (177 degrees C) and place the oven rack in the center of the oven. Line a baking sheet with parchment paper. Set aside.
2.In the bowl of your electric mixer (or with a hand mixer), beat the sugar and eggs on high speed until thick, pale, and fluffy (about 5 minutes). (When you slowly raise the beaters the batter will fall back into the bowl in slow ribbons.) At this point beat in the vanilla extract or Cardamom powder. In a separate bowl, whisk together the flour, baking powder and salt. Add to the egg mixture and beat until combined. Fold in the chopped pistachios and cranberries.

3.Transfer the dough to your parchment lined baking sheet and form into a log, about 12 inches (30 cm) long and 3 1/2 inches (9 cm) wide. You may have to dampen your hands to form the log as the dough is quite sticky. Bake for 25 minutes, or until firm to the touch. Remove from oven and let cool on a wire rack for about 10 minutes.
4.Reduce oven temperature to 325 degrees F (165 degrees C). Transfer the log to a cutting board and cut into 3/4 inch (2 cm) slices, on the diagonal. Place the biscotti, cut side down, on the baking sheet. Bake for about 10 minutes, turn slices over, and bake for another 10 minutes or until golden brown. Remove from oven and let cool. Store in an airtight container.