>> Thursday, September 22, 2011 –  Bitter gourd, bitter gourd curry, bitter guard, freshly ground sambar, greens sambar, Lunch menu, midhi pavakkai, pavakkai, Pulusu (sambar or kuzhambu varieties), roasted bitter gourd, thandu keerai
Small bitter gourd (Midhi Pavakai in Tamil) is very tender ones which are much tastier and healthier than the big variety. They are not much bitter and when it is roasted, it tastes awesome. This kind of bitter gourd is not available in Tamil Nadu throughout the year. Whenever it is in season we never miss making them often. There are few dishes we can make with these small bitter gourd similar too big ones. Roasted small bitter gourd is perfect pair with rice and ghee, dhal, sambar (spicy lentil soup), curd rice...
Another recipe is Sambar made with freshly ground spices which in Tamil called as Arachuvitta sambar. Freshly ground spices when cooked with lentil (dhal) and any greens or vegetables gives a spicy soup is called Sambar. This is generally served with rice and some south Indian delicacies.
Hope you will enjoy this hearty meal.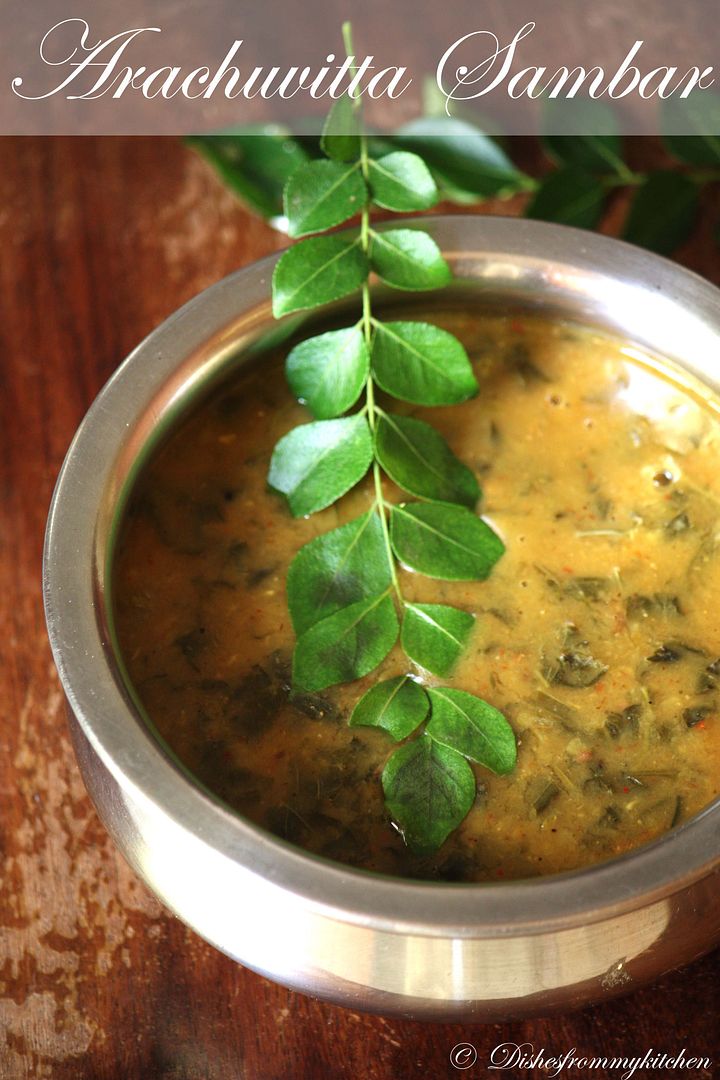 Roasted Small Bitter Gourd
Ingredients:
Small Bitter gourd - 2 cups
Shallots (really small ones) - 1 cup (remove the skin and slice horizontally to 3 pieces each)
Tomato - 1 small
Tamarind pulp - 1 tbsp (thick)
Chilli powder/ Sambar powder - as needed (We love little spicy)
Curry leaves - few
Oil - 2 tbsp
Salt as needed
For Tempering:
Mustard - 1/4 tsp
Urad dhal - 1/2 tsp
Method:
1. Remove the two sharp edges of the bitter gourds. Slit each one horizontally so that it looks like it is slitted. Don't cut fully. If you find it is too big then cut into two horizontally.
2. Wash them in cold water drain and keep it aside.
3. In a pan boil 1 cup of water add the cleaned bitter gourd. Cook till done. Don't overcook it.
4. Now heat oil in the pan, add the seasoning ingredients mustard followed by urad dhal.
5. Add the onion and Curry leaves sauté till golden brown.
6. Add the chopped tomato, sauté till they are mushy and oil starts coming out.
7. Now add the boiled bitter gourd, tamarind pulp, and salt and chilli powder.
8. Now keep the flame in medium to low, sauté them once in a while until roasted well.
9. The roasting part takes time, but I am telling you the waiting time is really worth it :)
Note:
While boiling bitter gourd takes care not too over cook it, 1 cup of water is approximate you can add more or less depends on the vegetable it varies, use as required. It is enough if you boil it 3/4th since we are roasting it again.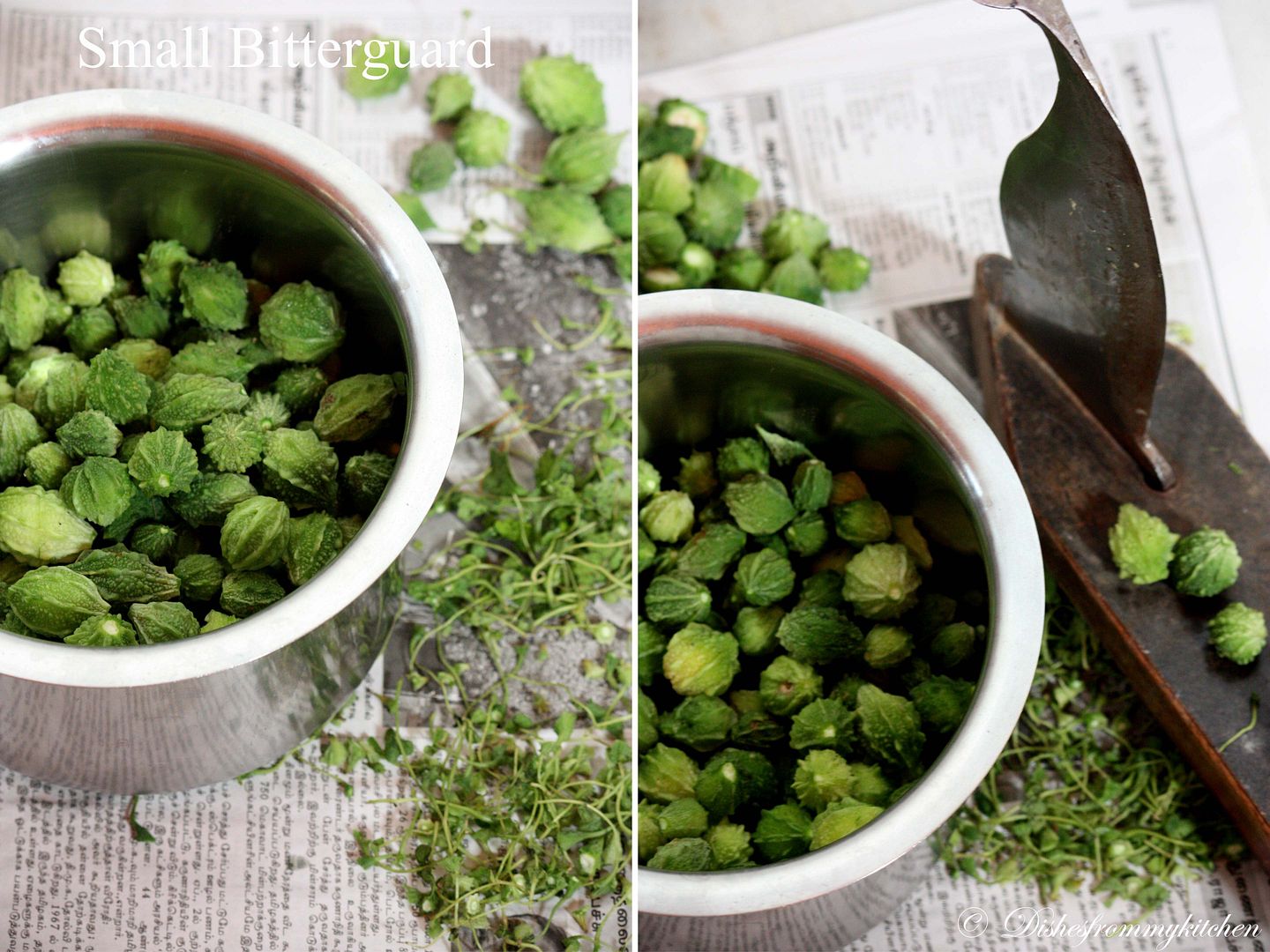 Arachuvitta(ground spices) Sambar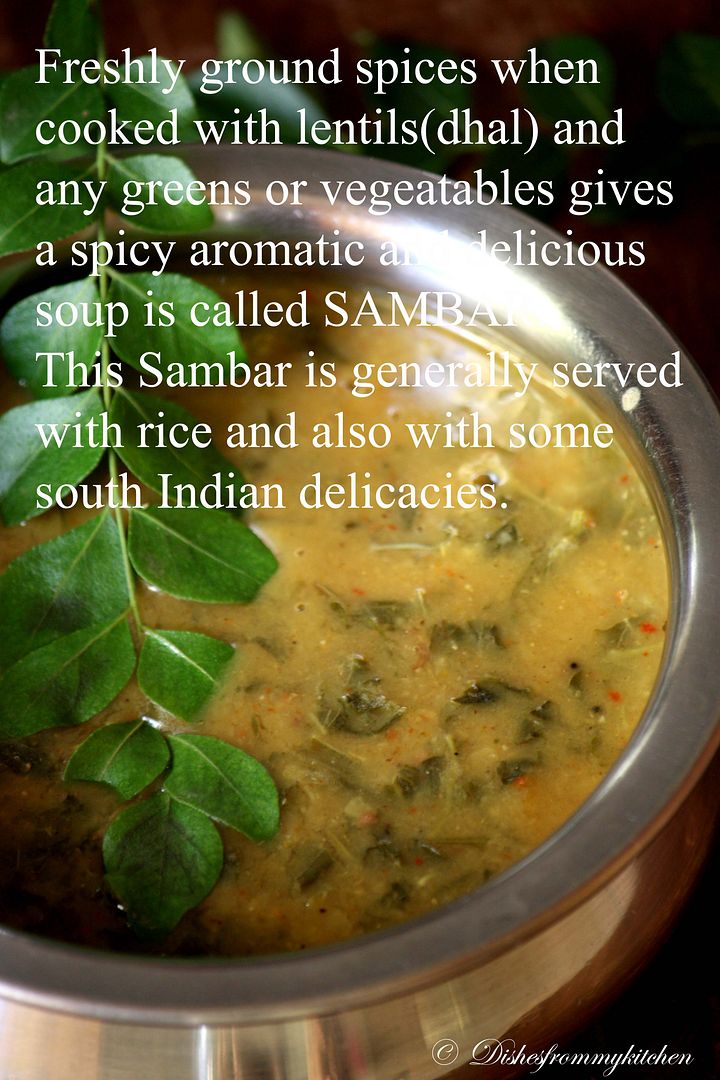 Ingredients:
Any greens or Vegetables - 2 cups
Shallots - 1 cup (Just remove skin and don't chop them)
Tomato - 1 small (chopped)
Toor dhal - 1/2 cup
Tamarind pulp - 1 1/2 tbsp (small lemon sized ball, mash and extract the pulp)
Gingelly oil f0r tempering - 1 to 2 tsp
Mustard seeds - 1/4 tsp
Asafoetida - 2 pinch
Turmeric powder - 2 pinches
Salt to taste
Coriander leaves - few
Curry leaves - few
For grinding spices:
Coriander seeds - 1 tbsp
Cummin seeds - 1/2 tsp
Pepper - 3 to 4
Asafoetida - little
Red chillies - 6 to 8
Channa dhal - 2 tbsp
Fenugreek - 1/2 tsp
Coconut - 2 tbsp
Roast (dry fry in a pan) the above ingredients and grind them to paste.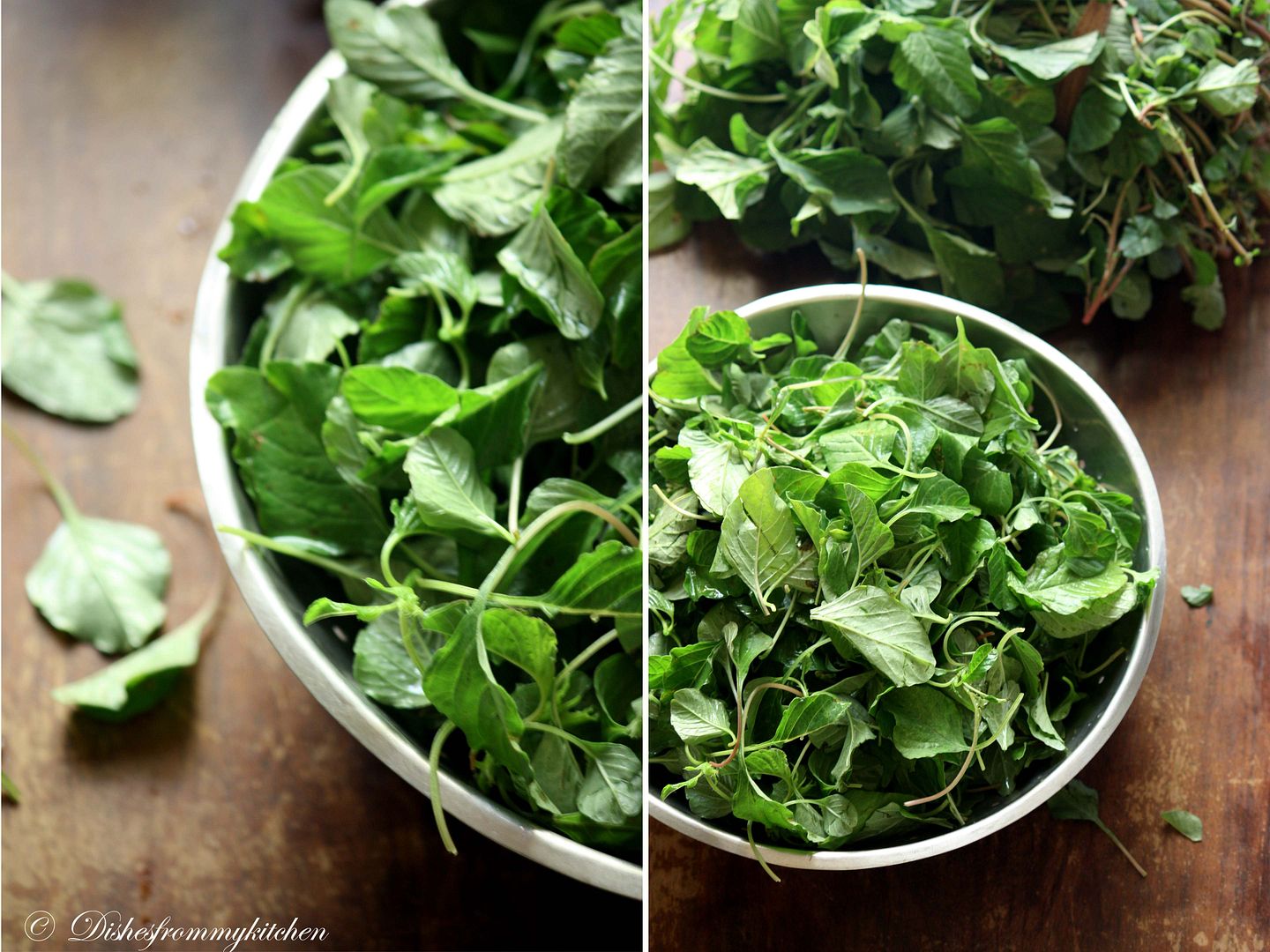 Method:
1. Wash the toor dhal; add the turmeric and pressure cooked for 2 to 3 whistles.
2. Remove from the cooker and mash them slightly.
3. Boil the vegetables/greens, shallots and tomato with enough water.
4. Once they are done add the tamarind pulp, ground spice paste, Cooked dhal.
5. Add 1 cup water and let them boil for few more minutes until they are little thick in consistency.(not so thick)
6. Temper them with mustard, asafoetida and curry leaves.
7. Add the chopped coriander leaves.
Vegetable suggestions:
Drumstick, radish, brinjal, mixed vegetables (carrot, beans, and potato), pumpkin, ash gourd, chayote, cauliflower, greens of your choice etc can be made in same way.
Note:
1. Don't over cook the vegetables.
2. When adding different vegetables it gives different taste of sambar
3. Add the redchillies and tamarind according to your taste; it depends on your spice and sourness level.
Enjoy this hearty meal !!!