>> Wednesday, June 29, 2011 –  Baked Foods, choco muffie, chocochip muffie, chocolate chunks muffin, Chocolate coffee muffie, coffee chocochip muffie, coffee muffin, Cookies, Muffe, muffie, Muffie means what, muffin and cookie
Muffie, do you wonder what it is??? Here is the formula Muffin+ Cookie -> Muffie. This has muffin texture inside and outside is crisp like cookie. I have tried few other muffies too.. will post it when possible. This is lovely combination of Coffee and Chocolate. Who doesn't love chocolate and coffee in the morning or as a snack in the evening ? These are perfect brunch Muffies, as well as tea time snack. The best part is this has no butter and no egg. I promise you that the flavor of coffee with bite of chocolate chip absolutely yumm:) that you will enjoy throughly with a glass of cold milk. Have a dip here....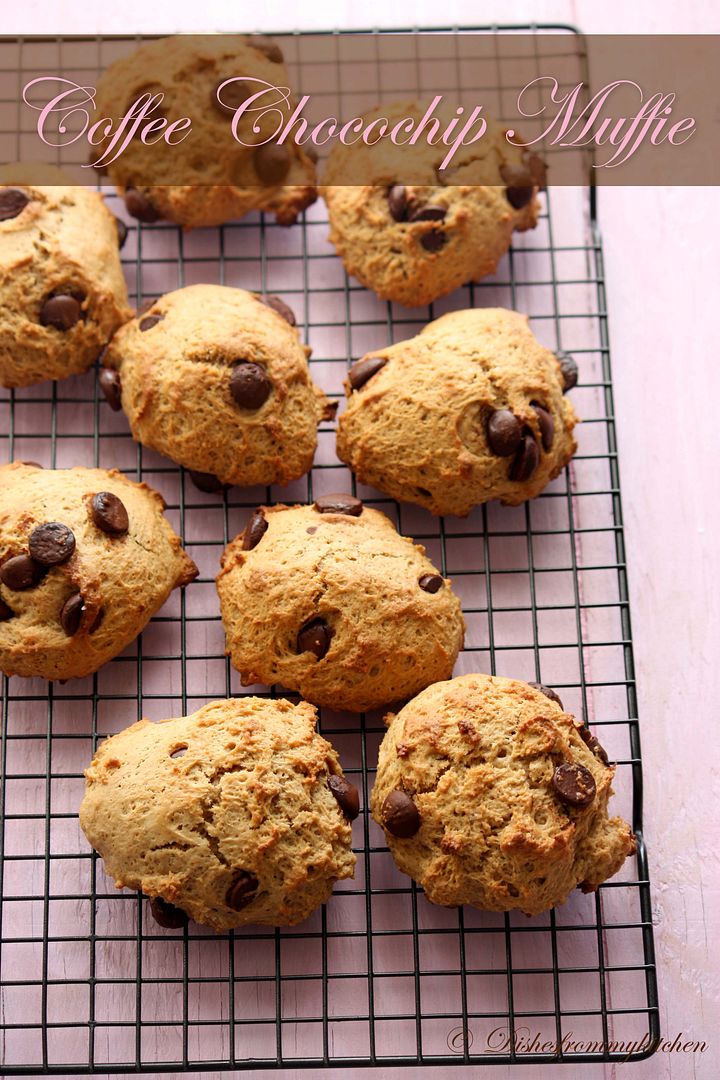 COFFEE CHOCOCHIP MUFFIE

I made big muffies.. its just upto your choice. Sometime I make small bite size muffies too. Only the oven timings varies.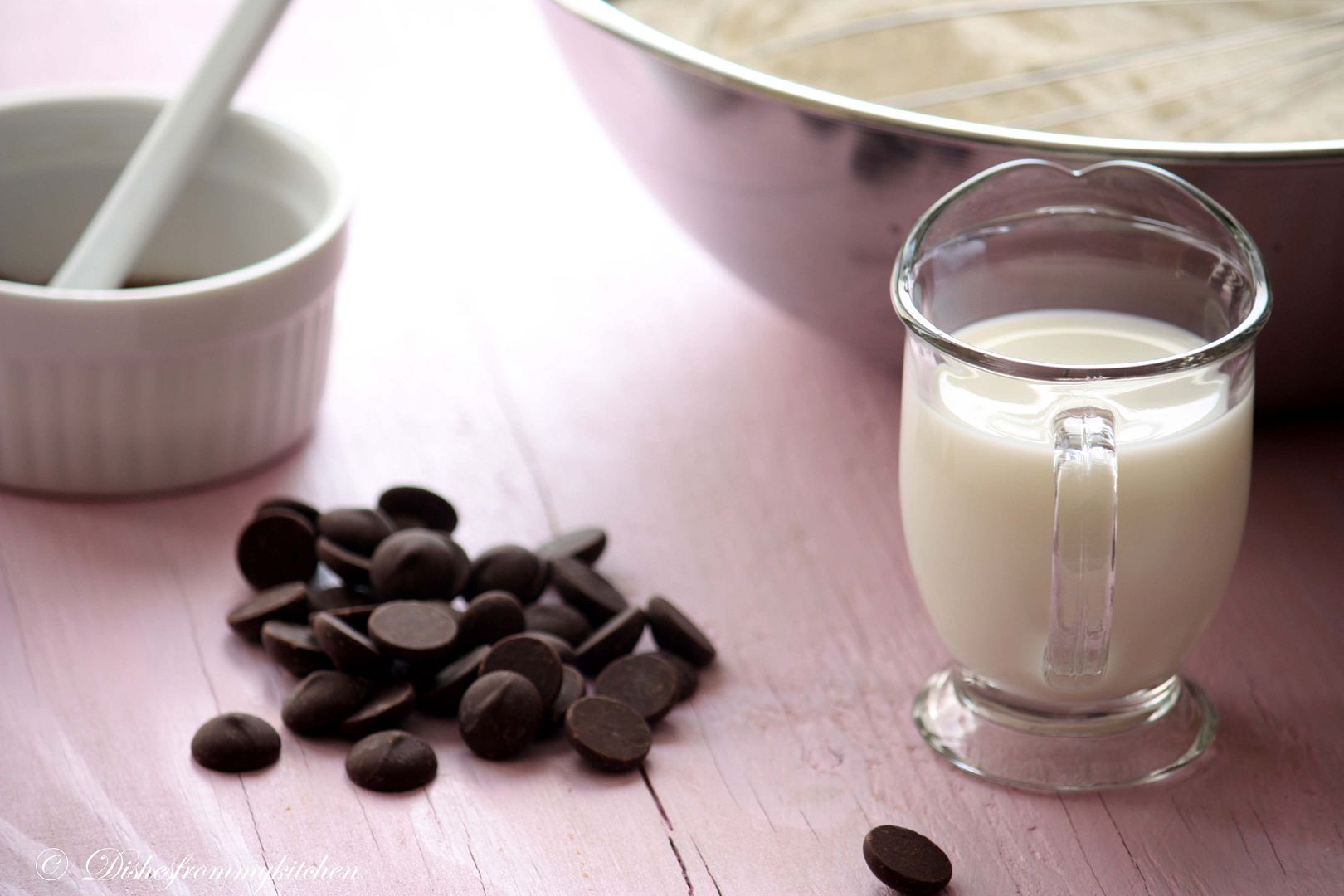 Ingredients :

This yields - 110 to 12 muffies

All purpose flour - 2 cup
Sugar - 1/2 cup ( This is not so sweet, since we are using more chocochip that was good enough for us, but if you want really sweet add 1 tbsp extra)
Canola oil - 1/2 cup
Chocolate chip or chunks ( semi sweet ) - 1/2 cup
Instant Coffee granules - 1 heaped tbsp
Vanilla extract - 1 tsp
Milk - 1 cup (room temperature) ( 1 tbsp extra if the batter is too thick for mixing)
Apple cider Vinegar - 1 tsp ( you can use white vinegar too)
Baking powder - 1 tbsp
Salt - 1/2 tsp


Method :

1. Preheat the oven to 375° F. Line the tray with the parchment.
2.Measure 1/2 cup of milk. Stir in the coffee granules, mix to dissolve.
3.Stir in the rest of the milk with vinegar and keep aside.
4. In a large mixing bowl, stir together the flour, sugar, baking powder and salt.
5. Mix well with the whisk, Now in the centre of the flour mixture, make a well.
6. Add the milk mixture, milk vinegar mixture, oli and vanilla.
7.Mix togetheruntil the batter is just moistened.
8. Don't overmix it. Now fold the chocolate chip or chunks.
9. Use the ice cream scoop and scoop it in the parchment sheet.
10. Leaving gap between each muffie. Bake it for 20 to 25 minutes. (Mine was ready in 20 minutes)
11. It should be nice golden color in the bottom and the top.
12. Immediately transfer to the cooling rack.
13. You can store in the plastic airtight container.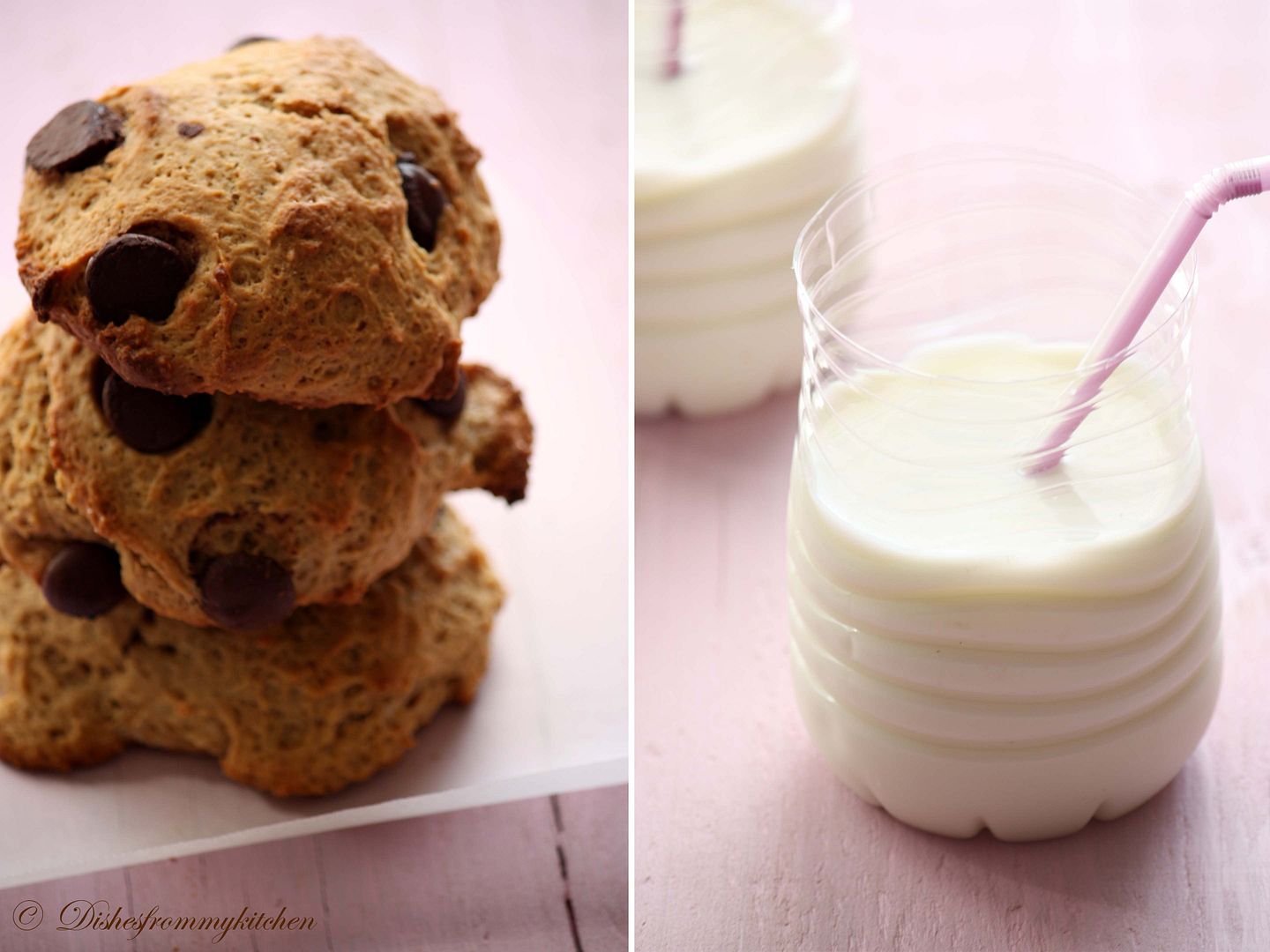 Note:

1.You can also refrigerate for 2 to 3 days too. When needed just keep in the preheated oven for 5 minutes.
2. If your making small muffies you can just bake for 10 to 15 minutes. But keep an eye on them.

Enjoy the Yummilicious Muffie with a cup of milk !!!