>> Tuesday, October 14, 2014 –  after school snack, baked vegetable chips, blueberry muffin, kids lunch box, lemon muffin, lemon quinoa, lunch bots, lunch box ideas, quinoa dishes, snack box ideas
LUNCH BOX - LEMONY QUINOA , STIR FRIED OKRA, PEACH !
SNACK BOX - BLUEBERRY MUFFIN , BAKED VEGGIE CHIPS (SWEET POTATO AND CARROT)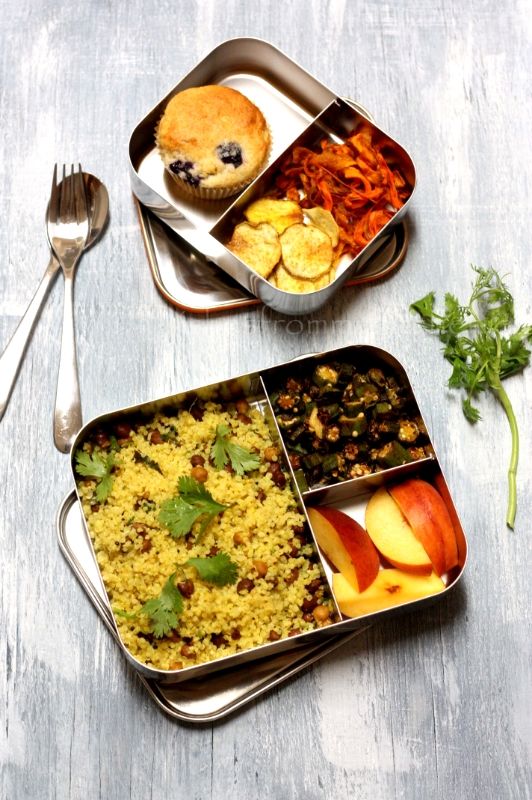 RECIPE FOR
LUNCH BOX
SNACK BOX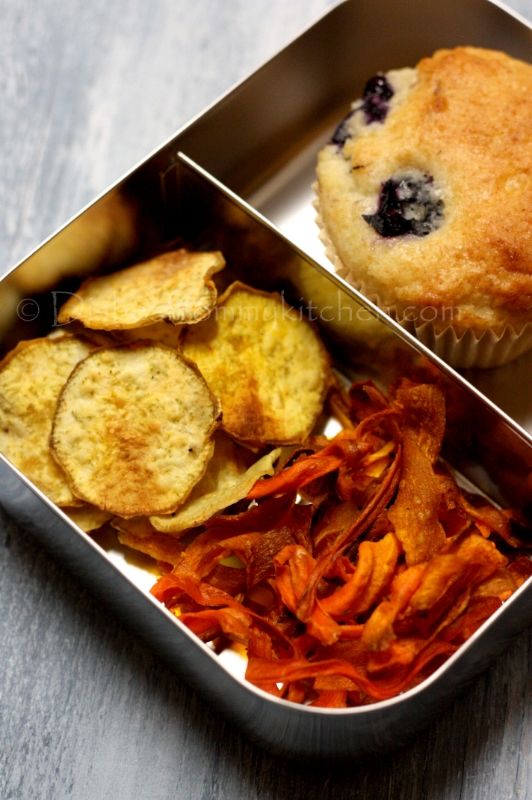 BLUEBERRY MUFFIN
Ingredients :
All purpose flour - 2 cups
Butter - 4 tbsp (melted and cooled)
Baking powder - 1 tbsp
Egg - 1
Salt - 1/2 tsp
Lemon zest - 1 tsp
Sugar - 1 cup
Yogurt - 1 1/4 cup
Frozen blueberries - 1 cup
Method :
1. Preheat the oven to 350 f , line the muffin tin.
2. Whisk the dry ingredient in a bowl. Whisk egg in the another bowl till they are light colored.
3. Add the sugar to the egg and whisk well until thick and homogeneous.
4. Add the melted butter in 2 to 3 steps whisking to combine after each addition.
5. Add the yogurt until just combined.
6. Add frozen bluberries to dry ingredients and gently toss to combine.
7. Add yogurt egg mixture to the dry ingredient and carefully fold with a spatula until the batter comes together. Do not overmix.
8. Divide the batter evenly in the lined muffin cavities.
9. Bake for 25 to 20 minutes until toothpick inserted in center of muffin comes out with few crumbs attached.
10. Cool them in wire rack .