>> Tuesday, October 14, 2014 –  corn bean redbellpepper quesadilla, home made tortilla, kids lunch box, lunch ideas, lunchbots, quesadilla, rain coasts crisp, rosemary pecan crisps, spinach tortilla, sweet potato boiled, whole wheat tortilla
LUNCH BOX : SPINACH QUESADILLA WITH CORN BEAN RED BELLPEPPER FILLING, STRAWBERRY AND BOILED SWEET POTATO !
SNACK BOX : ROSEMARY PECAN CRISPS WITH BLUEBERRY COMPOTE , SAVORY FRYUMS/CRACKERS !
LUNCH BOX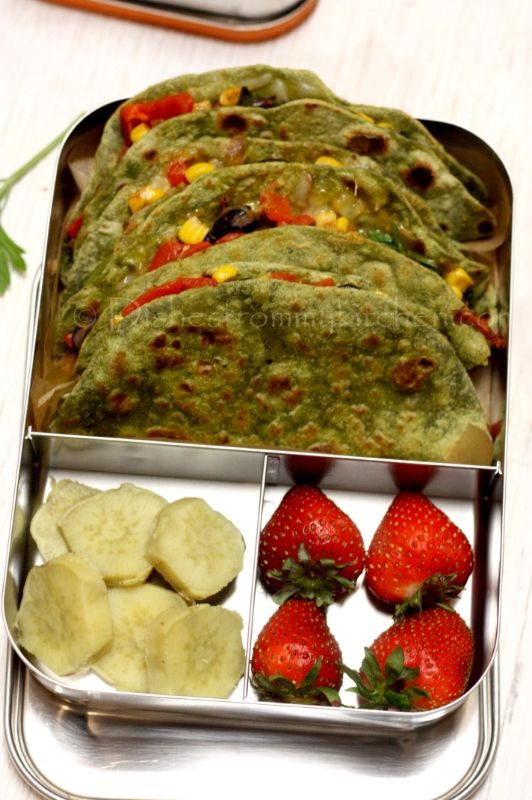 SNACK BOX
SPINACH TORTILLA
Ingredients:
Wheat Flour - 3/4 cup
All purpose flour - 1/4 cup heaped
Baking powder - 1/4 tsp
Fresh Spinach - 1 cup
Olive oil - 2 tbsp
Salt - as needed
Warm water for making dough
Little flour for dusting
Method:
1. Clean spinach and blanch them in boiling water for a minute or microwave them for a minute.

The make paste/puree the spinach in the blender.
2. Mix all the dry ingredients in a bowl.

Add oil, pureed spinach and make knead to a smooth dough. Since spinach has water content add water if necessary.
3. Keep the dough aside for 15 to 30 minutes.
4. Divide the dough to 6 to 8 equal balls (I made mini quesadillas).
5. Heat a pan and toast the rolled Tortilla on both side drizzling very little oil .
6. Its enough to toast them slightly on both side, since we are going to toast them again with the filling.
Note:
1. I have used 3/4 th of whole wheat and 1/4 of all purpose flour , you can always interchange the other way too or even fully all purpose flour or even fully whole wheat flour as well.
2. For Plain Tortillas just skip the spinach part and make smooth dough using warm water.
CORN BEAN AND ROASTED RED BELL PEPPER FILLING
Ingredients:
Frozen or tine corn - 1 cup
Black bean (cooked) - 1 cup
Roasted bell pepper - 1/2 cup chopped to little cubes (I used organic store-bought roasted bell pepper)
Red Onion - 1/4 cup finely chopped
Oregano - 1/4 tsp
Cumin powder - 1/2 tsp
Paprika/chilli powder - 1/2 tsp
Pepper - 1/4 tsp
Cilantro - few finely chopped
Salt as needed
Olive oil - 1/2 tbsp
Method:
1. Heat oil in the pan, add onion sauté till they turn color.
2. Add corn, bean and all other spice powders.
3. After sautéing for few minutes add the bell peppers.
4. Switch of the flame and add chopped cilantro.
5. Let this mixture cool completely.
FOR MAKING QUESADILLA
Ingredients:
Homemade or store bought tortillas
Corn bean and red bell pepper Filling
4 cheese Mexican blend or combination of cheddar and mozzarella - 1 to 2 tbsp of cheese for each tortilla (You can little or more the way you like)
Olive oil for brushing/drizzling
Method:
1. Put a tortilla in a pan, add the cheese slightly and add the topping mixture (1 to 1/2 tbsp) above the cheese on half side of the tortilla sprinkle some cheese again.
2. Now close it using other side of the same tortilla like semi-circle. The cheese melts and they will stick to each other. Do this in medium to low flame, drizzle some olive oil.
3. Using spatula flip to other side very carefully.
4. Do this in low flame until they are browned and crispy on both sides of quesadilla.
5. Once it is done remove from pan before it is cooled cut them using pizza cutter and serve hot sprinkling with paprika and cumin powder.