>> Monday, October 20, 2014 –  baked donut, baked doughnut, best ever pumpkin donut, best ever pumpkin doughnut, best ever pumpkin recipe, caramelized pecan, cinnamon, cinnamon glaze, Fall recipe, maple glaze, pumpkin recipe, pumpkin spice
Pumpkin, Cinnamon, Ginger, Pecan, Maple does it sound like fall :) If all these ingredients are whipped up and baked together, it is absolutely a fall recipe. Fall is wonderful season of the year if you go shopping around the gourmet markets mmm the aroma of pumpkin spice just waft around your nose, definitely you will end up in baking something fresh after your return home. I am telling you these baked pumpkin doughnuts will be your best ever baked pumpkin doughnuts and you will never look back for different recipe. These Pumpkin doughnuts are sweetened with Maple syrup with hint of warm spices and studded with caramelized Pecans drizzled with Cinnamon Maple glaze and sprinkled with toasted Pepitas, do you agree why I said you will never look back for any other recipe. When I did recipe testing we just fell in love with this ... so here it is for you. Warm up with this delicious and freshly baked doughnuts and wrap yourself in cozy couch sipping hot cup of tea ......heaven!!! When I was writing this, I wanted to make another batch and enjoy this tasty decadent treat!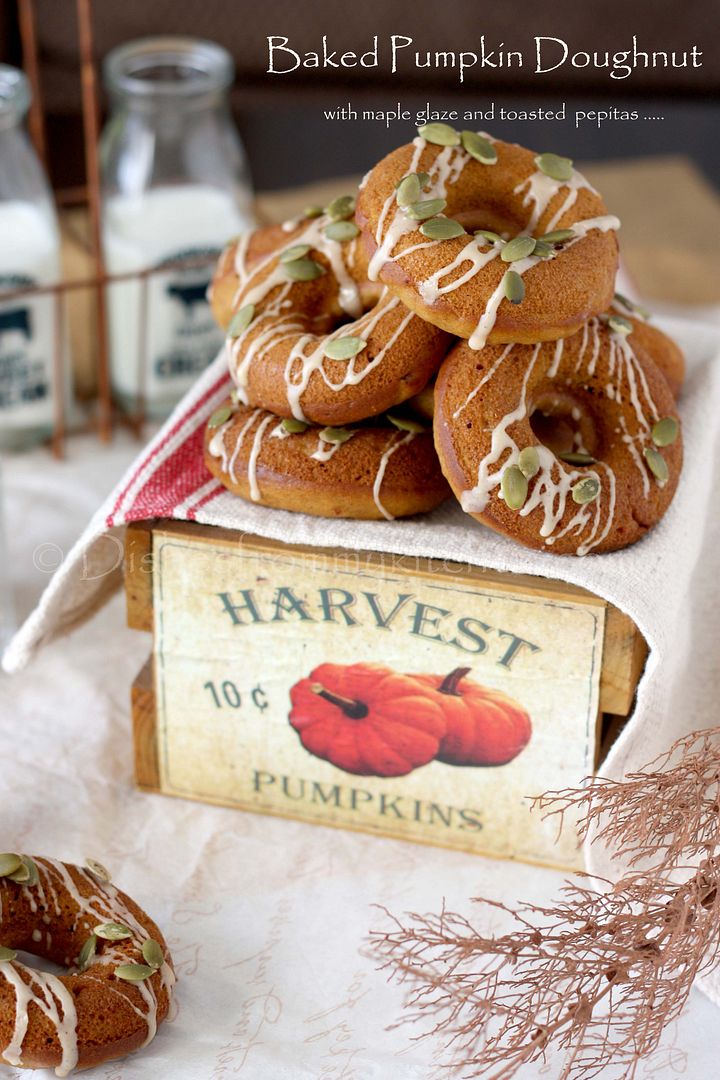 Makes : 10 doughnuts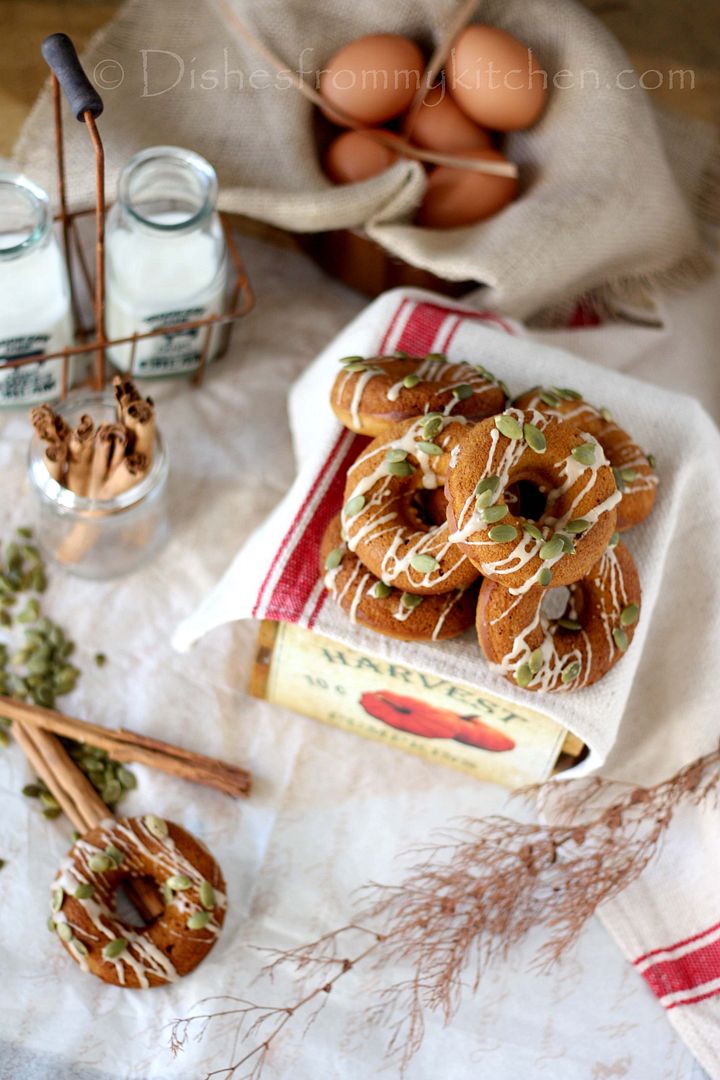 Add caption





Ingredients:


All Purpose Flour - 1 cup
Pumpkin Puree - 1/2 cup
Baking soda - 1/2 tsp
Yogurt - 1/4 cup
Salt - 1/4 tsp
Cinnamon - 1/4 tsp
Ginger powder - 1/8 tsp
Olive oil - 1/4 cup
Maple Syrup - 1/3 + 1/4 cup
Egg - 1



For Caramelized Pecans:


Pecan - 1/4 cup
Sugar - 1 1/4 tbsp
Water - 2 tsp



Glazing:



Maple Syrup - 1 1/2 tbsp
Powdered Sugar - 4 1/2 tbsp
Vanilla Paste - 1/4 tbsp
Cinnamon Powder - 1/8 tsp




Method:


1. Chop the Pecans and dry roast them in a pan until they are warm enough to touch.
2. Bring water and sugar to a boil.
3. Add the roasted Pecans and keep stirring.
4. The sugar will crystallize and then melt into caramel. Keep stirring until the nuts are nicely caramelized.
5. Let the nuts cool down.
6. Sieve all the dry in a bowl. Add the cooled nuts and whisk slightly.
7. Whisk all the wet ingredients except the yogurt in a bowl till they emulsify together. Now add the Yogurt mix slightly.
8. Add the wet ingredients to dry ingredient. Using spatula fold everything together.
9. Slightly Grease the doughnut pan using Olive oil. Spoon the mixture in the pan. You will approximately get 10 donuts, so divide the mixture equally using small ice cream scoop.
10. Bake it in 350 f preheated oven for about 15 to 18 minutes.
11. Cool them in the cooling rack.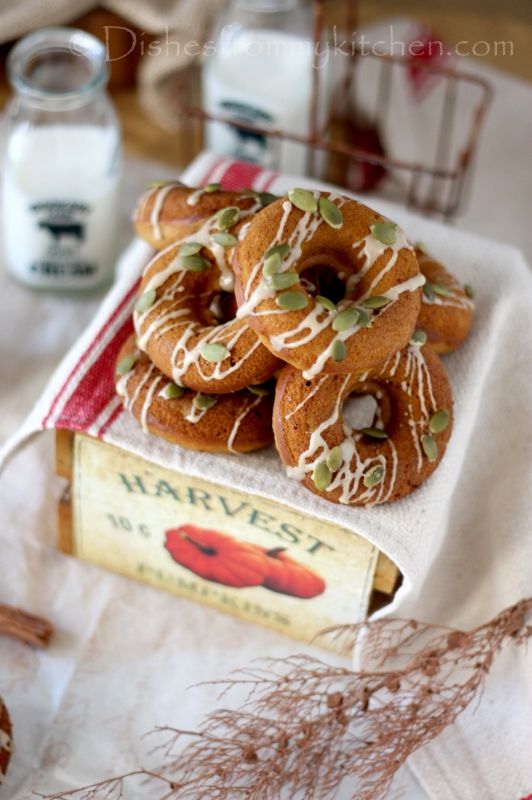 Glazing:


1. Mix all the glazing ingredients in a small bowl.
2. It will be in drizzling consistency. If it is thick just add drop of water.
3. Drizzle the way you like in the cooled Pumpkin donuts and immediately sprinkle some Pepitas in the top.. when it cools is sticks the glaze.

Enjoy this moist, yummy Pumpkin Doughnuts in this fall!!! I assure you will love this in every bite :) All you need to do is Bake, Click and send me the picture of your Pumpkin Doughnut!!! Love to share yours in my Facebook page.