>> Monday, October 13, 2014 –  alagar adai, alagar kovi dosai, black gram adai, dinner idea, easy adai, healthy adai, lentil crepe, madurai adai, south indian adai, tiffin idea, urad dhal adai
Black Gram/ Urad dhal adais is one of our Family favorite. Not only it tastes so good, it is very healthy as well. We do few versions of Black gram adai with little variations in proportions, each one of them tastes very good. I already have posted one in my blog, this is second one and will try to post another version when I am making.
BLACK URAD DHAL / BLACK GRAM ADAI
Ingredients:

Idli Rice - 3/4 cup
Raw Rice - 1/4 cup
Splitted urad dhal with skin (Black gram) - 3/4 cup
Red chillies - 2
Black pepper - 1 tsp (You can also add 1/4 tsp extra if you like peppery taste)
Cumin seeds - 1 tsp
Curry leaves few
Asafoetida - 1/8 tsp
Salt as needed
Ghee or Oil to drizzle

Ghee taste excellent for this adais.



METHOD:

1. Wash Rice and soak in water for at least 2 to 3 hrs. (Do not soak Urad dhal, it has to be washed and ground with rice when you are ready to grind the batter)
2. Wash the Black gram and keep it aside. Now grind the rice with other spices to coarse rawa like texture. Then add washed Black gram and grind coarsely.
3. Batter can be used immediately for making adai / cheela. But I would suggest and prefer to grind them 2 to 3 hrs before.
4. Adjust the batter by adding little water to pouring (Still it has to be thick not so thin) consistency. In a hot skillet pour one ladle full of batter and spread like a pancake or thick crepes.
5. Drizzle tsp of oil/ghee once bottom is done flip to other side. Roast till they are crisp on both the sides.
6. Serve with tsp of ghee or butter on top. Serve with spicy onion chutney, garlic chutney, Tomato chutney or coconut chutney.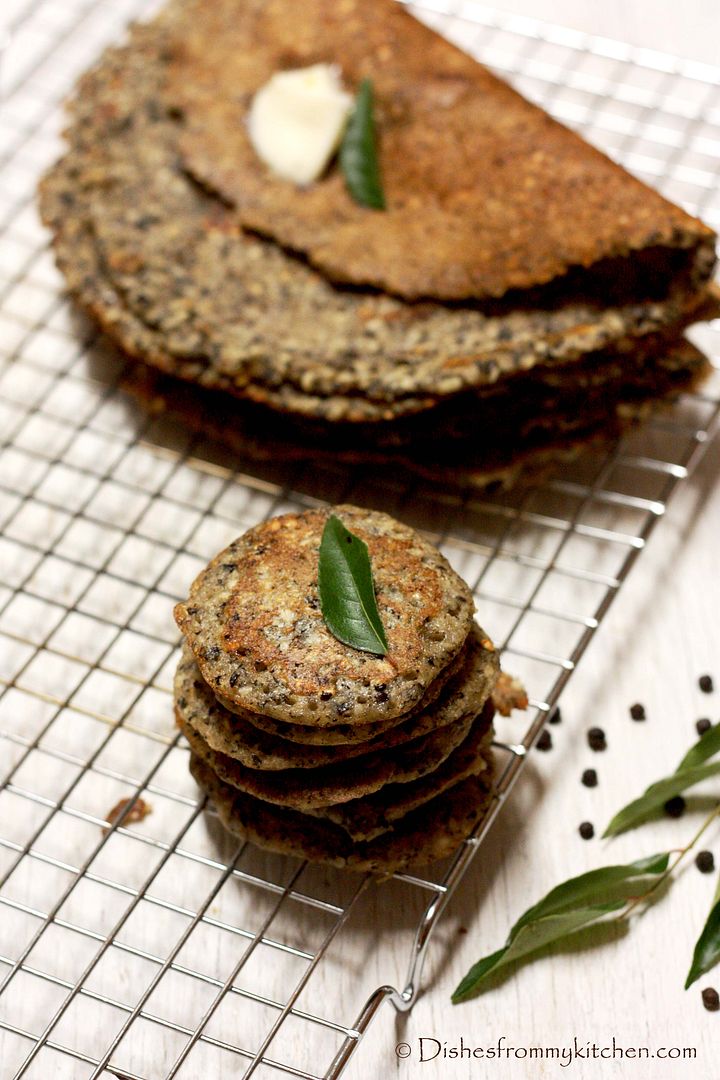 Note:

1. If you are ok in consuming more ghee use it liberally for drizzling and make Crispy adais. It tastes just out of the world.