>> Tuesday, October 7, 2014 –  crackers, flax crackers, healthy snack, kids snack, lunch box, pumpkin seed crackers, rain coasts crisp, raisin rosemary crackers, rosemary raisin pecan crisps, snack box for kids, traders joe crisps
Raisin rosemary crackers/ Crisps from Trader's Joe are very addictive and it's one of our family favorite snack to have with compote and soft creamy cheese or even butter. When I stumbled on the recipe here I was so overjoyed and tried immediately. I have made 4 to 5 times couple of years back with variations for my kid lunch box. But when I started posting lunch boxes in my blog thought of baking this again and here it is... This is great for holiday treat, gifts and great finger food to entertain friends and family. It tastes great with compote, any creamy cheeses or butter. They are very much addictive on their own. The combination of Toasted pumpkin seeds, pecan, raisin/ cranberries fresh Rosemary ... It's totally unbeatable combination. In this recipe you can use entirely all purpose flour or you can also use 50/50 of spelt flour, rye flour or whole wheat flour along with all purpose flour. This recipe is very versatile, you can substitute your favorite seeds and dry fruits of your choice. My personal favorite is this combination which I mentioned earlier, but I did try various combinations and everything turned out great. Each batch of this recipe makes lots of crackers/Crisps. It's easy to half the recipe, but I never halved the recipe since we all love this a lot I make a large batch and its stores great for several weeks. Its fall and the weather started to cool down and its great time of the year. So don't wait it's definitely a great one to bake in this holiday....
ROSEMARY RAISIN PECAN CRISPS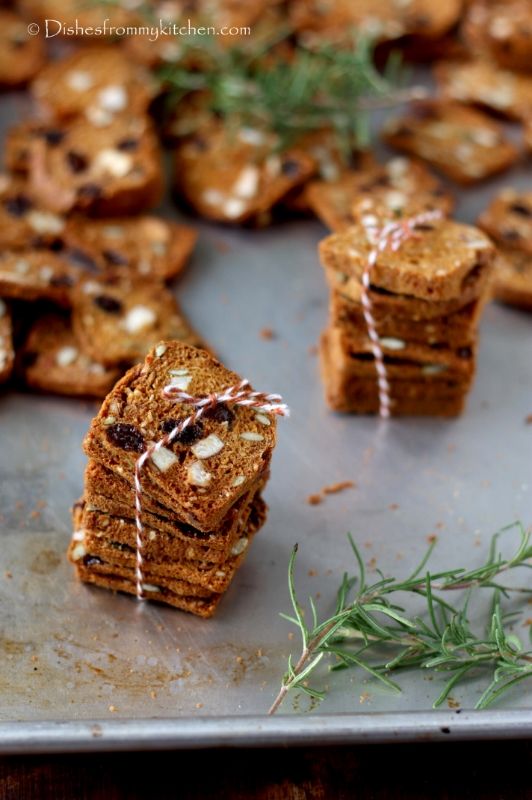 Ingredients :


All purpose flour - 2 cups
Baking soda - 2 tsp
Salt - 1/2 tsp
Buttermilk - 2 cups
Brown Sugar - 1/4 cup
Honey - 1/4 cup
Raisins - 1 cup ( I substitute with craisins or chopped figs)
Roasted pecans - 1/2 cup ( I sometime substitute with Almonds)
Roasted Pumpkin Seeds - 1/2 cup
Sesame Seeds - 1/4 cup
Ground flax seed - 1/4 cup
Fresh Rosemary - 1 tbsp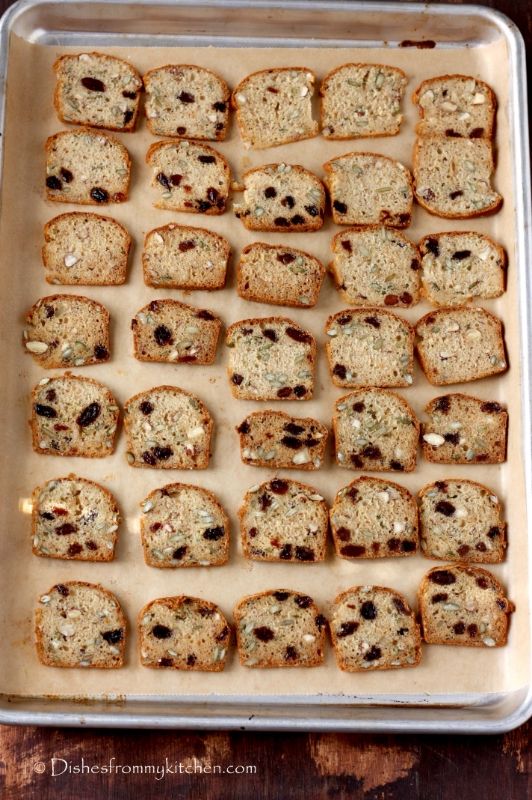 Method :



1. Preheat oven to 350° F.
2. In a large bowl stir all the dry ingredients.
3. Add the Buttermilk, brown sugar and honey. Stir a few strokes.
4. Add the Dry fruits and nuts along with chopped rosemary. Stir just until blended.
5. Divide the batter evenly in 6 mini loaf pans( 4" * 21/2").
6. Bake them to 30 to 35 minutes until the top turns golden brown and a toothpick inserted into the middle of the cakes comes out clean.
7. Remove the cakes and cool them completely.
8. To get neat even slices, freeze the mini loafs in freezer for couple of hours.
9. If you want to bake whole batch you can do it or take couple of loafs and slice it as thin as possible using a serrated knife.
10. Lay them in a single layer in sheet pan lined with parchment paper.
11. Bake the slices for 10 to 15 minutes, flip them and bake it again for 10 to 12 minutes.
12. They should be completely dry to touch and curled slightly at the edges.
13. Some crisps or crackers will be soft in the middle they will crisp up as they cool.
14. Make sure you don't over brown them or burn, keep an eye when they are baking .
15. Cool them completely and store in a airtight container.