>> Tuesday, May 1, 2012 –  accompaniments for poori, boori, Breads, deep fried Indian bread, fried bread, Indian breads, Indian fried bread, poori, puffed bread, puri, sidedish for poori, wheat poori, whole wheat bread
This post was sitting in my draft for so looooooooooong time, so thought of posting it today :) I shot these pictures in hurry when two poor people where waiting to dig in the morning breakfast :( Yes poori with your favorite accompaniment is absolutely comforting weekend breakfast.. so don't wait...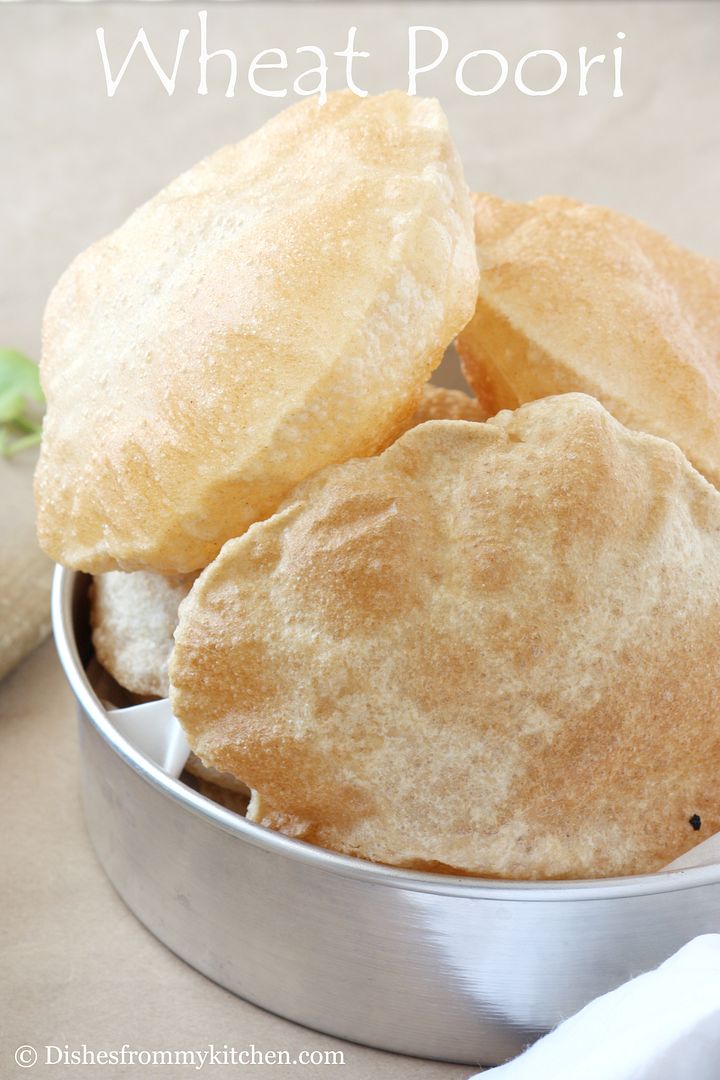 Poori or Puri is prepared with wheat flour, either atta (whole wheat flour), maida (refined wheat flour/all purpose flour). A dough made of flour and salt is rolled out in a small circle and deep fried in vegetable oil. While deep frying, it puffs up like a round ball because moisture in the dough changes into steam which expands in all directions. While frying when it attains golden-brown (for soft poori) or reddish brown color (for little crispy poori), it is removed from the oil, drained and served hot with accompaniments. There are so many accompaniments for poori; it can be served with both sweet and savory ones. The most popular savory accompaniments are potato based curries, Channa masala/chole Masala, Dhal, Korma etc. These golden beauties are almost everyone's favorite and very famous throughout India.
MAKING POORI/PURI
Yields - 5 to 6 pooris
Ingredients:
Wheat flour - 1 cup
Water - 1/2 cup approximately (depends on the quality of flour you may need to adjust the water)
Salt - 1/4 tsp
Oil - 1 tsp
Frying:
Oil
Deep vessel
Ladle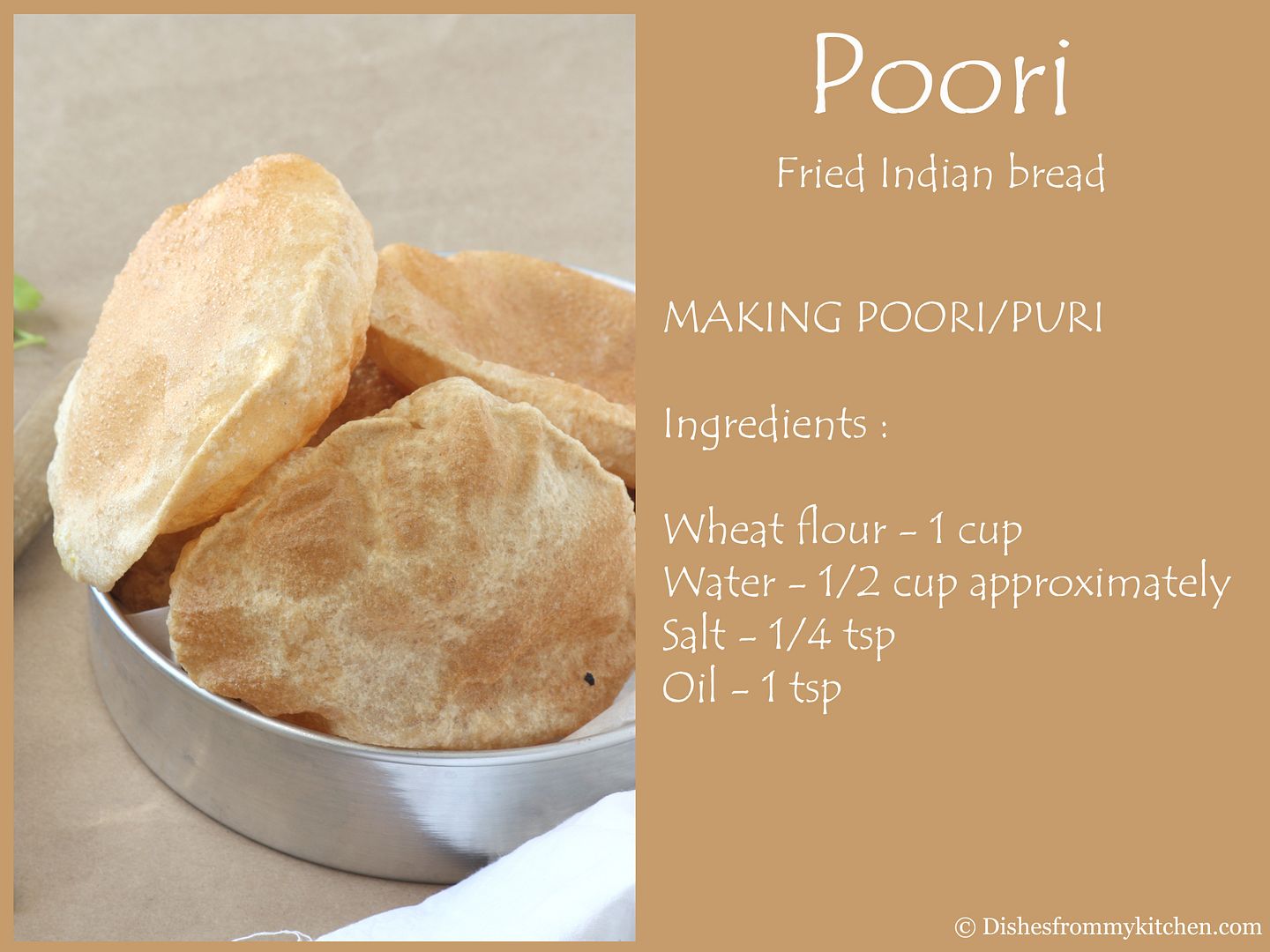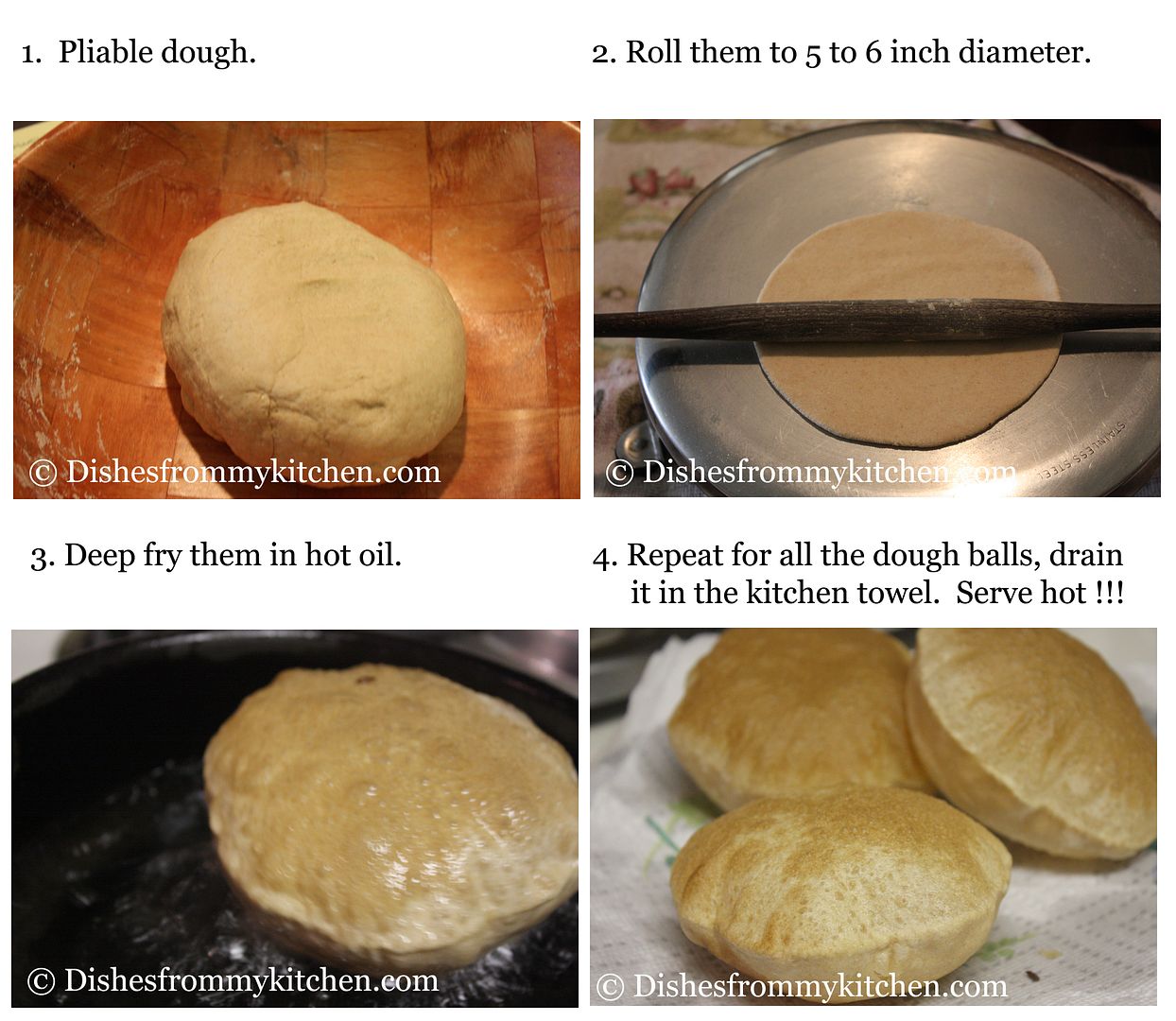 Method :
1. Take flour and salt in a bowl. Add water little by little until all the flour comes together.
2. Knead the dough well until it comes together into pliable dough.
3. Add the oil and knead again to smooth ball.
4. The dough should be not being too tight or too soft.
5. Divide the dough into equal lime size balls.
6. When you are making the discs out of that dough balls. Get ready with the oil for deep frying.
7. Heat the oil in the deep vessel.
8. Now roll the ball into discs using the rolling pin. The disc should be about 5 inch diameter and the thickness should not be too thin. If it is too thin then poori will not puff up.
9. You can also make big poori, if you want t o make big ones then size of the dough balls should be little bigger and also choose the deep fryer vessel little bigger so that the poori will fit in them while deep frying.
10. Now check the temperature of the oil by just putting a small piece of dough, when it comes immediately to the surface without any delay, it means the temperature is right.
11. Drop the rolled dough in the hot oil, just ladle the oil above the dough surface; this helps the poori to puff up.
12. Once it is puffed up and gets golden brown color. Just flip one time and let it get golden brown or reddish brown color on other side too.
13. Now remove them and drain it in the kitchen towel. Serve hot with your favorite accompaniment.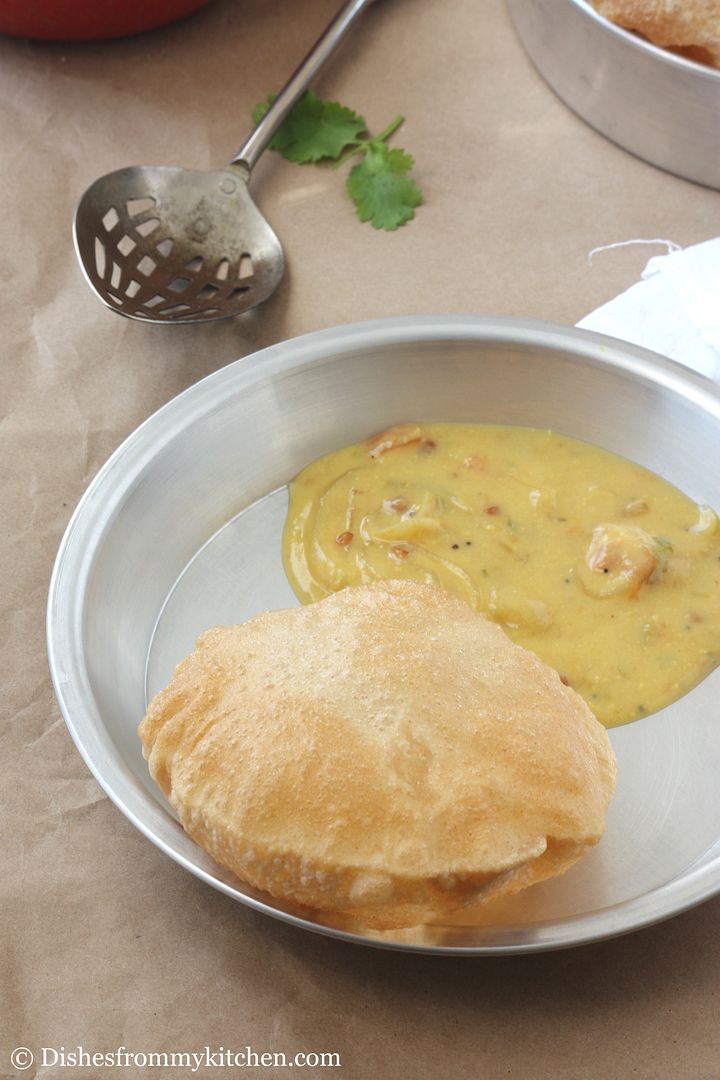 Things to keep in mind to get good Poori:
1. The dough consistency is very important. The dough should not be too tight or too soft.
2. You can make poori as soon as the dough is kneaded. It does not need any resting time.
3. While rolling the dough balls make sure it is not too thick or too thin.
4. Temperature of oil is another factor to get good pooris. The oil should be hot but not smoking hot. Check the temperature of oil as I have mentioned above.
Enjoy making poori and eating with your favorite accompaniment....
Here are few accompaniments that you can enjoy with the Poori...
PANEER BUTTER MASALA