>> Tuesday, May 8, 2012 –  easy macaroni vegetables, Indian way of making pasta, Indianized pasta, macaroni, macaroni with vegetables, pasta with garam masala, savory macaroni, Spicy macaroni, vegetable pasta
I am happy to post one of my childhood favorite dish "MACARONI THE INDIAN WAY".

As pasta was introduced elsewhere in the world, it became incorporated into a number of local cuisines, which often has significantly different ways of preparation from those of Italy. In India, macaroni has been adopted and cooked in an Indianized way. There are few dishes that you will always remember,even though you come across n number of fancy ones.
The first time my dad bought macaroni when I was studying in 4th grade. I really admired the shape and started loving macaroni for its shape :) At that time there was no clue how to cook the macaroni and my mom just followed the instruction that was written on the package for cooking macaroni and for spicing up the macaroni, she adopted the recipe of basic seasoning that we use for making upma or the Indian pasta(vermicelli). When you do Macaroni the Indian way, its going to be really amazing flavor because of the marriage of western food with India seasoning. We loved it a lot and it became one of our regular menu. She made this for us at least once in a week and this was one of my favorite lunch box dishes to school.


I am sharing the simple and old macaroni recipe that we use to enjoy during my childhood days and I still love this a lot and make them once in a while. Here is Indianized way of macaroni with the crunchy onion, little tangy tomato spiced up with Indian seasoning and hint of Garam masala ...mmmmm it brings back my childhood memories.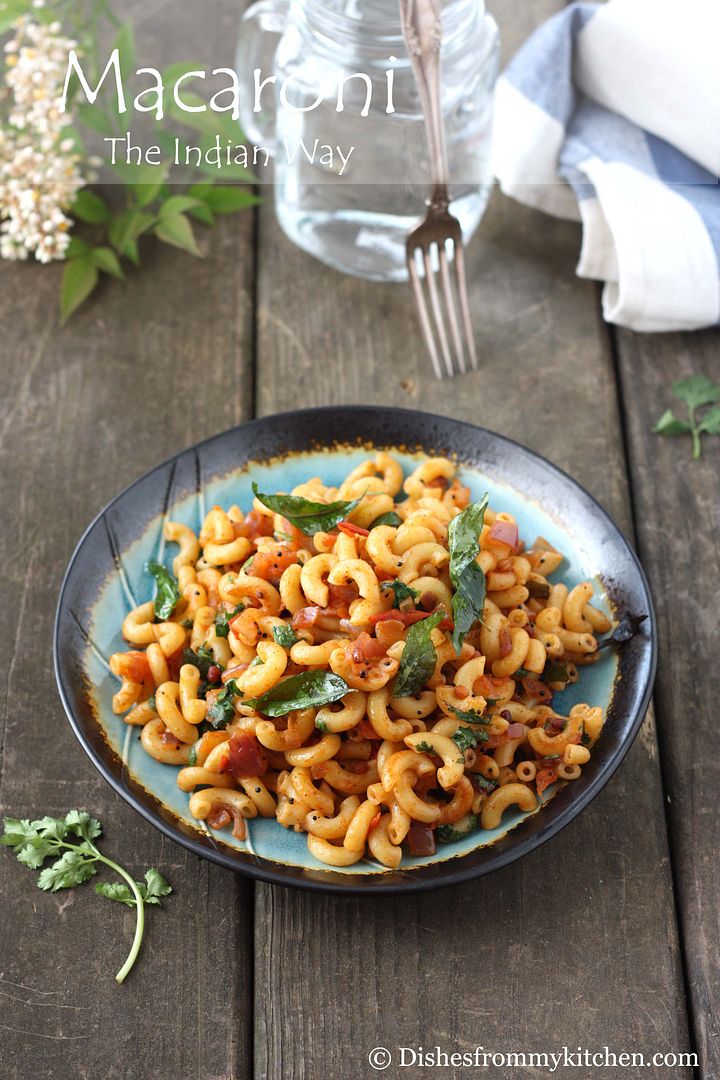 HERE IS THE RECIPE FOR PASTA KHEER/PASTA PUDDING - INDIAN DESSERT WITH TOUCH OF NUTS AND SAFFRON



MACARONI SPICED UP IN INDIAN WAY



Ingredients :

Pasta - 1 1/2 cup (Macaroni)
Tomato - 1/2 cup(chopped)
Onion - 1/2 cup(chopped)
Tomato ketchup - 1 1/2 tbsp
Cayenne pepper - 1/2 tsp
Garam masala - 1/4 tsp
Curry leaves - 10 or few
Coriander leaves - few chopped finely
Oil - 1 tbsp
Salt as needed
Vegetable - 1 cup optional ( Mixed vegetables like chopped Carrot,cabbage,peas and capsicum can be used)

Tempering :

Mustard seeds - 1 tsp
Urad dhal - 2 tsp








Note:
You can use any small size or shape of pasta for this recipe. You can also use the whole wheat pasta for making this.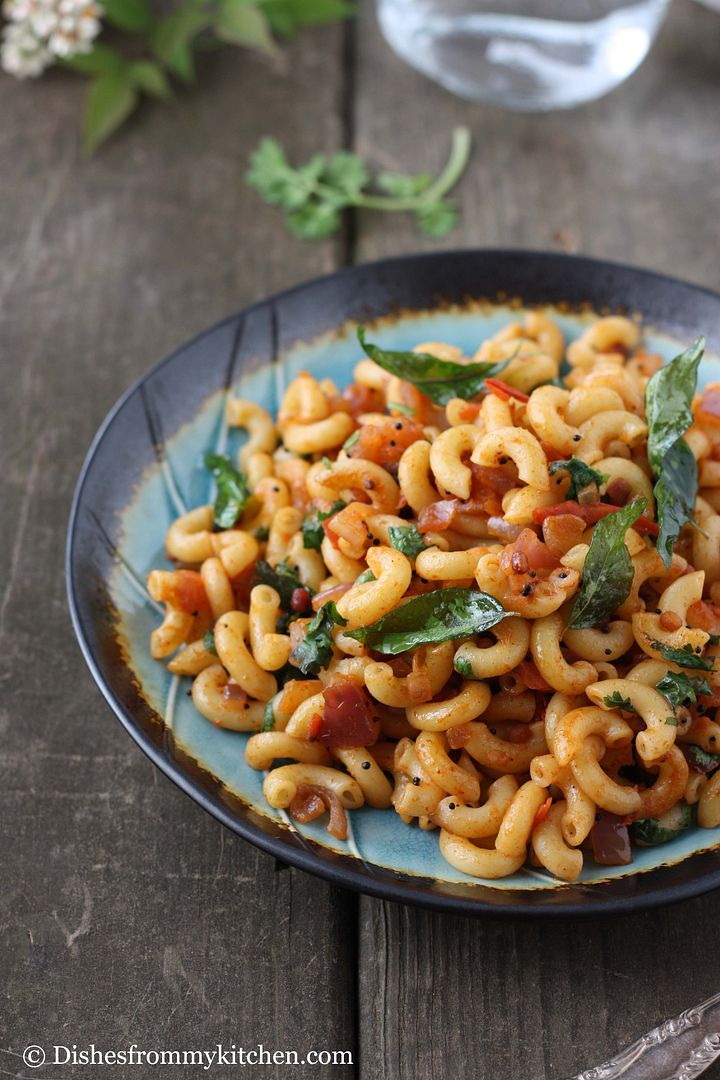 STAY TUNED TO SEE SOME OF MY CHILDHOOD FAVORITES AND ANOTHER WAY OF SPICING UP THE MACARONI !!!