>> Thursday, May 31, 2012 –  easy popsicle recipe, herb popsicle, orange flavored Popsicle, orange granita, orange juice with rosemary, orange lemon dessert, orange popsicle, rosemary dessert, rosemary infused orange popsicle
Its already summer vacation here and I am enjoying the time with my kiddo and also keeping him occupied with some activities as well. Lately it's becoming very hot and the only way to beat the summer heat is to enjoy fresh fruits, Juices, Smoothies, Ice cream, and Popsicle etc.
Popsicle certainly brings back my childhood days, I know everyone have their own sweet memories :) I still remember making Popsicle with my cousins, we used to pour the rose flavored milk mixture, Rasna (It is an artificial orange juice in India), fresh juices etc in the Ice cube tray and enjoy licking them sitting in the patio by chitchatting, I badly want those days back
:)
Here you go make and enjoy Rosemary infused Orange pops. I always love the combination of citrus fruits with the herbs, it's so refreshing and the flavor is unbeatable.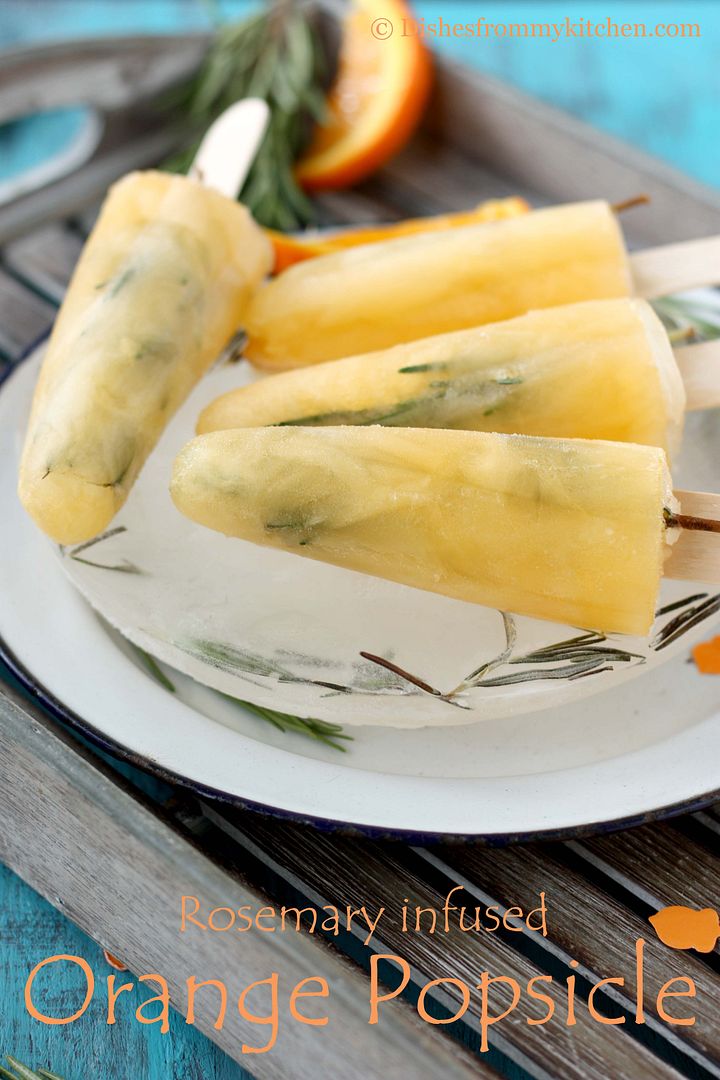 Rosemary Infused Orange Popsicle



For simple Syrup:

The simple syrup we are preparing is little bit more than what we need. The quantity depends on the sourness of the orange, so add more or less simple syrup according to your preference.

Sugar - 1 1/2 cup
Water - 1 1/2 cup
Rosemary - 2 small sprig (chopped)



For Popsicle :

Orange juice - 2 cups
Simple Syrup - as needed
Lemon Juice - 2 tsp
Salt - pinch of salt
Zest of 1 orange (optional)
Few rosemary sprigs for inserting into the molds (optional)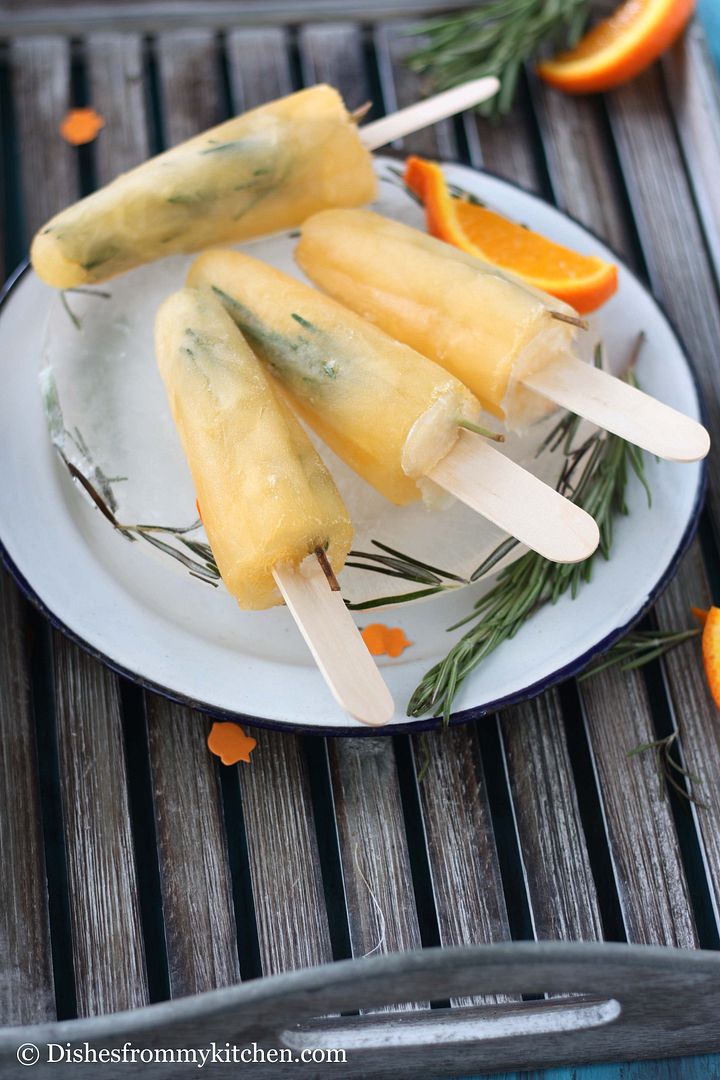 Method :

1. Bring water and sugar for boil. Let it boil until the sugar dissolves completely and let it boil for couple of minutes.
2. Switch of the heat and add the rosemary sprig. Allow to steep and cool.
3. Extract the juice of the Orange, strain and keep it aside.
4. In a bowl mix the orange juice, 3/4th of simple syrup (remove the rosemary), salt and zest if using. Stir until well combined.
5. Taste for sweetness and add more simple syrup if needed. When tasting it has to be too sweet because when you freeze it lose some sweetness
6. Pour the liquid mixture in the molds, insert rosemary sprigs inside the molds and also insert sticks.
7. Freeze for about 5 to 6 hours or even overnight. It has to be completely solid.
8. Unmold when you are serving.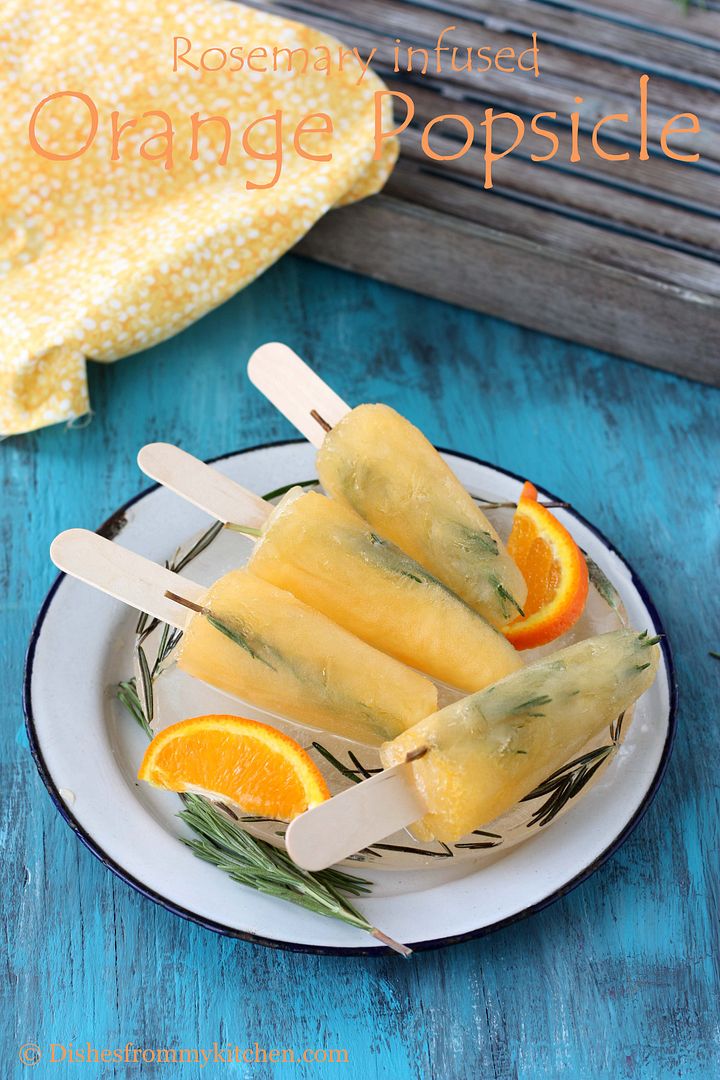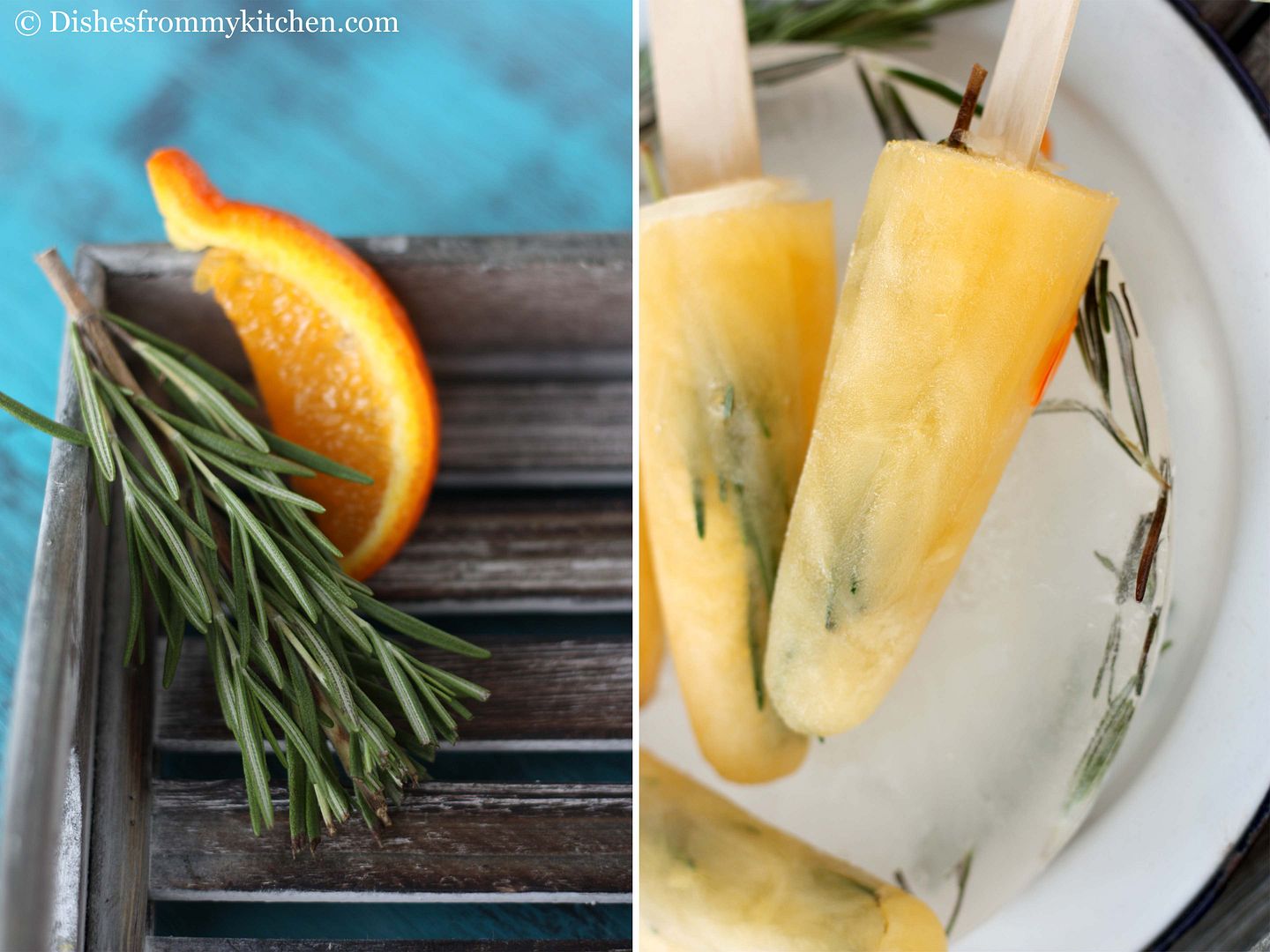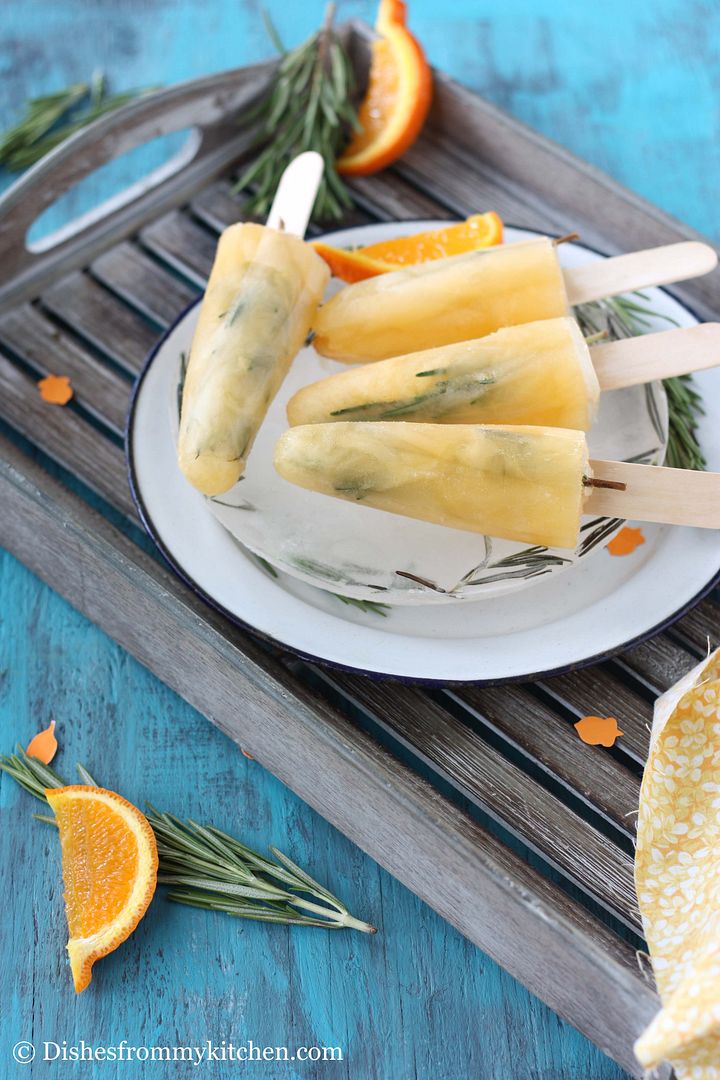 Tip:

1. If you are using wooden pop sticks, soak them for an hour in warm water. This helps them floating up when inserted into molds.
2. Run warm water around the mold to easy release.