>> Monday, January 10, 2011 –  Colorful veggie noodles, noodles, red color noodles, red curry noodles, Red curry paste, Shiitake mushroom in noodles, Thai Dishes, thai red curry, vegetable noodles using thai red curry
The three overriding attractions of Thai food are the tastes, the textures and the aromas. When we say about aroma it mainly comes from three important pastes that are used in Thai cooking; Green curry paste, Red curry paste and yellow Curry paste. Next the texture should come either from vegetables or meat. If both are satisfied then it eventually tickles our taste buds right. Yah today's post is Red curry noodles which will surely be a good virtual treat. Hope You all enjoy the taste, texture and aroma virtually.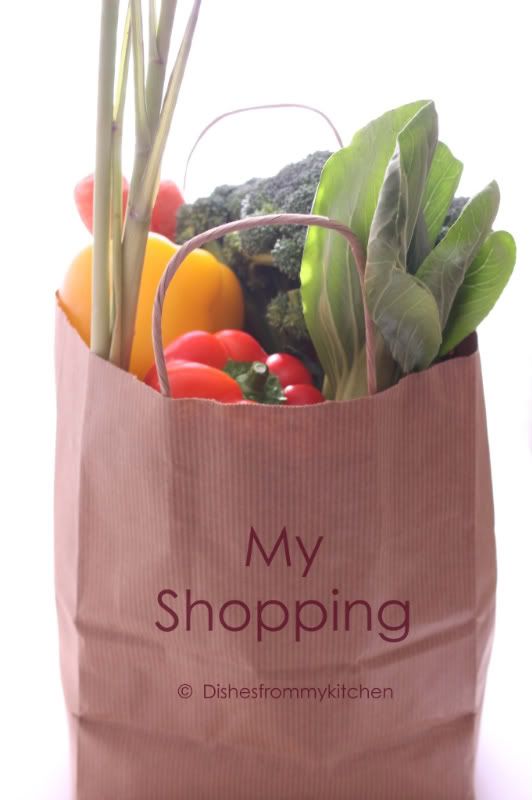 Check out the Green curry here. Follow the same one for making Red curry as well. Just Substitute with this Red curry paste.
THAI RED CURRY NOODLES
Red Curry paste
Ingredients :
Red chillies - 10 ( soak in the water)
Shallots - 2 or 3
Garlic - 4
Lemon grass - 2 sliced
Ginger / Galangal - 1/2 inch
Cilantro stems -4
Coriander seeds - 1 tbsp
Cumin seed - 2 tsp
Lime Leaves - 4 or Rind of 1 lemon
Pepper corns - 10
Oil - 1 tbsp
salt - as required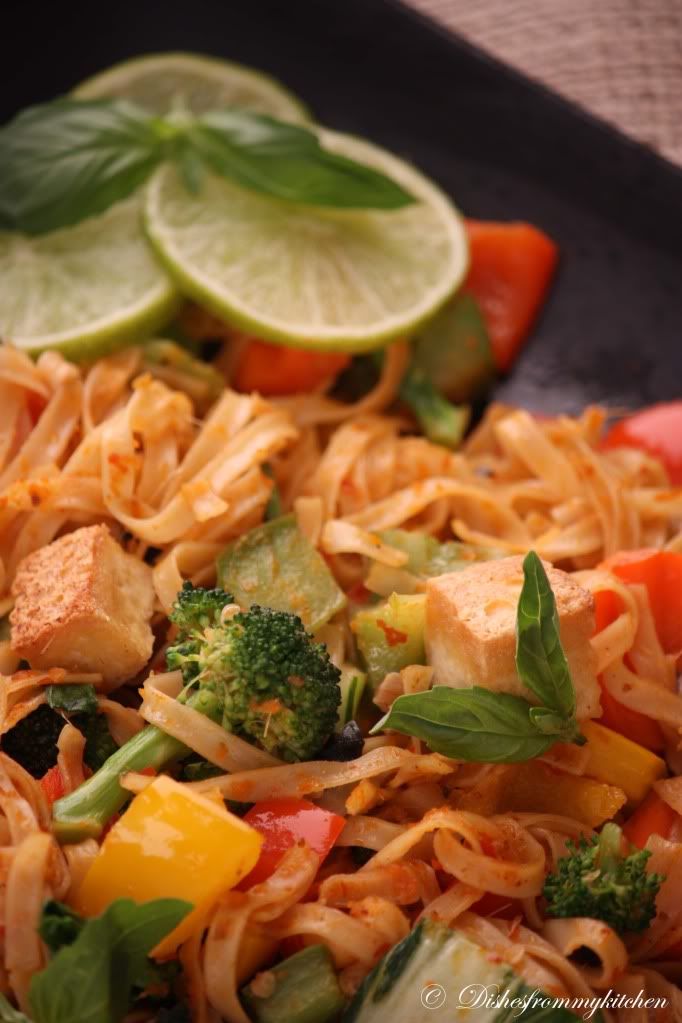 Method :
1. Dry fry the coriander seeds and Cummin seeds.
2. Powder it along with pepper corns.
3. Blend all other ingredients to smooth paste adding this powdered seeds, peppercorns , salt and oil to fine paste.
4. Spoon into a glass jar, cover with plastic wrap and fitted with tight lid and refrigerate for future use.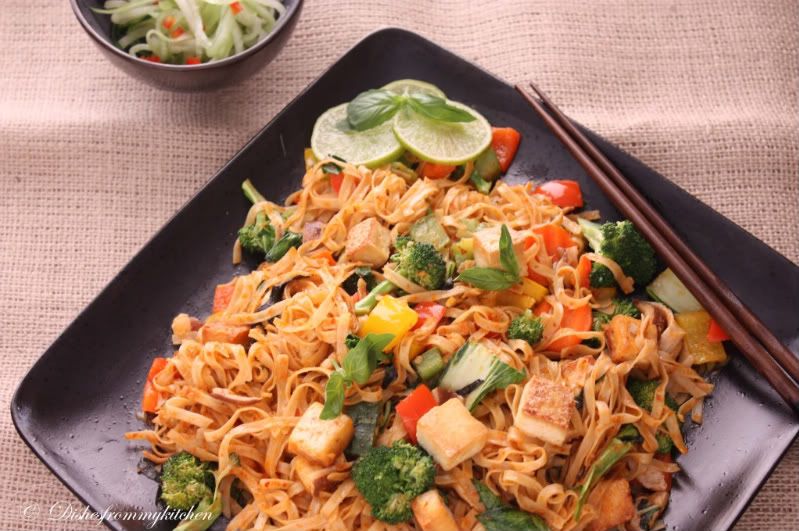 You can use all your favorite veggies. But these veggies which I am giving is our favorite combo.
Ingredients :
Cooked noodles - 2 cups
Red curry paste - as required ( Add according to ur spice level)
Carrots - 1/2 cup sliced
Bok choy - 2 0r 3
Shiitake Mushroom - 1/2 cup sliced ( remove the stems)
Tofu - 1 block ( shallow fry in the oil and keep it aside)
Bell Peppers - 1/2 cup cut it into squares ( Red, yellow)
Broccoli - 1 ( Make to small florets)
Basil - 1/4 cup ( is a must)
Oil as required
Salt as required
Method :
1. Cook the noodles as per the instruction.
2. Blanch the broccoli in the hot water and them put in cold bath.
3. Heat oil in the kadai add the veggies one by one in this order. First fry the Carrots, Mushroom, Bell peppers, Bok shoy , add the Tofu to this add a tbsp of red curry salt gently toss well in high flame and transfer in the plate.
4.Now add little oil add the red curry paste to this add noodles mix nicely until well blended , now to this add the fried veggie mixture, at this stage check for spice level and salt. If needed you can add more. Once everything is well blended add the basil give a quick toss.
Serve Piping hot !!!
1. Try to stir fry the veggies in high flame.
2. Don't over fry or over cook it just 3/4 should be fine.
3. Add the red curry paste according to your spice level.