This is very quick and perfect tea time snack or even you can serve as an appetizer. Very refreshing aroma of Mint pesto with mild milky taste of Paneer of this mini savory bites tastes so delicious. Herbs in everything tastes awesome right !!! Exactly this too ....Hope you all enjoy the Mini Savory Bites.
MINT PESTO SAVORY BITES
All purpose flour - 1 cup
Baking Soda - 1/2 tsp
Baking powder - 1/2 tsp
Oil - 2 tbsp
Milk- 1 cup
Paneer - 2 tbsp ( crumbled)
1. Sieve the Flour with Baking soda and Baking Powder.
2. Mix all the wet ingredients and give a whisk.
3. Add the sieved flour mixture, salt, Garlic powder and paneer.
5. Spoon the batter 3/4 in mini muffin tray. Then spoon the Mint Pesto then again spoon the batter to cover the pesto.
6. Bake it in 350°f preheated oven for 20 to 25 minutes, nice golden brown or insert a toothpick and see. If it comes out clean then it ready.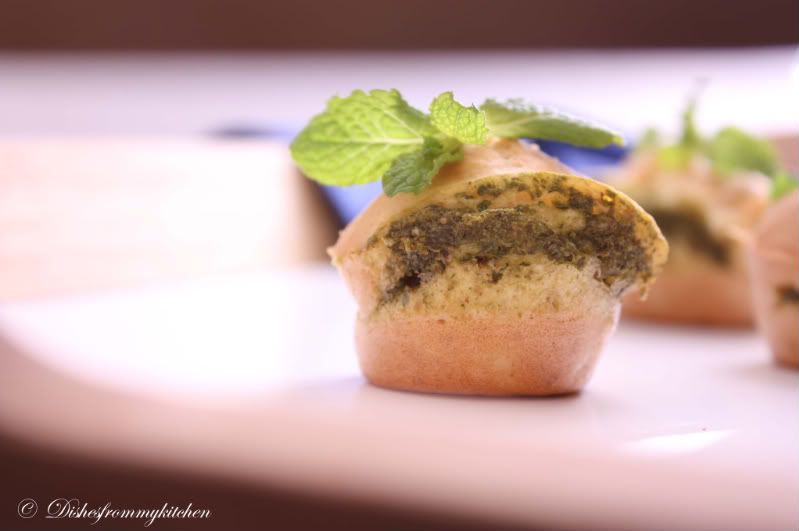 Serve Warm and enjoy your tea time snack !!!
MINT PESTO
Walnut - 6 to 7 pieces ( substitute with any of your favourite nuts but not cashew)
Green chilli - 4 or 5 ( Adjust according to your spice level, I wanted mine to be spicy)
1. Dry roast the walnut and make a coarse paste with other ingredient.
2. Make the paste Thick and coarse.
1. You can enjoy this warm or slice to 2 half and toast in the butter.
2. As soon as you take out of the oven brush with little butter on the top.
3. The Pesto has to be really thick.
4. You can substitute the Mint pesto with Basil as well.
Enjoy with soup, tea and feel the refreshing flavors !!!