>> Friday, February 3, 2012 –  chestnut, chestnuts, easy to peel chestnut, easy way to roast chestnut, roasted chestnut, roasting chestnut in home, roasting chestnut in singapore, roasting chestnut in the oven, sweet chestnut
Chestnut is an ultimate healthy gourmet food. It is low in fat, high in fiber and also gluten free. Its taste and texture is anywhere between sweet peanuts and Jackfruit seed. We were very much used in eating these sweet little chestnuts in Singapore; we love this a lot and use to munch at least once in week. I miss Singapore for lots of reason and this is one of those :) In Singapore the street hawker use to roast the chestnut in a huge wok filled along with tiny pebbles (black stones) in a very huge flame in front of the MRT entrance. It will be warm and fresh, which tastes so good to eat as well. If you go to food court in the malls, the chestnut vendor packs them in a beautiful brown bag and he gives a small tool (thumb size plastic tool with tiny teeth) which is used to open the chestnut very easily. How cool :) Even now we are not missing chestnuts, because I am roast ing them at home and enjoy munching them remembering those beautiful days. I love desserts made of chestnuts and chestnut cream is so yummy :)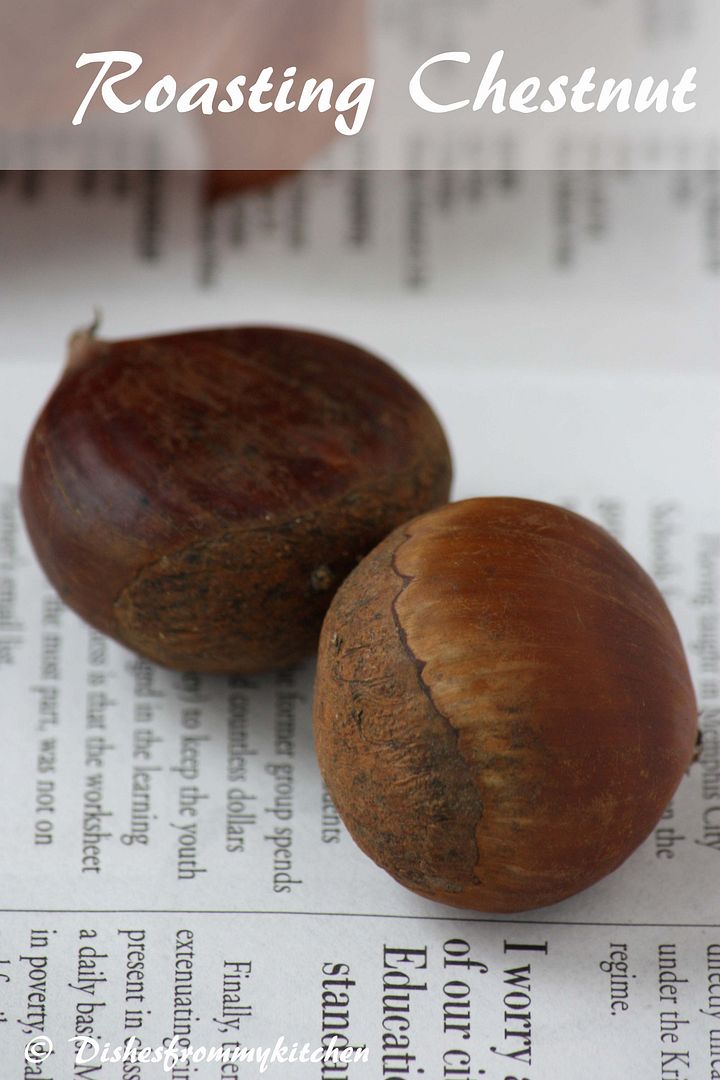 ROASTING CHESTNUTS



Ingredients:

Fresh chestnuts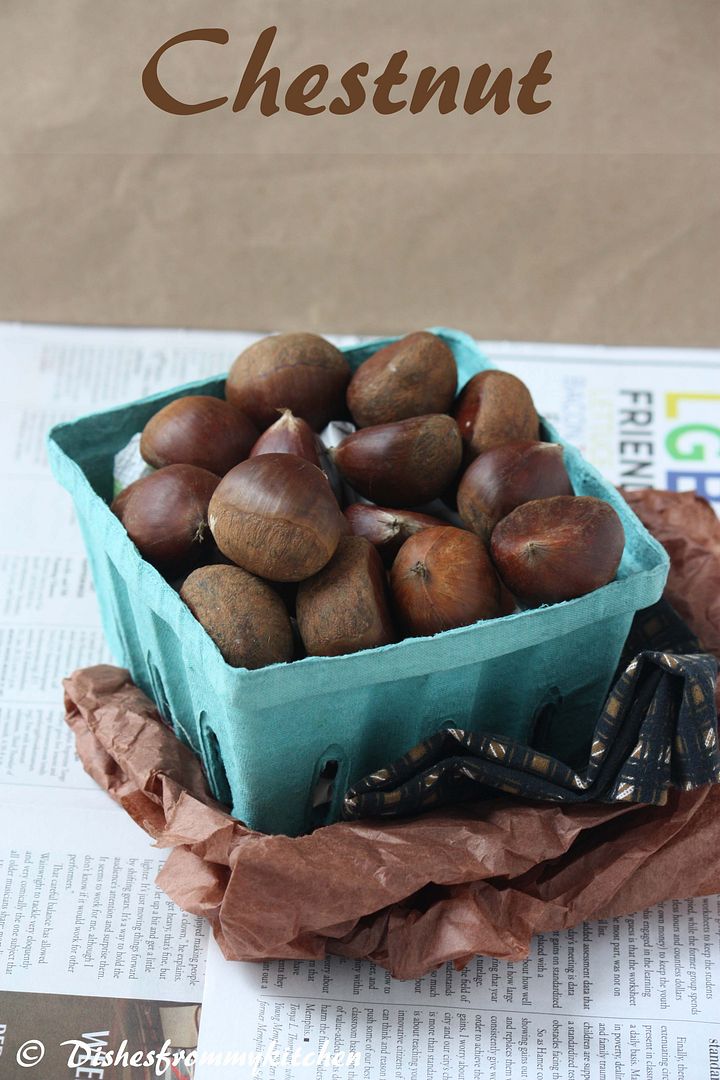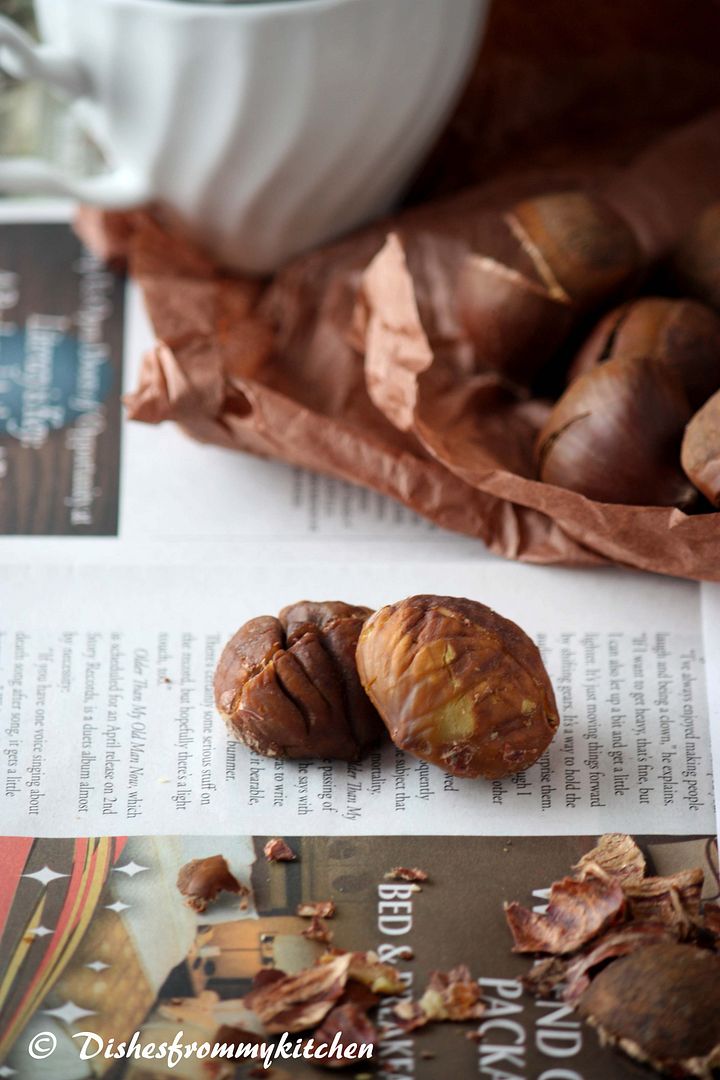 Method :

1. Wash and drain the chestnut.
2. Now slit chestnut horizontally using serrated knife as shown in the pictureIin the flat side of the chestnut)
3. Now steep the chestnut in hot water for 5 minutes. This helps in cooking the chestnut in the oven before it gets roasted.
4. Add the wet chestnut in the baking tray.
5. Roast them in 400 F preheated oven for 30 to 35 minutes(Shake the tray few times to rotate chestnuts. So they will cook evenly).
6. Remove them from the oven and transfer to the bowl and closewith kitchen towel for 5 minutes to cool. This helps to open the chestnut easily.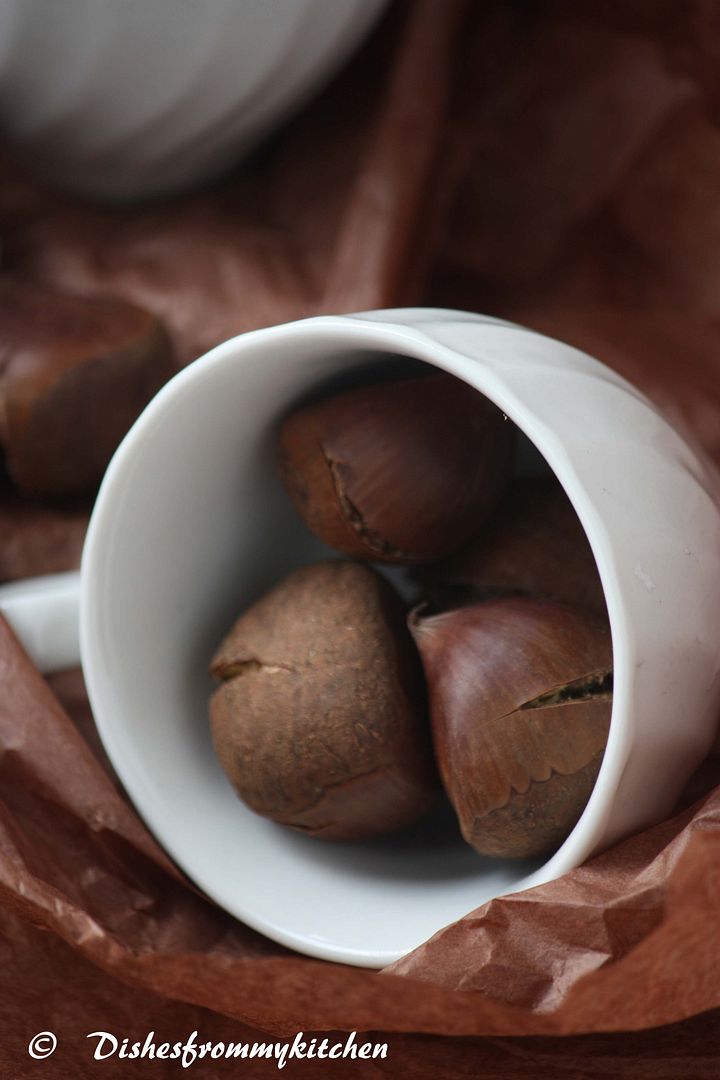 Note:

1. Try to buy fresh chestnuts. Old one's are difficult to handle.
2. Peel roasted chestnuts as soon as they are cool enough to handle.

Enjoy eating warm chestnut !!!