>> Friday, February 24, 2012 –  Appetizers, Baked Appetizers, baked chips, baked kale chips, cooking kale, healthy chips, healthy munch snack, healthy snack, how to bake kale, how to make kale chips, kale, kale chips, Kale snack, snack
The beautiful leaves of the kale plant provide an earthy flavor and more nutritional value for fewer calories than almost any other food around. Like broccoli, cauliflower and collards; kale is a descendant of the wild cabbage, a plant thought to have originated in Asia. Kale can provide you with some special cholesterol-lowering benefits. Kale's risk-lowering benefits for cancer have recently been extended to at least five different types of cancer. Kale is now recognized as providing comprehensive support for the body's detoxification system.
We love kale in any form like sautéing, steaming etc. Munching Kale in the form of chips is another way of including them in your diet. I am sure you cannot stop at just eating one. There are umpteen number of ways you can flavor the kale. But here is a simple flavoring for Kale with spicy garlicky flavor. Hope you enjoy the healthy post!!!
BAKED KALE CHIPS
Ingredients:
Kale - 2 bunches
Olive Oil - 2 tbsp
Cayenne/Chilli powder - 1/2 tsp
Garlic Powder - 1 tsp
Salt - 1/4 tsp (Add according to your preference, usually I add very little)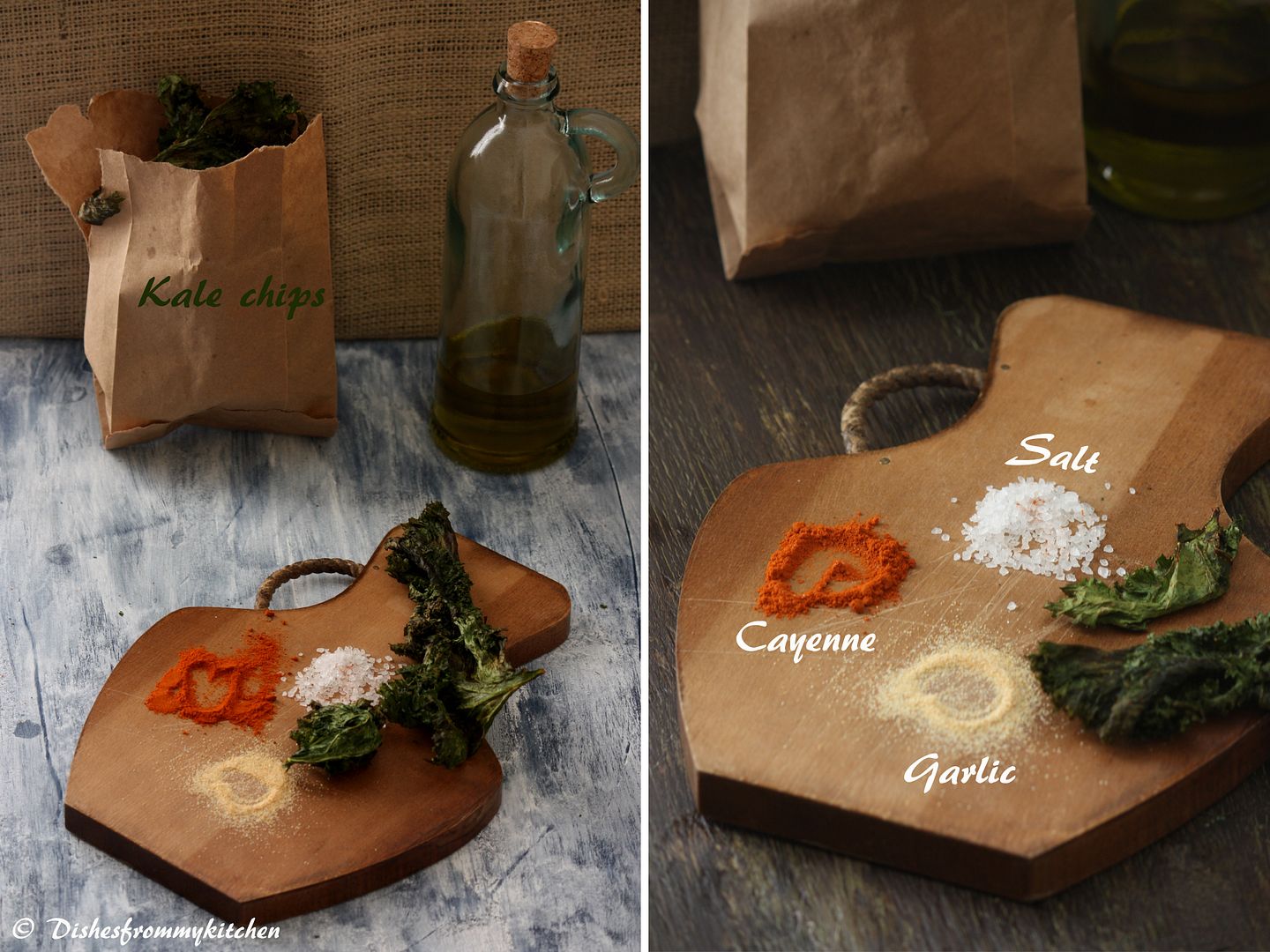 Method:
1. Tear the leaves from the stem/stalk to big or bite size pieces.( as it shrinks while baking).
2. Rinse the kale in cold running water. Make sure there are no trace of mud or soil.
3. Dry them in the Kitchen towel. There should not be any moisture.
4. Then mix the garlic powder, salt and Garlic powder with the olive oil.
5. Now massage the Kale leaves with this mixture until they are well coated.
6. Spread the Kale in the baking tray.
7. Bake them for 20 to 25 minutes in the 300f preheated oven, by flipping the Kale once every 10 minutes.
8. The time depends or varies in different oven. Let it bake until it is crispy and make sure the edges are slightly brown but not burnt.
Note:

1. You can make chips with any type of Kale. The baking time depends on how thick the leaves are.
2. Play with your imagination by adding different flavors each time.
3. You can also follow the same procedure with chard, spinach too