>> Friday, August 19, 2011 –  Asian Cuisine, brown rice noodles, chilli soy dressing, cold noodles, Cold vermicelli, pan seared Tofu, Pressed tofu, rice vermicelli, soy dressed tofu, soy dressing, spring onion dressing
Just few ingredients, simple recipe but makes a delicious meal . This can be made in no time, if you have marinated tofu ready. You can press and marinate the tofu a day ahead. For this recipe I have used Brown rice noodles but you can use normal rice noodles as well. You can get this noodles at any supermarket in Asian isle or Asian grocery store. Use pure sesame oil for this recipe.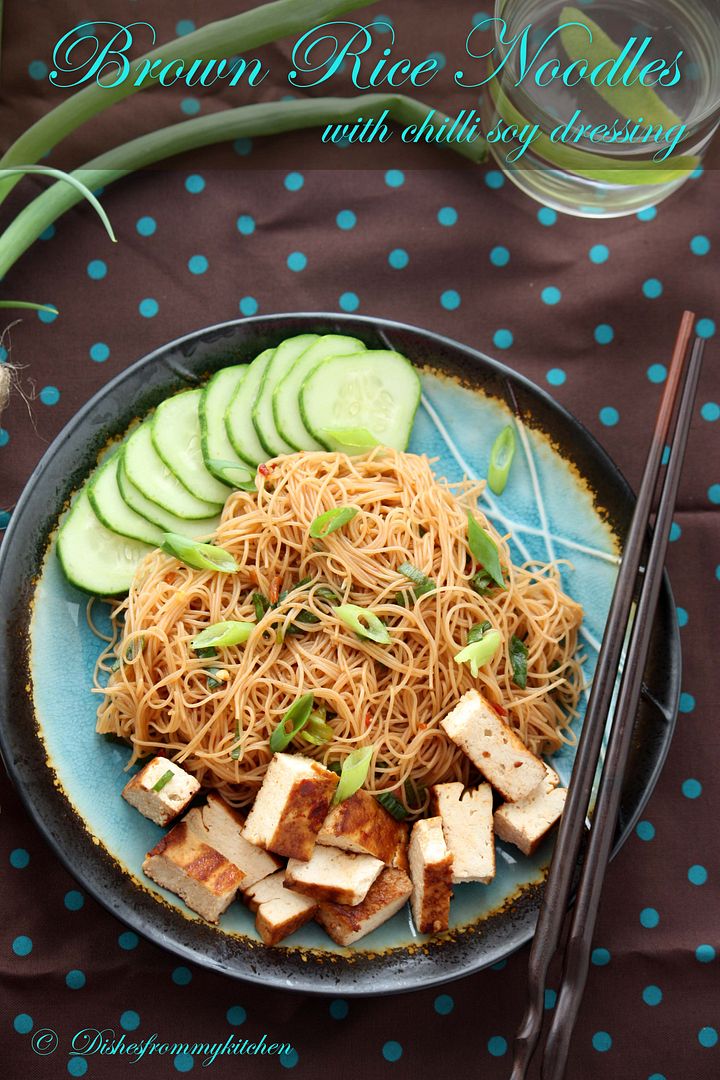 Brown Rice Noodles with Chilli Soy Dressing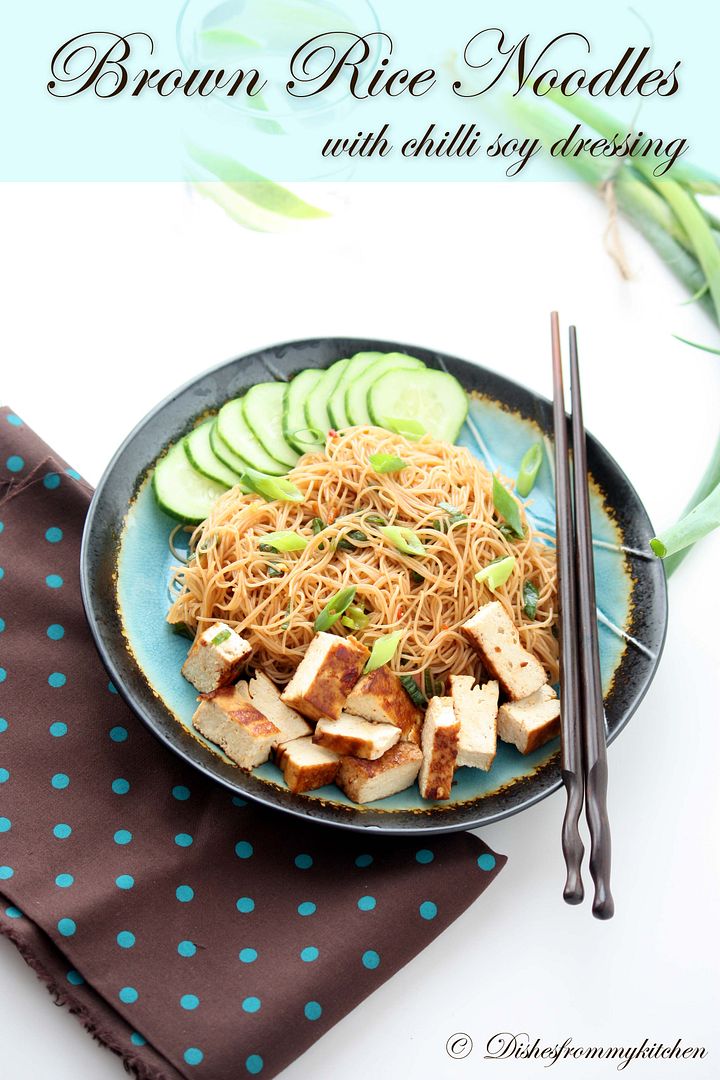 Ingredients :



Rice Noodles - 1 1/2 cup cooked (Cook as per the instruction given in the packet. I have used brown rice Noodles)
Firm Tofu - 1 packet
Spring Onion - 2 stalk one for making the dressing another for garnishing.
Pure Sesame oil - 1 tsp (pure sesame oil works best)
Chilli Garlic sauce - 1 tbsp ( its according to your spice level)
Soy sauce - 1 tbsp
Salt as needed..as both soy and chilli sauce both has the salt in it.

For Marinating Tofu :

Pure Sesame Oil - 1 tsp
Chilli Garlic sauce - 1/2 tbsp
Soy sauce - 1 tbsp
Salt - 1/4 tsp

How to press the tofu :

Drain the tofu without water, tap with the kitchen towel. Wrap the Tofu with using 3 to 5 kitchen towels (paper towel). Keep it in a plate and keep one more plate on the top of wrapped Tofu. Now keep a heavy weight on top of that plate. For me Morter stone works best. Let this sit for atleast 1 to 2 hrs. All the moisture from the tofu will be absorbed by the kitchen towel. And you will be left with pressed tofu with no water in it.


Marinating the Tofu :

Cut the Tofu into 4 equal parts, both horizontally and vertically as shown in the pictures. Whisk the marinating ingredients in a separate bowl . Brush them in the tofu on all sides. Cover it and keep it aside for 2 hrs atleast. Pressing and marinating the tofu can be done a day ahead.


Before serving :

1. Heat the skillet, sear the Tofu on all sides until they are light brown in color.
2. Once it is done cut them into cubes.
3. Now slice 1 spring onion very finely.
4. To this add the sesame oil, chilli garlic sauce,Soy sauce and little salt. whisk it.
5. To this add the cooked Noodles give it a nice toss until everything is well blended.
6. Serve it with seared Tofu and slices of Cucumber.




The noodles need not be hot. This can be served in room temperature.